(Partnership offer – Rental Scale-Up CLUB) On February 16, Wheelhouse, a leading dynamic pricing tool for airbnbs and vacation rentals, is launching Wheelhouse Pro. This new suite of services adds marketing intelligence and benchmarketing to the existing pricing tool. In real-life words, what can these tools do for a property manager? What problems are they solving in terms of pricing? How do they help to make sure you are getting bookings that do not leave money on the table? How do they give you insights on your local market and competitors?
To answer these questions, Andrew Kitchell, Wheelhouse's CEO, is answering questions from Rental Scale-Up founder Thibault Masson and then sharing with us a demo of Wheelhouse Pro.
As part of our partnership with Wheelhouse, Rental Scale-Up readers get 20% off their subscription if they enter the promo code: RentalScaleUp.
Wheelhouse CEO interview: How to solve real-life property management pains and how to conduct a product marketing launch for a vacation rental tech solution
Here are the questions that Andrew Kitchell, Wheelhouse's CEO, is answering in this video:
Most of us are entrepreneurs, either full-time or part-time, in the vacation rental industry. You are clearly one of us, for more than one reason. Could you share a bit about your experience in the industry?
I have worked in the industry from a couple of different directions. Today we are going to talk about Wheelhouse, which is a software product designed to help people earn more revenue. But then also, I have been an operator in the business, which means I have built different operating companies including Lyrics, basically designing hospitality offerings for folks. So, I like to think that I have seen the industry from a couple of angles in the last decade, and I truly love it.
Let's step into the shoes of people watching us who, like me, may be the owners of 2 or 3 properties. What are 2 problems that they may be facing for which Wheelhouse has concrete solutions?
I like to think that Wheelhouse saves you time, earns you more revenue, and gives you freedom. The time, skills, and data required to price your home accurately are challenging. What if you could earn more revenue by selling your nights for more? All that revenue goes straight to your bottom line – you are selling the same thing with the same operations. This is an opportunity to both improve and scale your business, which Wheelhouse helps with. By helping you earn more money, we accelerate businesses and help them optimize themselves.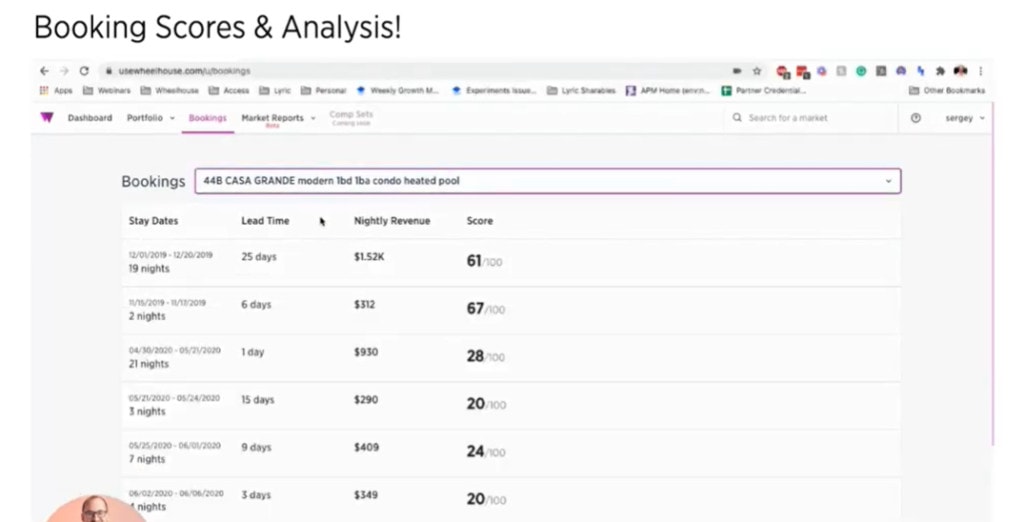 On February 16, you are launching Wheelhouse Pro, a solution made for property managers with a portfolio of properties. To the existing dynamic pricing capabilities of Wheelhouse, the Pro offer is adding Market Intelligence and Benchmarking. Can you explain what real-life problems your new features are solving for a property manager?
Everything in hospitality is relative. This means if I am going to understand and therefore help your business improve truly, I need to understand how your business is doing relative to your market or a benchmark you have set. It is not enough for me to know that you made $5,000 last month.
I need to know what you made last year, what your market make this month, what did your neighbor make? That tells me how you are doing and what opportunities you have to optimize your business. By bringing both Market Reports and benchmarking to the Wheelhouse platform, we are basically giving individuals the ability to access more data than ever to make informed decisions and empower your business in a way you'd like.
Wheelhouse works great for individuals with one or two properties, because it is easy to set it and forget it. If you are scaling your business as an ownership group, your revenue management team needs to have a really powerful tool that they can interact with and customize in line with different strategies they are trying to achieve. Wheelhouse makes that easy.
On the property management side, when they need to share information with ownership groups to illustrate what a good job they are doing, we make exporting that data very easy. This makes communication much more effective and simple.
Creating a great tool is not enough. You need to make it easy for people to use with their existing systems, PMSs, and channel managers. How have you addressed this issue when preparing for the launch of Wheelhouse Pro?
We do connect with a lot of PMSs and at the end of March we will be launching Wheelhouse Everywhere. Right now we can price more than 3 million properties and we are in 80 countries, and we will be increasing this number dramatically in March.
However, we don't need to be integrated into a PMS for the market report and comp sets. We have made our Market Report free in 2021 [Editor's note: per updated information, Market Reports are going to be free until AT LEAST the end of Q2 (June 2021)], so people can learn how their market has changed, as every market is different right now.
Technically, you don't even need to create an account to see a Market Report. We cover 6 continents, 80 countries, 2,000 markets, tens of thousands of cities and spaces. So, type in your city and look at how lead time and length of stay has changed in your market. This is publicly available and the most important thing for everyone to get right in 2021 if they want to maximize revenue.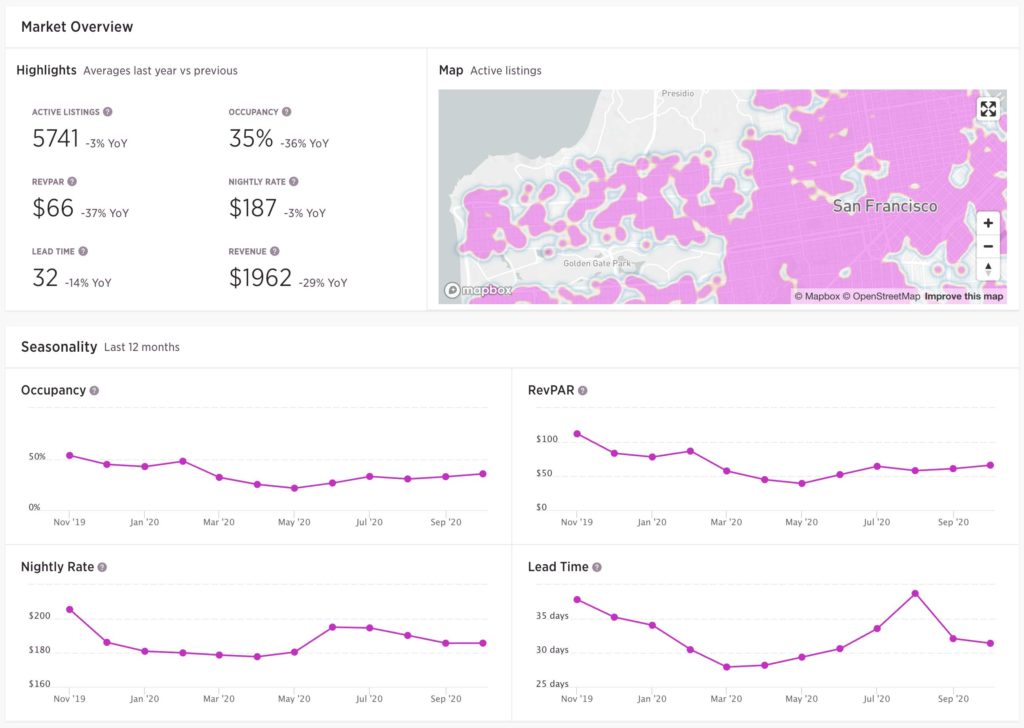 After distribution, another important part of a launch is pricing. How are you innovating here?
2020 was a tough year, so what we wanted to do with our pricing with Wheelhouse PRO is to put people in control. Wheelhouse helps you earn more money, and with the new pricing plans, we will help you keep more money in 2021, too.
We have the same product available for a flex rate or a flat rate. We charge up to 1% for the flex rate. For portfolios, we scale that down to 1% of revenue and you pay us after revenue occurs. That model enables those with uncertainty in their market to pay us after they make revenue.
The flat fee is going to be a cheaper option for people whose markets are strong.
But, you can split your portfolio any way you like, too. If you have one market that is not too strong, and another that is very strong, due to Covid-19, you can pay us a flex fee on the former and a flat fee on the latter. This way you end up paying Wheelhouse less, and we will offer that for all of 2021. However you keep more money in 2021 is fine by us.
People need to be empowered to run their business the way they want, and that's why we've created a pricing plan that allows you to choose what is best for your unique business.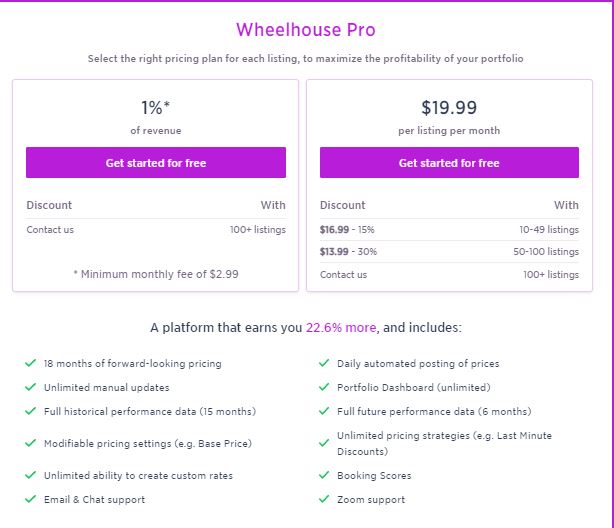 To sum it up, what are 3 things that Wheelhouse does better than that its competitors?
The goal of a pricing engine is for it to work and make you more money. The depth of work that Wheelhouse has put in data science can be seen on our blog. We've been doing this for 6 years and have been running continuous A/B tests. We've put the most investment into this, and we're pretty darn good.
A pricing engine that isn't usable isn't very good either. We need to get you information that lets you run your unique business in the way you want to. We have worked hard on a compassionate user interface that makes sure you always have the knobs and dials at your fingertips.
Since pricing isn't the easiest thing, we have 24/7 support, a 99% customer satisfaction score, and it doesn't matter if you have one listing or a thousand – we try to take care of you. We recognize that by partnering with a pricing engine, you are actually partnering with us to help you scale or improve your business. We take this responsibility seriously, which is why we have invested as much in our customer support as we have in our data science.
Let's talk about tech building. Companies that want to improve the performance of their tools use A/B testing to conduct experiments. It helps them try out solution A against solution B and use data to see which is better. You and I could probably geek out for a long time about A/B testing and models, but can you explain how this benefits Wheelhouse users? What does it mean for them in terms of future-proofing the choice they are making when they choose Wheelhouse?
Every property in the short-term rental space is unique. To figure out all the characteristics that drive consumer decisions and ultimately cause people to book our properties, the pricing engine needs to be precise and perfect. It needs to understand a huge number of variables.
When you think about pricing a short-term rental, the challenge is: How do you value your home? What is the value of your porch, pool, patio, wi-fi, parking? What is the value on a holiday versus a normal day? High-season versus low-season?
These are all incredibly difficult questions to answer, but if you build a pricing engine that's able to learn and watch every single booking in your market, look at your property and understand your home, and A/B test to continuously improve the pricing strategy against it, that's where a machine and data science can help an entrepreneur build a better business.
The reason we emphasize A/B testing and other things is because we have learned valuable things that weren't so obvious. For example, if you have $0 security deposit, that impacts the likelihood of your property getting booked negatively. If you have a $250-$500 security deposit, it increases consumer trust in your homes. You may want to lower your deposit to zero dollars to increase bookings but data shows that is not correct.
Data can also tell us things like if you are a pet-friendly place right now, you are going to book since people are taking longer trips on average and leaving your pet behind is more of a burden.
All these non-obvious things in data that go against our intuition, once you learn them, you can either know that you were right, or learn you were wrong and now you know how to better run your business.
We run all these tests to test our own assumptions and make sure we are doing a good job every single day.
How can Rental Scale-Up users give Wheelhouse a try?
We are available at usewheelhouse.com. We host webinars every single day where our support team will walk people through the products. We have a huge amount of educational content, too, that you can use and learn from, even if you don't use Wheelhouse, to leverage revenue management to power your business. We do full onboarding for people as well.
Even if you come to use some of the free marketing material, the Market Reports, or the education materials, please do it. We want to see your business thrive. Our success is predicated on our industry thriving; therefore, we want to educate, inform, and help in any way we can.
If you sign up and use the code RentalScaleUp, we'll give you 20% off your first month.
Wheelhouse pricing tool demo: Pro version, new features, and sneak peek
Wheelhouse traditionally competes with PriceLabs and Beyond Pricing. Its benchmarking, comp set, and market reports now go on the turf of AirDNA, Mashvisor, Airbtics, Rented's ART, and Transparent.
Wheelhouse: 6+ years of dynamic pricing, and now with market intelligence and benchmarking
Wheelhouse's newest pricing platform, Wheelhouse Pro, is designed for professionals and portfolios. As you likely know, Wheelhouse builds software, specifically for dynamic pricing, but now market intelligence and benchmarking as well. We're known for being easy to set up, customize and automate. All of the software we built is built on top of Wheelhouse's best-in-class pricing engine. This is a pricing engine we've been refining and improving for 6+ years. We still run A/B tests against it all the time, so you're literally being future-proofed around our best-in-class and always improving pricing engine.
In 2020, our average listing increased revenue by 22.6%, and our top listings improved revenue by 100%. And we know that sounds ridiculous, which is why we're pulling customer reviews, which say exactly this. Not only, A, do you need wheelhouse, but B, I doubled my income. All the reviews are online; you can check them out. We have a lot of customers who say the same thing.
So what's new in Wheelhouse Pro? We're going to introduce three new features that we love, we're going to introduce two surprises as well, and show you a sneak peek of something that's just around the horizon.
So first, our three favorite new features.
The first is the pricing plan that we're bringing to market. Now you could pay for Wheelhouse as either a flat rate or a flex take rate, whatever works better for you. Basically however you keep more money is fine and you can even split your portfolio so some listings can pay us a flex fee and some can pay a flat fee. We hope it's a compassionate pricing plan specifically designed for 2021.
Next, yes, Wheelhouse now enables automation of pricing up to 18 months out. That means you can leverage the best pricing engine in the game farther into the future and protect this far future nights.
And lastly, our booking scores and booking analysis section. This is a section designed to help ensure you capture the best bookings. We're going to analyze every booking that comes in, evaluate it against the market, and help you figure out how to earn more revenue.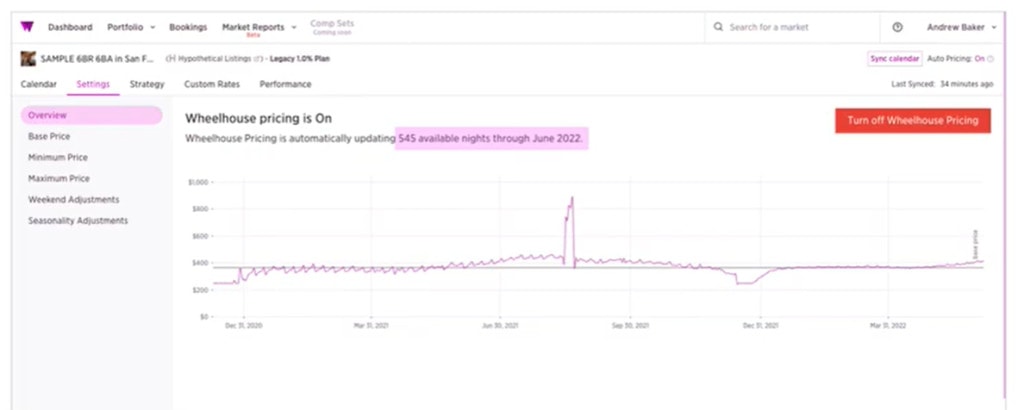 Now, two additional surprises.
As you might've noticed, Wheelhouse Market Reports went live in December. These are available in every single market we're in, more than 2,000 cities, 800 markets on six continents today. Now, these can be filtered by revenue performance, inventory type, and more. And of course, they're going to show you historic data, as we see, as well as future-looking projections as well. Now, when you combine the data, you can learn the market reports. With our advanced strategies, you're going to find a whole bunch of ways to make more money in 2021. We've got a whole education series that will teach you how to do this, so please visit our website to learn more about that. And every strategy you can now apply on an individual level, you can do on the portfolio level as well. That means advanced strategies applied across your portfolio in seconds.
Next up, our APIs are live. So we shared a little hint of this in Q4, but we now have property managing companies, PMSs, channel managers, and others who have built to our APIs. There are a variety of ways to partner with us. Please reach out directly to us at [email protected] to learn more. Or just come to our site and visit us, our documentation is on the site as well.
Now, one sneak peek. That's this, Comp Sets are in beta today, and these will be fully live in March. That means, you can come in and see the most comprehensive benchmarking CompSet tool out there, you can instantly apply lessons learned to your pricing strategy. They're really fun, they're really handy. We started showcasing them last week and we're excited to share them with you as well.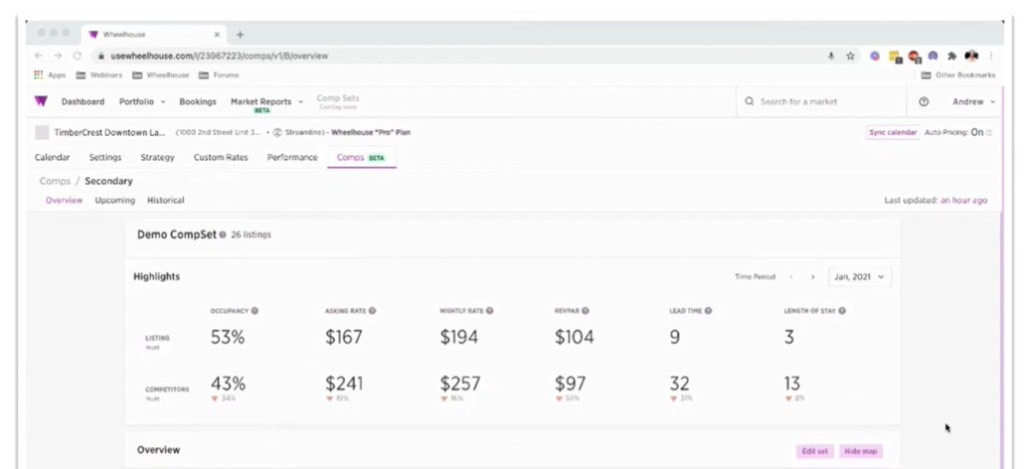 So if you sign up now on usewheelhouse.com and use the code RentalScaleUp, you get 20% off your subscription.