Understanding the significance of recognition programs like Airbnb Preferred, Vrbo Preferred, and Booking Premier can shed light on the quality and performance of various software partners. In this article, we'll delve into the importance of these awards, drawing insights from Hostaway Founder Marcus Rader, whose company recently achieved the rare accomplishment of securing accolades from all three platforms. We'll explore the factors contributing to software vendors' success in receiving these recognitions and discuss why these awards should matter to short-term rental managers seeking to streamline their business processes or expand their operations.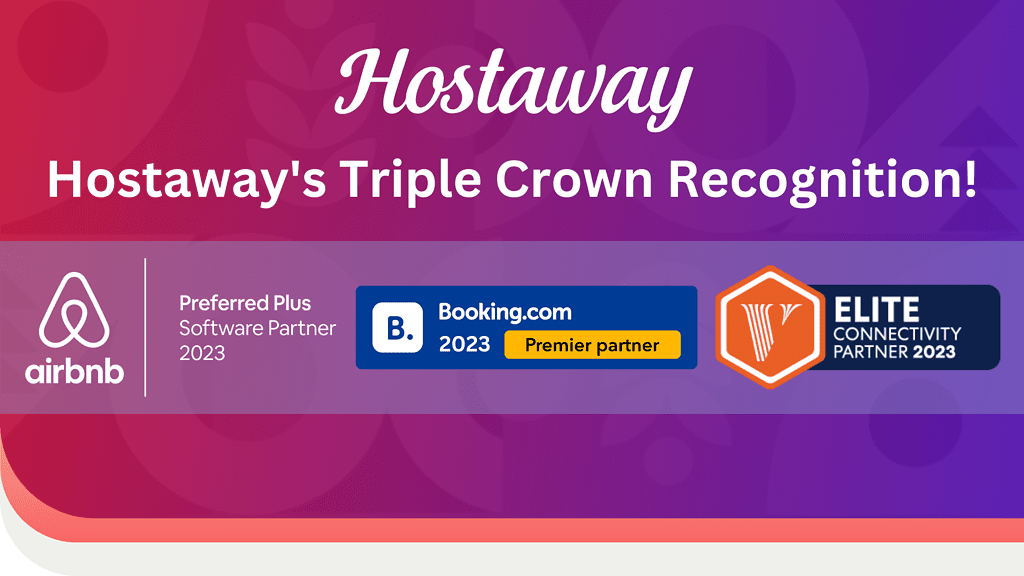 Key Considerations for Choosing the Ideal PMS or Channel Manager: Top Takeaways for Short-Term Rental Managers
Look for recognition programs: Consider PMSs and channel managers recognized by major platforms like Airbnb, Booking.com, and Vrbo, as these awards indicate quality, reliability, and strong platform integration.
Evaluate reliability: Preferred partners often have more reliable connections and up-to-date technology, ensuring smooth daily operations.
Check for early access to features: Partnering with a recognized software provider may give you early access to new features and tools, providing a competitive edge.
Assess opportunities to shape platforms: Working with recognized providers can give you the chance to share feedback on upcoming features, helping shape booking platforms in a way that better serves your business.
Prioritize tech support: Preferred partners often receive priority tech support, ensuring any technical issues are resolved quickly and efficiently.
Examine integration quality: Choose a PMS or channel manager that seamlessly integrates with your preferred OTA, offering a reliable connection and error-free operation.
Consider feature availability: Opt for a provider that offers a wide range of features, enabling you to manage your properties effectively and provide a top-notch guest experience.
Which software vendors are evaluated by the OTAs?
The recipient of these awards and recognition from Online Travel Agents (OTAs) such as Airbnb, Booking.com, and Vrbo are businesses that develop software products and services that integrate with these platforms. These software solutions, most commonly Property management systems (PMSs) and channel managers, can offer a range of benefits to short-term rental managers, such as automation of reservation management processes, improved customer experience, automated communications, analytics, and reporting capabilities.
Why do OTAs need recognition programs for these vendors?
Creating recognition programs can be an effective way for OTAs to benchmark features and customer experience offered by vacation rental software companies. By creating incentives for software vendors, Airbnb, Booking.com, and Vrbo can exercise a level of quality control over the experience hosts and managers have when using software that isn't created by them, but links to their platforms anyway.
As software vendors clamor to qualify for these awards, OTAs get the assurance that the software provider is up to the highest standards of customer service and product design, setting their solutions apart from the competition.
By recognizing some of these software providers, OTAs ensure that their customers receive only the best in terms of platform integrations, automated processes, customer service, analytics capabilities, and more.
Furthermore, recognizing trusted partners allows OTAs to build relationships with reliable providers while also offering a wider range of services for their customers which can lead to increased revenue for both parties involved.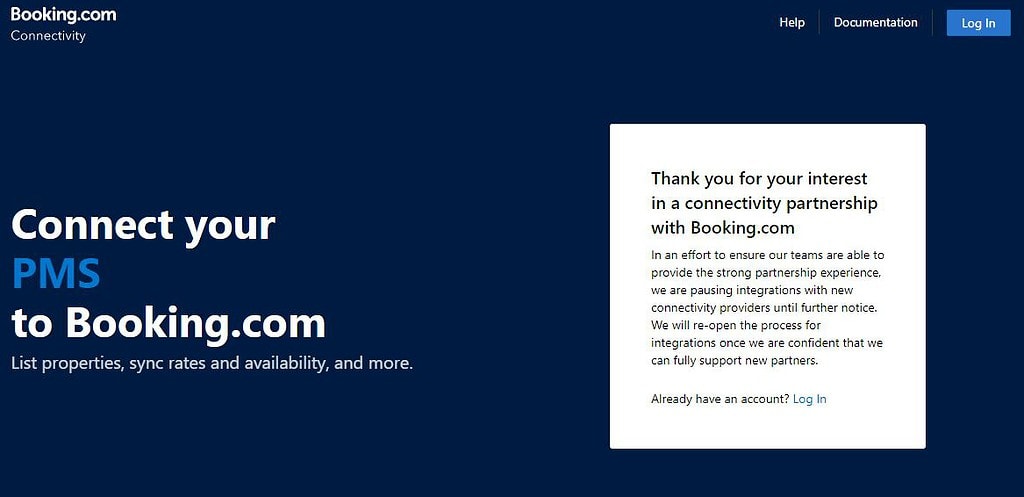 For instance, many software providers benefit from the marketing offered by large booking platforms after integrating with them; but the platforms get the chance to reach new audiences as well with each new integration.
If a property manager using Hostaway only lists their properties on Airbnb, news of Hostaway's integration with Vrbo might encourage them to consider listing with Vrbo too—leading to more listings and higher revenues for both Hostaway and Vrbo alike.
Why these recognition programs matter to short-term rental managers looking for a software solution
If a substantial part of your business centers around an OTA like Airbnb, these partnerships are absolutely critical when evaluating software.
Smaller property managers can face difficult consequences if using unauthorized software because their accounts can be shut down and funds withheld, explains Marcus Rader.
Working with a platform that isn't top tier is also risky, as the property manager probably won't have access to the insights and tools that are required to make it to the top on these marketplaces.
For a property manager that doesn't even use Airbnb or Vrbo and doesn't plan to do it, these recognition programs are less relevant, although they still send a strong message about the number of customers that get good value out of the platform.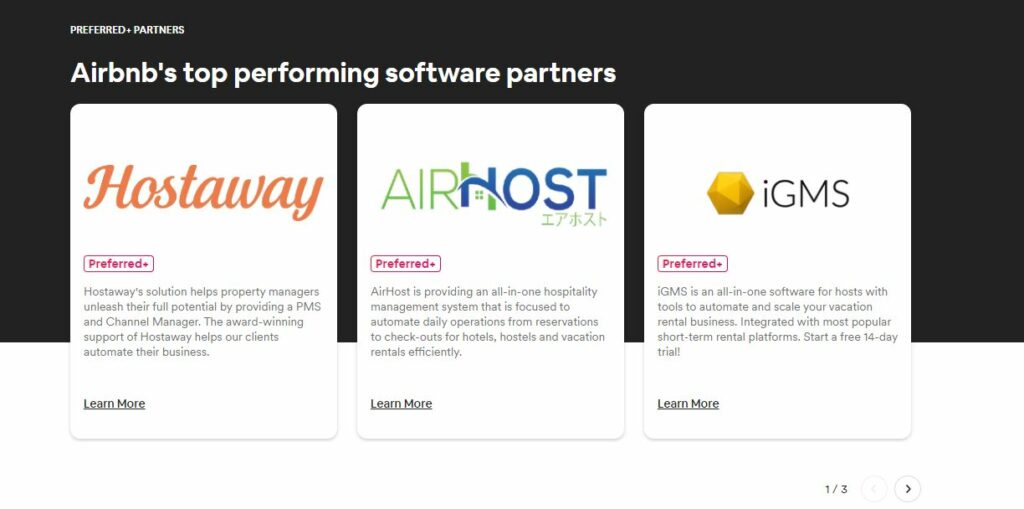 Short-term rental managers should consider the benefits of software providers with recognition programs when selecting a provider. These awards can lead to several advantages, such as:
Reliability – Preferred partners often have more reliable connections and up-to-date technology, reducing everyday stress and the resources required.
Early access – Such partnerships offer early access to upcoming features, meaning you can be among the first to benefit from new advances, giving you a competitive edge.
Shaping platforms – Sharing your feedback on upcoming features can help shape booking platforms in a way that serves your business better.
Priority tech support – In the event of technical difficulties, preferred partners are given priority when it comes to accessing tech support services, so any problems are solved quickly and efficiently.
What are the different levels of recognition in place?
While each booking platform employs its own specific nomenclature for vendor recognition programs, explains Marcus Rader, the general categorization may fall among the following levels:
Unrecognized Partners: These companies do not have a formal relationship with the OTA, and work with them in an unauthorized fashion.
Recognized Partners: Partners who have a written agreement with the OTA and are mentioned as official partners on their OTA websites.
Premium Partners: A tier of partners that are identified by OTAs as capable of providing services notches above the rest. Airbnb categorizes these partners as Airbnb Preferred, while Vrbo calls them Vrbo Preferred, and Booking calls rhythm Advanced connectivity partners.
Elite Partners. These are companies that rise above the rest, based on a multitude of metrics laid out by OTAs, as the top-tier integration partner. Vrbo Elite, Airbnb Preferred Plus, and Booking Premier all fall within this tier.
Who can apply for to become a premium/preferred software partner?
It is important to note that only partners who are already integrated with the platforms by connecting to their respective APIs may apply to become preferred partners on their platforms.
Airbnb:
Airbnb does not openly solicit new partners for access to their API; instead, prospective external collaborators are invited to join by an in-house partner manager. If you are an existing Airbnb software partner, you can contact your Partner Manager to understand the requirements for becoming an Airbnb Preferred Software Partner.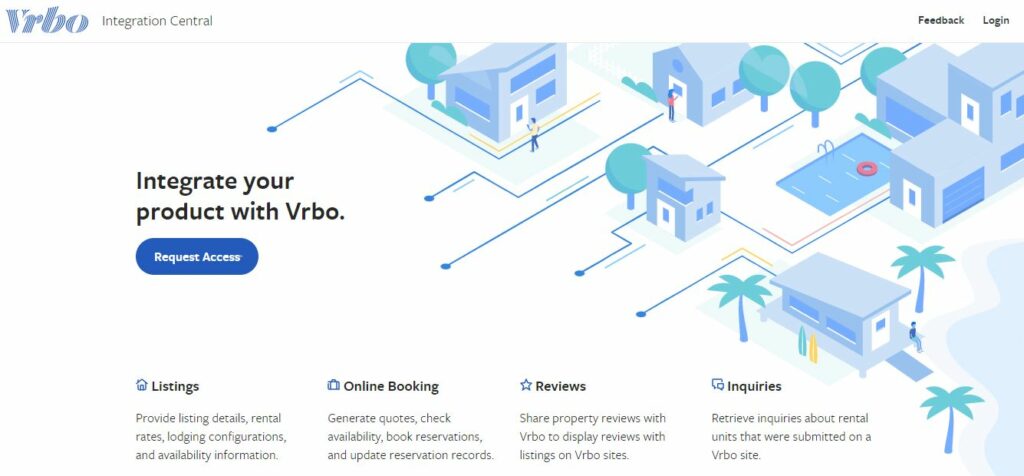 Vrbo:
Similarly, Vrbo requires you to first integrate with their platform by applying to become a Vrbo Connectivity Partner, which can be done by emailing their connectivity team at [email protected]. This is the first step in securing access to Vrbo's Integration Central platform which contains API documentation, testing tools, and metrics to move up partner tiers.
Booking.com
Booking.com has suspended integrations with new connectivity providers for the moment in order to ensure their teams are able to provide a strong partnership experience. The process for integrations will be re-opened once the company is confident it can fully support new partners. However, the platform does shed some light on requirements software partners must meet to become a partner on their Connectivity Hub:
PCI & PII compliance
Cloud-based or Central Server based software
Supports price and availability management
Supports reservation management
Supports real-time updates of rates and availability
Supports instant confirmation of incoming reservations
Supports managing property content
What does it take to achieve this recognition?
According to Marcus Rader, it can take multiple years or even decades for software vendors to rise to the highest recognition tier, that's why the top tiers have very few partners. Airbnb has only eight Preferred Plus partners and 22 Preferred partners, compared to the hundreds of other partners listed on their website. It's the same with Vrbo, which only has 10 Elite partners and 15 Preferred partners.
OTAs share a roadmap with vendors under consideration for recognition per calendar year, although they may change the targets during the year, shares Marcus. Each platform employs a complicated points system based on how they conduct operations and structure technology development.
While large booking platforms can be secretive about the exact performance metrics on which they grade their software partners, there are some obvious markers to be deduced from the information available on the partner pages.
Largely, their requirements can be divided into the following categories:
Volume of business: Integration providers can accrue points based on the number of properties they maintain in their portfolio, as well as the amount of business they generate through the platform. OTAs rely on being able to test the efficacy of any integration by evaluating it across a sufficient number of properties. A provider with a decent size portfolio makes it easier for platforms to assess the viability of their connectivity solution by taking into account feedback from listed properties.

Conversely, a large portfolio also affords OTAs the possibility of reaching out to a new audience.
High-quality integrations: To become a highly-rated software provider, vendors must create a high-quality product that integrates seamlessly with their desired OTA. The connection between the software and OTAs must be reliable and free of error reports, creating less work for the OTAs while keeping user experience optimal.

Feature availability: Each booking platform endeavours to consistently offer ways for property managers and hosts to make the most of their listings. Depending on the platform, managers can offer built-in discounts, flexible rates and cancellation policies, and manage fees and guest communication, for example. To become preferred partners, software providers must aim to offer as many features as possible to their portfolio, and quickly, without compromising on the quality of user experience.

In its 2023 Connectivity Partner Programme Update, Booking.com categorized possible connectivity solutions as Foundational Solutions, Performance Solutions, and Guest Experience Solutions.

Feedback sharing: Software vendors must commit to engaging with the platforms to continue to optimize tools and capabilities, as well as providing feedback through research interviews or helping to test new products.
---
Conclusion:
In conclusion, OTA recognition programs such as Airbnb Preferred, Vrbo Preferred, and Booking Premier can serve as valuable guides for short-term rental managers when selecting the right PMS or channel manager for their business. These programs reflect the quality, reliability, and capabilities of software vendors, offering property managers an additional layer of assurance when making their decision. By choosing a recognized provider, rental managers can benefit from reliable connections, early access to new features, the opportunity to influence platform development, and priority tech support. As a result, understanding and considering the implications of these recognition programs can help short-term rental managers make more informed choices and ultimately enhance their business operations.