A highlight for vacation rental owners and operators around the world is connecting with colleagues and friends at an annual industry conference. These conferences offer learning opportunities, networking events, and potential partnerships for not only owners, but also for vendors and industry experts. They are rare moments for the vacation rental community to meet in person.
One of the industry's largest, most well attended conferences is VRMA International, which was scheduled to be held in Orlando, Florida in October 2020. Hosted by the Vacation Rental Managers Association, this conference seeks to advance the vacation rental industry through education, research, and networking, and it's always an exciting event to attend. But this year, due to COVID-19, the conference is no longer possible in their standard in-person format. VRMA cancelled the annual international conference and is making plans for an online alternative.
If you were planning to attend VRMA International this year, you might be wondering what to do instead. Are there any online vacation rental conferences you can attend to find similar educational and networking opportunities? Yes! In fact, we'll introduce four alternative online conferences that will deliver plenty of data, insight, and social time – all from the comfort of your home.
Vacation Rental Data and Revenue Management
The second Annual Vacation Rental Data and Revenue Management (DARM) Conference is organized by VRMintel. The goal is to help vacation rental property managers: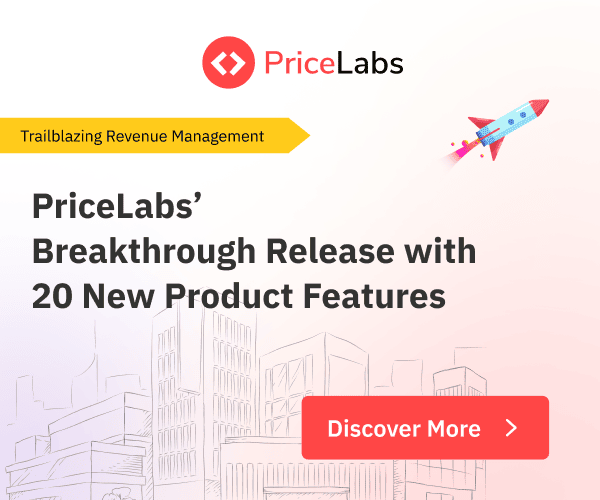 Understand comparative data,
Segment properties and create competitive sets,
Analyze key performance indicators,
Build revenue management strategies,
Establish rate rules,
Learn to maximize technology solutions,
And monitor and evaluate performance with a watchful eye on profitability.
This is 3-day online conference which promises to deliver a lot of actionable insights and best practices.
Date: 15-17 September 2020
Ticket Price: $299
Book Direct Show 2020
Who doesn't want more direct bookings?! This online conference is focused on strategies and tips for increasing direct booking volume, and it's tailored to an audience of short-term rental managers, B&B operators, and hoteliers. Over 50 speakers are scheduled to present, including Amy Hinote (Founder and Editor of VRM Intel), Richard Vaughton (CEO of Rentivo), and Alex Caravitis (Co-Founder & CEO of Syncbnb).
Date: 29-30 September 2020
Ticket Price: £114.00
VRWS 2020
This year's Vacation Rental World Summit offers a jam-packed agenda of engaging speakers who will share actionable insights, data, and strategies to help you grow your short-term rental business. Hosted by Antonio Bortolotti, the conference includes both keynote presentations and panels moderated by industry experts. Hear from short-term rental industry leaders like Matt Landau (Founder of VRMB.com), Alex Nigg (Founder of Properly), and Vanessa de Souza Lage (CMO of Rentals United and Founder of VRTech).
Date: 10-11 October 2020
Ticket Price: €247
Rental Scale-Up Trust & Safety 2020
Get expert advice, actionable tips, proven checklists, and recommended tools to get more control over your rental properties, the experience of your guests, the peace of mind of your homeowners and the risks that your business are facing daily.
Trust. Safety. Security. As an active member of the short-term rental industry, you know that trust is an important currency between guests, homeowners, property managers and platforms like Vrbo and Booking.com. Airbnb has started taking measures to address trust and safety, for instance by banning party houses after a shooting in California at a Halloween party and by promising to review every listing to ensure that their address, photos and other details are accurate after scammers manage to steal money from guests who had booked fake listings.
According to research from Morgan Stanley, 13% of people who do not use Airbnb cite safety as their primary reason for avoiding that accommodations service. Similarly, fears related to property damage and personal liability are the biggest reasons why homeowners do not give their place to a vacation rental property manager or do not list it directly on platforms like Airbnb and Vrbo.
Our experts will share their best practices to help you avoid costly mistakes due to property damage or to lawsuits. You will even learn how to turn security devices into tools that improve guest experience, for example by making automated check-ins and check-outs safer and faster.
During this free online conference, you will benefit from advice about:
Trust – For instance, learn how to differentiate your website and your listings on platforms like Airbnb, Booking.com, and Vrbo, so that travelers know that booking with you is the right choice,
Security – For instance, discover how to balance guest privacy and necessary checks when using devices such as keyless entry mechanisms and security cameras,
Safety – For instance, how to conduct a general safety inspection when onboarding a new property so that you do not take unseen risks for your business and do not put your guests in danger down the line.
Our real innovation is not allowing people to book a home; it's designing a framework to allow millions of people to trust one another. Trust is the real energy source that drives Airbnb and has enabled us to scale our platform to 191 countries and to more than 600 million members. – Brian Chesky, Airbnb CEO, December 2019.
Watch our free online conference to turn your concerns around trust, security, and safety into positive energy that fuels your business, puts your business at an advantage compared with your competitors and makes you the person of choice when homeowners and guests have to pick a property manager.
Date: November 2020
Ticket Price: To be confirmed
So, even if the 2020 VRMA International conference is canceled, you have a lot of options to get great insights to improve your vacation rental business and your Airbnb management company.