Swedish property monitoring solution Minut is launching in France and Spain as part of its global expansion. In our product marketing education series, we are using Minut as a case study on how to take a vacation rental product into foreign markets. After launching in the US and UK, why did Minut pick Spain and France as core targets? Which metrics and data indicate that they made a good choice? We'll use Airbnb data as a proxy for the market insights that the company may have used. We'll then look at how the company addresses objections that may hinder its market penetration. First, we'll see what Minut is doing to lower privacy concerns in a European market where regulations and personal preferences are much stricter than in the US. Second, we'll see how the company can convince property managers that Minut's devices give them control without creating more operational work. 
Market overview: Opportunities (growth of noise monitoring and home automation) and Challenges (a market to educate, active competitors)
In response to the growing demand for this type of service, Swedish vacation rental tech company Minut has launched its solution in Spain and France as part of its global expansion strategy. Minut's stated mission is to provide a noise and occupancy monitoring solution that brings peace of mind to property owners and managers throughout Europe, secures their vacation rental homes while improving the guest experience.
For Minut, this is an excellent opportunity to tap into the growing market for vacation rental properties and expand its reach beyond the US, UK, and Northern Europe. Expanding its operations to France and Spain will improve its solution while also getting closer to some of the world's top destinations. This move will also let the company compete with some of the top players in this space. As a result, Minut can cement its place as a leading company in the market.
Minut is not just another company in a growing market with companies like NoiseAware or Roomonitor; it aims to make life easier for property owners by providing them with all sorts of tools such as instant notifications when a smoke alarm goes off. These features help property managers track what is happening inside their properties while away from home.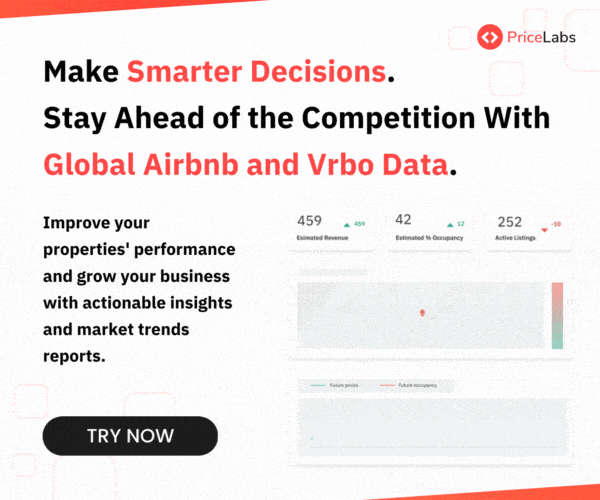 Vacation rental tech product marketing 101: Minut's value proposition
Minut is putting benefits forward instead of tech specs to penetrate the vacation rental market. This is a classic approach to value proposition building, where the product features and capabilities are communicated to support the benefits.
It is also a way to connect directly with the actual needs of property owners and managers instead of boring out leads with geeky terms. Minut's website is doing a great job at showing how its product can improve two key concerns for buyers: Security / peace of mind, as well as the guest experience.
For instance, Minut's property monitoring solution claims to be perfect for both owners of vacation rental properties and guests who are looking for a more secure and comfortable experience when traveling.
Minut offers noise monitoring, but it does more than that. Minut's solution is unique because it allows owners and managers to provide their customers with a safe and secure experience. The solution helps monitor occupancy at the property and can also act as a home security alarm. For remote hosts, whether they live across town or in a different country, Minut can bring peace of mind as they can be informed instantly. This way, they don't need to worry about what might happen while they're away from home and can offer competitive prices without scaring customers away with the possibility of damages or thefts at their properties.
With its positioning, Minut also wants to convey that it can help improve the guest experience. On the other end, Minut's solution is ideal for guests looking for a more comfortable and secure experience when they travel to new places. In addition, Minut's temperature and humidity tracking ensure a comfortable environment upon arrival. Furthermore, the Guest Connect feature can automate messaging, including keyless access codes and house rules. Guest Connect also automatically informs guests to keep the noise down when noise levels exceed a configured threshold, which reduces the risk of disturbing neighbors. Minut claims that its solution is 100% privacy safe with no camera or microphone. Hence, they know their belongings are protected and their privacy is respected.
Why Minut has picked France and Spain as its next big markets
Large markets (market data, famous regions)
There are a few reasons why Minut is launching its noise and occupancy monitoring solution in these countries. Firstly, there is a growing demand for this type of service. Secondly, both countries have a well-developed tourism infrastructure, with a lot of potential customers.
France and Spain are among the largest tourism markets globally. Both countries have a long history of offering "locations de vacances" and "alquiler de vacaciones" by the sea, in the country, and in the mountains, since the 1950s. However, in the 21st century, the growth of Airbnb created a slew of new supply. For instance, before regulatory crackdowns, Paris was by far Airbnb's #1 city in Europe. In addition, France has been Airbnb's #1 market outside the US for years. 
Both markets welcome a large share of foreign tourists, but Spanish properties more so than France ones, as the weight of the French domestic market is very important.
A specific opportunity for Minut is that it can tap into the needs of the two sides of the markets:
Noise monitoring for urban rentals (e.g., apartments in residential buildings) and large holiday villas (which can attract parties)
Home security for isolated properties in rural areas

We will also see that new short-term rental regulations in cities like Paris and Barcelona, as well as a preference for large homes during COVID, where parties can be thrown, also make an entry into these markets timely.
French vacation rental market in numbers
We can look at Airbnb's data to understand the French market, but it would give only a partial view of it. Airbnb has been investing a lot of money in the French market and has been rewarded for it.
Yet, a big chunk of the French supply is unavailable on Airbnb. For instance, the local federation "Gîtes de France" has a powerful network of 48,000 properties in the country. Many of them are the old-school vacation rental that people have been longing for during the COVID crisis, such as chalets in small mountains and converted barns in farmland.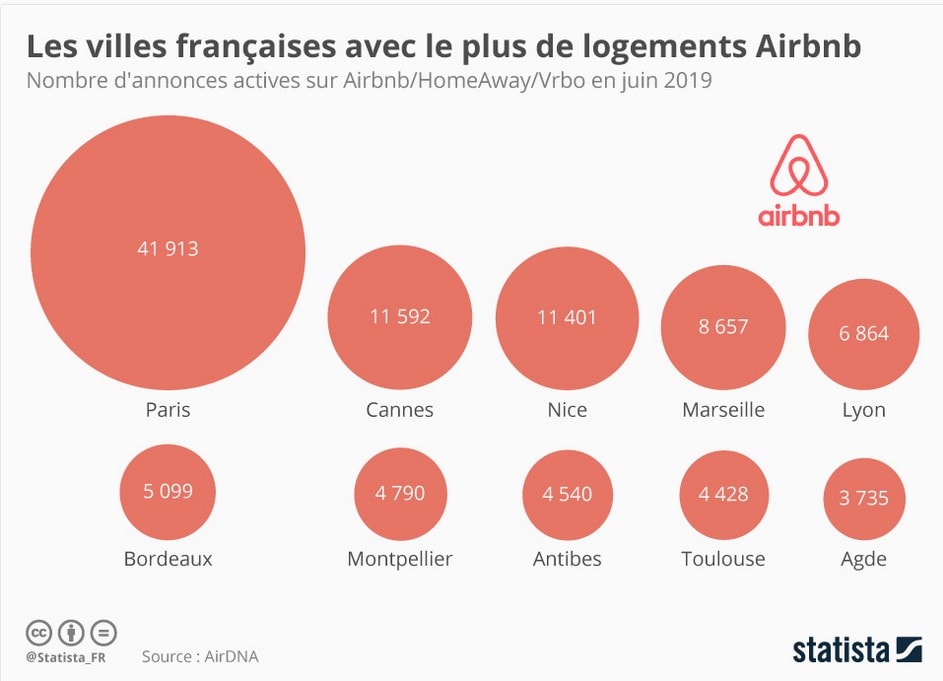 During the COVID crisis, the number of listings in key French cities has nose-dived. Some owners have chosen to turn to the long-term rental market.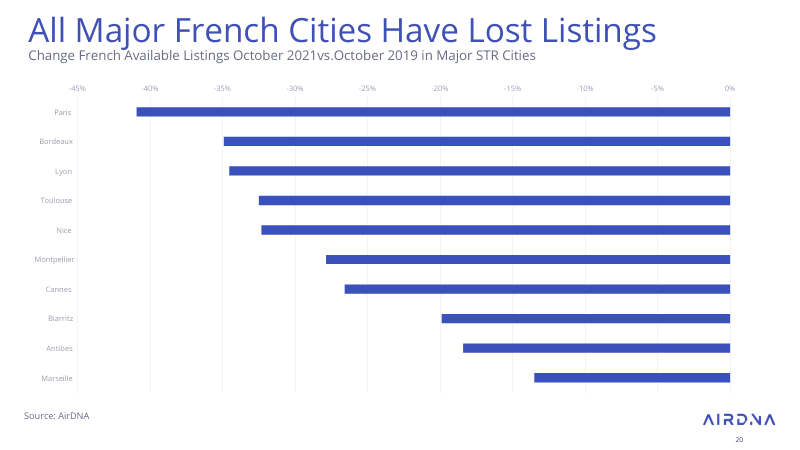 Yet, the French vacation rental market, overall, has been remarkably resilient, thanks to the supply and demand for holiday homes by the seaside, in the countryside, and in the mountains. A recovering and resilient market should be a good opportunity for a vacation rental tech provider such as Minut.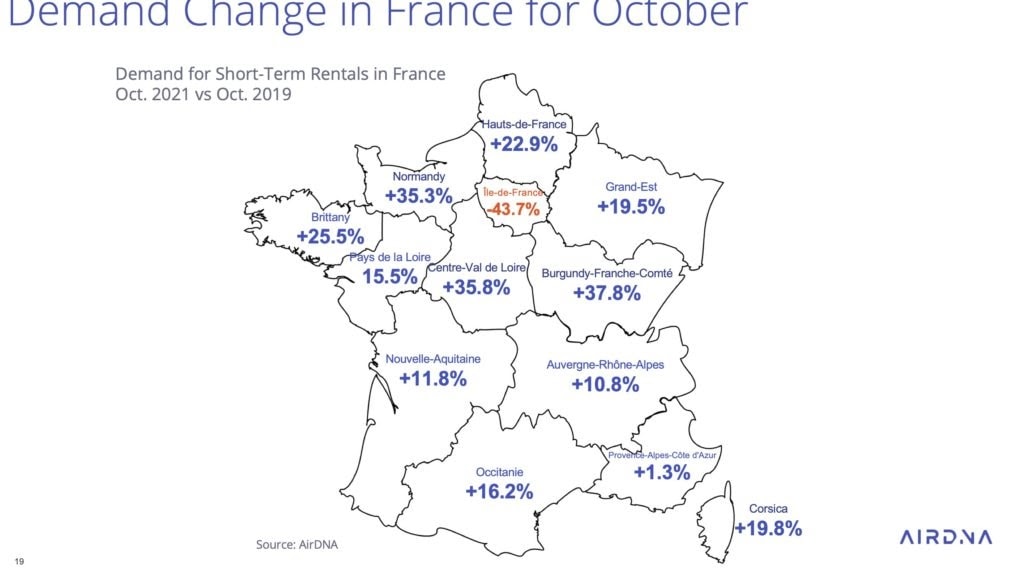 Spanish vacation rental market in numbers
Spain also has a lot of potential. According to data from the Spanish Tourism Ministry, vacation rentals account for almost 20% of the total tourist accommodation, both in terms of rooms and nights sold annually. There are around 340,000 vacation rental properties in Spain, catering to around 82 million tourist arrivals a year.
Thanks to Statista, we can see here a loss of the biggest Airbnb urban markets, in 2018. Note that regulations and regular crackdowns may have lowered these numbers, for instance in Barcelona. The fear of regulations and of being reported to the authorities is valid around the world, but especially in cities such as Paris in France and Barcelona in Spain. Thus, noise monitoring solutions may also have to become a vital tool to help owners get some control over what is happening at their properties.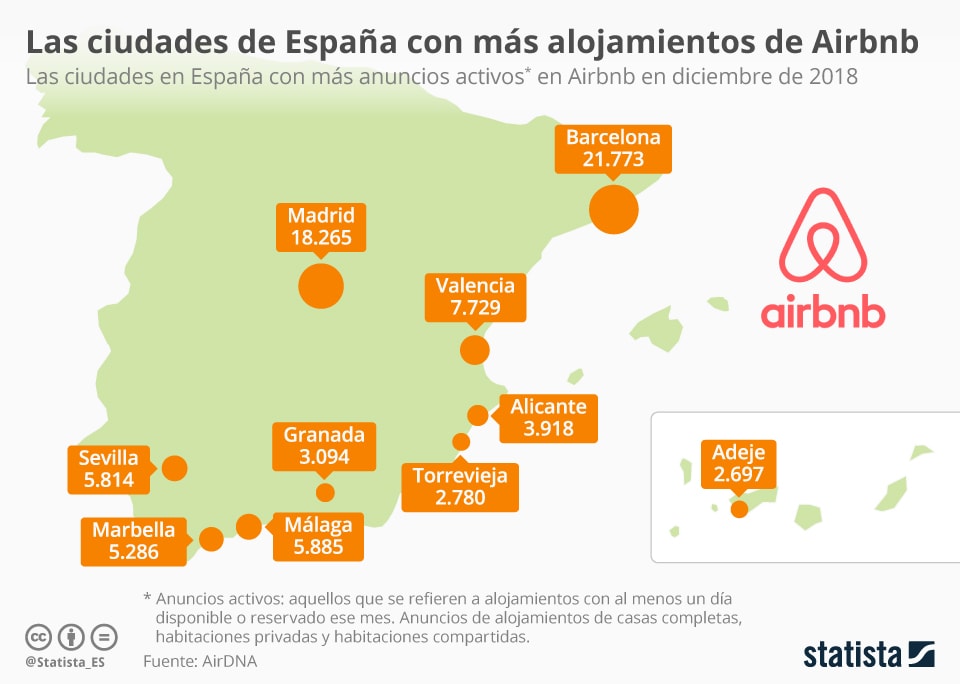 The COVID crisis has driven demand towards larger properties, as illustrated by Spanish data. Larger properties are seen as a great place to self-isolate with friends and family. Yet, when social venues are closed, these properties can be great picks for throwing parties, creating noise and disturbances.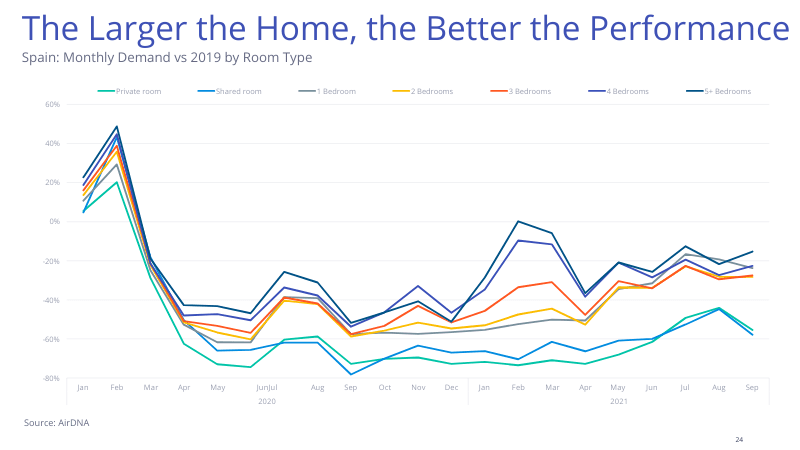 The rise of "noise incidents" during the pandemic in France and Spain has led Airbnb to take drastic measures (and brought an endorsement to Minut)
The French and the Spanish markets have seen local politicians accuse Airbnb of stealing away homes from the residential markets and destroying the peace of entire neighborhoods by transforming them into Party Central (Barcelona comes to mind).
Airbnb had run into similar issues in the US, with deadly shootings occurring during illegal parties in summer 2020 when most social venues had been closed due to COVID-19 regulations.
As a result, Airbnb started enforcing new rules, such as;
In August 2020, a global ban on parties, which thus applies to France and Spain
The same month, restricting guests under the age of 25 from booking entire home listings in their local area under certain circumstances, in the following countries: US, Canada, UK, France, and Spain.
Restrictions on New Year's Eve 2021 bookings in the US, Canada, Brazil, Australia, New Zealand, France, Spain, and the UK:
In August 2021, Airbnb shared some data about the impact of its party prevention measures:
Since launching in August 2020, this technology has blocked or redirected reservation attempts from nearly 375,000 people. Across France over 240,000 people were blocked, in the UK almost 84,000 people were stopped, and in Spain, almost 50,000 people were prevented from making a booking.
The ban on house parties was in response to several incidents that had taken place at Airbnb properties, such as parties getting out of hand and causing damage to the property.
The ban applies to all properties listed on Airbnb, regardless of whether or not they are used for hosting parties. It's important to note that this is not a new policy – Airbnb has had a ban on house parties since 2014. However, the company is now taking a harder line on enforcing it.
There has been some criticism of the ban, with people arguing that it unfairly punishes responsible guests who just want to have a good time. However, Airbnb maintains that the ban is necessary to ensure the safety and comfort of its users.
Airbnb has restrictions on travelers who are under 25 years of age. For example, they are not allowed to rent any properties that are not shared rooms. These age-based conditions are because some Airbnb hosts have had problems with younger people causing damage to the properties or not following house rules.
Airbnb's recent announcement that it restricts the number of nights a homeowner can rent out their property over New Year's Eve is an example. The company said in a statement that it would be working to "limit listings for certain user types and areas" during high-demand periods.
Airbnb has actively been promoting noise monitoring solutions to support its hosts, among them Minut. For instance, Minut participated in Airbnb's Superhost benefits program, which provides third-party validation of marketing best practices that deter property owners from listing or renting out properties that do not meet Airbnb's quality standards.
In Europe, Airbnb has partnered with Minut to equip hosts there so they can use noise detection devices as part of their efforts to promote safety within neighborhoods.
As a result, Airbnb has raised the need for hosts to take some measures in France and Spain. But, while doing so, it has provided a powerful third-party endorsement that Minut can leverage when entering these two markets.
The challenges that Minut should address when entering these new markets
When selling a product to buyers unfamiliar with the category, it is essential to convey the product's differentiation factors. You can do this by explaining how your product is different from the other products in the category. You can also talk about the benefits of your product and how it can solve the buyers' problems.
You also need to address objections. For instance, potential buyers in Europe may care more about not breaching privacy rules than in the US for cultural and legal reasons.
The last challenge to note, when it comes to selling vacation rental tech, comes from addressing the needs of property managers who can manage anywhere from 5 to 200+ properties. How does the product scale with the operations of a growing property management company?
Awareness: How Minut can educate the French and Spanish market
Before selling to property owners and managers, any vacation rental tech provider needs to:
Explain how your product is different from the other products in the category.
Talk about the benefits of your product and how it can solve their problems.
Be especially prepared with facts and figures, as this will help you answer any questions buyers might ask at this point.
While many owners and property managers know about the pains linked to noise incidents, damage, and thefts, a large proportion of them are not aware that solutions exist. Thus, Minut needs to make the market aware of the existence of its product category.
Here are some questions that Minut needs to cover to educate each market:
What is a noise monitoring device, and how does it work
The benefits of installing the device on your property
Why you should install one at your vacation rental property
How to find the right device that matches your need
How to install the product so that it works properly
The cost of installation and maintenance for this kind of product (if any)
FAQs about using these kinds of products, like what happens if someone tries to tamper with the equipment or disable it altogether, etc.?
How Minut addresses privacy in Europe where concerns are bigger than in the US
Minut has all the features of a security alarm and brings the benefit of motion detection. Yet, like the other products competing in its space, the company needs to address the privacy concerns that noise monitoring and motion detection bring about. In addition, it must acknowledge the cultural and legal differences in Europe, compared with the US, and also explains what the product does NOT do (e.g., it neither monitors conversation à la Alexa nor records video à la Ring).
The challenge for Minut is to convey to both its buyers (i.e., owners and property managers) and end-users (i.e., short-term rental guests) that it does not infringe on their privacy. Some guests may be tempted to tamper with the devices, not to party hard, but just out of privacy concerns. Technically, the Minut product has built-in features to alert owners of any tampering attempt.
Europe, a market where tech companies run into more privacy regulations
For a company like Minut, it is essential to remind its would-be buyers that it is a European-based company that understands European regulations and preferences around privacy. This is why, while the company is educating the market, it must explain what it does and what it does not do. For instance, in its communication, Minut must underline that it does not listen to guest conversations as Alexa does or records videos of guests as Amazon's Ring does.
Why are privacy laws in Europe stronger than in the United States? One reason is that privacy has been enshrined as a fundamental right in the EU Charter of Fundamental Rights.
This means that many laws are in place to protect citizens' privacy rights. For example, the General Data Protection Regulation (GDPR) was introduced in 2018, and it sets out strict regulations about how personal data can be collected, used, and shared by companies.
Another reason is that the EU has been able to pass more comprehensive privacy laws because it has in Europe more privacy regulators than in the United States. Each EU member state has its own privacy regulator, which is responsible for enforcing privacy laws across all sectors of society – not just technology companies.
Today, one of the biggest privacy issues is taking place right inside our homes, with voice-activated "smart" devices like Amazon's Alexa and Google Home. In December 2018, a German court ruled that strict privacy laws bind these smart speakers because they qualify as a spying device.
How Minut want to solve the issues by talking to both its buyers and end-users (guests)
By looking at Minut's website, we can see two major ways the company wants to solve privacy concerns is.
The first is with clear explanations to its buyers about what data is recorded or not. For instance, this what you can read on Minut's privacy page: https://www.minut.com/legal/privacy
When you install our Minut Device in your home or other residential property, it collects data that allows you to monitor your home or other residential properties for variables such as noise level, humidity, temperature, and alarm recognition without an intrusive camera.
On its blog, the company addresses the concern by writing things such as :
"No camera. No conversations recorded. No data loopholes."
It also publishes sales materials about privacy, such as this video:
The second way is by educating owners and managers about the need to disclose the presence of Minut's devices. The company empowers its buyers to do so by crafting communication examples that they can leave at their property:
Even if the applicable law does not require such notice, we think it is a good idea to do so and we strongly encourage you to inform your guests of the Minut Device in your residential property listing and at the property.
For your convenience, we have written some sample language you can use. For example:
"This property is equipped with a device that monitors noise levels (but does not record sound) and notifies the host if it gets too loud."
How to address the needs of property managers who operate dozens of properties
To attract property managers, vacation rental companies need to consider how different their needs are from individual hosts:
They manage dozens of properties, with PMSs and channel managers playing the role of their company's backbone
Operations take a lot of time, so any new solution should also automation to streamline tasks
Updates should be possible in bulk, not one property at a time
Minut is a playbook example of how to tackle the property management company market:
It has a product page for owners and another one for property managers
It mentions words that property managers want to hear, such as streamlining operations, automating conversations, and making it easy to manage a whole portfolio.

The other major point to concur the B-to-B part of the short-term rental market is creating integrations and partnerships with other software companies. Here, Minut has started getting allies that count in Europe, such as Smoobu, BookingSync, and Guesty.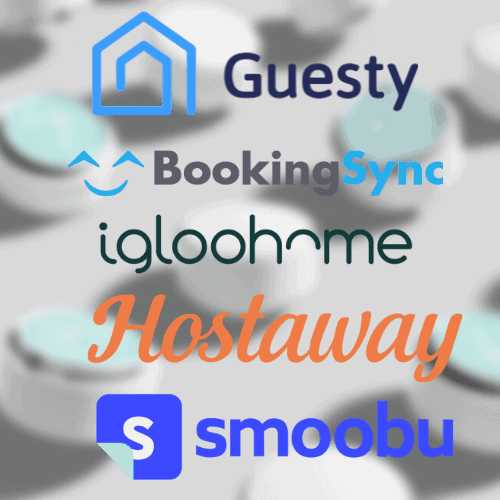 Conclusion:
Minut's entry into the French and Spanish markets is very strategic, as they have a large supply of vacation rental properties. In addition, the COVID crisis and the rise of short-term regulations have underscored the need for owners and managers to have more control over their properties while respecting the privacy of their guests.
Airbnb provides an endorsement of Minut, as it has selected the company as an ally in reducing noise-related complaints. Moreover, as Airbnb has singled out France and Spain, along with the UK, Canada, and the US, as places where the platform has set up stricter controls, Minut can use these measures to underline an acute need for its solution in its market.
To win the market, the company is also working on addressing objections such as:
– Does the solution meet privacy regulation requirements?
– How does it scale with a portfolio of dozens of properties?
These efforts are very much in need, as the awareness of the product category as a solution may still be weak while helping buyers at the consideration phase is key with a more advanced solution than those of its major competitors.