Here are some of the tools I have used over the years to make the journey easier.
Gmail    Don't laugh,  Gmail is a very powerful way to handle communication for a group of rental properties.   Particularly when teamed up with Boomerang.  Within a few seconds, you can pull up all correspondence from a past enquiring guest.
Boomerang is  a Gmail extension that lets you set a reminder to check progress with an enquirer.  For instance, you know the enquirer is checking with their partner if the dates and price are ok before they book.  Around about lunch tomorrow is when they should have made a decision, you set a reminder, and voila, up comes the enquiry then for you to follow up.  Helps keep clutter out of the inbox. Helps keep clutter out of your mind!
WordPress.  It is the world's most popular free website platform, because it works!    And it is user friendly.  I use it for my websites.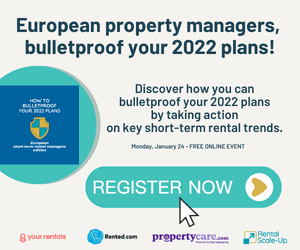 Thesis.  I often use the Thesis 'theme' in WordPress. Works well.
Google Adwords.  A very effective way of advertising your own website.  Their Help is surprisingly good.  Not for the faint hearted.
Your own FAQs.  When ever you have a repeated guest question, put the answer on FAQs on your website and your Guest Welcome Pack.
Your own templates.  You must have your own templates, neatly organised in folders at your fingertips.  I use notepad so templates can be easily copied into any email without formatting.  Also standard welcomes, progress payments, thank you's, requests for reviews.  If you do it, template it.
Mailing software.  I use Mailchimp (free for small volumes).  Aweber is also well regarded in the industry.
Irfanview.  A simple free graphics program.  I use it to to resize, crop, modify images in seconds.  You can batch process scores of images at once.
Freemind Free, mind-mapping software.  I use it for organising ideas, planning, brainstorming, recording key learning points from workshops and books.
Skype.  Almost free.  Handy for communicating when travelling in a foreign country using wifi, without a local SIM and without expensive roaming charges.  Good for group discussions, a virtual phone number, and for sharing screens with a colleague in another place.  You and your tech support person can solve problems on Skype together.  The chat function live in a call is very powerful – 'this is what I'm talking about, just click on this link.' You can also hand control of your PC to the person on the line
Domain Registrar.  Where your domain names are kept.  I have used cheapdomans.com.au.  Works well for .com and .com.au domains and many others.    I used to use  Godaddy for .com's, but am changing because their labyrinth  of upselling makes renewal a nightmare.
Web hosting.  For your own website if you have one. Should provide hosting servers close to your target customers.
The Dummy Books.  I'm a sucker for these books.  They keep it simple and well organised.  Useful for Adwords, SEO, WordPress and the like.
Google Local Business.   You can claim your own free business listing.  You can be listed free in the Google search results, and you appear for free on Google Maps.
Gurus I follow.     Matt  Landau. Heather Bayer.
Matt Landau and I hung out together in Panama City in late 2013.  He is an amazing treasure trove of information for rental owners.
Christine Karpinski's  'How to Rent Vacation Properties by Owner' book is  useful for setting up a rental from scratch.
Podcasts I follow.    Unlocked – Matt Landau   Vacation Rental Success – Heather Bayer.  Smart Passive Income – Pat Flynn.
Vacation Rental Handbooks
There weren't any that I liked, so I wrote the definitive guide to setting up and running your vacation rental: Vacation Rental Mastery.  It has been very well received.  How to get high occupancy within a few months of starting and keeping well occupied.  Tricks and tips learned over 20 years of running VRs, to save you years of mistakes.  Check it out.
Newsletter
I have a weekly newsletter read by VR owners all over the world.  Latest tips and trends.
Sign up here.