We've talked about the fact that short-term rentals are becoming increasingly corporate. Airbnb property management companies are growing, and more and more short-term rentals are being operated by management companies than by individual owners. But what does this trend look like at the city level? And how do local governments react?
The London City Hall is now trying to use Airbnb data analytics to show that hosts are getting more professional and that many "hosts" are, in fact, multi-property owners or managers. London has a law stating that properties can only be rented for 90 days per year, so the city wants to crack down on property managers or "professional hosts" who might violate this rule by renting properties on a full-time basis.
There's nothing wrong with professionalization per se, but this trend can affect local legal restrictions as cities want to maximize their tax dollars and enforce zoning and safety regulations.
London through Airbnb data analytics: Comparing all sources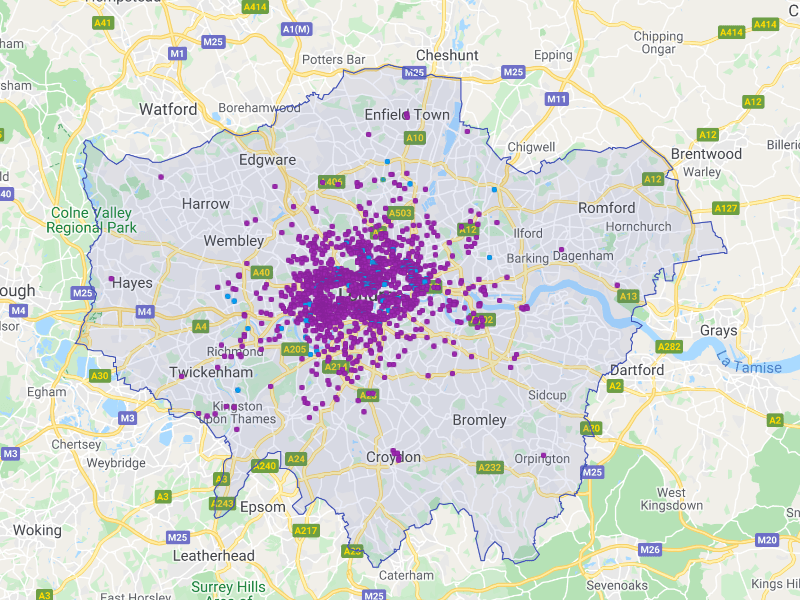 One challenge that local legislatures encounter when trying to implement short-term rental rules is simply quantifying how big the short-term rental market is. How many hosts are there? How many properties are active? The attention given to London's short-term rental market sheds light on the lack of reliable, accurate, and up-to-date data available for the industry.
We can compare London market data from several sources, which all provide different numbers:
London's City Hall with Inside Airbnb:

According to this data set, as of May 2019, 80,770 properties were listed on Airbnb.
56% of those Airbnb properties – 45,070 listings – were entire homes.

On the current Inside Airbnb website:

If we check today, Inside Airbnb shows 77,096 London listings, among which 42,758 (55.5%) are entire homes/apartments – a slightly different result than the findings gathered with City Hall. However, we can't necessarily say one data set is fresher or more reliable. Inside Airbnb offers some free data on their site, but some data is only available to paid accounts.
On the right side, in the "Listings per Host" block, you'll see that out of 77,096 listings in London (which include both private rooms and entire homes/apartments):

41,132 (53.4%) are hosted by people who only have one listing
35,964 (46.6%) are part of multi-listing portfolios. It would look like there are 35,964 listings that belong to hosts with at least 2 listings. Yet, always take these numbers with a grain of salt, as they can be flawed (see below).

Airbnb's dataset:

In April 2019, Airbnb said that there were 60,000 listings in London on their platform, but this data doesn't note how many of those listings are entire homes/apartments.

AirDNA data:

December 2019 data shows 69,904 "Active Rentals," which include 43,084 entire homes/apartments (62%). AirDNA also breaks down the number of private rooms and shared spaces, plus details like review scores, number of bedrooms, and average length of stay. To get access to the data, you'll need to make an account. A free account includes access to basic market data, while a paid subscription includes more detailed market data.
So, when comparing data from AirDNA and Inside Airbnb, the total number of listings is somewhere between 69,000 and 77,000, which somewhat matches the 60,000 figure that Airbnb provided. But we still have some questions; for instance, what is an "active listing" versus a "listing," and do these figures include listings that have been deactivated, paused, or removed? What is interesting is that Inside Airbnb and AirDNA think there are approximately 42,000-45,000 entire homes/apartments listed in London. With the limited Airbnb data analytics available, it's difficult to quantify how many short-term rentals actually exist in London.
Beware of potential flaws when interpreting Airbnb datasets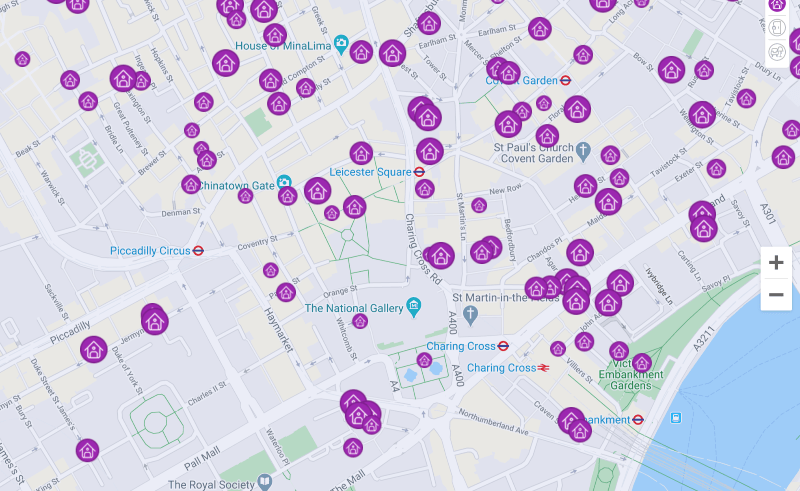 Since London's legislature is focused on finding owners or managers who operate multiple properties, it can be tempting to look at various Airbnb datasets and jump to conclusions about how many listings fall under multi-listing hosts. However, given the questionable accuracy of the data, we want to share some cautionary advice to avoid leaping to incorrect assumptions:
Be aware of the risk of confusing any multi-listing owner with a multi-property owner, which could include:
A host who owns a 3-bedroom apartment then rents out 2 of the bedrooms and finally creates 1 listing per bedroom – a total of 2 listings.
A host who owns 2 apartments, then rents them both out and finally creates1one listing for each apartment – a total of 2 listings as well.
A host who owns a 2-bedroom apartment but takes the savvy move of creating 2 listings for it on Airbnb: one listing for the entire 2-bedroom apartment and a separate listing for the same apartment as a 1-bedroom apartment – again, a total of 2 listings. This strategy is possible – and even encouraged – on Airbnb. The platform even makes it easy to synchronize the calendars of the same property represented by several different listings.
These statistics, based on various Airbnb data analytics platforms, do not expose multi-property managers hiding behind single listings.
A common tactic of some property managers looking to skirt the rules is to list each of their units under separate Airbnb accounts. These property managers often use fake names and stock photos to make the host profiles seem legitimate. This way, each of their host accounts will have just one listing attached to them. The Co-Host and Team features on Airbnb are easy to use for that purpose.
Remember that many multi-listing hosts run perfectly legitimate businesses.
When you look at Inside Airbnb's list of top hosts with multiple listings, you can clearly see the names of well-known companies such as Veeve, City Relay, and Sonder. There's nothing wrong with these.
Short-term rentals in London: Professionalization is rising, but it's not always wrong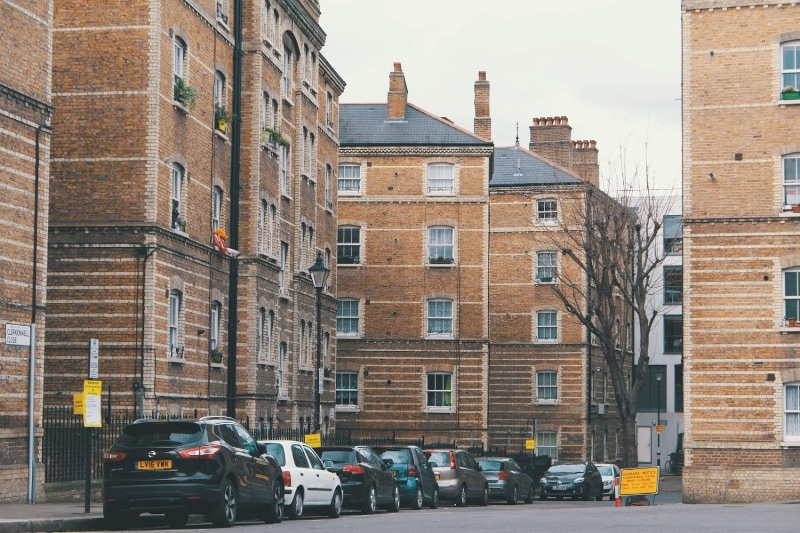 Professionalization might get a bad rap in the local regulations world, but when we look at the short-term rental industry overall, we see that professional property management companies make a lot of positive contributions.
While some property managers or operators may use short-term rental platforms as a way to evade local legislation or scam guests, the many legitimate property managers out there truly understand hospitality and provide great products. The new generation of short-term rental "brands," like Sonder and Stay Alfred, deliver safe, reliable experiences and operate with a high standard of service in their markets across the world. Smaller-scale property managers also operate more efficiently and have better access to resources than some individual owners/managers.
In addition, a crop of vacation rental consultants, podcasts, and other resources have sprung up to teach people how to create systems and standard operational procedures (SOPs) to scale their businesses.
With increased scrutiny given to professional short-term rental managers in London, what is really at stake here is that the local government is concerned with shady property management companies that breach their rental caps. These two types of property management are completely different and shouldn't be lumped together. We want to push for more accurate Airbnb data sets and methods to identify the bad players so their actions don't ruin the short-term rental game for the professional hosts running legitimate businesses.