During the fourth quarter of 2022, Airbnb reported a net income of $319 million, its most profitable quarter ever. Compared to the same period in 2021, net income improved by $264 million due to increased revenue and cost controls. This resulted in a net income margin of 17%, up from 4% in Q4 2021. For the entire year of 2022, Airbnb achieved a net income of $1.9 billion for its first profitable full year, compared to a net loss of $352 million for 2021.
Airbnb also communicated around its 2023 strategy, which we decode here.
Airbnb's Spectacular 40% Growth in Revenues from 2021 to 2022, thanks to high demand and ADRs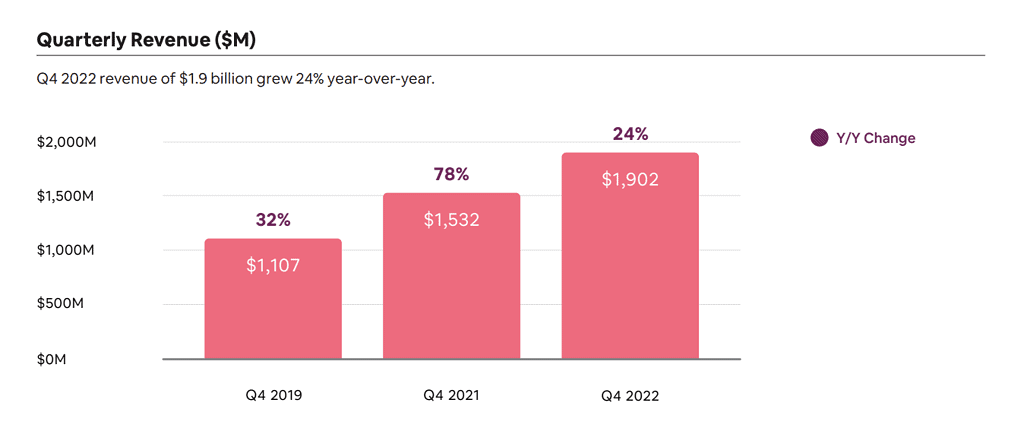 For the full year 2022, revenue increased 40% year-over-year to $8.4 billion due to the rise in demand and Average Daily Rates (ADR).
In the fourth quarter of 2022, Airbnb reported $1.9 billion in revenue, its highest fourth quarter ever, and a 24% year-over-year growth driven by solid growth in bookings.
Demand was high in Q4 2022 and is promising for Q1 2023
Guest demand on Airbnb was strong in Q4 2022, with a 20% increase in Nights and Experiences Booked compared to the previous year. In Q4 2022, Airbnb achieved its highest number of active bookers yet, showing that guests remained excited to travel on Airbnb while navigating changing economic conditions.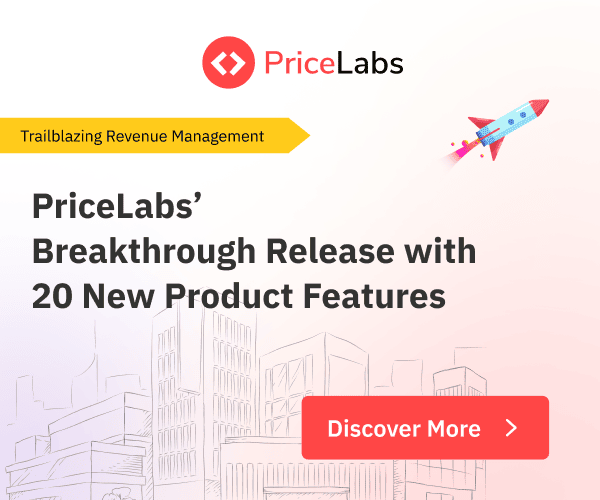 Globally, 1.4 billion cumulative guest arrivals have been accomplished since the platform's launch.
For Q1 2023, there is a robust backlog of bookings with longer lead times than in Q4 2022 compared to the same time period the previous year.
Demand soared globally – North America, EMEA, and Latin America all made gains:
In the fourth quarter of 2022, Airbnb saw revenue earned in the U.S. increase by 19%, representing 47% of total global revenue.
In North America, Nights and Experiences Booked grew by 35%.
In EMEA, Nights and Experiences Booked increased by 25%.
Latin America saw a 23% increase in Nights and Experiences Booked.
The Asia Pacific region had the most impressive showing with 40% growth in Nights and Experiences Booked due to easing Covid-19 restrictions across the region. This is still significantly lower than pre-pandemic levels but showing signs of recovery.
Airbnb growth rebounds further – Urban bookings and international travel resurging.
Big cities now represent more than 50% of Airbnb's bookings again
Before the pandemic, Airbnb was heavily utilized by couples who wished to stay in a large city in the United States or Europe. In 2020 and 2021, demand for urban reservations plummeted as travelers chose more traditional vacation rental options or visited smaller towns. Months of confinement in big cities had driven many people away from these busy environments.
It took more than two years for bookings in major cities (or "high-density urban markets" according to Airbnb) to account for greater than 50% of the company's total bookings.
High-density urban nights booked grew 22% compared to Q4 2021.
High-density urban nights were 51% of total gross nights booked (versus 59% in Q4 2019).
Q4 2022: Encouraging signs of cross-border travel resumption despite foreign currency volatility
Airbnb had long been a convenient way for travelers to visit other countries without worrying about lodging quality.
During the initial stages of the pandemic, many individuals chose to remain in their home nations. However, with time people began resuming travel to proximate foreign countries. For instance, crossings into Europe saw an increment throughout 2021, while U.S. citizens saw Mexico and Canada as popular destinations.
In 2022, more Americans journeyed overseas while the elevated American dollar made it harder for Europeans to visit the United States.
Here's the data shared by Airbnb:
Guests increasingly returned to cities and crossed borders in Q4 2022, with 49% growth in cross-border gross nights booked compared to Q4 2021.
Cross-border was 44% of total gross nights booked (versus 47% in Q4 2019).
Cross-border travel increased globally from last year despite foreign currency volatility, though Asia Pacific has yet to return to 2019 levels. China's recent removal of travel restrictions is an encouraging sign for the region.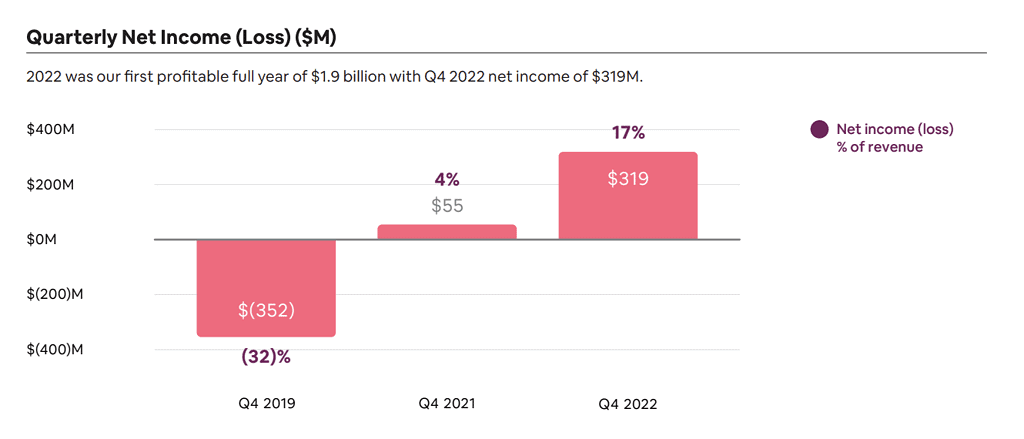 Airbnb sees 16% growth in supply with 6.6 million active listings in 2022
Airbnb saw significant growth in supply in 2022, with 6.6 million active listings being its highest ever. This represented an increase of over 900,000 active listings, or 16% compared to 2021.
Two factors drove this uptick in supply:
Hosts sought supplemental income—particularly during economic uncertainty such as inflation and recessionary concerns—which drove demand for Airbnb properties.
Airbnb invested significantly in product innovation to make hosting more attractive and easier—most recently introducing the Airbnb Setup program. Airbnb also drove considerable traffic to its landing page for new hosts with its Airbnb commercial. The company will continue to invest in growing its Host community and helping them succeed.
Airbnb has sought to quell rumors of the #Airbnbust – a decrease in bookings per listing for existing hosts due to an influx of new supply – by highlighting that demand and supply have risen in almost equal measure since 2021. Nevertheless, the global figure does not reveal that some markets may be facing oversupply while other regions are still experiencing growing demand. In certain areas, hosts may be feeling the brunt of the #Airbnbust, particularly when it comes to markets with a surplus of supply and budget-conscious consumers.
What to expect from Airbnb in 2023?
Airbnb says that bookings for Q1 2023 are solid. The company wants to increase its supply while making sure that it stays an affordable option for travelers. It also wants to push further new initiatives and maybe renew some that were paused during the pandemic.
Read our article about Airbnb's 2023 strategic priorities (Make Hosting Mainstream, Perfect the core service, and Expand beyond the core) to see how the company has already started attracting more occasional hosts, developing tools to get hosts to lower their prices, and adding offerings beyond short-term rentals, such as apartments for long-term tenants.