An online travel marketplace specializing in last-minute vacation rentals, getawayGoGo, has announced a partnership with channel manager NextPax Travel Technology. This will allow NextPax property managers to list their last-minute openings to spontaneous and budget-minded travelers on the getawayGoGo platform, giving these managers a global, direct bookings option.
This article looks at the difference between Online Travel Marketplaces (OTM) and Online Travel Agents such as Booking.com or Airbnb. It also examines how short-term rental managers can benefit from listing on an OTM like getawayGoGo.
Key Differences Between Online Travel Marketplaces (OTM) and Online Travel Agents (OTA)
Online travel agents (OTAs) commonly assess a service fee on reservations, calculated as a percentage of the nightly rate and length of stay. This increases prices for travelers, both directly and indirectly; Property Managers tend to pass on the advertising fees paid to OTAs in the form of increased prices for travelers, leaving fewer opportunities for market-driven discounts. This is not the case with getawayGoGo, where property managers and owners pay a flat fee per booking instead, leaving plenty of wiggle room for competitive pricing.
OTMs are also distinct from OTAs in that they enable direct communication and booking between managers and travelers – no agency is required. This makes managers the merchant of record, so travelers must agree to their reservation agreement and cancellation policies.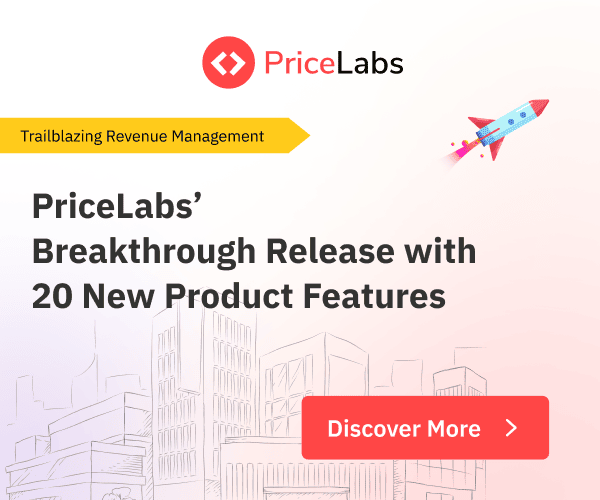 Tapping Into The Lucrative Last-minute Booking Trend in Short-Term Rentals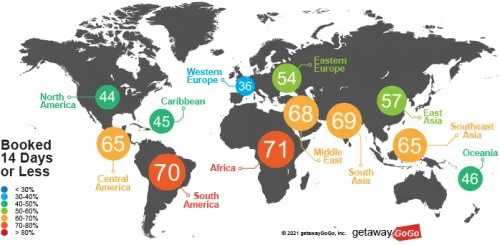 With last-minute vacation rental booking trends at 44% in North America, 36% in Western Europe, 45% in the Caribbean, 65% in Central America and 46% in Oceania, it's clear that short-term rental managers have a unique opportunity to tap into an incredibly important market of travelers. This can increase potential property bookings and provide lucrative opportunities for those who capitalize on these trends. Note that last-minute in this context is defined as booking within 14 days of arrival.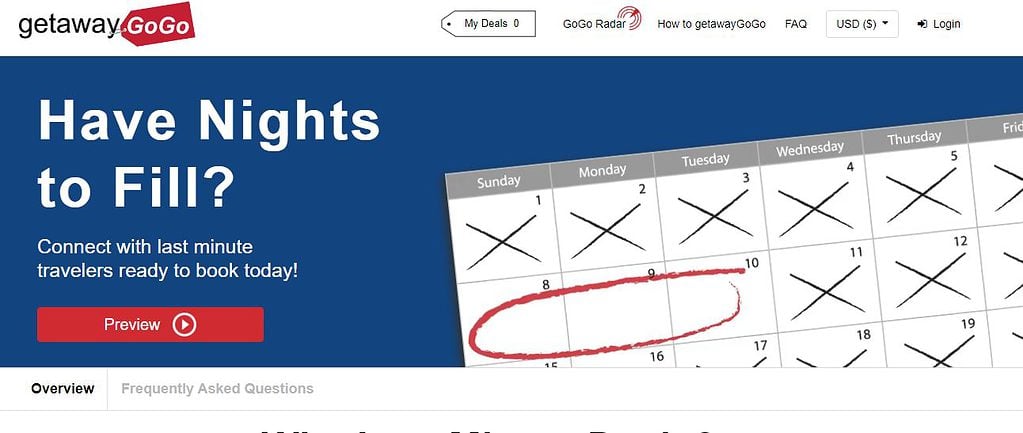 With a focus on providing last-minute properties at discounted prices through direct booking, getawayGoGo was founded by vacation rental property managers and owners to connect with travelers who have last-minute needs. Drawing on their experience in strategically marketing such properties, the team of experienced professionals in vacation rental marketing, sales, and technology collaborate with connected partners to build a #bookdirect marketplace that meets the demands of travelers and property managers alike in terms of last-minute bookings.

Lennart Kok, Director of Distribution Partnerships at NextPax confirms, "Having getawayGoGo connected in our Distribution Partnership Network, means a lot for our accommodation partners in 2023 and beyond. What we experience is that; all travellers are looking for flexible policies, freedom of choice, and ability to make last-minute decisions. Therefore, it is of extreme importance for our accommodation partners; to add distribution partners that are focused on selling unsold accommodations or released accommodations due to cancellations or modifications at the last-minute. getawayGoGo provides accommodation partners that last-minute sales opportunity to mitigate the risk of having open periods for your vacation rentals."
Last-minute value for travelers and short-term rental managers alike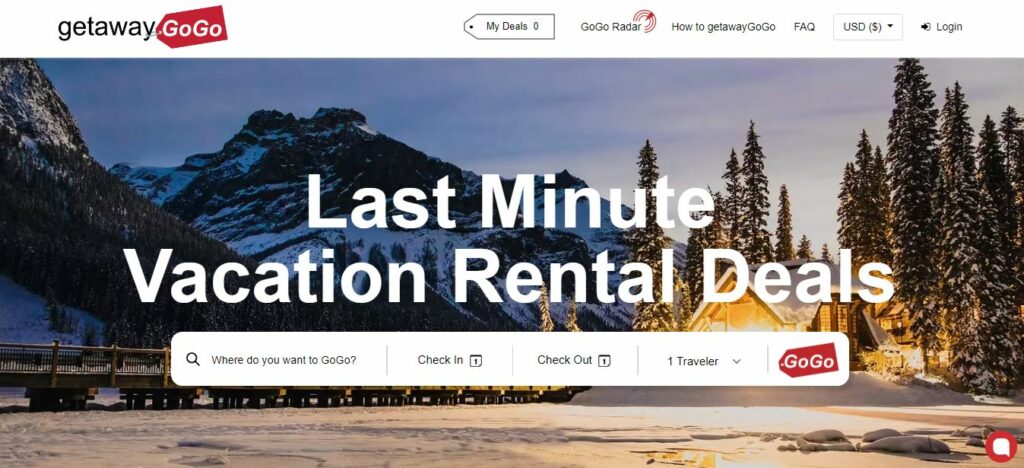 GetawayGoGo gives travelers the convenience of searching and finding properties available at the last minute, while also facilitating direct communication and offering competitively priced bookings. Travelers can enjoy great savings on their beach house or weekend vacation rental by obtaining direct pricing from property managers, courtesy of getawayGoGo.
Property managers and owners benefit from the platform's ability to facilitate cost-effective promotion of their services, in order to maximize occupancy levels and revenue.
GetawayGoGo enables property managers to promote last-minute accommodation openings for travelers.
The platform consolidates last-minute lodging options in one place, allowing travelers to quickly and easily search and book such services.
Property Managers are the merchant of record, meaning all reservation funds go directly to them instead of GetawayGoGo.
Travelers can access property manager information by signing up and communicating directly with PMs.
It offers an instant reservation option, contact the property manager option, or both – with no subscription fee required for PMs to list their properties through integrated PMS or channel managers.
Bookings incur a flat rate fee of $10 regardless of the nightly rate amount; this eliminates the need for PMs to increase prices in order to counterbalance OTA commissions, while reducing prices for travelers as there are no service fees applied.
Plus, GetawayGoGo also provides search and sorting capabilities making it easier and faster for travelers to find what they're looking for.
How Do Property Managers and Owners List With getawayGoGo
As a result of their recently announced partnership with NextPax, all managers and owners using the channel managers now have the ability to list with getawayGoGo.
Currently, getawayGoGo is also connected with channel managers such as escapia, Hostaway, Hostfully, Hostify, and OwnerRez. Testing for BookingPal integration is also underway. Other PMS connections are in process and larger companies with custom reservation systems that have APIs can connect directly to the platform.
Instant book vs. Contact a Property Manager: How Do They Differ?
During the getawayGoGo account setup process, Property Managers can choose to activate both instant reservations and the contact property manager buttons for their property pages. When travelers make a reservation on getawayGoGo using the Reserve Now button, Property Managers pay a flat fee of $10 per booking.
Logged-in travelers who click on the Contact Property Manager button will be able to view the PM's contact details including logo, telephone number, email address, website URL, social media information and a contact form.
The first time a traveler views any continuous opening within 14 days before arrival and clicks the Contact Property Manager button, they are charged $7; any subsequent inquiries are free. When those same or other travelers complete a booking after contacting the PM via this button, then only an additional $3 is charged – bringing the total to $10.
---
GetawayGoGo's innovative approach to short-term rental booking has opened up the door for property managers to tap into a new market of last-minute travelers with considerable potential. With the recent surge in last-minute vacation rental bookings, it is becoming increasingly important for property managers make sure they are taking advantage of this trend. By utilizing platforms like getawayGoGo and other #bookdirect strategies, they can ensure they are staying ahead of the game while providing their clients with attractive discounts and properties that match their needs.