How to bulletproof your 2022 plans (European property managers edition)
January 24 @ 4:00 pm

-

5:00 pm

Free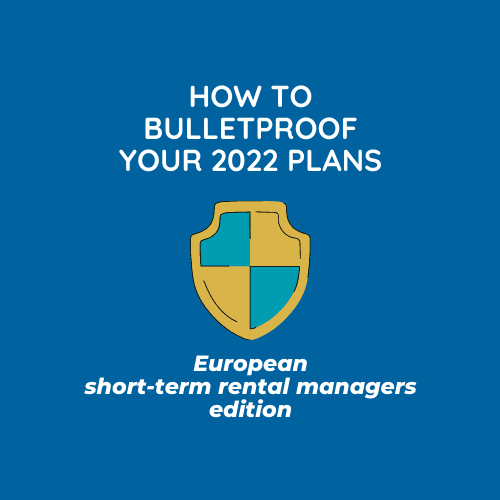 Discover how European property managers can bulletproof their 2022 plans by taking action on key short-term rental trends.
In 2020 and 2021, European property managers saw that the best-laid plans can be turned upside down by travel restrictions, new virus variants, and governments taking drastic measures.
Explore how you can navigate this new year through clear European trends and data, as well as best practices from recognised experts. They will openly share with you how key European markets have changed, how you can make your short-term rental business more resilient, how to pick up positive trends early and react fast, and how operations, from cleaning to guest experience, remain at the forefront of beating your competition.
Thanks to exclusive market data reports put together for this free online conference, you will get an update on 2022 booking patterns (e.g. length of stays, booking windows) and you can see which countries are booking (e.g. how is cross-border travel in Europe doing?).
JANUARY 24, 2022
Recording available if you sign up
Link: https://www.rentalscaleup.com/bulletproof-your-2022/
MEET OUR PANEL OF EXPERTS
ANDREW MARTYN, CEO, YOUR.RENTALS
Sharing insights based on exclusive data from thousands of European property managers
Andrew Martyn is the CEO of Your.Rentals, a company whose goal is to make the daily life of property managers all over the world simpler, easier and more profitable. Your.Rentals works with property managers in hundreds of locations across Europe in multiple languages. This gives Andrew access to exclusive data from European property managers just like you. In this conference, he will share key insights based on this data to share with you how other property managers like you are preparing to deal with the uncertainty brought on by rising Covid-19 cases and new travel restrictions.
HENRY BENNETT, CO-FOUNDER, PROPERTYCARE.COM
Cleaning and guest experience will remain top guest priority: How to meet changing expectations fast?
Since 2020, the focus of the short-term rental industry has moved towards cleanliness, sanitation, and guest experience more than ever. This is not changing anytime soon, as is clear from emerging 2022 trends. Vacation rental businesses that keep up with rising guest expectations and provide consistent service will be the only ones who thrive. Propertycare.com (powered by YourWelcome) Co-Founder Henry Bennett highlights exactly how important these factors will be, and how you can build a resilient property management business that responds fast to changing needs.
TALIA LOCKARD, DIRECTOR OF BUSINESS DEVELOPMENT, RENTED
Performance metrics you should be tracking and what they signal
Taking Rented's dynamic analytics that predict consumer behavior at the micro-market levels, Talia Lockard will highlight how various European markets might perform in 2022. She will clarify what different metrics signal about your business, and how to track and understand them to get visibility of ongoing performance & future trends.
UVIKA WAHI, HEAD OF CONTENT & COMMUNITY, RENTAL SCALE-UP
How to pivot your marketing to take advantage of 2022 travel trends?
Uvika Wahi is a digital marketer specialising in the short-term rental industry.  She will use her content marketing expertise to connect 2022 European vacation rental trends with marketing strategies and tactics European property managers can adopt to reach the right audience.