A double booking is the vacation rental owner's worst nightmare.
It usually comes as a confused call from a guest trying to check in when you already have guests staying. Oh no! It usually means hours negotiating a change and arranging alternative accommodation AND probably a bad review AND maybe loss of Airbnb superhost status! Lots of stress.
The obvious solution is some channel manager software to synchronise all your calendars at once, but in recent years most solutions have been too expensive, typically A$100 per month, beyond the budget of small VR owners of just one or two properties. Also some of the channel managers have been unable to synchronise with some of the Online Travel Agencies like Airbnb.
That is all ending as a number of vendors are emerging with low cost solutions. Also the OTAs are realising that it is in their interest to make it easy for any number of channel managers to synchronise their software. The easier it is for owners to synchronise with them, the more owners will sign up to their platform. We are in the middle of a mini revolution.
This is also a perfect time to take the next step in getting more direct bookings.
Not only are there affordable channel managers emerging, they also have online calendars and online booking software that can be bolted onto the VR owner's own website. View the diagram at the end of this article to see how it works.
As mentioned in last week's post, affordability, the holy grail of channel managers for VR owners, is now within reach.
A suitable Channel Manager – Update247
I stumbled on Update247 at an affordable price a few months ago, and only got around looking into it recently. It came with glowing recommendations from Dianne, a very savvy vacation rental owner in Melbourne who has been using it effectively for over 5 years.
Update 247 is an affordable A$35/mth, much less than many competitors. It comes complete with a calendar and booking engine (Booking247) that you can link to from your website to take direct bookings online. My colleague Barry from London also uses it and the price is a lot lower there (10 pounds/mth) as they start to penetrate the UK market. Update247 also has a low price guarantee, which makes it useful for any new location.
Update247 is Melbourne based, with installations worldwide and a relatively modest user base of 3000 hotels and VRs. Their model is for hands-on support to get the VR owner started and familiar with the software. I found them good to work with. Disclaimer: I receive no side benefit for using or endorsing the product.
It was with a sense of satisfaction that I put the finishing touches to my new channel manager and booking engine several weeks ago, and switched it on for my own Sea Zen vacation rental. I had run lots of tests over the prior week, all working sweetly. It's still working well. It synchronises flawlessly with Booking.com for dates AND prices, but just blocks out dates for Airbnb, Homeaway and many other channels. That is enough for me. The calendar is also a bit clunky, but works well enough for me too.
Now when I get a booking from Airbnb, Booking.com, Homeaway OR directly from my own website, all the calendars are blocked out at the same time. Nice to wake up in the morning knowing that I had no double bookings overnight. Nice to see a booking and not rush off to block out another 3 sets of calendars!
Instant bookings on
I also switched on instant booking on Airbnb and Homeaway, knowing that it won't be possible to instant book from two sources plus Booking.com in the middle of the night. Remember that your search rankings on the OTAs are also improved with instant book turned on.
Is this the only solution?
No, there are many channel managers, as stand-alone solutions and also others combined with complete software packages. Many are very good, and some come with extra features not available in Update247.
I'm not aware of a comprehensive review of the solutions out there and their prices. In the coming year, I expect there will be many competitive solutions.
If you are the operator of just a few rentals, you may wish to get your own inexpensive channel manager – and sleep well at night!
————————
For the technical minded – how a Channel Manager works:
A booking is made. It could be via one of the owner's OTA listings. It could be direct via a visit to the owner's website, and to the calendar attached to the website, which has a Booking engine attached to take the booking online. All of these are linked to the Channel Manager, and the moment the booking is made, the Channel manager synchronises and blocks all the other calendars at once.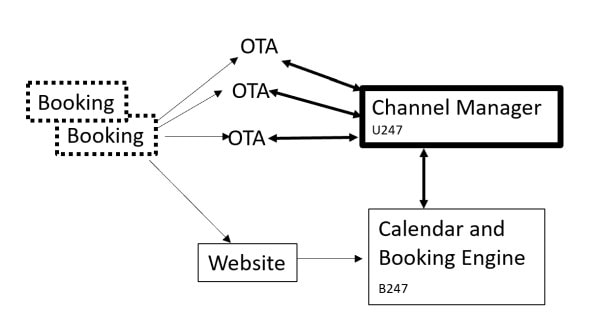 When someone wants to make another booking for the same dates, they can't because all the calendars are blocked.
Goodbye double bookings!