Are you leaving money on the table because the little things are wrong?
We have all seen one vacation rental property thriving while a similar property is struggling.
The coffee capsule story
This was highlighted to me this week when a cleaner told me that a property she cleaned never needed more coffee capsules for the coffee machine. On checking closer, she found the owner had provided a reserve of capsules which were a different size than the machine itself. For the last year, guests had been trying to make coffee and were unable to. The owner had unknowingly been frustrating his guests.
What else had been going wrong at the property? Chances are, all sorts of little things. Chances are there are lots of little niggles and the guests leave frustrated. Chances are they won't come back and they won't recommend the house to their friends.
I asked if it was frequently booked and of course the answer was no.
I asked if the owner had a guest questionnaire and of course the answer was no.
This is a repeating pattern right across our industry. The problems could have been solved with some simple feedback. But it's complicated.
The psychology of feedback
Most of us shy away from conflict. When something goes wrong, it takes a certain amount of diplomacy to say there has been a problem in a way that is constructive. If you are a guest on holiday in relax mode, the last thing you want is an argument. You also don't want to tread on eggshells in raising a problem in a way that might be misinterpreted, particularly a small problem. It is far easier to say nothing, just make a mental note to avoid this place in future and move on.
It is a different thing when you are INVITED to give feedback, such as in a simple feedback questionnaire. The owner is inviting comments, there is no chance of being misinterpreted. The owner says they will be be grateful to hear of any problems.
It sends a signal that the owner cares about their guests and wants to give them a good experience. So, if the owner clearly says they care, there is a sense of obligation on the part of the guest to return the favour with feedback.
Although I'm compulsive giver of feedback, thinking back to my own experiences, I behave according to the principles above. On a trip to the beautiful seaside town of Robe four years ago, we stayed in a nice house with a lovely garden, but there were niggly problems: smelly scent bottles all over the house; incomprehensible TV instructions; and bedside lights that didn't work properly. There was no way to give feedback and I didn't want to spoil the holiday trying to find a way to give feedback to an owner who wasn't interested. We didn't recommend to friends and we won't be back!
Ways to get feedback
Fortunately there are simple ways to get feedback:
If you are a host on site, you can strike up a friendly conversation at the start and invite your guests to give you feedback. It works well if you are a chatty kind of person.
The simpler way is to just have a questionnaire inside the property inviting feedback.
The questionnaire as a driver of satisfaction
I have always had a simple questionnaire in my properties. Guests have been very kind in using the questionnaire to alert me to all sorts of little things that have gone wrong over the years, and some not so small. The little things include: globes blown, ants, run out of tea, water leak, flat torch batteries and many many more. All fixed quickly, no inconvenience for the next guests, all part of a seamless experience. If the coffee pods were the wrong size I'm 100% confident I would have known within a week of them being supplied, not a year.
The questionnaire as a tool for the cleaner
My cleaner pounces on the questionnaire the moment she arrives – how did they rate the cleaning? What were their problems? Of course she wants to do a great job and she gets instant feedback.
The questionnaire as a driver of improvement
It gets better. The simple questionnaire also invites comments about improvement. As a result I have been able to install lots of little improvements that later guests enjoy. This includes: fluffy robes; a bigger pantry; a hook for robes; a shelf for cosmetics; a telescope – and lots, lots more.
A frequent comment from guests is – "thank you for all the small touches, you have thought of everything." Well, we didn't, our guests did! I now have a list of 25 free extras that our competitors don't have, a bonus for my marketing.
Doubling the response rate
The guest response rate is around an amazing 65%. The secret to the high response rate is personalisation. My cleaner hand-writes the name of the guest at the top, which more than doubles the response rate compared to a blank form.
See the questionnaire
If you are interested in my questionnaire used in my Sea Zen rental, you can download a copy here. You'll be amazed at its simplicity.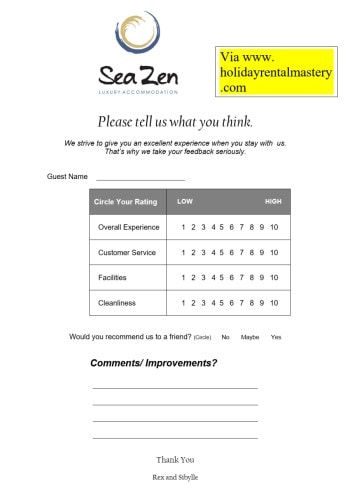 How feedback can drive success
There is a lot more to be said about getting feedback and how it can actually drive the success of your rental business, everything from improving your listing to the stay. It is all in chapter 19 of my book 'Vacation Rental Mastery'. You can purchase it here before the price rises at the end of the month (end Jan 2019).