As the inexorable growth of Airbnb floods more and more owners into the market, the competition for Vacation Rental owners get harder and harder.
The growth in vacation rental listings continues relentlessly, as shown in the graph.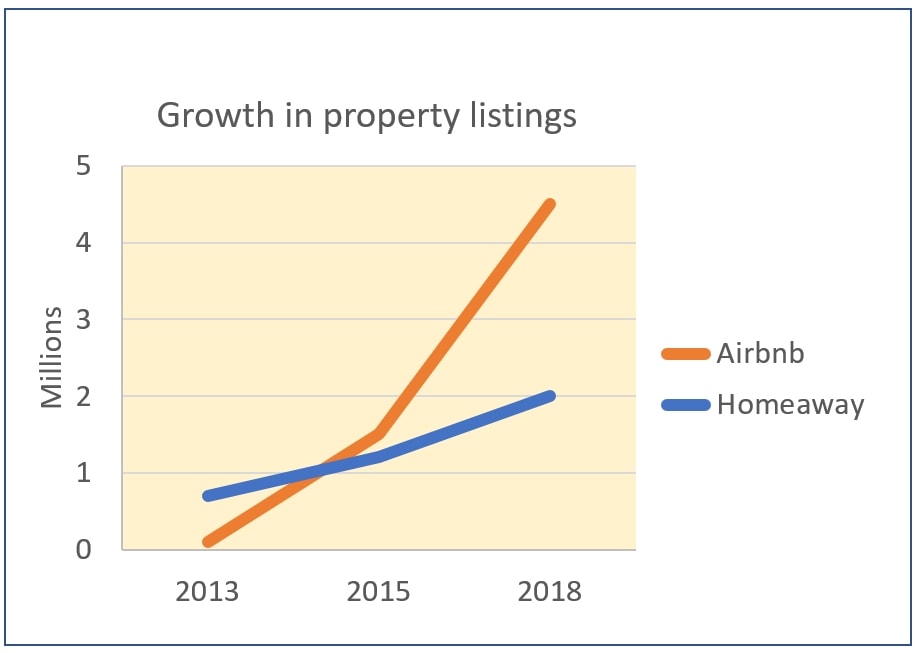 VR owners who had high occupancy rentals for years are finding themselves suddenly surrounded with double and triple the competition of previous years. In some places like Australia, Airbnb growth has been around 100% pa! It was no surprise that owners I spoke to recently have found their occupancy is being steadily eroded as more competitors come into the market.
What can an owner do in this environment? Will you continue to be swamped? Is it a lost cause?
It is not a lost cause, you can still thrive in the current world.
Remember that the Online Travel Agencies (OTAs) like Airbnb love the growth in supply and competition. It drives prices down to make it more appealing for new travellers to book on their sites. They don't care about individual owners, they just want an easy choice for travellers. Lots of similar low priced places to choose from. More revenue overall for the OTA owners.
In this situation the best solution is to stand out from the crowd – like this!
You need to do the same when you appear on the OTA listings – stand out!
You can stand out 3 ways:
Standout image
Standout name
Standout experience
1 Standout image
The single most critical factor is your main thumbnail hero shot.
Look at your competition.
If your VR is located at the beach, you will see lots of stylish living rooms looking out to sea. Lots of blue and grey. Safely styled rooms, and fluffy cushions that all look the same. Boring.
Look for points of difference that you can create. Be creative. Experiment. Put some red in the picture. Dress up the table with some flowers and a bottle of wine. If no one has surfboards in their image, put one in the corner of the shot. Snap some birds on an outside balcony.
When preparing for a hero image of our Treetops house, we set up the table with some red placemats and drinks and some flowers. We sprinkled birdseed on the balcony and waited until birds came into shot. We had a professional take the shot. We also took our own shots from different angles and light, about 30 of them before making a final choice. We later added the face of a dog to the final image as an inset to indicate we were dog friendly.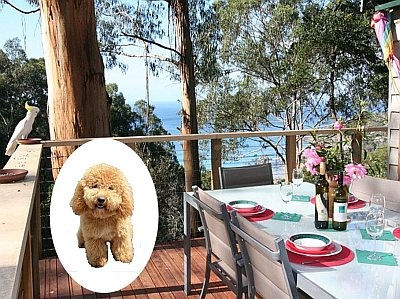 It was a lot of hard work, but it was effective. There were no other photos like our hero shot in any competitor listing. For many years when asked why they booked, guests most often said "I just loved your photo". It was a very powerful competitive advantage. Some competitors said we were lucky to get the shot of the bird. No luck in that shot!
In an urban setting, the same principles apply. If there are lots of stylish (boring) greys and beiges in competitor images, add a splash of red or blue. Artwork? Show something interesting that folks will find intriguing. If there is an unusual view, flaunt it. I tried once to book a pricey New York apartment that had a huge red wall of graffiti in the living room in their hero shot. I couldn't book because they were booked out!
The same goes for rural property images. Check your competition. Find the best aspect of your VR that will stand out. If they are all zigging, you zag.
2 Standout name
Your name should stand out and be memorable. Tree Frog hollow. Red door. Barnaby's folly. Dog heaven. Sublime view on Collins. A standout name will help travellers find you on the OTAs and often book direct.
Have you noticed that the OTAs encourage you to put in a long Description line for your listing. A colleague said Airbnb 'helped her' by strongly suggesting she use "Bright and breezy apartment" as her description.
This is typical of the watered-down wording that blends with all the other competitors. If you are one of the bland descriptions with no standout, the chances of a booking are a coin toss.
What OTAs don't want is for travellers to find the listing on the owner's website and book direct. Smart travellers will go looking for the owner's website because they know they will usually get a better deal. I was once told by a booking.com agent that they expect leakage of about 30% to other websites. How would a traveller find a website knowing only that it is a "bright and breezy apartment"? On the other hand they could easily find a website knowing it will be an obvious variation of "Tree Frog hollow".
You need a name that stands out, is memorable and preferably evocative of the different experience that you offer.
It gets better. Let's say that your guest loved the experience of staying in your VR and 6 months later wants to book again. What do they remember? Zero chance they will exactly remember the phrase "bright and breezy apartment'! They just remember they stayed in a VR they booked via Airbnb, and that reinforces repeat business for Airbnb.
However, if they stayed at a VR called "Tree Frog hollow" and they had seen an image of the tree frog that they saw in the living room, then they can easy recall and find treefroghollow.com.
It is your VR, and you provide a great experience for your guests, you want them to come back to you. You can may it easy for them with a memorable name.
3 Standout experience
You can offer something different to stand out. If you have a passion, it makes it easy to understand the related niche and to create new and interesting experiences. What is your passion and does it call out to a sizeable market niche?
Is it yoga? Offer yoga facilities.
Is it retro? Offer a retro experience, like our friend Phoebe – her "Ipenema" VR offers old style furnishings and a genuine old record player with real retro vinyl records.
Is it a love of nature? Offer a nature experience, with a huge image of the local Tree Frog, and lots of books about local wildlife.
Do you like dogs? Make your property pet friendly, with special photos, books, treats for dogs and the like.
Once you test your niche and find it is popular with guests, exploit it for all it is worth. You will be more heavily booked and you can even charge higher prices.
If it doesn't work, try something else. You can change an internet listing name and description in a few minutes!
In a crowded market with lots of competitors, following the crowd is the path to become the lowest common performer. My hunch is that standing out will lift your bookings by 10%. Standing out is the path to mastery.
How do you stand out?
Think about your web presence. Most of our readers are already doing that bit extra to get ahead of their competition. What is it that you do to stand out? Feel free to share what you do to stand out, no matter how small – just write in the comments section of this story. It will help others with ideas and inspiration!
To Mastery!
Rex Brown
Holiday Rental Mastery
Helping Vacation Rental owners get ahead of the competition.