Are your rates too high? Are you leaving money on the table? Competitive pricing is one of the most important – and challenging – factors of your short-term rental marketing strategy. But how can you ensure you're selling the right rates without spending hours of your valuable time? Dynamic pricing tools can deliver a lot of value to busy vacation rental owners and managers. Keep reading to find out exactly what a dynamic pricing tool can offer and how to choose the best tool for your business.
What is a dynamic pricing tool?
A dynamic pricing tool analyzes historical and market data to provide tailored, automated pricing recommendations. Dynamic pricing tools can contribute incremental revenue by optimizing your nightly rates – and they'll take time off your plate by automating the rate-setting process. You can enter restrictions, like minimum rates and minimum lengths of stay, so that these recommendations stay in line with your overall business goals. You can also override the recommended rates at any time.
By constantly monitoring market activity, a dynamic pricing tool and adjusts your rates automatically to stay competitive. For example, if similar properties decrease their rates on a given date, then the dynamic pricing tool will decrease your rates as necessary. If your market's availability decreases, then the dynamic pricing tool might raise your rates to capitalize on increased demand.
Dynamic pricing tools can integrate directly with channels like Airbnb and Vrbo, or they can send pricing updates via your property management system or channel manager.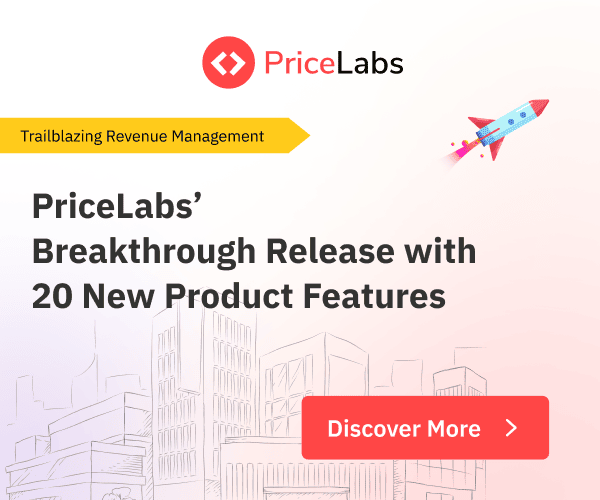 The most popular vacation rental dynamic pricing tools
If you've done any research on dynamic pricing tools in the short-term rental industry, you've probably encountered the big three: Beyond Pricing, PriceLabs, and Wheelhouse. Let's explore the similarities and differences between them.
Beyond Pricing
Drawing on market trends and historical data, Beyond Pricing optimizes your rates to get higher revenue and occupancy. The tool is transparent in its methodology – you can see exactly whether the rate recommendations were based on seasonality or demand. In addition to a slew of property management systems, Beyond Pricing integrates directly with Airbnb and Vrbo, which makes it a good option for property managers who list on Airbnb and Vrbo but do not use a property management system.
Beyond Pricing charges between 1% and 1.25% of revenue and a setup fee may apply.
PriceLabs
After you enter your desired base, minimum, and maximum rates, PriceLabs will automatically adjust your rates in line with market trends and demand. PriceLabs connects with a variety of property management systems as well as Airbnb. In addition to dynamic pricing, PriceLabs offers market dashboards that give insight into overall rate, occupancy, length of stay, and booking window patterns. The new Multicalendar feature makes it easy for property managers to adjust settings and restrictions for many properties at one time.
PriceLabs charges a fixed monthly fee of $9-20 per listing; accounts with more listings pay less per listing.
Wheelhouse
Like PriceLabs and Beyond Pricing, Wheelhouse draws on market data to make rate recommendations, but it also allows you to shape the tool's strategy. You can specify whether you'd like to focus on higher occupancy (and thus, lower rates) or higher rates (and likely, lower occupancy). The interface is colorful and easy to use, and Wheelhouse integrates directly with Airbnb, Tripadvisor, and many property management systems.
Wheelhouse charges between 0.75% and 1% of revenue.
How to choose the best dynamic pricing tool for your short-term rental business
Does a dynamic pricing tool sound like the right solution for your business? You'll want to ask yourself a few questions as you decide which tool to use. Remember that you can always sign up for free trials to compare them even further.
Which dynamic pricing integrations does your property management system or channel manager offer? Many PMSs/channel managers only integrate with one dynamic pricing tool. You'll want to use a dynamic pricing tool that integrates seamlessly with your existing system.
Do you prefer to push prices directly to Airbnb or Vrbo? PriceLabs, for example, doesn't have a direct integration with Vrbo (yet).
How much do you want to spend? Depending on your vacation rental's annual revenue, it might make more sense to pay a fixed fee per month – or it might make more sense to pay a percentage. While the fee seems small on a monthly basis, it can add up over time, especially if your portfolio grows.
Which interface is most user-friendly? This point comes down to personal preference. Do you want a lot of great customization options, like in PriceLabs? Or do you want a sleeker, simpler dashboard like Beyond Pricing? The best way to get a feel for each system is by signing up for a free trial and clicking around on your own.
Ready to take your rates to the next level? Sign up for a no-risk free trial of a dynamic pricing tool – or all three!