Recently, real estate influencer Nick Gerli shared an in-depth analysis suggesting a grim future for Airbnb hosts. Gerli's observations have stirred controversy, but his concerns, coupled with Airbnb's response, highlight critical issues that need independent examination.
#Airbnbust, redux? The Airbnbust is a phenomenon where an increase in the supply of listings on Airbnb leads to a decrease in bookings per listing for existing hosts. Numerous hosts and property managers have observed a business slowdown when compared to 2021 and 2022.
However, other segments of the industry appear to refute this. For example, Airbnb dismissed the reality of the #Airbnbust, but their rebuttal conveniently focused on their rising overall revenues, sidestepping any discussion about a potential decline in per-listing revenue.
This article introduces two tools to facilitate that examination and emphasizes the importance of ongoing data analysis in understanding this complex market.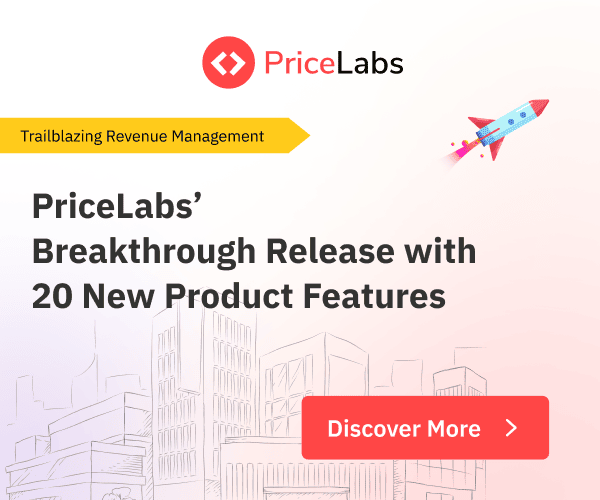 "The Airbnb collapse is real" – Gerli's Bearish Outlook on the Short-term Rental Market
Nick Gerli, a real estate and housing influencer, has voiced significant concerns about the future of the short-term rental (STR) market, stating that "The Airbnb collapse is real". Here's his extended blog post on Re:Venture, where he uses data from AllTheRooms and Realtor.com.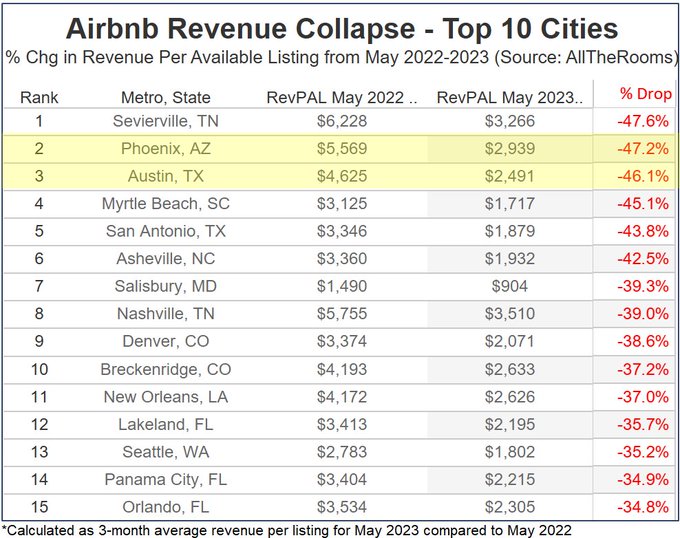 Many people have criticized Gerli's based on the bold claim he made and (potentially) flawed data he used. However, not many went to have a look at his reasoning. So, there you go. Gerli's main points from his blog article include:
Oversaturation: Gerli highlights the sharp increase in Airbnb listings in recent years, especially in certain urban areas like Phoenix. This explosion in STR listings, according to Gerli, has led to an oversaturated market.
Revenue Decline: Drawing on data from AllTheRooms, Gerli highlights alarming drops in revenue for Airbnb hosts in certain markets, with some areas seeing a near 50% decrease. This evidence supports his claim of a potential market crash.
Impact on the Housing Market: Gerli emphasizes the effect this trend is having on housing availability. According to him, the surge in properties converted into STRs has "robbed" the housing market of inventory that would otherwise be available for traditional homebuyers.
Potential Future Downturn: Given the apparent revenue collapse, Gerli predicts that Airbnb hosts who are struggling to make profits may begin selling their properties. This potential influx of properties back into the market could cause further downturns, particularly in cities where Airbnb revenues have declined the most and where Airbnb inventory is highest compared to homes for sale.
Gerli cites AllTheRooms as his data source, but many individuals, ranging from AirDNA analysts to LinkedIn commentators, question the magnitude of the claimed downturn.
However, Gerli also acknowledges that there are discrepancies in the data and is seeking more accurate information from Airbnb. Despite these discrepancies, Gerli maintains a bearish outlook on the future of the STR market.
How Airbnb has responded to Gerli
Airbnb's official response to the claims made by Nick Gerli was, "The data was 'not consistent with its own' and added that 'more guests are traveling on Airbnb than ever before.'"
On closer examination, this response seems to sidestep the two core issues raised by Gerli:
Airbnb focuses on its overall revenue and the increasing number of guests using the platform, which does not necessarily translate into higher revenues or bookings for individual hosts. The company does not address the concern that, even with more guests, individual hosts might be seeing less revenue due to the oversaturated market.
The second issue relates to the rapid increase in Airbnb listings, particularly in certain markets. Gerli points out that this surge in supply could lead to market saturation, potentially driving down both prices and revenues for hosts. Again, Airbnb does not address this concern in their response, focusing instead on its own growth in guest numbers.
By avoiding these issues, Airbnb's response fails to address the potential disconnect between its own success and the financial well-being of its hosts.
Checking some market data using PriceLabs' Market Dashboards and new free tool STR Index
So, who's right, who's wrong, here? I suggest you use two resources, one that's free and another that requires payment. This way, you'll have the ability to collect data on your own and form your own opinion (and also examine your local market).
One initial method to gauge the performance of your country, state, or region is by utilizing the new free tool by PriceLabs, known as the STR Index. This tool provides you with free data such as occupancy rates, Average Daily Rates (ADR), and Revenue Per Available Room (RevPAR) over the past year, as well as forecasts for the upcoming year. You can access this data by simply clicking on the desired location on the world map.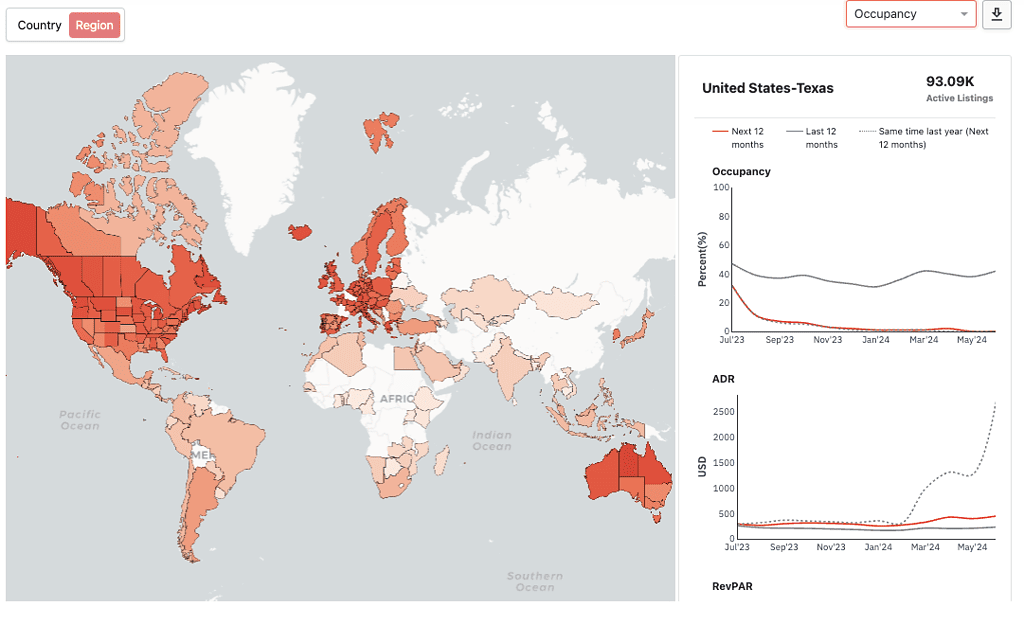 For example, when utilizing the STR Index to analyze projected data for Summer 2023, we see that the RevPAR in Texas appears to be trailing behind 2022 levels. Meanwhile, Tennessee appears to be stable.
A second method is to subscribe to a paid service like PriceLabs' Market Dashboard, which offers both historical and pacing data. By leveraging the Market Dashboard, we can discern that Austin, Texas has experienced a significant surge in supply from 2022 to 2023.
Austin, Texas data (PriceLabs)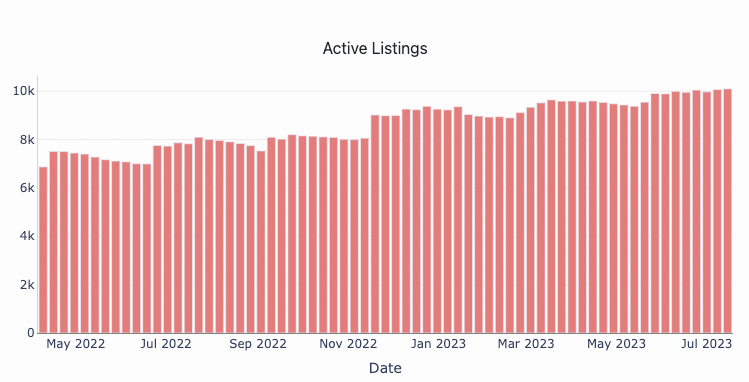 While the Average Daily Rates (ADR) have more or less remained consistent, the occupancy rates have decreased.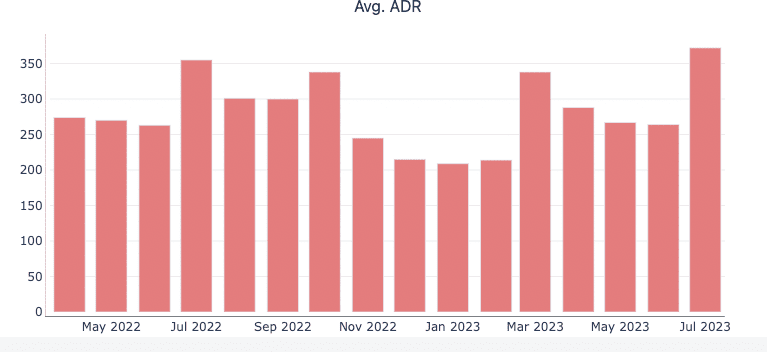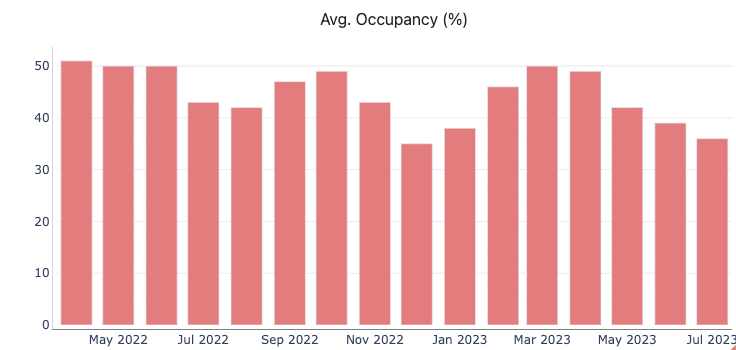 Consequently, the average revenue per listing has indeed witnessed a decline of approximately 21% in May.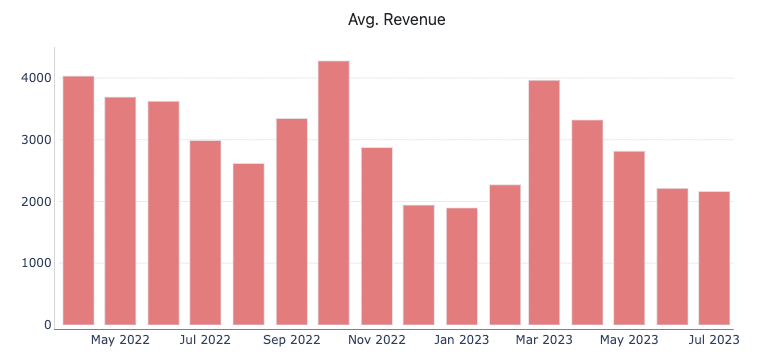 So, some markets such as Austin do seem to have entered a decline. This is not -46% as shared by Gerli, but it is not a "slight correction" as can be heard here and there.
So, is the Airbnb collapse real? Well, not for Airbnb, so far. The company's overall revenues are not decreasing. Yet, in some markets, the steep increase in supply, combined with the moderation of demand, can indeed be felt by property managers and owners.
Now, as usual, what matters is:
– how is your own market performing? (check the data)
– how are your properties performing against this market (again, check the data)
Conclusion
I propose that instead of accusing certain bloggers of dishonesty based merely on a tweet, it's beneficial to refer back to their comprehensive study (as found on the Re:venture blog). Instead of finger-pointing, it's more productive to utilize tools like AirDNA or PriceLabs to gain an understanding of the current trends. Furthermore, individuals should be encouraged to analyze the market and use data, even if they sometimes err. After all, data analysis is a complex process and mistakes are part of the learning curve.