The cleaner I fired
A few years back, I had to make a difficult decision when I fired a good cleaner.
She cleaned my rental till it shone and it was always set up beautifully.
So why would I fire her?
Simply put, she didn't really understand the rental business. More of that later.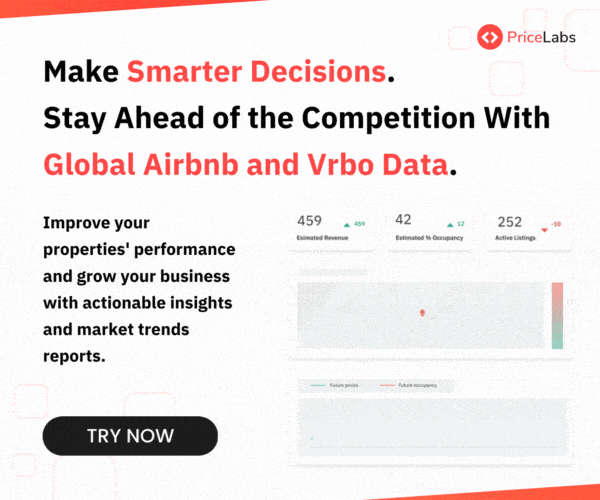 It's a cleaning business
I learned from a wise vacation rental manager many years ago that the vacation rental business is a cleaning business first and a hospitality business second.
Cleaning is the foundation. No matter how efective your marketing, no matter how attractive your rental, unless it is presented to a top standard, on time, it will fail.
Cleaning is particularly important if your rental is located a long way from where you live. Not only does the cleaner need to be organised and clean well, but they need to keep things running when things go wrong. And things do go wrong. The cleaner role often extends further into the role of a housekeeper and even a manager.
Over the years, I've put together a checklist of what makes a good cleaner.
My 8 point perfect cleaner checklist
The basics:
1 Able to clean every surface in a house efficiently
2 Good eye for detail and presentation to an agreed standard
3 Organised and able to read a guest schedule online
4 Have backup support for unexpected illness and holidays
No surprises so far, but here are the extra differentiators:
5 Understands the rental business
This is the key differentiator. Guests may want a last minute early check in or late check out. Can the cleaner cope with a last minute booking? The owner will need swift communication and a quick yes/ no decision from the cleaner.
6 Helps with logistics
A good cleaner helps organise the linen/ laundering; the rubbish bins; the feedback forms; keeping an eye on water, gas, firewood (this is a big deal in wilderness locations like two of my rentals); collecting lost property; ordering and stocking consumables.
7 Proactive at spotting maintenance problems
Everything can fail. A good cleaner anticipates failures and works with the owner for timely maintenance.
8 Helps in emergencies
So does the perfect cleaner exist? Yes, let me introduce you to:
Saint Lizzie – the perfect cleaner
I literally bumped into Lizzie about 10 years ago as she came from my neighbour's house. Could she clean Alto – my city property – for me? 'Of course darling.' I was to learn that this mature lady with sparkling eyes would sprinkle her sentences with 'darling' – and nothing fazed her.
She and her partner Ange handled the basic cleaning effortlessly. (items 1-4 ticked off).
But it was the ongoing stream of suggestions that elevated her to sainthood status. I guess I encouraged her along the way.
The telephone conversations kept coming. "Darling, if tomorrow's guests want to leave their bags while we are cleaning, they can have a coffee and I'll call them when we are done."
Over time, this progressed further. "Darling, I've called the guests and they are going to leave their bags with us while we clean" (Item 5, Understands the business, tick)
Logistics were next. "Darling, I've found a cheaper laundry, just round the corner, and she's very good, should we change to her?"
"Darling, I've spoken to the guests and Ange will pop around tomorrow and put the bins out. How about we just do that in future?"
"Darling, the bins were overflowing, so we took a few bags home". (item 6, Logistics, tick)
There are calls about maintenance: "Darling, the bedroom carpet is getting a bit grubby, there is a good steam cleaning man – should I tell him to go ahead?"
"The gate latch is playing up darling, would you like my man to fix it next Tuesday after the guests leave?" (item 7 Maintenance, tick)
But is when things go wrong, she thrives.
"Oh darling, just sharing, you wouldn't believe it but the guests locked themselves inside! No matter, I just popped around and sorted them out.."
"Just letting you know darling, Ange posted back the scarf the guests left behind.."
"Oh darling, the guests needed a different bed setup than what you had on the list, so they had a coffee while we did a quick change. I hope you don't mind, but we bought them a nice bottle of wine. .."
As we all know, our worst nightmare is a double booking.
"Darling, I think there has been a muddle and guests have arrived who weren't on the list. They are happy if I can book them into that nice Quest place. You might like to give them a call, and let me know if I should go ahead" (item 8, Helps in emergencies, tick)
Of course it is a two way street. Our job as owners is to make is as easy as possible for our cleaners to do their job and to empower them to make decisions on the spot.
If Lizzie asked for anything, she got it. I tell her how much I appreciate what she and Ange do for me. At Christmas, they got a huge hamper from us and Gold class movie tickets.
When she has an medical operation, I call, and drop by to say hello.
When you find a Lizzie, you hang on to them like the gold that they are, and give them anything they want.
Your cleaner is your partner
I've seen owners who think that it is clever to chisel their cleaners on price, and keep doing it as their cleaners leave and new ones take their place. It is a dumb strategy. Your cleaner is a partner, and a cornerstone of your business.
It is particularly important in Australia, where cleaners are paid fairly, at a going rate of $30 and more per hour, cleaning is a big part of overheads. (I currently pay $80 per hour for a very high standard clean in an area where cleaners are scarce!) In countries where cleaners cost under $10 per hour, it may be a different story.
So , why did I fire the good cleaner?
She thought that a clean surface was what cleaners did. She didn't bother with our checklist, I personally had to check on services and I refunded big money to guests who found the BBQ uncleaned, and some doggy doo under the outside table. She helped with some logistics, but not consistently. But worst of all when I needed to speak to her about an urgent guest issue, she rarely answered the phone, except later that day when her 'cleaning' was done.
She also dumped hot ashes on the garden and the adjacent shed burned down – it was insured, so not the end of the earth, but this was minor compared to not understanding the rental business.
And compared to Lizzie, and Jim (another gem), she didn't measure up.
I'd done my homework and our new cleaner IS another Lizzie, great thanks Lesley.
Growing your cleaner
You may find your cleaner is good, but not yet the perfect cleaner. Have you empowered them to do the extra, knowing they will be rewarded for it? Or are you holding them back?
If you have no good alternative you may have to accept who you have. But what is important is to know that great cleaners DO exist, and when you see one, grab them and shower them with attention. They will help you take your rental to the next level.
Have you found the perfect cleaner?
How does your cleaner measure up on the 8 point checklist?
Please share with us in the comments below your story of a cleaner who goes the extra mile.
[This is an updated version of a very popular 2014 article.]