I was amazed a few years back at a leading edge Vacation Rental conference when only half the audience had their own website for their rental. These were folks who had invested a lot of time and energy in coming to the conference and were pouncing on the latest ideas.
I couldn't believe it. Obviously they didn't realise the benefit of a website was worth the effort. I spoke to a few later to find out why.
"I know it would be useful, but it is a lot of work and I will do it later, maybe next year" was the typical response. For many, it was a huge mountain that they couldn't face right now.
Sad really, when there has never been a time when a website has been more important than now, and there has never been a time when it has been so easy. I estimate that my website has been worth $20k per year to my bottom line when used with my loyalty scheme.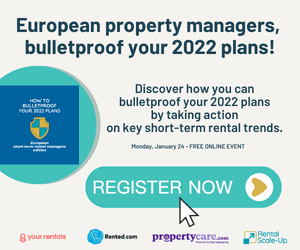 How your own website can help get bookings
1 Your website is the heart of your loyalty system
Your past guests love you and the experience staying with you, but how do they find you to book again? With your own website they can find you easily and contact you and even book online.
When you send out newsletters to past guests, they can go direct to your website for a booking.
When you give them that branded fridge magnet, that pen, that hat, it takes your brand and when they want to find you, in a few seconds they have your website. Your website is like a huge billboard in cyberspace, and with a few keywords on Google they find that billboard, they find you!
When guests refer you to their friends, those friends find you in seconds – on your website.
2 Guests can BOOK DIRECT and save you around 10% commission
Travellers all over the world are becoming smarter, realising they pay less by booking directly with you. Up to 30% of travellers who find you on an Online Travel Agency like Booking.com will try to find you and book direct with you. They look up your website, check you out and book with you. What happens if you have no website? No booking!
When guests use the OTAs, on average you will get 10-15% less than when they book direct! This is either the direct commission you pay or the amount you must discount price to offset the OTA booking fee.
Booking direct is a win for your guests and a win for you.
3 Google gives you a free ride on Maps / Local
Google lets you claim your own Google Maps identity for free. (also called Google Local Business) They give you a title, a place for some images, a telephone number and a link direct to your own website. When a guest looks for your rental name, Google helps them find you.
Better still, Google lists 3 local properties (like you!) on a Google map for every Google search in your area, and even better, it is above the natural search results! You are up there with the OTA ads, no charge. Talk about a free ride.
In many areas, few businesses have registered, and if you play your cards right, you can be one of the properties that keep coming up on the map. And it is all free!
4 Your website credentials you above the competition
You can show off your fabulous photos on your website, you can tell your story. Potential guests can check you out.
If guests is checking two alternative vacation rentals, and yours has a website, but your competitor doesn't, who has the higher credibility? You!
5 You can get free SEO traffic
This is harder, but if you have unique local content suited to your target market, Google will find you and bring you up above other websites. Eg if it is local fishermen who often book, you can write a page on your website, and fishermen can find you. The OTAs are not going to have a page dedicated your local market niche.
I like to post loyalty newsletter articles as content on my website, so Google has a nice rich source to look through and give me good SEO traffic.
6 You can send ads to your website
For the advanced owner you can send Google or Facebook ad to your website.
Here is a diagram showing traffic for you WITHOUT your own website. You are dependent on the OTAs, and loyalty schemes are hard to implement:
On the other hand, this is a diagram of traffic for you WITH your own website getting you bookings. You can use all the power of your loyalty scheme, referrals, repeats, Google Maps, SEO and paid ads, all coming to you via your own website. You rely less on the expensive OTAs:
So why is it that so many VR owners do not have their own website?
It is seen as an extra cost, complexity, and a step into the unknown, and that can be true. In this article I show that there are also excellent, inexpensive, safe solutions!
Minimum standards for your website
Now let's be clear, there are some standards that your website will need to meet:
1 Good images – critical for VR sites, your prospective guests should see your VR at its best with gorgeous images
2 Secure – you need to be comfortable that your site will not be hacked and it should be regularly backed up.
3 Simple and editable – you should be able to modify it easily, without you having any special technical skills, you should be able to update it in seconds.
4 Mobile friendly – most users these days will access your website by mobile and it needs to work seamlessly on mobile and look good
5 Meet changing IT standards – Google keeps increasing standards to help the user experience. Your site now needs to be fast to load and meet current security standards like https, and there will be more changes in future. You want to be comfortable that your website meets these standards – and without you having to become a tech guru.
6 Meet the needs of the VR industry – the website should be able to work with a calendar, online booking, and a loyalty scheme
7 Low cost – you need to be able to have a good safe website without it being too expensive.
There are trusted inexpensive website solutions!
These days, it has never been easier to get your own excellent website from trusted sources, inexpensively. Solutions can meet all of the standards 1-7 above.
Let me run through the shortlist of website solutions that you might consider.
1 Developer managed
You can engage a developer to build a website for you to your requirements. You need no IT skills. The developer looks after the building, the hosting, the maintaining and the security. They can make updates to your website pages, or they can give you tools to make the updates yourself. The sky is the limit in terms of the features they can create for you. However, changing to another developer can be problematic. Also the more they do, the more it costs. Usually it is not cheap.
The main problem is finding a developer you can trust to give you a good result at a fair price.
2 Vacation Rental template package
Companies have designed standard templates for websites specifically for the needs of vacation rental owners. They help set your website up, they do the maintenance and look after the security. You can make changes to your website pages, but you are constrained within the standard templates they provide. A calendar is usually included. Sometimes the website can be integrated with add-ons like online booking engines. Some examples are Lodgify, LiveRez.
They are well suited to owners or managers with multiple properties to manage.
Your website is not cheap, but someone else looks after all the technical worries, you just run your VR.
3 Owner controlled
If you have the interest and IT skills, you can build the website yourself using standard 'Content Management Systems', typically WordPress. You are in control and can create amazing websites that can do almost anything.
You can choose from thousands of website templates and 40,000+ plug-ins.
You have to arrange your own hosting.
It is not as hard as it seems, and there is lots of help on how to do it. Once you acquire the skills you can develop any number of websites for virtually nothing.
The down side is you can be vulnerable to changing security and maintenance requirements. It is a good idea to have access to a tech support person who you can call on in an emergency to help you with set up, security or maintenance problems.
Overall the costs can be kept to a minimum and the sky is the limit for look and feel and functionality.
Although WordPress is the dominant Content Management System used by DIY owners, you can choose from many others like Drupal, Joomla, etc Wix provides a hosted low cost alternative with limited features.
4 WordPress.com by Automatic Inc
The WordPress.com hosting service managed by Automatic Inc is a particularly powerful alternative that I am very impressed by, which meets the needs of most VR owners, and the company looks after the technical issues like hosting, backups, security and Google special requirements.
It uses WordPress, the world's dominant platform. 28% of websites on the internet run on WordPress, and growing.
You control the look and feel within the constraints of 150+ template options. There are various training options and if you want you can seek out some tech support to help you get started. Once set up, you can update your own web pages to your heart's content.
Is it reliable? Very.
It is a very cost effective approach and I use it myself.
Comparison of website building approaches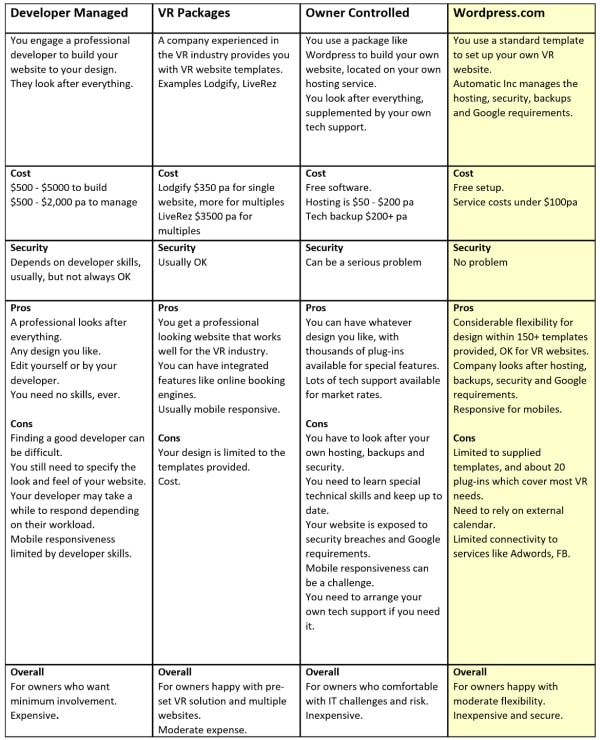 My recommended website solution
In full disclosure to readers, having looked at and used the various solutions over the past 15 years, I am prejudiced in my views of the best solution for vacation rental owners. It is a simple website hosted and managed on WordPress.com for less than $100 per year! Option 4 above.
I am so impressed that I have developed training materials to make it easy for VR owners to get their own website up and running in a few hours. Later in the year I will make it available to VR owners.
Beta testing opportunity
In July I will be working with 3 readers to be Beta testers to get their own website quickly with my training material and hands-on support. There are only 2 spots left, let me know if you are interested. Cost is $100 plus WordPress.com fees, usually under $100 pa.