While Airbnb was completing its IPO, it launched its non-profit, called Airbnb.org. We are looking here at what this new organization does, how it differs from Airbnb Open Homes and Airbnb Frontline Stays, how Airbnb hosts can get an Airbnb.org badge added to their listings and host profile, how they can donate either free stays (i.e., disaster relief stays, medical stays or refugee housing) or donate a specified percentage of their hosting payout.
These stays, which provide alternative accommodation and shelter options, are beneficial to governmental and nonprofit partners in a year where the COVID-19 pandemic has made housing vulnerable people in traditional congregate shelters extremely challenging.
Some Airbnb hosts have skeptical of Airbnb's Open Homes program, as they felt that it was a cheap way for Airbnb to create PR and goodwill, while the property owners and managers had to forego revenues. You will see below that Airbnb, Inc. has given Airbnb.org the equivalent of $60M as funding seeds. Airbnb's co-founders are also pitching $6M.
What is Airbnb.org?
Airbnb.org, Inc. ("Airbnb.org") is a non-profit organization that enables and facilitates housing provision to persons in need in times of crisis and engages in related efforts to increase emergency preparedness and provide relief and support to impacted communities.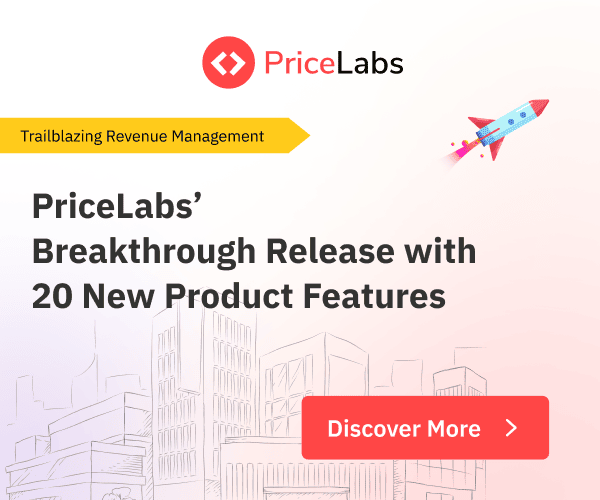 Airbnb.org also partners with other nonprofit organizations to pursue such efforts (e.g., The International Federation of Red Cross and Red Crescent Societies, CORE – Community Organized Relief Effort, and the IRC – International Rescue Committee).
Airbnb.org's slogan is: Opening homes in times of crisis.
Airbnb.org's mission is: Our mission is to unlock the power of sharing space, resources, and support in times of need.
Publicly-traded company Airbnb, Inc. VS non-profit organization Airbnb.org
Airbnb's IPO took place on December 9, and its shares began trading on December 10. Airbnb, with its website Airbnb.com, is now a publicly-traded company, under the ABNB Nasdaq symbol. Meanwhile, on December 7, the company announced the launch of Airbnb.org, a non-profit organization.
What is the difference between Airbnb, Inc. and Airbnb.org?
Airbnb.org is a separate and independent entity from Airbnb, Inc. Basically, Airbnb.org operates the action programs (e.g., Open Homes and Frontline Stays), while the Airbnb.com website powers the tech side (e.g. accounts, listings, background checks). In details:
Airbnb.org is an independent and publicly-supported 501(c)(3) nonprofit organization.
For instance, the website addresses are different (.com vs org), the logos are different.

Airbnb.org leverages Airbnb, Inc.'s technology, services, and other resources at no charge to carry out Airbnb.org's charitable purpose.
To book a stay supported by Airbnb.org or to host a stay in support of Airbnb.org on the Airbnb Platform, users create an Airbnb account or use an existing Airbnb account.
For instance, if you are donating stays, it will be done through your existing Airbnb account, with your Airbnb listing, and you will get Airbnb.com reviews from your Airbnb.org guests.
Airbnb, Inc. does not charge service fees for Airbnb.org supported-stays on its platform.
What is the difference between Airbnb.org, Open Homes, and Frontline Stays?
In a nutshell, Open Homes is becoming Airbnb.org. Open Homes, which started in 2012 as a way for hosts to donate free stays to people in need, and Frontline Stays, which started in 2020 as a COVID-19 relief program to enable hosts to provide stays to medical works, are now part of Airbnb.org.
Since 2012, more than 100,000 hosts have offered to open up their homes and provide accommodations to 75,000 people in times of need, for instance, after Hurricane Sandy, after the Australia bush fires, and in Puerto Rico after Hurricane Irma.
Technically, Open Homes and Frontline Stays are staying on the Airbnb.com website: This is where you sign up your listings for the programs, where you receive inquires from potentials guests, and where you can message them, for instance.
Yet, Airbnb.org wants to be more than Open Homes and Frontline Stays, for instance, by collecting money and sending it to other non-profits providing emergency housing (e.g., the Red Cross).
What is Airbnb offering? Are only the hosts donating anything?
Airbnb's Open Homes program has been faulted for two big drawbacks:
Airbnb hosts that Airbnb was playing charity and PR on their back, as they were the ones providing free stays to guests.
The number of Open Homes listings looked inflated: It easy for hosts to sign up in one click, even for multi-property managers. So, the supply of potential Open Homes could be big in one area, while the actual demand and free stays provided could be low.
To be fair, there is a cost for Airbnb to be running programs like Open Homes: For instance, program managers and customer support agents represent a cost.
For the launch of the Airbnb.org non-profit, Airbnb made sure to mention that 400,000 shares of Airbnb stock (worth about $60 million as of early January 2021) had been allocated to support Airbnb.org, and Airbnb co-founders Joe Gebbia, Brian Chesky, and Nate Blecharczyk will donate an additional $6 million.
What is the Airbnb.org badge that hosts can get on their listings and profiles?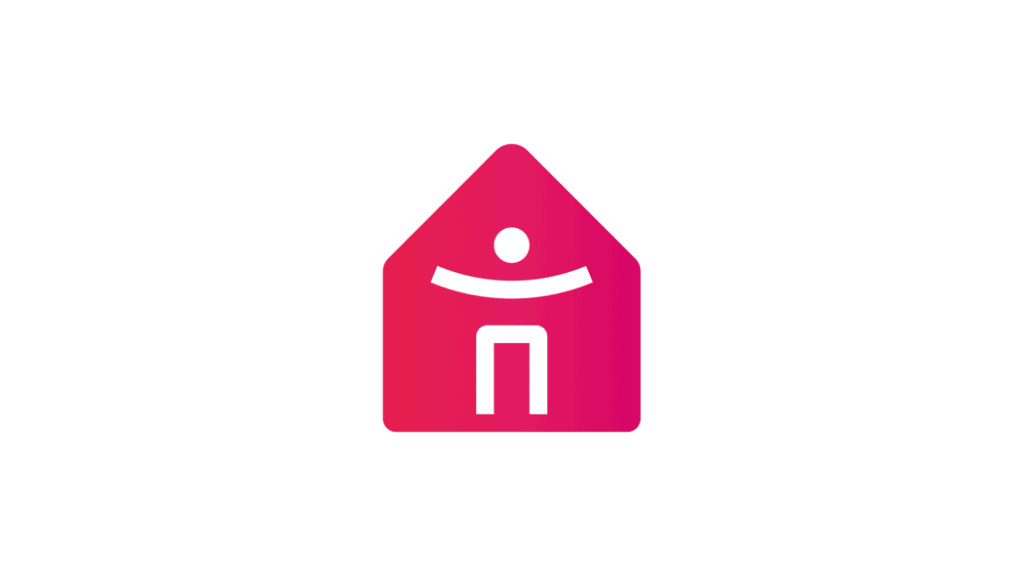 There are two ways hosts can support Airbnb.org and earn the badge:
Hosts who sign up to offer free stays
or become a recurring donor.
The Airbnb.org supporter badge will appear on both your host profile and on your listing pages after you sign up for hosting for free or donating. The badge will appear next to your Superhost badge. Your badge will be visible now if you are an existing Open Homes host or donor with at least one active listing.
Hosts do not get more visibility in Airbnb search results for taking part: It does not impact how listings show up in search, and guests cannot filter by it at this time. The Airbnb.org supporter badge does not impact your Superhost badge or status.
How to sign up for Airbnb Open Homes to donate free stays? How do I unlist my space from Open Homes?
You can sign up your existing listing to be available to both Open Homes guests and other Airbnb travelers by visiting the Open Homes page and clicking Offer Your Space.
You should not worry about double bookings: If your listing is available on both Airbnb and Open Homes, it will still have only one shared calendar. If other Airbnb guests have booked it, it will not be available for Open Homes bookings. Similarly, if booked on Open Homes, it will not be available for booking by other Airbnb guests.
Here are the three kinds of stays that you would be providing through Airbnb.org's Open Homes program and who could be booking your Open Home property:
Airbnb Open Homes disaster relief stays. To be eligible for emergency housing, guests must reside in the impacted area or be relief workers responding in an official capacity.
Airbnb Open Homes medical stays. Every day, people travel far from home for medical treatment. They may be receiving care, supporting a patient, or healing with family during a difficult time. To book, guests must be referred by a nonprofit partner.
Airbnb Open Homes refugee housing. In this instance, a staff member from a nonprofit will book an Open Homes reservation on behalf of the guest. All guests have the legal status of a recognized refugee entitled to international protection as determined by the United Nations High Commissioner for Refugees (UNHCR) and/or have begun the process of seeking asylum in the country where they currently reside.
Sign-up flow for Airbng.org Open Homes:
You start on the airbnb.com/openhome page.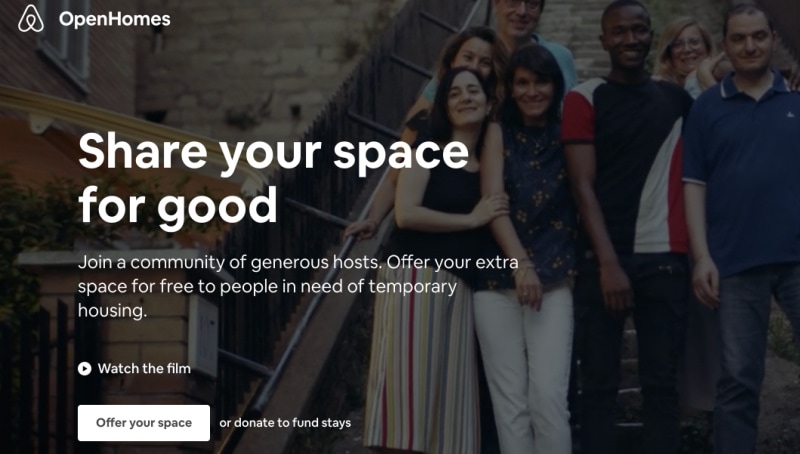 Then you pick the existing listing(s) at which you want to provide free stays (or you create a new listing).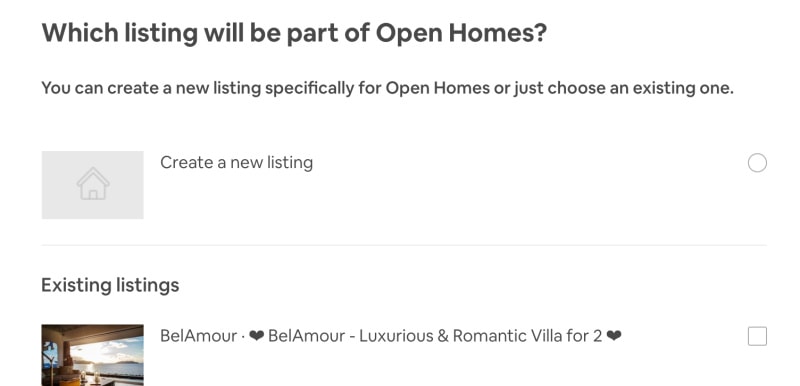 Then Airbnb explains how Open Homes works. For instance, there is no instant booking: You choose who stays at your place after messaging with the potential guest or with a non-profit work booking on her/his behalf.
Airbnb also mentions that the $1,000,000 Host Guarantee would work.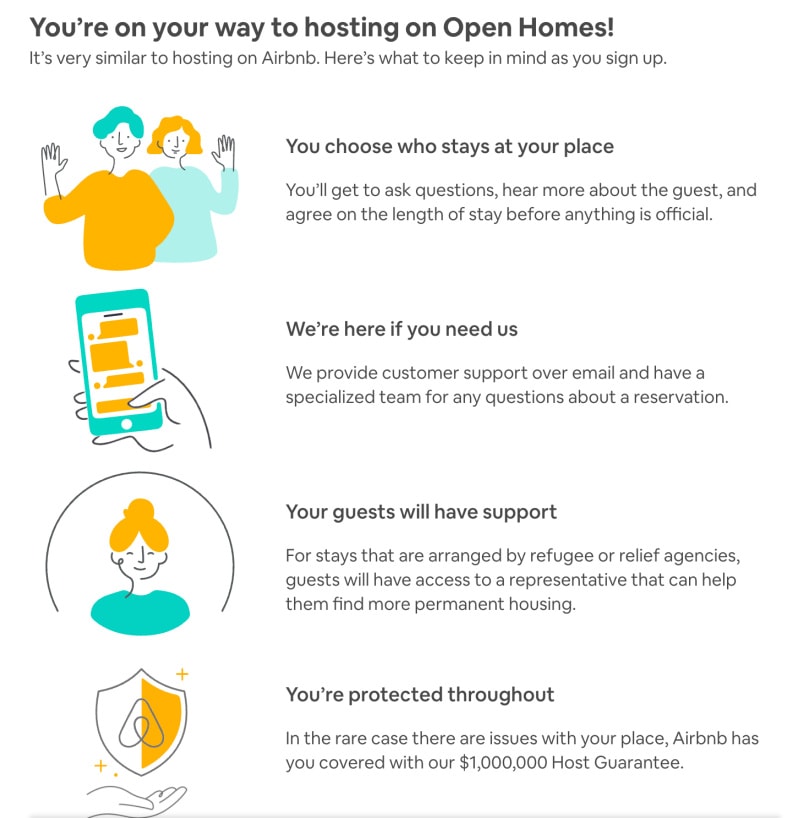 Finally, and interestingly, you already say whether you are ok to host disaster victims and refugees/asylum seekers.

For more information, the Open Homes Airbnb is [email protected].
How can an Airbnb host donate from their payout to become a recurring donor?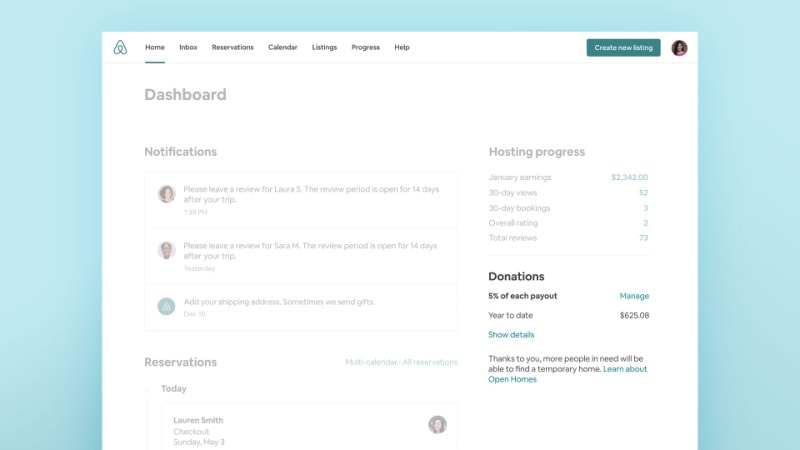 If you cannot provide free stays, there is another way to be part of Airbnb.org / Open Homes: Donate a specified percentage of each payout you get when you are hosting travelers.
This way, your guests are indirectly financing emergency housing. By becoming a recurring donor, you will also qualify to get your Airbnb.org supporter badge.
Hosts can donate a specified percentage of each payout to help people find temporary housing in times of need. Your donations go to the Open Homes Fund, which distributes grants to Airbnb's Open Homes program's nonprofit partners. These trusted nonprofits connect people impacted by or responding to disasters, medical patients and caregivers, and refugees and asylum seekers with temporary housing.
Here's how Airbnb hosts can opt in to the Donations part of Airbnb.org: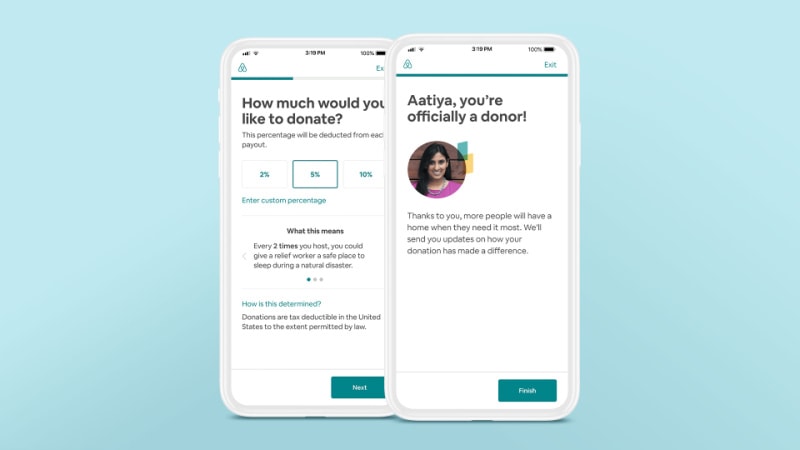 Go to your Account,
Under Payments & Payouts, go to Donations,
Under Manage your donations, click the toggle to opt into donations (to opt-out, click the toggle again),
Set or change the percentage of your donation,
Click Save.
For hosts paying income tax in the United States, donations are tax-deductible to the extent allowable under the United States tax law as a charitable contribution to the Open Homes Fund, located at PayPal Giving Fund.
Can a host still join Frontline Stays? Do I also get the Airbnb.org badge?
The Frontline Stays program opened in 2020 to help doctors, nurses, and other frontline responders, so they could stay close to their work or safely distanced from their own families.
In some places, like the UK, the program has closed. In other countries, it is still up-and-running. Frontline stays for COVID-19 responders. To enroll, go to https://www.airbnb.com/d/covid19relief.
You will then be directed to the following page to pick which of your listings you want to be part of Frontline Stays: https://www.airbnb.com/hosting/p/listings?bulk_edit=COVID_19_HOSTING
partner with the International Federation of Red Cross and Red Crescent Societies (IFRC), Community Organized Relief Effort (CORE) to support emergency response efforts around the world and help provide stays for essential workers and volunteers fighting the spread of COVID-19
Airbnb commits 400,000 shares of Airbnb stock to support Airbnb.org, and co-founders Joe Gebbia, Brian Chesky, and Nate Blecharczyk will donate an additional $6 million