The annual Phocuswright Conference brings together hospitality industry heavyweights, venture capitalists, tech innovators, and thought leaders for a 3-day series of presentations and panels. Held each November, the conference has a different theme each year, and the 2019 installment focused on "Are We There Yet?," a discussion around the future of travel, which included an insightful panel about the future of short-term rentals.
Couldn't attend the conference this year? In this article, we'll recap a roundtable discussion about the short-term rental sector and tie our takeaways back to your business goals. Whether you are the property manager of a vacation rental company in a resort area or the owner of an Airbnb property management company in an urban market, this article has interesting insights for you.
The Long Game in Short-Term Rentals
What does the "long game" mean? In short, vacation rentals are only going to become more popular, but we'll likely see more professional hosts, changes to the purpose-driven supply market (companies like Sonder), and innovation in the trust and safety space. Phocuswright further described this year's theme as follows:
"From the dawn of the jet age to the uncertain early days of the first scrappy OTAs, travel innovation's pace may not be consistent, but its forward motion is constant. New technologies and bold ideas fuel startups, spark pivots and alter strategies. But when do we reach that future our visionaries promised us?"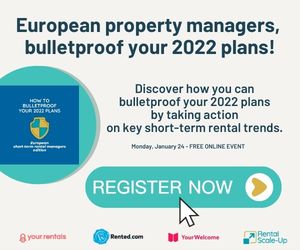 So how will the short-term rental space continue moving forward?
To explore this question, Phocuswright's Manager of Research and Innovation, Mike Coletta, moderated an Executive Roundtable with the theme "The Long Game in Short-Term Rentals," which included four industry leaders:
Topics ranged from purpose-built inventory from companies like Sonder and Stay Alfred to the increased focus on trust and safety in the short-term rental space. What does a small- to medium-sized property management company need to know about the future of the industry? Keep reading for our take on this Phocuswright panel, plus a few more interesting takeaways.
Airbnb Property management Companies on the Rise: Hosts are becoming more professional
If you're a property manager – or an owner who utilizes property management services – you're part of the new norm. According to Phocuswright research, 50% of short-term rentals are now operated by property managers, compared to only 10% in 2015. This signals a shift away from individual "mom and pop" owner/operators and a movement toward more professional management.
Ms. Liang of Airbnb predicts that technology is what's driving a shift toward professional property management and that property managers can still provide an authentic, personalized guest experience. In fact, leveraging technology can actually free up more time to focus on the guest experience. She also mentioned that Airbnb is showing support by developing tools for those hosts (whether they be owners or property managers) who want to grow their short-term rental businesses.
Mr. Soto of Guesty, a popular property management system with a focus on short-term rentals, recognized that technology enables hosts to scale their businesses too. He believes that the shift toward professional hosts is a good thing since professional hosts can hold their businesses to higher standards and deliver a more streamlined guest experience.
Vacasa, which is a huge property management organization, agreed that professional hosting is the way of the future. Mr. Breon added that individual owners of a second home don't want the added burden of the operational aspects of hosting, which explains why they're likely to work with a property manager. Mr. Breon also noted that he sees a shift toward properties whose primary function is as a rental property, rather than "second home" inventory that's only available seasonally.
What's driving the growth in the short-term rental industry?
The panel explored the source of the rise in the popularity of short-term rentals. In just a few years, how did short-term rentals go from obscurity to the mainstream? Mr. Soto believes it to be a shift in guest preferences. As he explained, he would prefer to stay in an apartment compared to a hotel in an urban market and in a villa in a tropical destination. As travelers learn about different types of accommodations – and seek more novelty and unique experiences – the market becomes diversified, and instead of hotels being the only option, guests can choose between homes, apartments, villas, castles treehouses, and even glamping tents.
Ms. Liang noted that preferences aren't just changing when it comes to accommodations, but also in terms of lifestyle. Now, people want more choices, crave flexibility, and they want to make their own decisions. With short-term rentals in the picture, guests can find the perfect accommodation for them – whether it's a large villa for a family or a room in a local's house for a really authentic experience.
Large hotel companies like Marriott are also seeing this growth and trying to find a way to get a piece of the pie. In response to Marriott's recent entrance into the short-term rental space, Mr. Handler explained that Marriott was just acting on the trends that the company is likely seeing in its hotels. As guests want a broader range of experiences, Marriott is trying to broaden its offerings beyond just a variety of brands so they can deliver more types of experiences that travelers want. However, Mr. Handler predicts that the company will encounter challenges in providing the consistency that Marriott loyalists expect from a Marriott property since Marriott won't have full ownership control of their short-term rental inventory.
Mr. Soto, CEO of Airbnb property management software Guesty, predicts that we'll see an increase in "hybrid" properties that take some elements of a hotel stay and some elements of a short-term rental, further fueling the growth of short-term rentals overall.
A need for quality standards in the short-term rental space
While we're noticing the hotel industry edging into the short-term rental sector, Booking.com recently rolled out to their vacation rental inventory a traditionally hotel-specific metric: star ratings. Ms. Liang stated that there is a need for trust and some sort of transparency into a property's quality, but that since the short-term rental space contains such a huge range of property types, perhaps star ratings are not the best way to quantify a property's characteristics. She mentioned that perhaps leveraging guest reviews would be an effective way for potential guests to establish trust.
Mr. Breon agreed that a star rating system may not be the best way to quantify a property's quality, but that guests do want to quickly and reliably filter through the enormous volume of short-term inventory. Like Airbnb, Inspirato only lets actual guests review properties, which Mr. Handler believes add credibility to the reviews.
Mr. Soto had a different take, suggesting that perhaps brands like Sonder or Vacasa would organically create quality categories within the industry. He predicted that guests who seek a more professional experience would specifically choose a branded short-term rental over an individual host because they know a brand has certain standards, perhaps higher standards than an individual host.
How will a purpose-built inventory affect the short-term rental industry?
Purpose-built inventory from brands like Sonder, Stay Alfred, Lyric, and others are raising a lot of money and opening lots of properties – quickly. Is this growth sustainable? According to Mr. Breon, these brands are filling a need for properties that can accommodate larger groups, such as families, in urban markets. Rather than cramming their family into a small hotel room, travelers like him appreciate having two or three bedrooms, plus a kitchen and living room, with the elevated service and amenities similar to a hotel. Smaller-scale property management companies can compete with these brands by offering a similarly high standard of cleanliness, amenities, and services.
While Mr. Breon appreciates the quality that a purpose-built short-term rental brand provides, he doesn't believe the economics make sense in the long run. Operationally, it doesn't make sense for a company like Sonder or Stay Alfred to offer a 2-bedroom apartment for a lower price than a 400-square-foot hotel room, especially when you consider that a hotel has the benefits like on-site laundry and 24/7 staff. Over time, either the quality will decrease or the price will rise.
Prioritizing trust and safety
After a terrible incident that occurred at an Airbnb on October 31, 2019, Airbnb issued a statement that emphasized the companies continued commitment to trust and safety. As Ms. Liang put it, "trust is [Airbnb's] core currency," so Airbnb will do as much as possible to ensure that guests and hosts have a positive experience. Property managers will be pleased to know that part of this initiative is rolling out an expanded guest service hotline, so guests can always get ahold of a service representative if something goes wrong.
Mr. Soto added that perhaps the increased focus on verification and hitting certain trust and safety targets will be another reason that property owners opt for using property managers. Keeping up-to-date with zoning restrictions, fire codes, and local legislation can be a big job, so if property managers can keep properties in line efficiently, that could be yet another reason for owners to leverage the services of property management companies.
Airbnb data Analytics: Great Overview of what AirDNA does
In addition to the short-term rental panel, AirDNA CEO Scott Shatford gave an engaging and relevant talk in a Shark Tank-style format at Phocuswright that highlighted the importance of data and analytics in the short-term rental industry market. AirDNA is most well known as a tool for potential and current vacation rental owners and investors to research markets and sales trends. The tool shows revenue, occupancy, and rate information for properties across the globe, helping in purchase decisions and benchmarking.
AirDNA is now starting to leverage the past 5 years of data collection to help in property operations with its new revenue management product. Property managers can see granular data that shows rates on any specific date and occupancy trends. Unlike other rate intelligence tools on the market, AirDNA's tool requires no inputs from the user – its algorithm can use historical data to find the optimal rates for any property.
What's going on with Vrbo?
As anyone who's been in the property management space for a while knows, there's never a dull moment at the Expedia Group, which owns the HomeAway and recently relaunched Vrbo brands. Then-CEO Mark Okerstrom spoke at Phocuswright with a few updates about the Expedia Group's overall performance, including the company's struggles with search engine marketing and international growth, and Vrbo's evolution in short-term rental space. He mentioned that Expedia hopes to increase Vrbo's presence internationally while maintaining it as a reputable site for family-focused vacation rentals.
In conclusion, after hearing from the speakers at Phocuswright, the short-term rental industry should continue to see growth, both in terms of properties and in innovation. As owners rely more on property managers, property managers will need the tools and technology to run their businesses efficiently, so we'll continue to see advances in technology solutions for operations, analytics and revenue management, trust and safety, and guest experience.