As the short-term rental industry matures, it's no surprise that the supply is getting more corporate. But what is surprising is the scale and fast pace at which companies like Sonder and Stay Alfred are expanding. Airbnb property management companies that operate on a smaller scale, with under 40 or 50 units in their portfolios, should be aware of the companies which operate "flex supply" properties, or entire apartment buildings or multiple apartments within the same building.
Airbnb has shown a long interest in going after the housing market, for instance with long stays over 28 nights and multifamily home-sharing partnerships to create Airbnb-friendly buildings.
These companies bring standardization, technology, and branding to the short-term rental market, which means they're solid competition for property managers who operate individual properties. However, one challenge that these companies face is gaining the support of the building management and residents who might not be comfortable with guests coming and going frequently.
In October 2019, industry leaders from the flex supply segment gathered for the first-ever FLEX Conference, which was organized by the Joshua Tree Conference Group, which organizes events for the multi-family industry, and hosted by Airbnb, Lyric, and Niido (the latter two received investment from Airbnb). The conference was geared toward professionals in several rental niches: corporate housing, master leasing, mixed-use properties, and topics ranged from revenue management to guest technology to community relations strategies. In this article, we'll define what exactly the flex supply market is and share some highlights from the conference's presentations.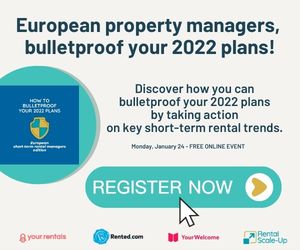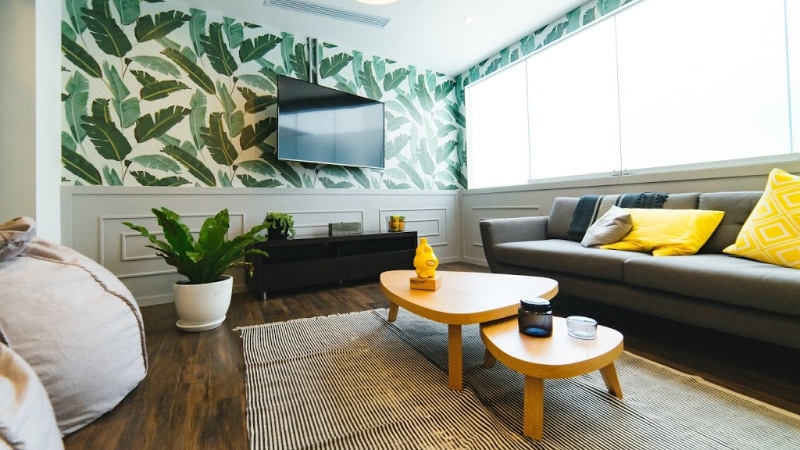 What are the different types of flex supply?
Flex supply is generally located within large high-rise or mid-rise apartment buildings in urban markets. These buildings offer great locations and, often, amenities like pools, gyms, or community lounges. While the buildings are usually quite similar, they can contain three different types of short-term rental supply:
Resident-Initiated Short-Term Rentals: These are the "traditional" Airbnb listings. The owner simply rents out their place during periods that they aren't home. This can be allowed and supported by the people building and operating the apartments so that it is legal, safe, and easy to let strangers access the building.
Suite Short-Term Rentals: The building offers both long term and short term rentals. Owners share additional apartments in the building that they can use for their friends & family or list on Airbnb, Vrbo or Booking. The primary purpose of these units is as a rental property, but they're owned by individuals and perhaps managed by a property manager.
Master lessees: Companies such as Lyric, Sonder, WhyHotel, The Guild, and Kasa rent blocks of units from multifamily property owners and developers for multiple years in order to transform these units, floors, or properties into lodging experiences that surpass traditional hotels for their targeted guests. These properties are hotel/short-term rental hybrids, exhibiting the physical characteristics of a short-term rental but with the management and standardization of a hotel.
Each of these options comes with different tolerances for risk from transient guests, operational complexity, and exposure to the lodging market.
What are the characteristics of flex supply properties?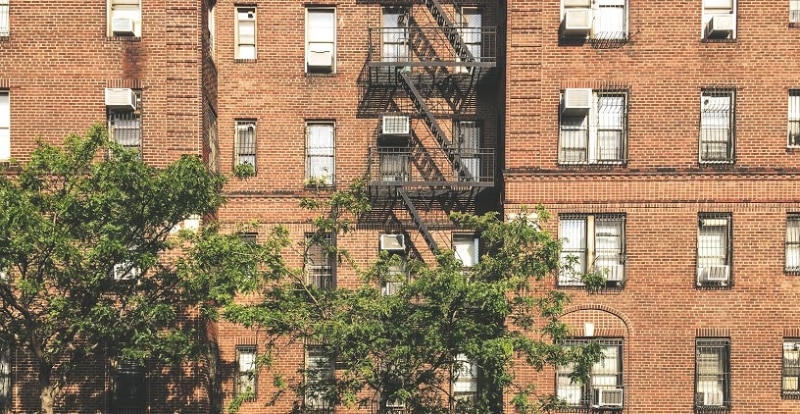 We've established that flex supply properties aren't exactly the same as individually owned short-term rentals. Besides the ownership and management structure, what exactly makes them different?
Access control: The guest can easily check-in to the apartment, while the building or company restricts the guest's access to some resident-only areas.
Risk: Background checks of guests, insurance, noise monitoring to ensure that long-term residents are not disturbed.
Luggage storage: Guests can leave their bags before check-in or after check-out for extra convenience.
Guest communication: Flex supply companies have dedicated guest service teams who can answer questions around the clock.
Technology: These companies use technology solutions like property management systems and channel managers to distribute rates and inventory and manage bookings.
Operations: Actions like cleaning, welcoming guests, and responding to inquiries are highly organized, potentially even outsourced or automated.
These features can greatly improve the guest experience. As a property manager, perhaps you can incorporate some of these advantages into your own property operations.
Status of three Airbnb property management company and large flex suppliers: Lyric, Sonder, and StayAlfred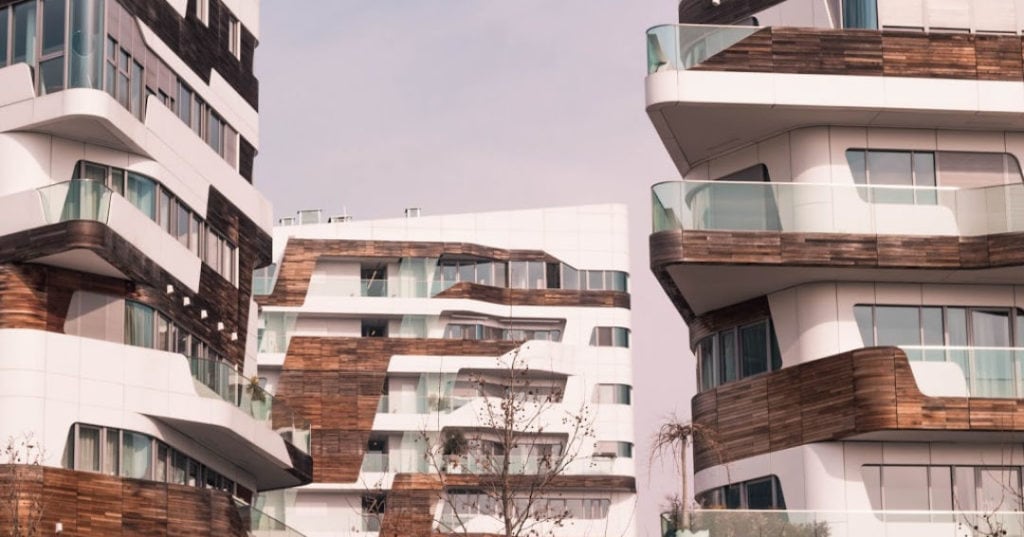 In a presentation entitled "Acquiring Unit Inventory – Bulk Buyers Talk with Sellers About Process Streamlining," conference attendees learned about strategies to grow a portfolio of flex inventory quickly and efficiently. The talk included representatives from Airbnb property management companies Lyric, Sonder, and StayAlfred:
Joe Fraiman, President, Lyric

Lyric operates in 14 cities and has a portfolio of 1,000 units

Amy Violette, Director of Real Estate, StayAlfred

StayAlfred operates in 33 cities and has a portfolio of 2,500 units

Rikesh Patel, Regional Director of Real Estate – West, Sonder

Sonder operates in 32 cities and has a portfolio of 9,500 units
While each of these companies holds a significant share in the flex supply market, they all have unique strategies. What can we expect from these big players, and what pieces of their strategies can you incorporate into your own business?
Lyric positions itself as a premium brand with high-end amenities and excellent guest service. The company is also conscious of local residents' attitudes toward short-term rental guests in their buildings, so they use background checks, noise monitoring, and even separate hallways or floors in order to eliminate the chance for conflict. Lyric found that some parts of the existing short-term industry didn't fit the company's vision, so they leveraged their own legal counsel and drafted custom contracts and lease agreements to meet their goals.
With the mentality of "national support, local focus," StayAlfred operates its units in a standardized way that doesn't compromise the unique character of each destination. StayAlfred's city teams include locally-based city managers, heads of housekeeping, and operations coordinators that provide hands-on support whenever necessary. With the help of their employees, StayAlfred aims to build sustainable relationships with buildings, signing leases around 3-5 years in length and offering short-term rental possibilities as a perk for long-term building tenants.
Sonder's scale is certainly impressive, with nearly 10,000 units, and one way the company can expand so quickly is thanks to a standardized onboarding process. Sonder has centralized the design process for new units with their own furniture warehouse filled with custom furniture straight from the supplier, so their in-house interior design team can efficiently set up new properties.
Short-term rentals go corporate: Simon Lehmann's take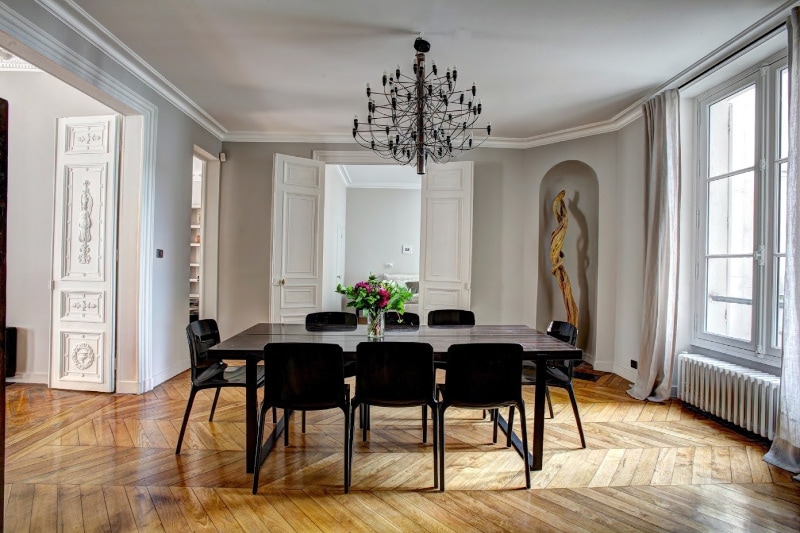 Industry expert Simon Lehmann from AJL Consulting thoughtfully explained the advantages and disadvantages of various rental models in his keynote presentation. When looking specifically at corporatized flex inventory, he noted several strengths:
Ability to operate in high-demand urban markets
Full-year availability (compared to individual owners who might only rent seasonally)
Hotel license (instead of short-term rental license) offers more flexibility
Decreased safety concerns
Secure investment
Higher level of service
Mr. Lehmann was also excited about the potential for more guest technology, a category of amenities that's much easier to scale in a corporate model. Some of his suggested guest tech additions include:
Keyless entry
Smart thermostat
Digital assistant (such as Alexa)
However, it's not all good news. Mr. Lehmann introduced a couple of concerns that we should have regarding the growth of corporatized short-term rentals:
Possibility of too much supply for the current demand, which would lead to lower rates
Is the industry over-hyped in the same way as WeWork? Is it a bubble?
Short-term rental business models: what's the difference?
In a presentation focusing on revenue management for short-term rentals, the speakers first established what exactly the differences are between various short-term business models. The infographic below does a great job outlining the similarities and differences between specialized property management, corporate housing, "do-it-yourself" rentals, and more.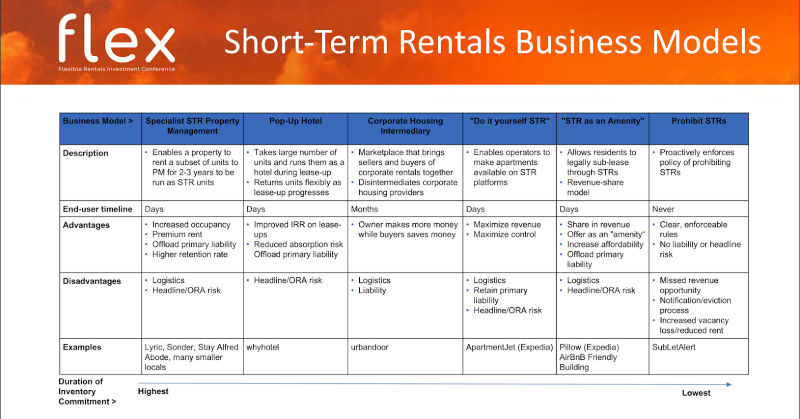 During the presentation, Elizabeth Winkle of Smith Travel Research explained that while the media may sometimes describe the accommodations landscape as simply hotels and vacation rentals – a black-and-white distinction – the lines are really a bit blurred. For example, serviced apartments can compete quite closely with extended stay hotels, and traditional vacation rentals often compete with resorts and timeshares.
The speakers also noted that understanding market data and revenue management concepts are crucial for success, especially when competing with hotels who likely have full-time revenue management teams and sophisticated technology solutions. Property managers of all sizes should make sure their revenue management operations are sophisticated enough to deliver competitive rates, perhaps adding a rate intelligence tool to your existing property management system or channel manager.
Buildings Powered by Airbnb: Niido

Blurring the lines between local residents and short-term rental guests even further is Niido, whose CTO Todd Butler gave an interesting presentation on their "Airbnb-friendly" apartment buildings. A typical Niido building may have about 200 units for long-term residents, who have the option to rent their units while they're out of town, and a handful of units that are dedicated short-term rental units, not used by local residents.
In order to make Niido's operations possible, the company uses a lot of technology. They have electronic locks on the doors (RemoteLock), security cameras, automated guest messaging, on-demand luggage storage (Baggage Bellhop), revenue management tools (Beyond Pricing) and more to automate their operations. All of this technology also makes it easy for local residents to rent their units with minimal effort.
For smaller-scale Airbnb property management companies – especially those who have goals of growing their business to hundreds of units – we recommend incorporating some of these strategies that the larger players use to scale their operations. Adding technology solutions, a higher level of guest service, and standardization won't just make your properties stand out among the competition, but they'll also lead to higher guest satisfaction and better results overall.
For more information about the Flex Conference, check out their website, where you can download these presentations and more.