As we start the year, it is a good time to be aware of a looming threat to your vacation rental business, and for you to know you can future proof your business.
It may not occur to vacation rental owners that the large benign rental marketing websites like Homeaway and Airbnb that deliver us a steady stream of bookings today have a dark side. They can just as easily squeeze us and leave us high and dry without a business.
What if the big websites we use like Homeaway and Airbnb were to drop us to the bottom and jack up the fees needed to get to the top? It is already happening in places and it will happen more. It could cripple us.
But there is good news, the small folks can thrive, as I will tell you later in this article.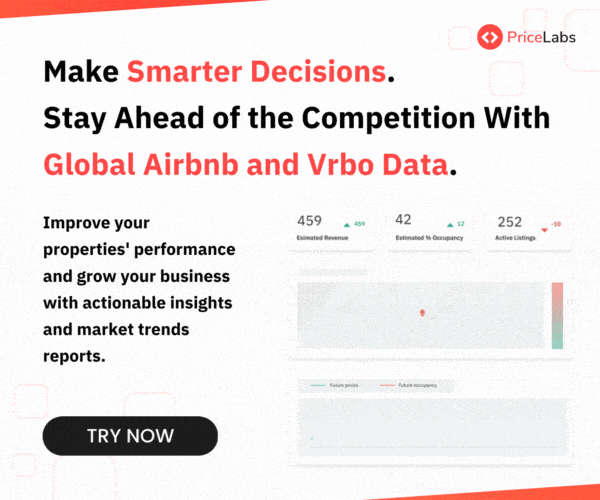 First, let's understand how the landscape of vacation rentals is changing.
The changing holiday rental landscape – the big picture.
About 5 years ago with some amateur tinkering, my little Treetops rental site was able to dominate my local keywords on Google. My little website ranked 1 or 2 for years for 'accommodation wye river'. With a little ingenuity I was also able to get a lot of bookings from Google Adwords. It was payday for informed opportunists like me playing on Google.
No longer
Now the larger websites are sweeping away opportunists like me from the Google results. They dominate our entire industry.
As Google changes the rules about content, making it more complex, the larger websites are investing to rank higher. They invest heavily in Google adwords advertising. They invest heavily in search. They have whole SEO teams, content writing teams, social media teams, paid search teams. Top consultants help them solve the latest problems. Homeaway has 1900 employees, Tripadvisor has 2400 employees., Airbnb has 1300 employees, all with plenty of staff in specialist roles working to get them to the top of Google.
Don't just accept what I say, test it.
Have a look at the top results for a Google search for your keywords. (eg 'accommodation los angeles', 'accommodation sydney', 'accommodation yourtown')
Chances are the top results on Google will be dominated by the likes of Booking.com, Homeaway, VRBO, Agoda, Tripadvisor, Expedia, Trivago, Hotels.com, Stayz, Airbnb. These are the big players.
Offline – TV advertising of accommodation websites
Not only do the big websites invest online, suddenly they are investing heavily on TV ads all over the world, as you have probably noticed. In the USA alone in 2014, Expedia group invested $356M, Priceline/ Booking.com invested $61M, Tripadvisor $30M [ref Skift]. 2015 will be similar.
Get ready for change – and pain
As the industry grows, there are more of us owners competing for a small number of top spots on these large websites. The websites are under pressure to increase profitability. The prices are already increasing to be listed near the top, and are likely to increase further.
Website models can change quickly. In 2014, many businesses were caught flatfooted when Facebook changed its algorithm. Overnight it reduced their exposure to 'friends', and later offered a fee to increase exposure.
Homeaway is already moving from fixed listing fee to pay per booking. It has also said it will use its ranking as a weapon to move the vast majority of listings to online bookable within 2 years. (see the CEO interview by Skift)
That is, whatever is happening now is likely to change, and chances are you will to have to pay extra.
Airbnb has a low 3% charge for owners (and about 12% service fee for a guest) while it is in viral growth mode, but I have a hunch there will come a day when fees will increase. Booking.com already charges VRs a commission around 12%.
Vacation rental owners need to keep alert to increasing charges – and have a defence ready.
The good news – there is a defence!
As a small VR owner, you actually have a huge advantage over the big guys.
It can be summarised in one word – INTIMACY.
As owner of your own rental, you have the privilege of many touch points with your guests, each of which can help you grow the bond with your guests.
Think about it. You answer their enquiry, take their booking. Maybe greet them and later check all is well, and possibly contact them again after their departure.
The big sites can only do some of this and then only through automation. You can do it in person and build a relationship they can only dream of.
In a future world of high guest acquisition costs, a repeat guest is extremely valuable.
We need to change our mindset from acquiring to repeating.
In the current world, our booking sources look like this:

In a new world we will be wise to increase the number of repeat bookings dramatically:

Do the big websites fear this defence? No, they realise that only a few motivated and savvy owners will adopt these defensive measures. [ Is that you reader?]
The rest will meekly follow the herd, totally dependent on the big website rules.
For some owners, repeat business is already the norm. Several years ago, I asked a good local operator Jenny which website gives her most new bookings. She replied that she really didn't know or care! She then went on to explain that over 90% of her guests are repeat guests or referrals.
At my Sea Zen rental I have a guest who fell in love with the property and the experience, keeps coming back several times a year and has been responsible for friends and family coming to stay. One person alone is responsible for about 5 bookings per year, cost of acquisition – zero. When she comes we pull out all stops to make her stay enjoyable.
In a future world where acquisition costs could be $100 per booking, this repeat guest could be worth $500 per year in saved booking fees, maybe $3000 over a lifetime.
Future proofing your vacation rental business
In future proofing your business, the road to rental mastery is one of encouraging repeat guests.
You need to have a plan for repeat guests, where:
• You form a relationship with your guest before and during the stay.
• You make each touch point a delight.
• You find ways to make that stay more memorable.
• Most importantly – you implement a simple email marketing system to keep in touch
The jury is still out on social media systems as to whether they are cost effective. They are 'wait and watch', but there is no doubt that right now, email marketing is effective.
As always, the key to rental mastery is knowledge.
In future articles I will explain ways of retaining guests and how you can set up your own (free) email marketing system.
In the comments, tell me about your cost of marketing and guest acquisition. Is it steady, decreasing or increasing?
Here is to your rental mastery!
Rex Brown, Holiday Rental Mastery
PS If you find this article useful, please forward it to a colleague in the rental industry.