Did you know you can get to the top of Google for free? You can use a Google feature called 'My Business' and it is free!
Your 'My Business' listing gives you a small page on Google, with photos and a direct link to your website if you have one, your telephone number, and a link to your availability on some listing sites. This is marketing gold!
As an example, here is my Sea Zen My Business listing.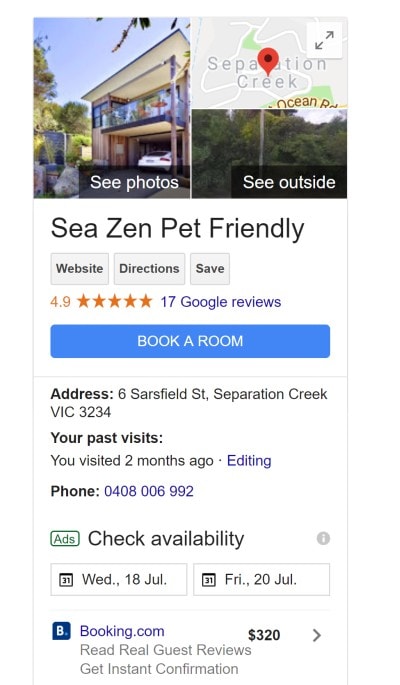 Typical search results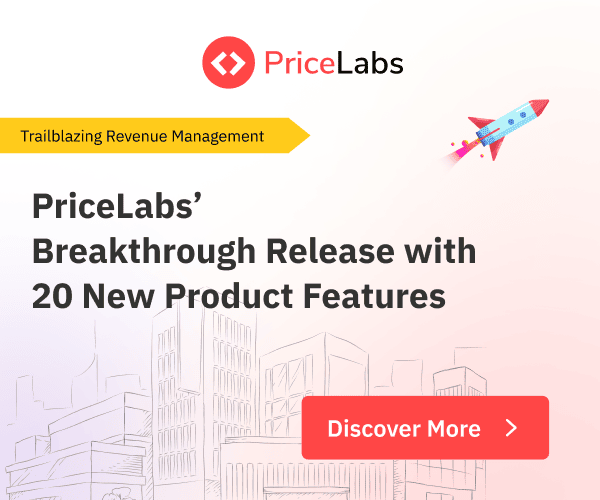 In terms of the bigger picture, after someone makes a search, the Google search results show:
Some paid ads at the top – this is how google makes its money
Usually 3 'My Business' listings and a map
Sometimes an image or a video or other experimental result
Everything else – the 'Organic' results – where SEO determines where you rank
As everyone knows, people click more on the higher search results because it is easier. If you want to get to the top of Google, you generally have 3 choices. You can pay for ads; you can get a 'My Business' listing; or you can try and rank at the top of everything else using SEO. This last can be difficult to impossible for most vacation rentals.
Your Vacation Rental is also listed explicitly in Google searches, by rotation, for the world to see. Nice!
All vacation rental owners should be aware of Google 'My Business' and how it works. It is that small box that comes up in the search results when you do a google search like 'accommodation sandy beach', or 'hotel sandy beach'. It gives about 3 featured businesses, sometimes listed A, B, C and usually a map adjacent showing the area of 'Sandy Beach' with the locations A, B, C shown.
It is highly visible on the mobile view of searches.
Your business is not always listed on top, it competes with other My Business listings. However if you are only one of a handful relevant for your keywords, you will be listed frequently. If most of your competitors aren't listed, you keep getting frequently listed!
Here below is my Sea Zen in the search results for my area on the day of writing this, and it is right at the top! Today there is no A, B, C maybe there will be when google runs its next live experiment: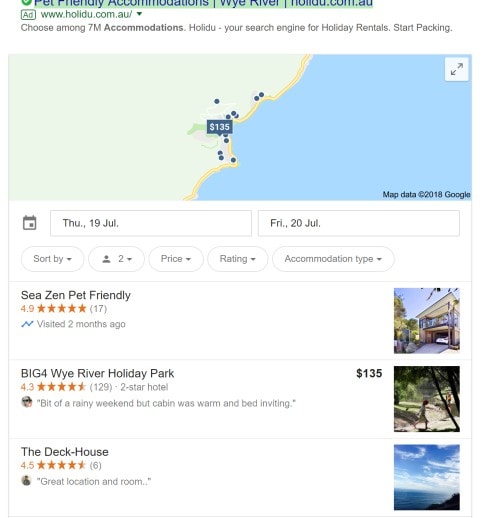 Why Google wants you to set up your 'My Business' account.
The Google intent is to help searchers find some prominent examples for any business type that they are trying to search for. Part of the Google aim for a better experience for its users.
'My Business' usually applies for all kinds of accommodation. It is also generic and works for all sorts of other businesses too. For example if you search for 'pizzas sandy beach' the search results will show 3 Pizza businesses and where they are located. Also for plumbers, dentists, etc. You get the idea.
Google runs all sorts of experiments to try and find what searchers want most. At the time of writing this, Google is showing 3 businesses. In the past it has been 3, 5, 8 and none, depending on what experiments Google is running at the time. The day you read this it may be different and different again the next. You need to go with the flow and seize your opportunity.
Clearly, a My Business listing mentioning your property at the top of Google results is extremely good value for your rental. It allows prospective guests 3 ways to book.
· Direct link to your website
· Your telephone number
· Link to availability dates on your listing on some listing sites like Booking.com
You also have the indirect, but added value of your Vacation Rental name appearing in extra places, such as search, and also on Google Maps. It helps credential your name as an important brand in your area.
Quality of enquiries
The quality of some enquiries can be poor. A searcher will see your listing and immediately call the phone number without checking if your VR is for families/ couples – or even available. Calls may be for a stay a few hours ahead – not much value if you are a good marketer and booked weeks ahead.
That said, the smarter searchers will go to your website and check you out in more detail before calling. Also you can have a conversation and strike up a relationship for a stay another time.
Overall, it is mostly upside in having a My Business listing.
Google even gives you a monthly report showing the number of times your listing has been seen and the number of times folks have found your telephone number. Nice.
Three steps for listing on My Business
Step 1 Your own Website (optional)
It helps, but is not essential, to have to have your own unique website. This can be hard for some vacation rental owners, true, but it is not a problem for those who are dedicated to getting to rental Mastery and high occupancy. It is also a handy barrier to the less motivated owners, and it allows you more prominence than if it were easy.
Step 2 Ask Google for a My Business listing.
You can do that here – https://www.google.com/business
You fill out several boxes a few photos, then submit for verification.
It is important to use the exact address and name and telephone used in your website for consistency. Google wants to see the one business, described consistently everywhere.
Step 3 Verification
Google takes registration VERY seriously and the verification process takes time. The usual method is for you to specify the address and follow the Mail option. This is not email, but the good old snail mail post! Yes, Google goes to the trouble of sending a physical card through the post to your physical address to verify the business is where you claim it to be! On the card is a code which you use to verify your business.
Even once verified, it takes a while (usually 1-4 weeks)for your My Business listing to start appearing in the search results, and on Google maps.
Barrier to competitors
There is a bit involved in getting listed, but nothing that getting organised won't fix and stepping through the sign up process.
Embrace barriers to entry. Like everything else, it takes a little knowledge and effort. Many competing VR owners won't make the effort. All the better for you. You make the small effort, you stand out from your competitors.
Reviews
Google wants reviews for your My Business listing, the more the better. Unlike most review systems, it can't be done anonymously, the reviewer's Google identity is posted. This puts off some reviewers, but it is just another barrier to entry that you can use to your advantage.
You simply need to ask your guests to post a review. You explain that it will help you. You give them the link, and a small number will review for you. That small number will grow and you will stand out from your competitors.
Connection to your OTA listing and calendar
In recent years, Google has made the connection to your listing on some OTA websites, like Booking.com, Expedia, etc It makes it easy for searchers to check your rates and availability. The down side is that a link to an OTA will cost you a commission, whereas a link to your own website can get you a booking without commission. You just hope searchers go direct to your own website.
Fit with other advanced marketing tactics
Your My Business listing fits nicely with other marketing tactics: Connection to your website. Visibility on Google search. Visibility on Google Maps. Reinforcing your VR name. Connection to Google Adwords if you use it. Reviews that guests may show their friends. Direct phone enquiries to you.
It all fits nicely together, and it's free. If you haven't already, create your My Business listing today!