Last week I started my biggest experiment in 20 years of running a vacation rental.  I suspended my Online Travel Agency accounts.  Airbnb, Homeaway, booking.com all turned off.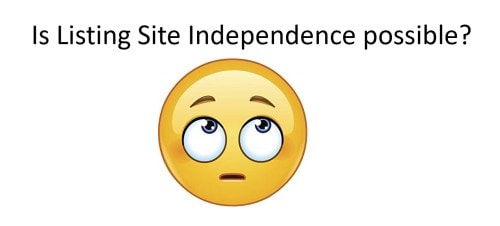 Yes, I'm having a crack at being independent of the large listing sites.  Is it possible?   I'll share progress periodically in this newsletter.
Recapping, I'm a small business, with just one rental – Sea Zen Wye River, a luxury rental for couples, with some interesting twists like Japanese styling that make it stand out.  It is the most rented vacation rental in our village, my prices are high.
How will I get bookings?
Loyalty scheme
I have a lot of loyal guests who keep returning year after year.
To put a sharp edge on that loyalty, I have over 600 past guests on my newsletter mailing list.  This is not just any mailing list.  It is a list that has been carefully cultivated over the years so readers are entertained and informed, without any selling.  My readers tell me they enjoy reading it.  They are even happy to keep receiving it monthly, in a world where few would tolerate other travel newsletters monthly.
My loyal guests mull over the newsletter.  I often get emails for bookings attached to a newsletter they received months previously.  The system works well.
Organic website traffic
Sea Zen has its own website and a lot of rich local content that helps searchers find the website and book. There are also several niches that I can promote with modest Adwords advertising.
Transparency
Periodically, I'll share the results.  If the experiment doesn't work, sure I'll turn the OTAs back on, but I'm in no hurry.
Along the way, I'll keep tightly in touch with changes in the OTAs via my mastermind group and share any observations.
This is very big step.  As they say, don't try this at home unless you are very well prepared.  Through this newsletter, you can watch from a distance.  Let's see how we go.
My Fallback
On a personal note, If I have fewer bookings, it will give more time for family and my Vacation Rental Mastery book that is coming up very nicely.
If you have any questions or comments, please comment below.
To your success.
Rex Brown
www.holidayrentalmastery.com