Luxury villas are often the preference for high-end travelers that don't want to compromise on comfort but want to stay somewhere unique and keep out of the public eye. Boutique villas, distinguished by their designer's personal touch, guarantee a truly unique and memorable traveling experience.
When most people plan a getaway or want to book a vacation rental for the family they turn to websites such as Vrbo and Airbnb. These vacation rental platforms reinvigorated the short-term rental sector by bringing together a global supply of properties at the fingertips of travelers. In recent years, luxury travelers are increasingly relying on similar types of services.
The rising popularity of luxury travel and the emergence of new players are paving the way to expanding the market's boundaries. Following the big platforms' footsteps, plenty of niche luxury vacation rental websites have emerged to match supply and demand and maximize bookings for owners of luxury properties.
In this article, we've selected the top 24 luxury vacation rental sites to help property managers of high-end units find the right place to promote them.
The modern luxury traveler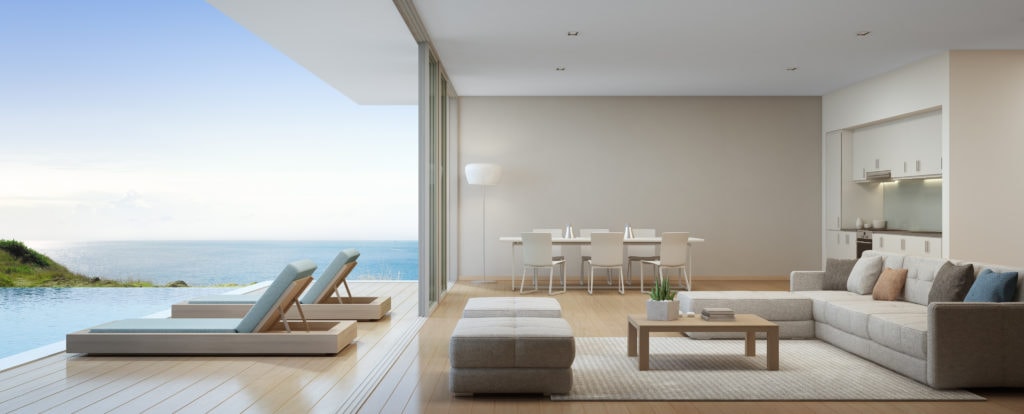 The needs of a discerning clientele such as luxury travelers are not met by mainstream OTAs. Luxury travel has come to mean more than premium airplane cabins, bubbles, and fine dining.
Nowadays, when five-star hotels and resorts aren't that uncommon, true luxury travelers are in the search for stays that not only meet or exceed standards but offer truly exceptional comfort and unique experiences.
The essence of luxury travel today is to re-experience the world in a way that makes travelers feel the wonder and awe they've experienced as children when their entire world was new.
Luxury villa booking websites
With the rise of global luxury travel, Le Collectionist, like many other startups, use a tech-based approach to connect luxury property managers with high-rolling travelers who prefer opting for luxury vacation rentals and niche agencies that curate lists of rigorously vetted, exclusive properties.
Properties listed on luxury villa rental platforms must meet some unusually high standards, which is amply reflected in their booking value and is quite higher than that of five-star hotel and resort type properties.
1 – Smiling House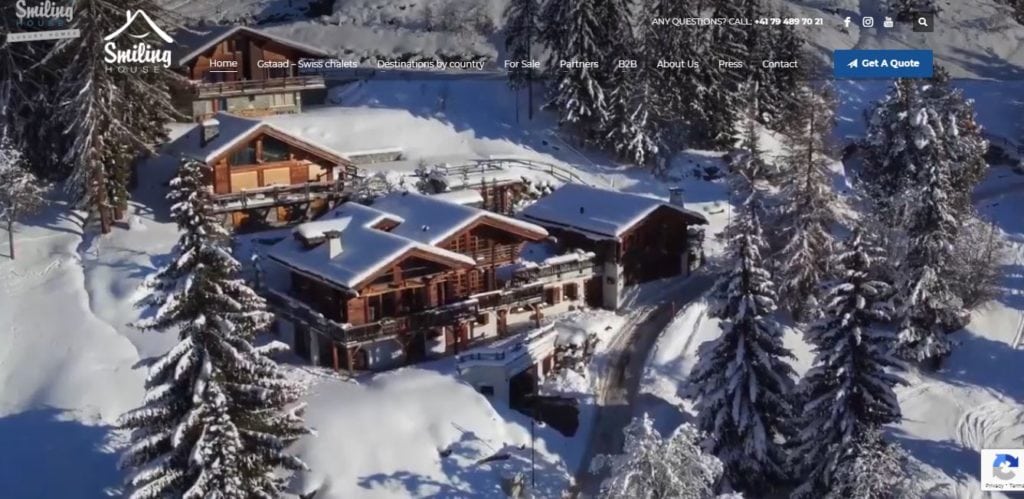 Originating in Gstaad, Smiling House now offers an exclusive collection of luxury chalets, villas, and apartments in 28 countries such as France, Italy, Portugal, Sri Lanka, and Bali, New Zealand, the Maldives, Tel Aviv, and more.
Serving diverse group sizes, Smiling House also facilitates luxury experiences such as cycling treks, shopping in high-end boutiques, horseback trails, sailing and flying, etc., in tandem with vacation rentals.
Top destinations on Smiling House: Switzerland, Greece, Italy, Mexico, the Caribbean, Thailand, South Africa.
2 – Le Collectionist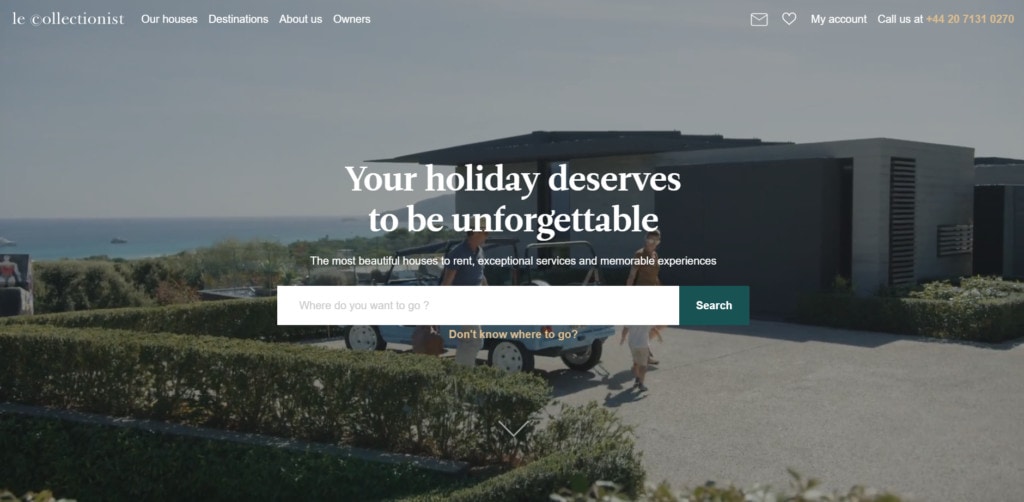 Le Collectionist is a French startup that offers travelers the ultimate luxury travel. The agency provides over 1000 luxury houses in more than 150 locations.
The Paris-based company is guided by a "love-at-first-sight" rule, a condition that each art deco villa, cottage, and chateaux on its website must meet in order to make it on the website's inventory. Le Collectionist wants their guests to get the feeling of "love at first sight" and to be able to enjoy moments of happiness.
Their houses and experiences are distinctive because of their "powerful personality, the sheer simplicity of beauty, and an atmosphere tailor-made for easy-going holidays". Custom requests by travelers often include house chiefs and private drivers.
Top destinations on Le Collectionist: France, Greece, Italy, Portugal, Switzerland, Morocco, Caribbean
3 – Plum Guide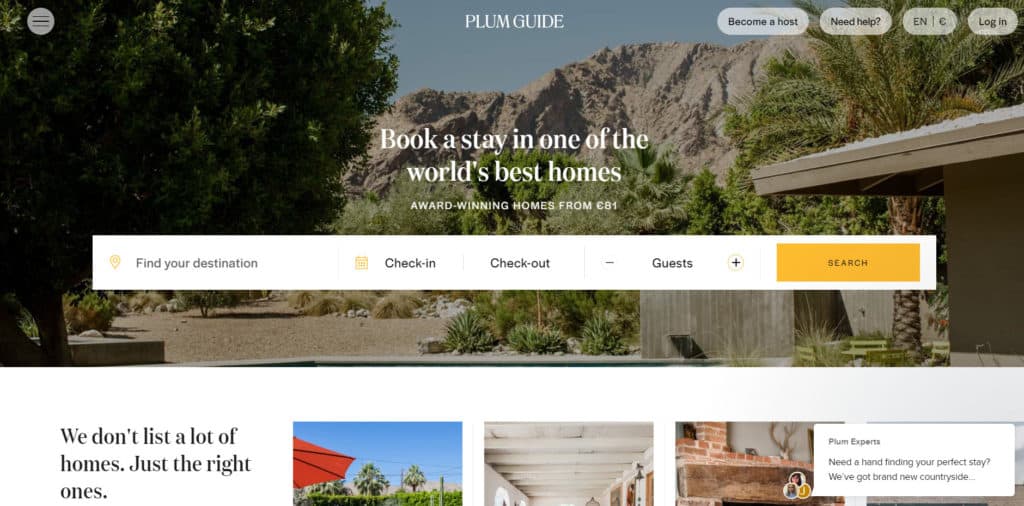 Plum Guide's proposition to travelers is not only an outstanding booking platform with curated properties but a benchmark for quality.
The company says that the properties they offer are "selected through the world's most rigorous vetting process" and that their home critics review thousands of homes to select the crème de la crème.
Properties that want to be listed on The Plum Guide's esteemed rankings are thoroughly evaluated on aspects such as mattress softness, natural light, or shower pressure. Quite thorough, isn't it?
Top destinations on Plum Guide: UK, New York, Los Angeles, Paris, Rome, and Milan
4 – All Luxury Apartments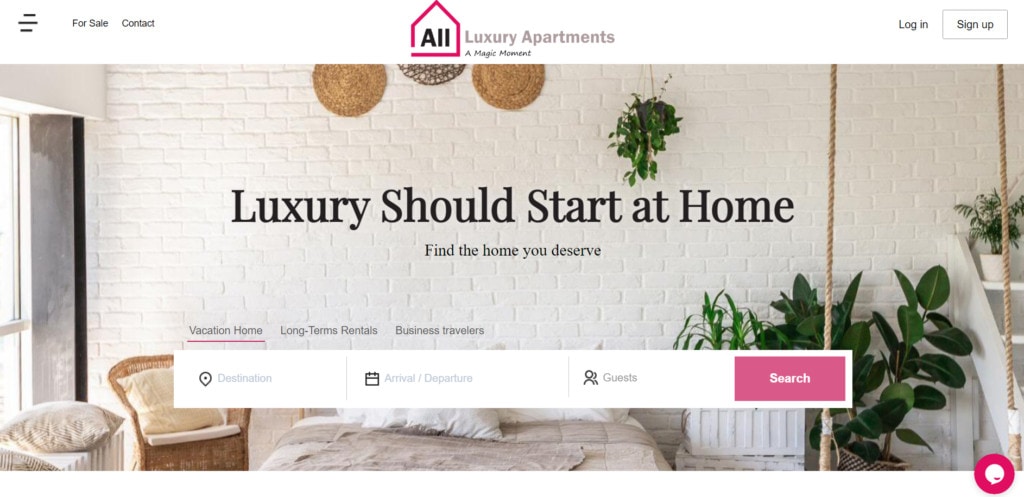 All Luxury Apartments offer luxury vacation rentals across various locations worldwide and focus on providing the best apartments and villas for short and long-term renting.
Keeping up with a great customer relationship is central to All Luxury Apartments' approach. The company offers a dedicated concierge, providing guests with unparalleled customer service and overall travel experiences.
All properties on ALA are subject to review by an in-house team. So, if you want your property listed on the website, be prepared for an interview followed by a mandatory screening process to ensure your property meets All Luxury Apartment's quality standards and guest expectations.
Top destinations on All Luxury Apartments: Europe, North America, Caribbean
5 – Oliver's Travels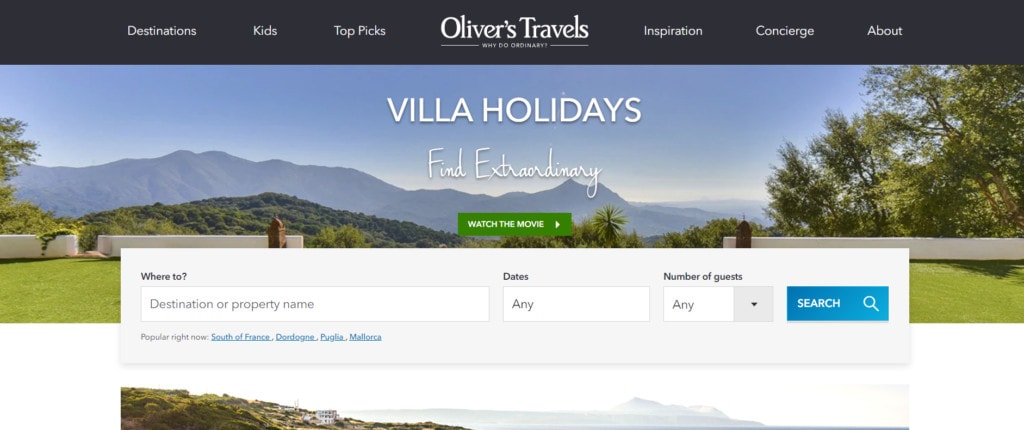 Luxury villa company Oliver's Travels is a great choice for luxury travelers that are on the lookout for extraordinary villas and chateaux. Oliver's Travels rental inventory includes properties that are quirky, stylish, and full of character.
Ultimate holiday homes include medieval castles and private islands. The property inventory of Oliver's Travels is classified into collections, and one of them is the Exclusive Collection.
Oliver's Travels Exclusive Collection boasts handpicked properties that are perfect for families and are ideally situated, often in popular locations. Most importantly, these properties are offered at a great value-for-money ratio and are exclusive to Oliver's Travels. A great example is Tour St. Therese, a romantic 14th-century tower located in the region of Charente in the west of France.
Top destinations on Oliver's Travels: France, UK and Ireland, Italy, Spain, Portugal, Greece, Croatia, Turkey.
6 – Dream Villas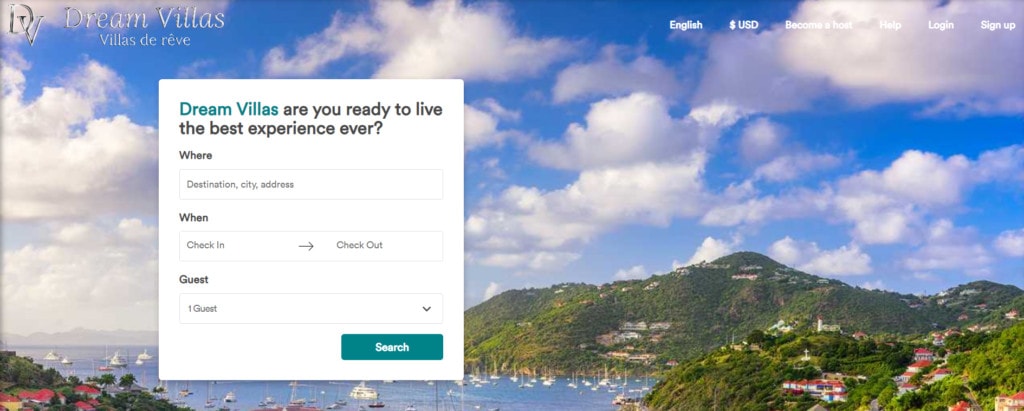 Dream Villas focus on the travel experience and the complementary services that can make a trip unforgettable. This luxury travel agency offers properties in top locations such as Casa de Campo, Saint Martin, and Saint Barths.
Dream Villas offer luxury travelers a private chef experience and professional concierges. Travelers can opt for experiences ranging from one dining to all-inclusive packages. And, all dining experiences are delivered by the best chefs at every destination.
Dream Villas list only professionally managed properties and offers owners and guests a $1 million liability and damages insurance protection package.
Dream Villas also offer 24/7 customer support and only collaborate with certified property management professionals to manage their luxury property portfolio.
Top destinations on Dream Villas: France, Greece, Indonesia, Turkey, California, Cyprus.
7 – Top Villas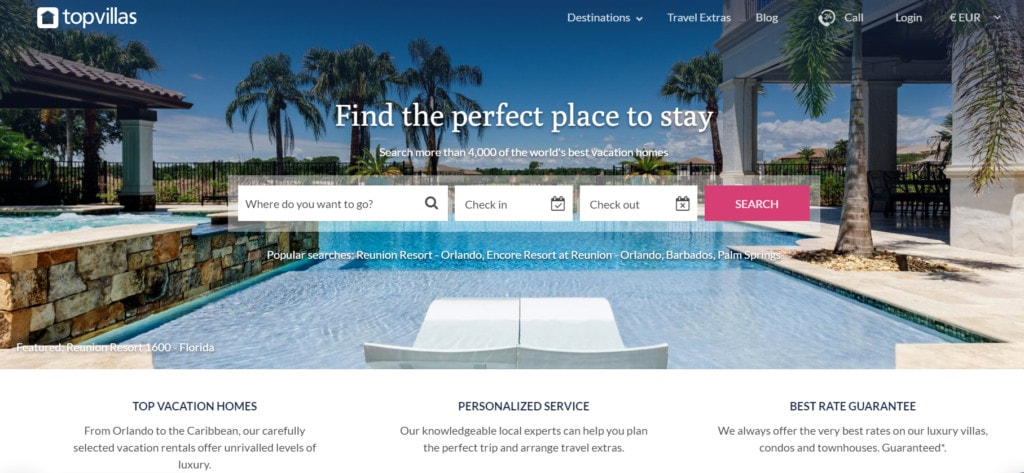 Top Villas has a portfolio of more than 4,000 luxury villas in more than 50 of the most popular vacation destinations.
This luxury travel website wants to target luxury travelers by including extra travel-related services such as park tickets, private in-villa chef, grocery shopping, event planning, spa at home, butler, etc.
Top destinations on Top Villas: US, Caribbean, Europe, Asia
8 – Villa Finder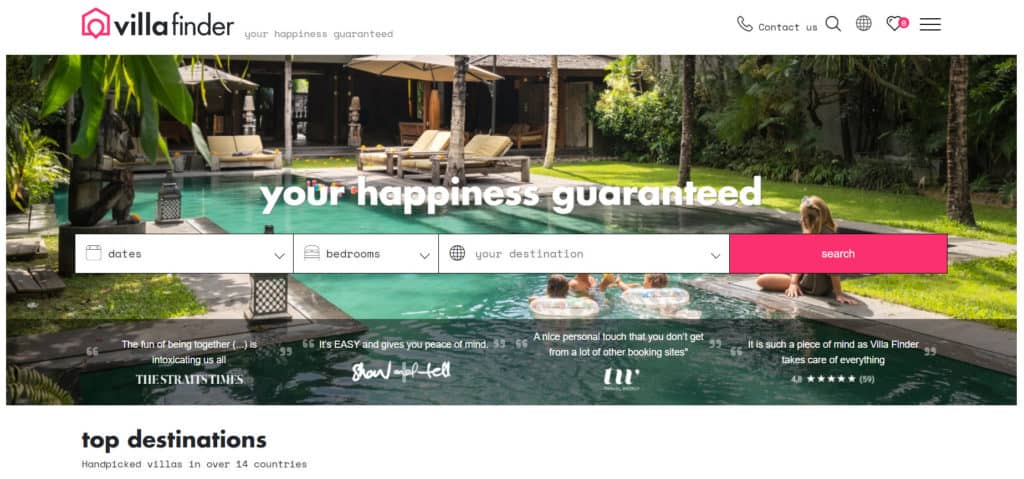 Villa Finder offers handpicked villas in top locations in over 14 countries. This luxury villa website goes the extra mile to inspect all villas to ensure the right blend of high-end comforts to give the hotels and vacation rentals they have listed a personal touch. Each property on the website is quality tested to ensure it fulfills luxury living standards.
Vila Finder offers travelers a unique way of finding inspiration for their next trip. The website's properties are clustered in themes such as beach-front and eco-conscious properties or rentals great for honeymoons, weddings, and events.
Vila Finder also has a team of experts available 7 days a week and fluent in 7 languages to assist customers and property owners. And on top of this, Villa Finder's promises to plant a tree for each booking made on the site.
9 – BookingLettings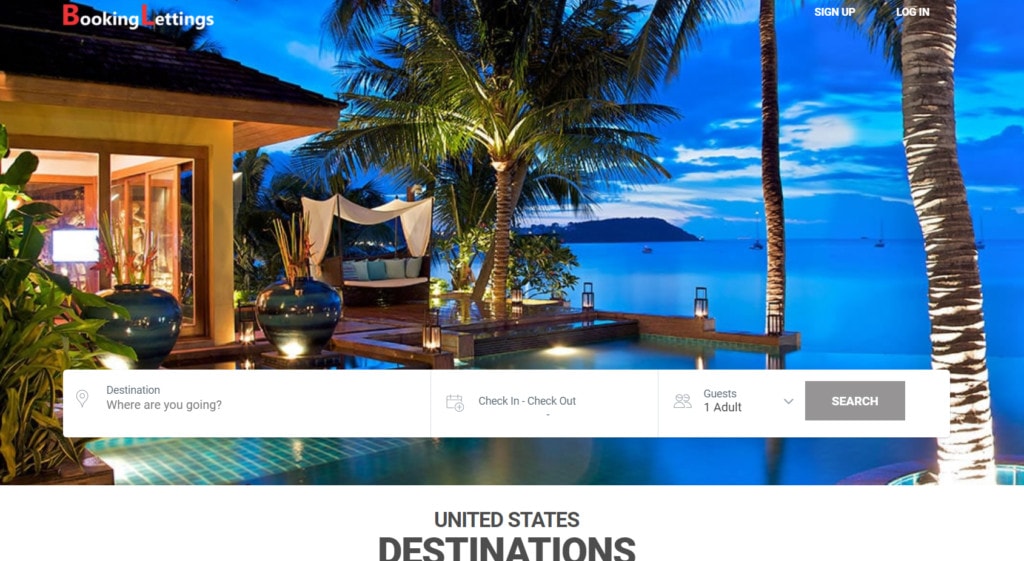 BookingLettings aims to offer travelers astonishing rental properties such as villas, bungalows, cottages, penthouses, tree houses, etc.
The booking platform aims to deliver the "highest quality and a trouble-free stay." They provide vacation properties in big cities, outdoor gateways, and tropical escapes.
Top destinations on BookingLettings: Netherlands, UK, France, Indonesia
10 – Stay One Degree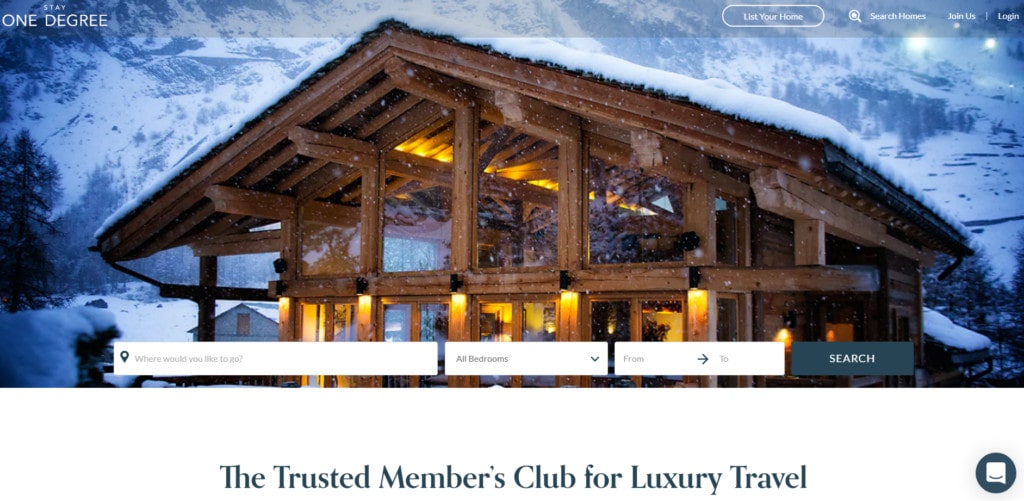 Stay One Degree links luxury travelers with luxury holiday home owners through a club membership, so it operates like a social network for luxury home rentals. Their members are able to access rigorously chosen extraordinary homes and to connect with trusted members that rent luxury homes.
According to the business model of this platform that operates on the luxury homestay market, the club members could benefit from rewards such as special offers, unique experiences, and free nights.
Top destinations on Stay One Degree: Europe, USA, Asia
11 – Homes & Villas by Marriott International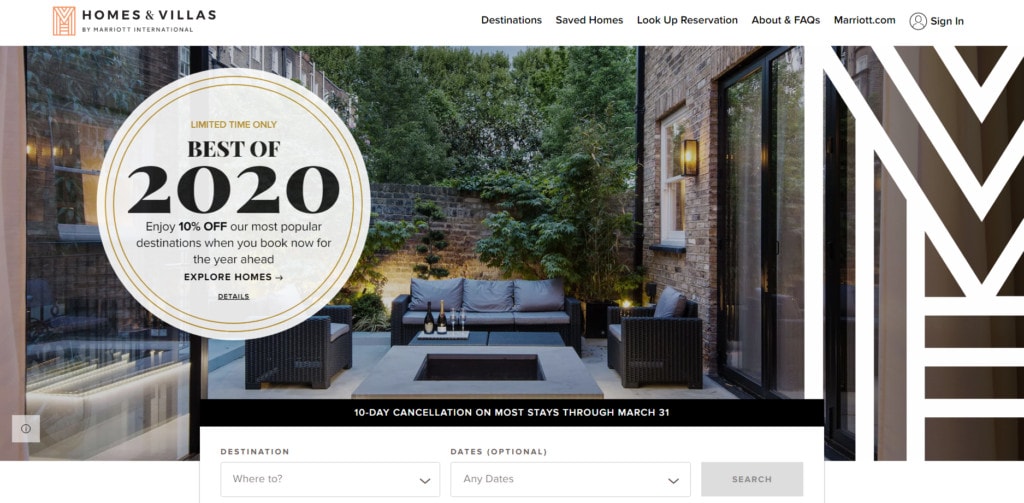 Homes & Villas by Marriott International is the offering of luxury rental homes of Marriott. Guests can rent diverse properties, from beachfront bungalows to castles.
They try to differentiate from competitors by offering just professionally managed homes and offering loyalty programs to travelers.
Top destinations on Homes & Villas by Marriott International: US, Canada, Central America, Mexico and South America, Caribbean, Europe.
12 – CoolStays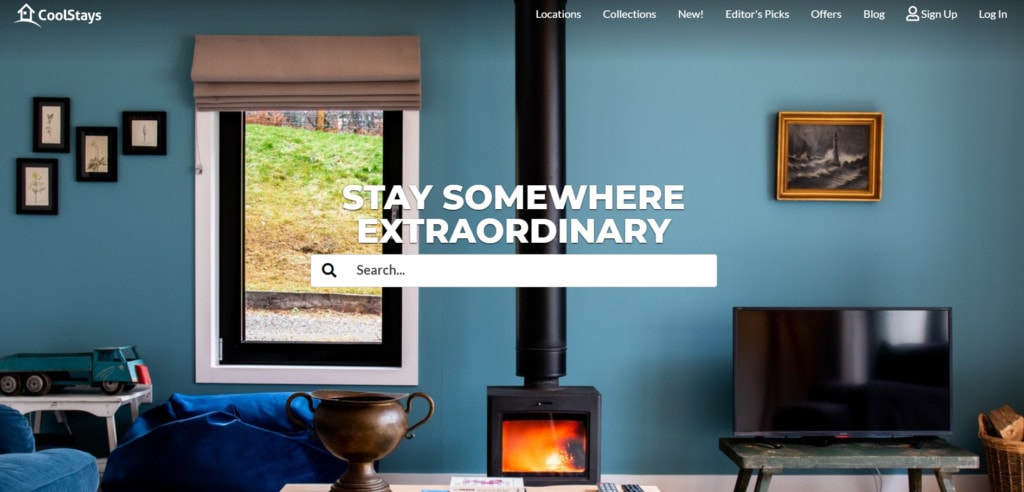 Cool Stays competes with more than 1800 rental properties that are "truly quirky, noteworthy or stylish". Their collection includes luxury tree houses, cave houses, trains, windmills, lighthouses, gypsy caravans, and shepherd's huts.
The slogan of Cool Stays is "stay somewhere extraordinary!". Their trending collection includes cabin stays in England or Scandinavia.
Top destinations on CoolStays: UK, US, Europe, Africa, Asia
13 – BoutiqueHomes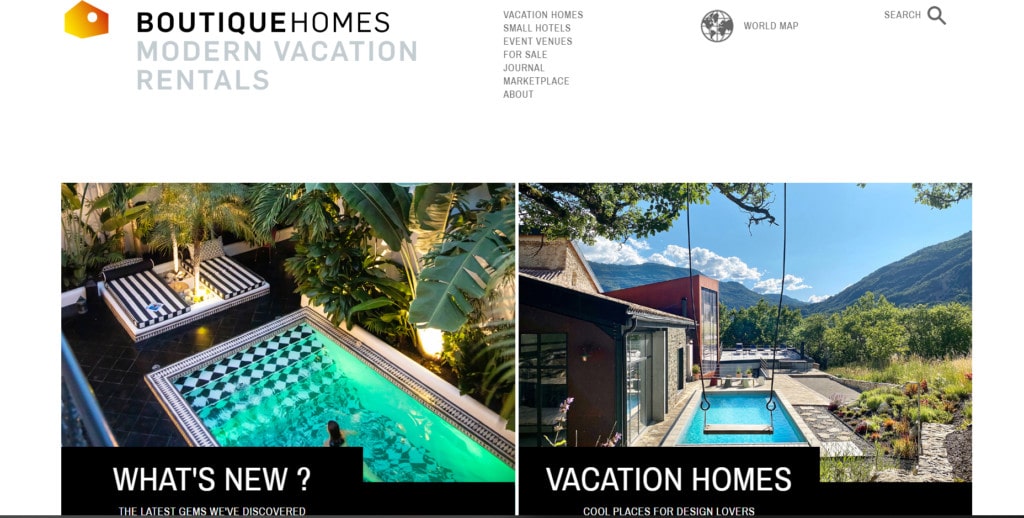 Boutique Homes' platform offers several captivating categories for travelers, such as chic and cheap vacation home rentals, intimate and small hotels, and also offer services for organizing special events like weddings. They try to offer stylish properties that give off a "genuine sense of place".
Top destinations on Boutique Homes: San Francisco, London, Spain, France, Italy, Croatia, Indonesia, Iceland, Turkey
14 –  Villaway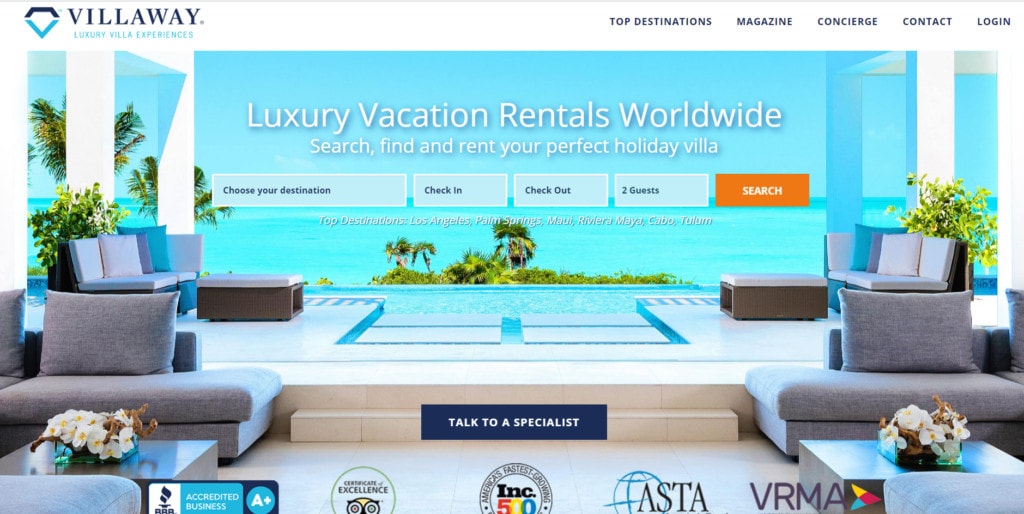 Villaway, similarly to some of its competitors, offers luxury properties that are hand-selected and professionally managed. Travelers that want to enjoy a more luxurious stay can enjoy a dedicated personal concierge, 24/7 customer service, and destination expert assistance. This goes hand in hand with Villaway's mission to "revive and reinvigorate the human spirit with extraordinary travel experiences, one villa vacation at a time".
Top destinations on Villaway: Mexico, Bali, Thailand, Caribbean, Central America, California, Hawaii, Greece
15 – Villas of Distinction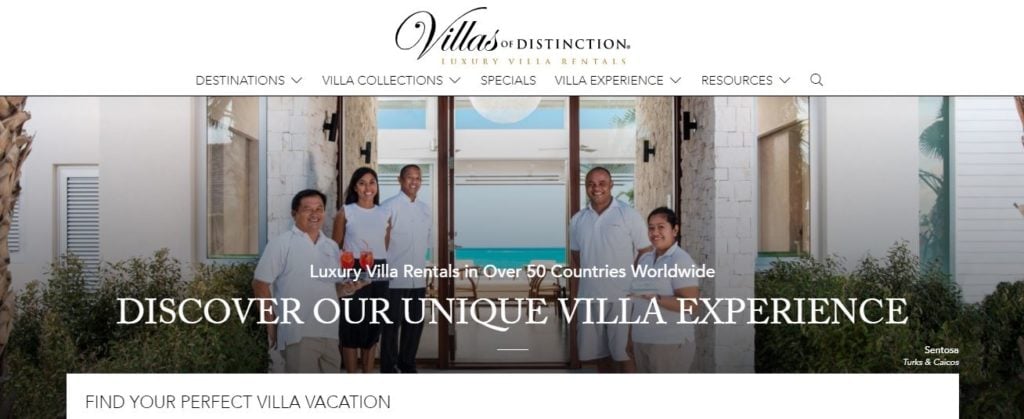 "Creating one-of-a-kind getaways and lasting memories at the world's top luxury villas" is the aim of Villas of Distinction, a villa rental company that tries to offer customized escapes. Their experts try to streamline the whole process from the beginning to the end and to provide unique travel experiences.
Top destinations on Villas of Distinction: US, Caribbean, Italy, Florida, Jamaica
16 – Dream Exotic Rentals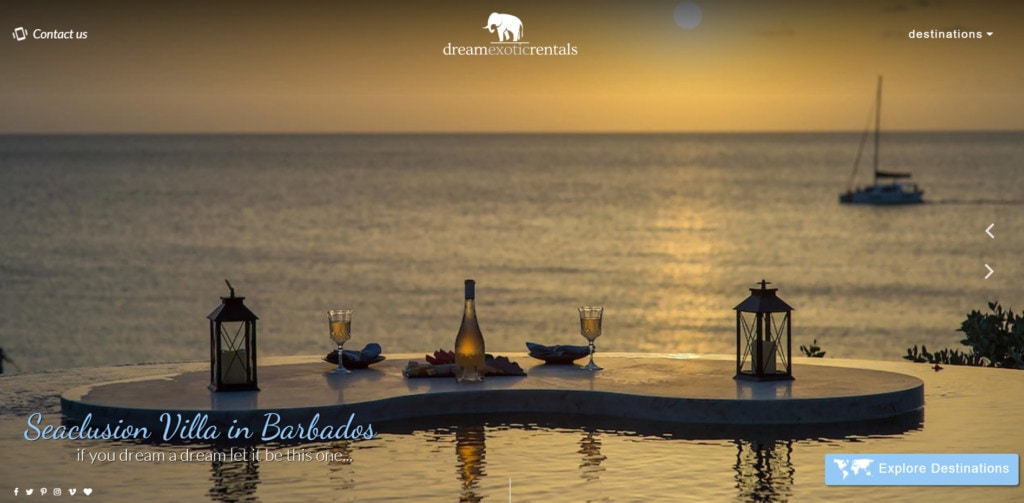 Dream Exotic Rentals' motto is "if you can dream it we can achieve it". The company plans extraordinary travel opportunities such as traveling onboard the Oriental Express, renting an 800-year old castle outside Paris, or renting a private island.
Top destinations on Dream Exotic Rentals: Caribbean, US, Europe, South and Central America, and Africa.
17 – Haute Retreats

Haute Retreats offers luxury villas for travelers that want to explore different cultures or to relax through personalized travel experiences. Haute Retreats offers private chef service, grocery shopping upon arrival, tailored activities and excursions.
Haute Retreats catalogues its villas and experiences inventory by themes and seasons. So, for example, travelers can browse villas that can accommodate a wedding ceremony, or properties that can offer themed vacations, such as gol vacations with access to private golf courses.
Top destinations on Haute Retreats: Caribbean, Europe, Latin America, Costa Rica
18 – The Villa Collection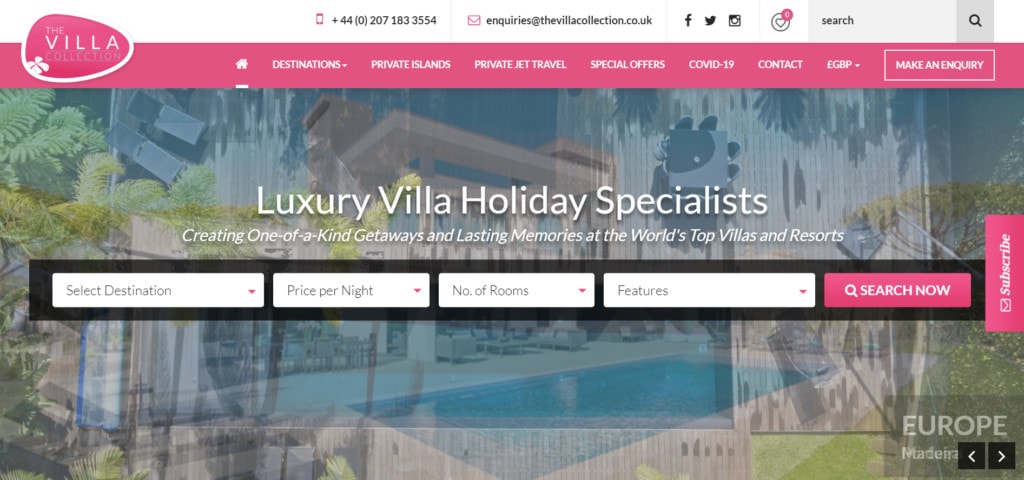 The Villa Collection tries to attract luxury travelers by providing superior service and complimentary concierge and in-destination services. They offer a private jet or charter service and private island stays.
Top destinations on the Villa Collection: Caribbean, Central America, Europe, South Africa
19 – Abercrombie & Kent Villas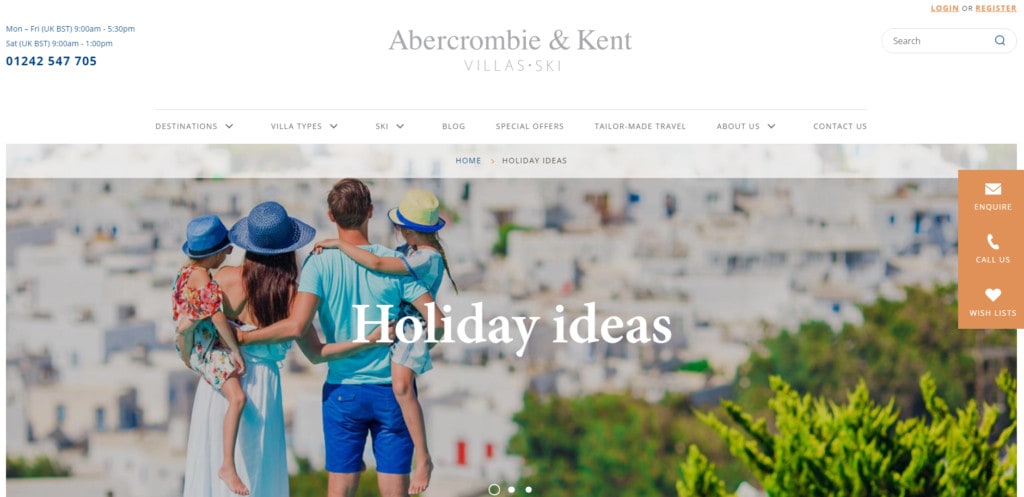 Grand villas, centuries-old stone farmhouses, modern masterpieces, and the chicest ski chalets are some of the types of properties listed on Abercrombie & Kent Villas. They make sure that only the best villas are selected for their travelers and that, during the stay, travelers get the whole guest experience, including chiefs and transport.
Top destinations on the Abercrombie & Kent Villas: Croatia, France, Greece, Italy, Portugal
20 – The Thinking Traveller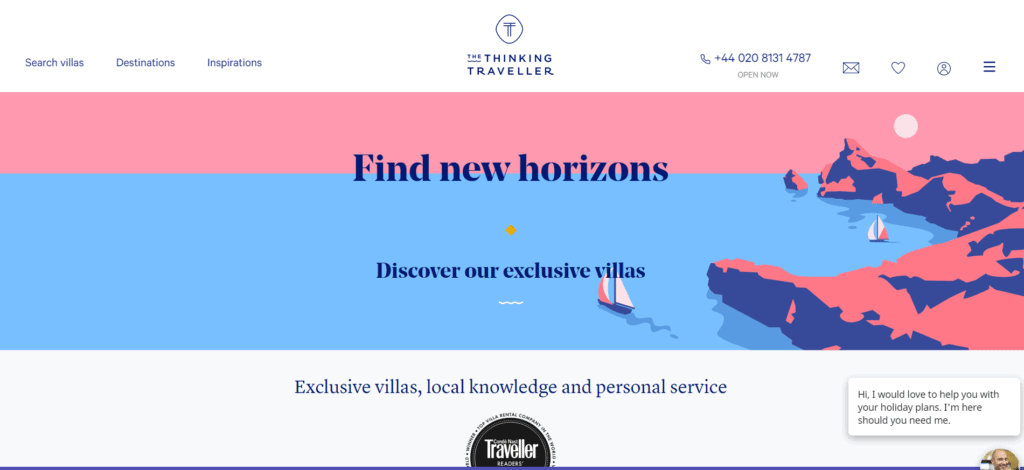 The Thinking Traveller aims to offer a mix of exclusive villas, local knowledge, and personal service. The villas they offer are exclusive for their travelers, which means they can not be found on any other travel website. Their mission is to hear their clients say, "That was the best holiday we've ever had. We'll be back".
The Thinking Traveller also provides experiences such as a full-immersion experience for gastronomes led by a renowned chef in a villa between Mount Etna and the Ionian Sea.
Top destinations on The Thinking Traveller: Sicily, Puglia, Minor Italian Islands, Greek Islands, Corsica, Mallorca
21 – The Luxe Nomad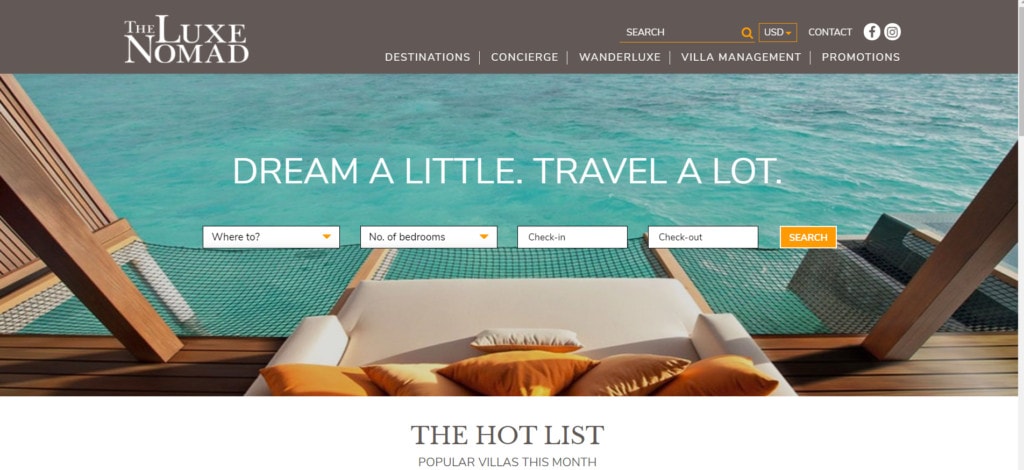 The Luxe Nomad offers over 85 exclusive villas in Asia-Pacific with a mission to "champion, inspire and enable guests to travel well". Whether travelers are after a beachfront villa in Ko Samui or a luxury villa wedding venue in Bali, it's highly likely they'll find a stay that meets their expectations for luxury travel on The Luxe Nomad.
Top destinations on The Luxe Nomad: Asia-Pacific
22 – Airbnb Luxe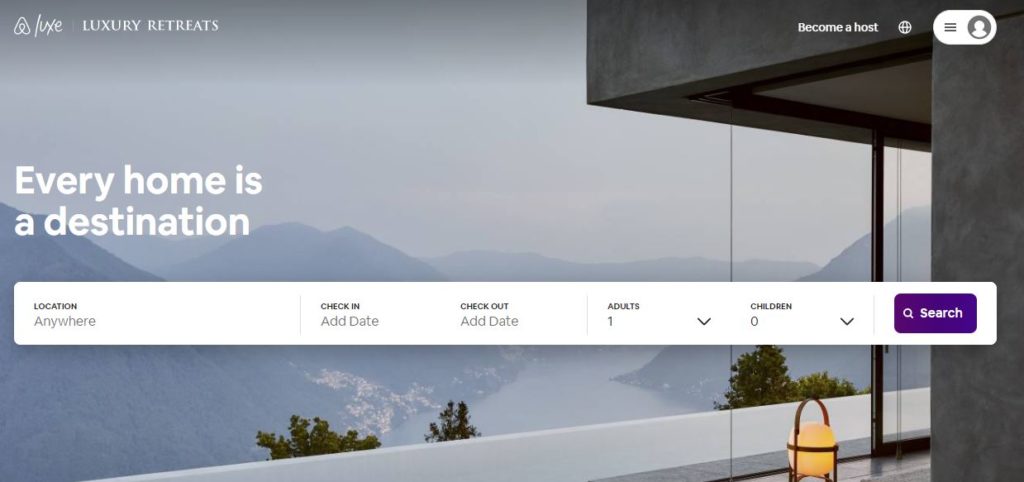 "Extraordinary homes with five star everything." This is how the most popular short term rental platform explains its luxury tier Airbnb Luxe. The properties are expertly designed and have high-end amenities and come with the services of a dedicated concierge. After the company acquired Luxury Retreats, a luxury vacation rental company, in 2017, it launched Airbnb Luxe in 2018. Luxury travel is a new avenue for the company known as being a more affordable alternative to hotels.
Travelers on Airbnb Luxe have what the platform calls a "trip designer", a professional in charge of booking everything (airport transfers, car rentals, spa services, etc.). They can book chateaux, villas, townhouses, penthouses, and more. To be on the Airbnb Luxe listing, homes have to pass an evaluation across 300+ criteria. Airbnb reduced team sizes and investment in Airbnb Luxe when it cut 25%of the workforce because of the disruption Covid-19 caused for the company.
Top destinations on Airbnb Luxe: Europe, North America, South America, Asia
23 – Vrbo
Vrbo also takes a piece of the luxury short-term rental market. From luxury condos in South Carolina to luxury vacation homes across the Caribbean, travelers on Vrbo can book cabins, beach houses, and more.
However, Vrbo doesn't have a luxury tier that would be similar to Airbnb Luxe. Vrbo's robust filters allow luxury travelers to find their desired vacation rentals with luxury amenities. Yet, Vrbo's platform does not offer concierge or any special services.
Top destinations on Vrbo: US, Europe
24 – Booking.com
Similarly to Vrbo, Booking.com doesn't have a luxury tier that might be used by luxury vacation rental owners and managers and targets a mass market of travelers. But, its platform attracts luxury travelers with its listings of villas, so there are some luxury buyers there, which is why we chose to include it in this list.
Top destinations on Booking.com: US, Europe, Asia
25 – Four Seasons Private Retreats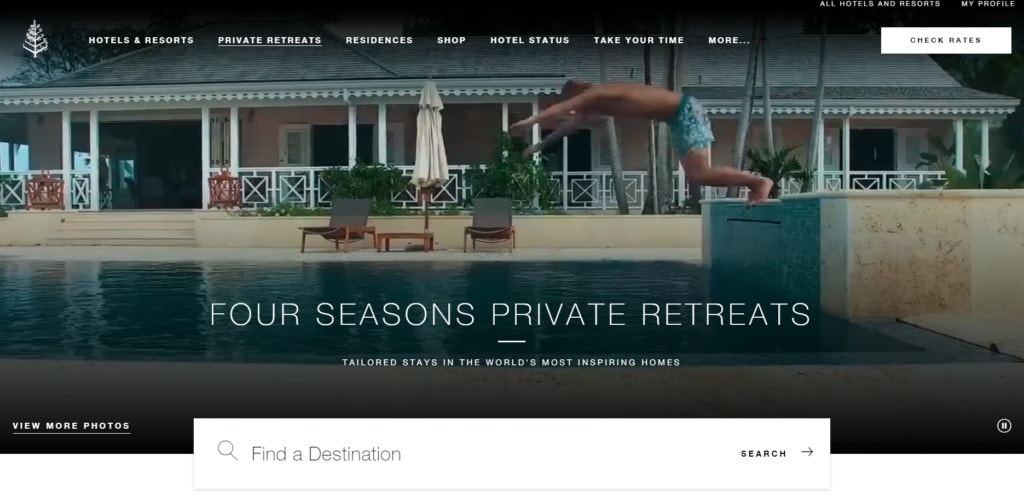 Four Seasons Private Retreats allows travelers to choose from over 750 luxury villas and residences in the most breathtaking destinations, and there are, in fact, more than 21 destinations available to luxury travelers.
Four Seasons Private Retreats provides property owners with rental program experience, fully managed and serviced by a dedicated Four Seasons team.  
Top destinations on Four Seasons Private Retreats: North America, Central & South America, Middle East & Africa, Europe.
26 – Personal Villas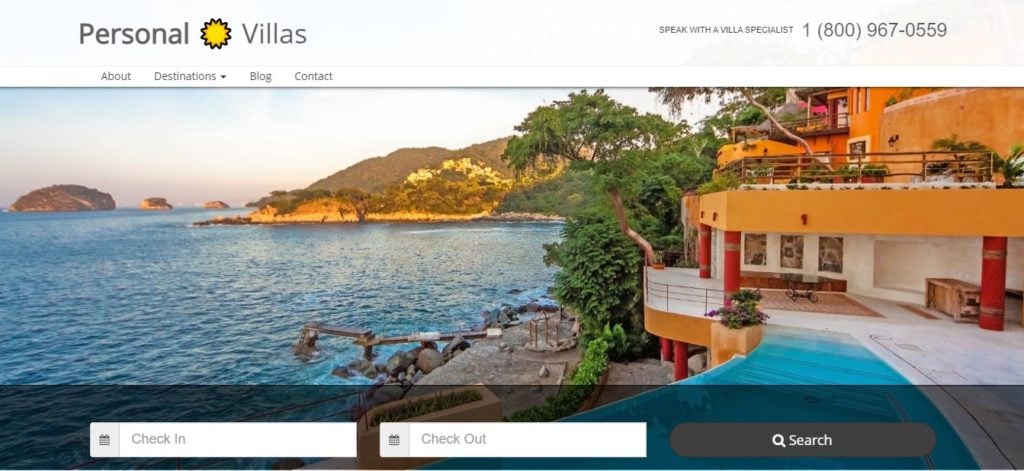 Since its inception in 2015, Personal Villas has grown to a network of 1,000 luxury properties curated specifically for high-end travelers. With extensive presence in the Caribbean and Mexico, Personal Villas offer custom experiences that cater to guests' individual needs.
With a solid network of concierges and travel partners in over 25 destinations, Personal Villas promise to consider details that may be small but significant – such as stocking your favorites – or putting together stylish pool parties for you.
Top destinations on Personal Villas: Anguilla, Barbados, Jamaica, Casa de Campo and Punta Cana in Dominican Republic, Puerto Vallarta and Punta Mita in Mexico, St. Barths, St. Lucia, and St. Maarten.