360 degree photos get you to the next level of quality in displaying your rental property, giving your future guests an amazing immersive experience.
Trust in reality
The curious guest wants to know if they can trust you before they book. They know the usual images can be very misleading, maybe taken with a wide angle lens that makes a tiny room larger, or with ugly features hidden by omission.
In contrast, your 360 degree photos can help your guest see the honest beauty of your property. They click on the 360 view and they can rotate around the complete room as if they are really there. No distortion, everything in its honest place. If the images and lighting are done well, it is almost like being there. People can fall in love with the experience, before they even book.
Guests can also hop from location to location, for example they can jump from the living room to the balcony and see the view. They can step into the bathroom, and they can even go up and down the stairs.
With 360 degree photos, your prospective guests have all those trust fears dispelled, they can go ahead and book with confidence.
I decided to have 360 degree photos taken for Sea Zen. This is my experience.
The Sea Zen 360 example

Just click on the image above to get the 360 experience, rotating a full 360 degrees inside the Sea Zen example. Drag a point on the image and it will rotate.
Once you have your photos done, you can display the viewing window on your website, or have a clickable link on your website. You can also email your clickable link to someone who is enquiring but hasn't quite booked.
You can also show your interactive images on your Google Maps / My Business listing site. However, the OTAs don't make it easy to show the images – more on that later.
Moving between viewing positions
The guest can jump to the next viewing position with a click, just as if they are walking around the room.
Floor Plan
You can also get the contractor to provide a smartened up floor plan showing all the rooms and furniture. Another layer of reality and trust for your guests. This is the Sea Zen example.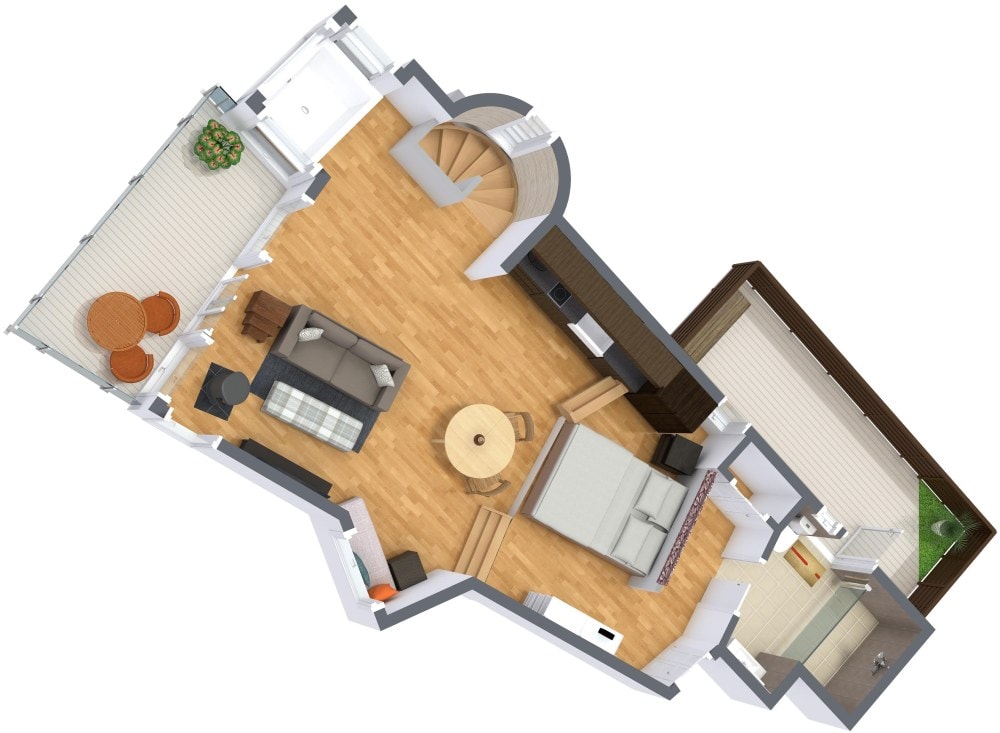 Dollhouse
If you can't wait a few days for the tidy floor plan, the software automatically stitches the various viewing positions together and generates a 'Dollhouse' image, just like a model in space that you can spin to get different perspectives. Here is the one that the system generates.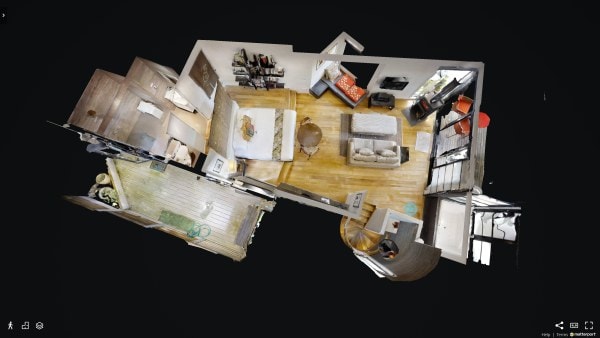 Making a simple video for youtube
You can make a simple rotating video tour for youtube.
Here is the example I loaded for Sea Zen.

To make this youtube video tour, you start with an image called a 'photosphere' from the contractor, a condensed 360 image.
A handy free site (360photo-to-video.com) converted that image to a simple rotating video in a standard .webm format. Then I uploaded that to Youtube in a few seconds.
Loading images to your Online Travel Agency listing
Homeaway allows you to upload a Youtube video tour, such as the example above.
Booking.com say they allow you to upload a photosphere. (It didn't work for me).
I couldn't find a way of uploading a matterport view to Airbnb. Apparently they are still doing experiments they started a few years ago, so don't hold your breath!
All three OTAs allow you to upload simple images such as the floor plan.
Having the photos taken
You choose a contractor. In my case I was approached by a company (virtualinspections.com.au) that travels around Australia taking photos and I liked their product examples and prices. (Disclaimer: I get no affiliate benefit from Virtual Inspections.)
Google has a global list of many vendors that work with the lesser quality needed for google maps, and their quality varies widely. Choose your contractor carefully, and get examples of their work before deciding.
On the day of the shoot, you need to set up the presentation, just as you need to before any photographer arrives. Clutter removed, wires removed, lights on, blinds open, maybe some red cushions and flowers.
Matt, my photographer from Virtual Inspections uses an automated 'Matterport' 3D camera system, taking photos from about a dozen locations. In the final product, the guest can jump from location to location.
Duration of the shoot
It takes about 45 minutes for the contractor to take images from about a dozen different locations. The finished views were available for me to view the next day.
Cost
It cost me A$300 for the images I've shown in my example, plus another A$100 for the floor plan and A$100 for loading images onto Google maps.
How the Matterport Camera works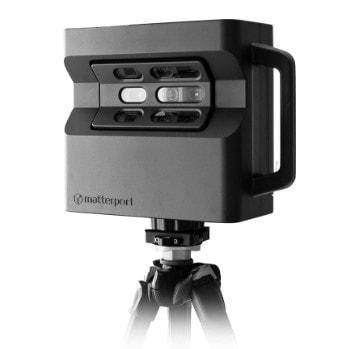 It is a black box mounted on a tripod used by the contractor. At each location it takes 6 images, rotating automatically from angle to angle. Each shot uses HDR (high dynamic range) to balance the light so you can see the bright parts and the dull parts clearly without being washed out. The software then stitches the images together into one high quality 360 degree image of 130 Megapixels.
The image is stored on a server and when guests click on the viewing window on your website, the viewer gets a seamless experience as they rotate through the images sent from the server.
The camera is 230 x 260 x 110 mm and weighs 3 kg.
Alternatives
There are many alternatives out there. In some a professional takes shot from one location using HDR and stitches them together using alternative software and hosting. The result can be excellent.
Beware scams
There are some low quality scammers out there. I was scammed by a pushy salesman with big promises. They used a tiny rotating camera that wasn't able to take good images. Bright areas were washed out and low light areas were barely visible. The result would have trashed my brand, so I made them remove all traces of their work from my Google maps listing, and asked for a refund. My current contractor Virtual Inspections was the opposite, very professional.
What is your experience with 360 Photos?
Have you used a vendor you can recommend? Send me a message.