Airbnb as a resilient company
Airbnb's business model was shaken but then validated by the new ways that guests used the platform.
First, the company's leadership wanted to convey that Q2 2022 has been good for Airbnb and Q3 should be good as well:
We are in the midst of our strongest peak travel season yet. On July 4th, we recorded our highest single-day revenue ever, signaling the strong summer season ahead. In Q3 2022, we anticipate the highest quarterly revenue in Airbnb history.
Brian Chesky pointed out that during the earnings call that Airbnb's near-death experience in March 2020 ultimately created new use cases for the guests to use the platform. For instance, they started using it for domestic stays in non-urban areas as well as to book stays over 1 month. Chesky said:
It's good to remember that before the pandemic, our bread and butter was cross-border and urban when the pandemic occurred, that got primarily shut off and yet our business recovered because people were using differently. I think that really the key important thing here is that our model is obviously incredibly adaptable. We are in nearly every community in the world. We have nearly every type of space and nearly every type price point.
A key point for Airbnb is that two of its main growth engines, cross-border travel and urban bookings, have also sputtered back to life. Since March 2020, the company had insisted at great length on how its non-urban bookings were growing. Now, Airbnb can once again boast it large share of urban bookings: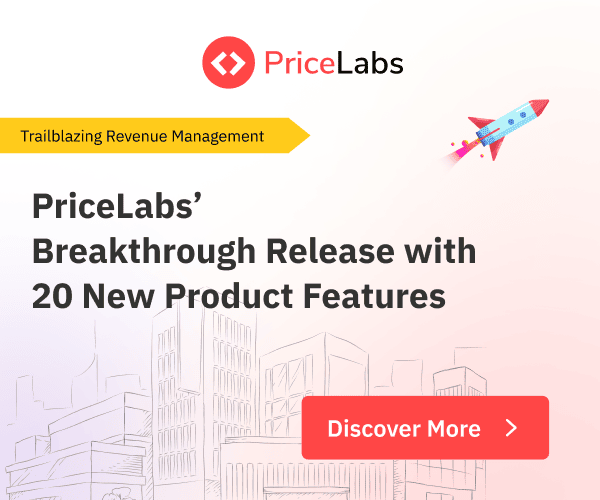 Gross nights booked to high-density urban areas represented 47% of our gross nights booked in Q2 2022, even exceeding pre-pandemic (Q2 2019) levels.
Several key Airbnb markets in North America and Europe are on the verge of a recession. So, it was critical that Airbnb's leadership team would point out what happened during the COVID-19 crisis to try and convince investors of the resilience of the company's business model. This is what you can read between the lines in the company's letter to its shareholders:
We have nearly every type of space in nearly every location so however travel changes, we can adapt. And regardless of the economic environment, our guests come to Airbnb because they can find great value and our host can earn extra income. Second, we've relentlessly innovated while also staying focused and disciplined.
Financial data for a strong Q2 2022 for Airbnb

Here are a few data points and financial comments lifted from Airbnb's earnings call and letter to its shareholders:
Q2 2022 Nights and Experiences Booked of 103.7 million marked our highest quarterly number ever, up 24% compared to Q2 2019, despite macroeconomic uncertainties.
 Guests continue to stay longer on Airbnb. In Q2 2022, long-term stays of 28 days or more remained our fastest-growing category by trip length compared to 2019. Long-term stays increased nearly 25% from a year ago and by almost 90% from Q2 2019
We generated $2.1 billion in revenue, growing 58% year-over-year (or 64% excluding foreign exchange). Our revenue and GBV are 73% larger than in Q2 2019.
From a profitability perspective, we had our most profitable Q2 ever with a net income of $379 million—a nearly $700 million improvement from Q2 2019.
Over the last twelve months, we've generated $2.9 billion in Free Cash Flow, bringing our total cash balance to nearly $10 billion.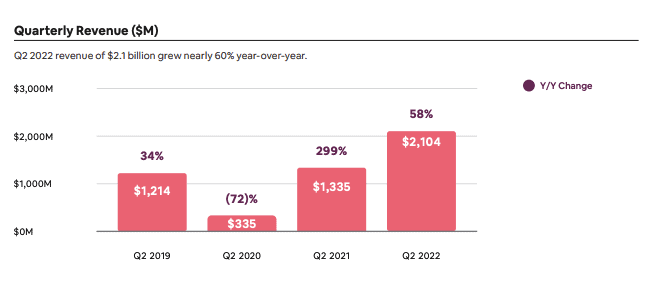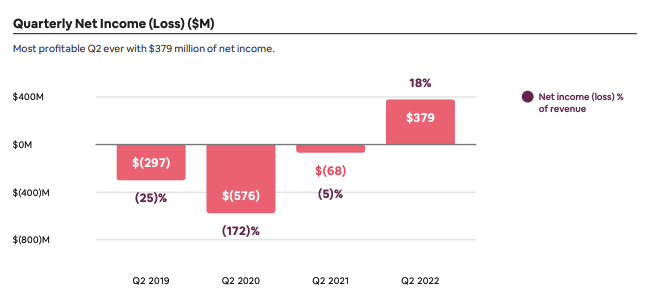 How Airbnb is performing internationally: The US still doing amazing, Europe lagging a bit, Asia still a drag
The return of international travel
Before the pandemic, the most frequent use case for Airbnb was 2 people booking an apartment in a big city abroad. Think of a young American couple booking 4 nights in Paris. The demand for international trips has finally roared back to life and it has benefited Airbnb. Here's what the company says:
Gross nights booked for cross-border travel exceeded 2019 levels in Q2 2022, up from 56% of 2019 levels in Q2 2021. As the impact of the pandemic recedes but macro conditions persist, we expect a continued, albeit choppy, recovery of cross-border travel to be a further tailwind to future results.  
And here again:
Gross nights booked to high-density urban areas in Q2 2022 accelerated from Q1 2022, and once again exceeded pre-pandemic levels. We also saw gross nights booked for cross-border travel not only surpass pre-pandemic levels, but double compared to Q2 2021, demonstrating the tremendous recovery compared to last year.
Trends by world regions
In Summer 2020, a vacation rental boom started in the US. Europe, due to higher restrictions on travel across the continent and a drop in international arrivals, only really bounced a year later. In 2022, Airbnb's numbers show that this lag can still be felt. Globally, the company's figure for Nights and Experiences Booked in Q2 2022 grew by 24% compared to Q2 2019. Yet, there are notable differences across regions. Here's the same figure for various regions:
North America: +37% above the level achieved in the same quarter of 2019, primarily driven by the U.S.
In EMEA (Europe, Middle East, and Africa): +26% compared to Q2 2019
In Latin America: +64% higher than Q2 2019, with continued resilience in certain countries, such as Brazil and Mexico, where both domestic and inbound cross-border travel continued to strengthen.
In Asia Pacific: (no exact figure shared) Nights and Experiences Booked remained depressed (i.e. this is a negative figure) compared to Q2 2019.

Excluding Asia Pacific, global Nights and Experiences Booked exceeded 2019 levels by nearly +35% in Q2 2022. Let's try and see what's happening in this region.
APAC, among which China, still a drag on the business
First, for Airbnb, the region has historically been more reliant on cross-border travel than other regions. For almost two years, Australians were locked into their own country, not able to travel internationally. Markets such as Bali and Thailand depend a lot on Australians, for instance. Yet, the borders of Bali and Thailand themselves were closed to foreign visitors and only started opening in late Spring / early Summer 2022.
As travel restrictions have finally started to relax, demand is coming back to Airbnb's APAC markets. For the past four quarters, the company has seen a continued sequential recovery in the region, with 19% growth in Q2 2022 compared to Q2 2021 (which number was probably a low base, though).
The second factor hindering Airbnb's Asia Pacific figures is the closure of Airbnb's domestic China business in Q2 2022. The company was facing the costly and complex challenges of operating in the country, exacerbated by the severe COVID lockdowns. Despite Airbnb's efforts to localize its products, it was lagging behind local actors, much like other foreign OTAs. The impact was also felt on the supply side, as all mainland Chinese listings were taken down in July 2022.
Airbnb thinks that it will be able to focus on outbound travel from China, i.e. Chinese traveling abroad, when (if?) the country's borders reopen. Yet, the figures are not substantial for the moment. Here's what Brian Chesky had to say about it:
What we've done is we've shifted all of the resources that we're applying and splitting between both domestic and outbound travel. We focused all that on outbound, which we think is the greater prize and the most important part for the long term. So until China has their COVID policy kind of in place in allowing people to kind of travel outbound from China, it will kind of remain to be depressed. But as that evolves and Chinese travelers travel again, we think that will be a nice unlock for our Asia Pacific business.
Company revenues dragged down by weak euro (€) and pound (£)
A big factor in the lower revenues accounted for as coming from Europe has to do with currencies. Airbnb is a US company whose accounts are reported in US$. So, its revenues made in Europe, say in Euro (€) or in Pound (£), need to be converted to US$ before being accounted for. 
As a result of the strengthening U.S. dollar in Q2 2022, especially in comparison to the Euro and the British Pound, metrics such as revenue and gross booking value, are smaller than they would have been if the currencies had remained on the same level as in Q1.
Upcoming innovations in Q3 and Q4 2022 will prioritize increased supply, notably from occasional hosts
Airbnb rolled out its Categories and Aircover for Guests in Q2 2022. In the coming months, the company says that it will give the priority to increasing its supply. Airbnb wants to unlock the next generation of hosts, as explicitly mentioned in its 2022 strategy.
Brian Chesky said;
"We have 4 million hosts on Airbnb, but we think there are millions more people that could turn to hosting."
It seems that it will go after occasional hosts, as well as hosts looking for a side revenue, such as teachers, students, and healthcare workers.
One of the ways for Airbnb to do it will be to reach out to its existing guest base: The company says that its #1 source of new hosts is prior guests.
Now, when it comes to increasing supply from occasional hosts, we are not sure what Airbnb has in mind. Yet, we read between the lines that Airbnb is thinking about two ways to do it:
Get more of them (e.g. turn more guests into occasional hosts, "get everyday people with their primary homes that want to host occasionally to host on Airbnb")
Get more from them (e.g. get existing occasional hosts to open their booking calendar for more nights)
Conclusion
Airbnb wants to prepare its investors for the coming recession by showing that it has a resilient business model and it can innovate its way out of global crises. One opportunity for the company is that people may need to start renting again a bedroom or an outer building in their home to face rising living costs. As Airbnb wants more occasional hosts, the company gets ready to see the occasion to help more people create a side revenues by becoming hosts.