Airbnb needs to grow its supply. To do that, it needs to unlock the next generation of hosts, as per its 2022 strategy, which means finding new pockets of people who may not have thought of hosting a place on Airbnb before.
Article takeaways
With the rise of living costs due to inflation and other factors, more people may want to find a way to create a side-hustle and Airbnb wants to be seen as a way to create more financial independence. For instance, the company has in mind to attract more teachers and healthcare workers through targeted programs (they already make up together 25% of hosts).
Airbnb is also continuing with initiatives such as the Airbnb Entrepreneurship Academy where non-profits in various countries partner with the company to empower fragile communities to start making through hospitality.
The company also wants to keep tapping into local initiatives to reach out to various communities, from farmers to chateau owners (e.g. the Airbnb Bootcamp program).
The Ambassador program is continuing in 2022, with selected hosts given the possibility to get rewards when they refer guests after hosting marketing activities of their own initiatives, from online courses to offline meetups.
Yet, Airbnb also wants to unlock other pockets of supply, in places that may be more controversial. For instance, it wants to help real estate investors turn more multi-family housing buildings into Airbnb-friendly apartments that can host indifferently host long-term tenants, long-term stays, and short-term trips. The goal is to turn hosting into a property amenity.
Moving upper funnel: From better onboarding to supply creation
In 2021, Airbnb rolled out features and services to onboard faster and better would-be hosts who were landing on its website or using its app. From Superhost Ambassadors welcoming, onboarding, and training new hosts to a simplified 10-step listing funnel, Airbnb has tried to make it more certain that a host lead would turn into an active host faster and in a more productive way. Another goal was to reduce the number of calls to the Airbnb host support line, by making tools better and outsourcing questions to Superhosts.
Now, with this in place, Airbnb can move upper funnel in 2022. This is about not only attracting more potential hosts but finding untapped pockets of people of could be good hosts. It can go from people who own properties but are not yet listed on Airbnb to people who need to make money but do not know that Airbnb could enable them to get more financial independence. This is what Airbnb's strategy of unlocking the next generation of hosts is about.
Unlock the next generation of Hosts
What Airbnb is saying:
With 4 million Hosts on Airbnb, we believe that we've just scratched the surface in growing our Host community. To unlock the next generation of Hosts, we've listened to thousands of people to understand what obstacles, myths, and misconceptions there are to becoming a Host. We will address these obstacles in order to attract the next generation of Hosts to Airbnb.
The return of the demand for urban destinations should decide some owners to reactivate their listings. Yet, after two years, several things have changed: Some properties have left the short-term rental market and now have long-term tenants. In numerous cities, regulations on short-term rentals are harsher than ever, so it is not sure that the number of listings there can ever come back to pre-pandemic levels.
Since the pandemic, Airbnb has been adamant that its core focus is individual hosts. They are supposed to be more loyal and exclusive to the platform than property managers, for instance. The increase in living costs, due to inflation and higher real estate prices, may force new people to list a bedroom of their primary home or their whole secondary home on Airbnb for the first time.
This is what Brian Chesky said on February 15, 2022:
The biggest growth area is going to be individuals. And the reason why is because things like inflation are providing more pressure on families all over the world and they're going to require economic opportunity to be able to make it through this difficult time.
Teacher Hosts and Healthcare workers
Airbnb has the ability to identify pockets of homeowners who are looking for more money and can be good candidates for becoming new hosts. Such are the cases of teachers and healthcare workers. According to Airbnb, 20% of its hosts are already either educators or healthcare professionals. So, Airbnb wants more of them. To do that, it is creating specific programs, partnerships, and landing pages.
For instance, Airbnb has created a partnership with the National Education Association (NEA) and NEA Member Benefits to attract more teachers as hosts. This program will include a curriculum to instruct members on how to create a successful Airbnb home listing. Airbnb Host Ambassadors will conduct training webinars for members to guide them on how to become a Host and provide one-on-one coaching — from preparing and publishing their listing to welcoming their first guests. Airbnb will also offer a stipend for members who become Hosts to invest in their hosting journey.
Here, we can see that Airbnb is leveraging its Superhost Ambassador program to target a specific pocket of would-be hosts. The program is not only about getting new supply of whole home listings but also of bedrooms in people's houses, going back to Airbnb's roos. Here's some interesting copy from the Teacher Host landing page:
"Hosting lends itself well to a teaching schedule—you can welcome guests after class and over the summer."
"Hosting has made it possible for me to afford to live in a two-bedroom apartment in New York City. Not very many people can say that on a teacher's salary."
A teacher funds her retirement: Sharing her sheep-shearing shed on Airbnb adds fun and financial flexibility.
How educators help shape Airbnb: Teachers who host on Airbnb are a particular point of pride for Airbnb.
How educators add earnings hosting: An estimated 10 percent of Hosts on Airbnb who are employed are teachers.
Airbnb Ambassadors to actively find new hosts online and offline
The Airbnb Ambassador Program's goal is to help Airbnb grow its supply of properties by getting existing hosts, called Airbnb Ambassadors, to refer new hosts to the platform. In just a few words: "Guide new hosts, earn more cash".
It is more than a referral program where a host can casually get some side money by sharing a link online: Airbnb treats ambassadors as crafty, nimble, and smart independent entrepreneurs who have to:
search for news hosts, both offline (e.g., by organizing meetups in their city) and online (e.g. by inserting referral links in their Instagram account),
onboard and train their mentees (e.g., by organizing their own webinar) until they complete their first reservation.
With Ambassadors, Airbnb's plan is to empower a group of entrepreneurs, help them grow a business out of referring new hosts, get them to educate and onboard new hosts until these hosts get their first booking. Think of the 2021 version of Avon ladies: The company empowers self-reliant entrepreneurs to use the Airbnb brand and its product (airbnb.com and its app) to build their own business. Airbnb has even arranged for them to have official "Airbnb Ambassadors" business cards.
Airbnb Entrepreneurship Academy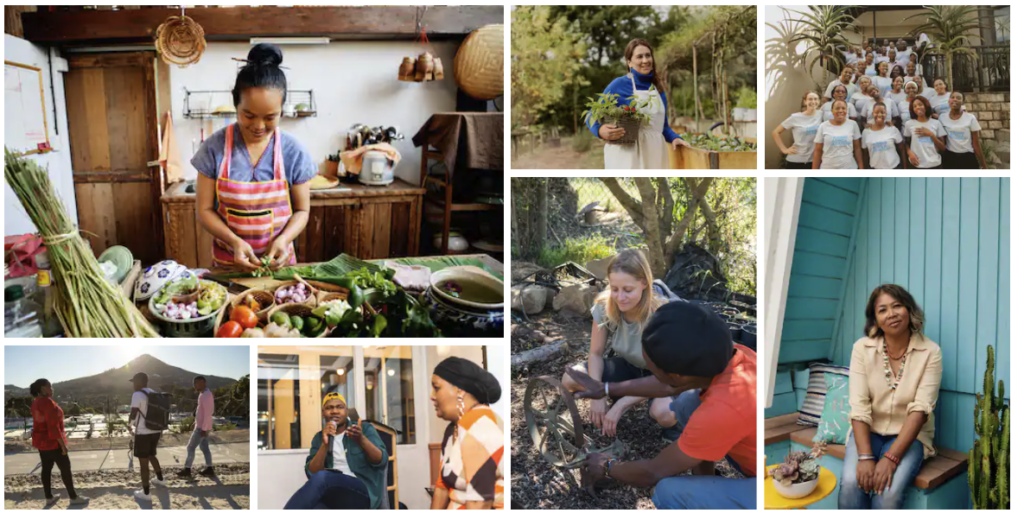 The goal of the Airbnb Entrepreneurship Academy is to empower the next generation of emerging tourism entrepreneurs. Airbnb partners with leading non-profit organizations, small business centers, and academic institutions across the globe to support tourism entrepreneurship in their communities. The initiative started five years ago in South Africa and has now been extended to various countries:
United States
India
South Africa
Kenya
Colombia
Thailand
China
South Korea
For example in South Africa, over the past 5 years, Airbnb has partnered with academic institutions like the University of Johannesburg and organizations like Africa!Ignite, and Tourism KwaZulu-Natal to empower women and youth from rural and underserved communities
In the US, Airbnb partners with nonprofits, academic institutions, and government bodies in urban and rural areas, starting with Beaufort County Community College and the Eastern Band of Cherokee Indians in North Carolina. They are working with Brotherhood Crusade, the Russell Center and other local organizations to expand the program to diverse communities across the country.
Attract local supply through targeted initiatives
Airbnb has been running such initiatives for years to attract new sources of supply. Their success relies on partnerships with local organizations, from farmer associations to heritage institutions.
For instance, Airbnb has run "rural bootcamps" to get farmers to start hosting (in a model reminiscent of Gîtes de France) and "winter bootcamps" to get more cabin and chalet owners to list their supply, across various countries, from Germany to France, the US to Italy.
In 2022, the company is still active around the world with local initiatives to find new hosts and generate PR. For instance, Airbnb is launching in France a program called "Patrimoine et Tourisme local" to help restore historic houses located in rural areas ( https://www.airbnb.com/d/patrimoine )
Airbnb for Real Estate: Unlocking supply growth opportunities in residential and multifamily housing buildings
While helping teachers and nurses make ends meet may sound noble, helping real estate investors put more airbnbs into multi-family housing buildings may sound a bit more controversial.
While Airbnb is talking a lot about individuals, it also reactivating its Airbnb for Real Estate program to help make multi-family housing buildings more Airbnb-friendly. The goal is to increase the adoption of hosting among landlords. It means that some buildings will host side-by-side short and long-term tenants. In a "Live Anywhere on Airbnb" world, it makes sense to help families find a place where to crash for 2 months. Yet, there could be a lot of frictions between "real" tenants and Airbnb guests who may not respect the same rules.
The Airbnb for Real Estate team partners with real estate owners and operators to normalize hosting across multifamily while reimagining the way people live. By leveraging Airbnb as an Amenity, owners and operators can:
drive incremental revenue,
increase leasing velocity and renewals at their communities,
provide flexibility and affordability to thousands of renters$
To unlock this supply, the goals of the Airbnb for Real Estate team are to:
Compel developers, operators, and owners of Multifamily Housing to incorporate Airbnb as an Amenity into their investment and leasing strategies.
Create a prospect list of high-impact assets and partners.
Move each lead through our sales process (from outreach to nurture to close) and effectively handoff each closed deal to Implementation and Account Management.
Increase the adoption of hosting among landlords and further the Airbnb mission.
Conclusion
Airbnb wants to unlock the next generation of hosts. Now that its onboarding funnel is working ok, the company wants to feed it with more homeowner leads. Through multiple programs, it can tap into would-be hosts pockets such as farmers, teachers, and nurses. In times of increasing costs of living, Airbnb wants to show that it is a great platform for people to start a side-hustle or to create a steady income stream. The next generation hosts may not just be individuals, but also large real estate investors who may insert airbns into multifamily residential buildings, which may or may not be a good idea. If it is welcome remote workers and digital nomads staying for 4 months, why not. If it is for people in town to party, not as nice.