PriceLabs, a leading dynamic pricing tool for the short-term rental industry, went from bootstrapping to raising $30m and from figuring out how to price a property to pricing more than 150,000 listings daily. We talk with Anurag Verma, one of its co-founders, to understand how this small company has managed to become one of the most innovative in the vacation rental tech industry. How will they be using this investment to solve more customer problems? We'll see, through the example of their Base Price Help tool and Minimum Stay Recommendations tool, how the company is empowering customers to discover new insights about their own market and make better business decisions.
Your company PriceLabs has recently raised $30 million. How are you going to use this money in ways that matter to short-term rental managers and owners?
We've been around for about eight years and have always stayed bootstrapped until now. One of the key things that we really pride ourselves in is that we make the product just work, and we make customers happy through good customer service. That's what has been propelling our growth over the years.
This question of whether to raise money or not always keeps coming up with any company. We have generally said, "No, not right now". Yet, we were beginning to reach the scale where we could see that we should find a partner who aligned with us on our values, i.e. create a product
our customers can then make good use of,
we can stand behind,
for which we are able to support our customers in making the best use.
We've raised this money from Summit Partners. We've been in touch with them over the years. What we really like is that they are very aligned with us. They don't want us suddenly shift our focus to something else but to continue product innovation, which essentially takes:
the best engineering minds,
great data scientists,
a team that supports the product all around it, whether it be on support, sales, or onboarding.
We want to grow our team across the board to make sure the product grows as the customers grow and we are able to support them. That's more or less what we are going to invest.
How has PriceLabs, a bootstrapped company, been able to keep on rolling out some of the most innovative vacation rental tech?
We had the advantage of an early team that was keyed into what the industry is about. Our engineering team is extremely good and efficient if I can say that. We were able to do things that would seem far beyond what other teams of our size would usually be capable of.
PriceLabs has been able to roll out fantastic innovations, such as the Base Price Help, which guides people into setting their price, and now the first-ever tool that can recommend minimum stay settings for regular stay, orphan dates, last-minute bookings, etc. Could you share more about how you use innovation to help your customers?
At the core, here is what PriceLabs does: We know about your market, you know a lot about your property, and together this combination is going to automate your pricing, automate your minimum stays, and really drive a lot of improvement to your revenue.
We want to help you make the best decision possible. So that's where the Base Price Help tool comes in:
Until three years ago, we used to sell our customers: "You set a base price and we'll do the fluctuations depending on demand and all of it". And a lot of customers found a lot of value in that.
But there were a lot of other customers that said, "Hey, I don't know what my base price should be. You have a lot of data, can you come up with something smart?"
And we said, "Okay. That's a fair point."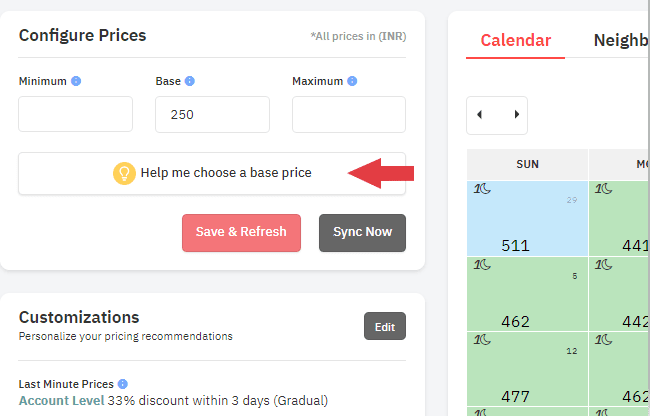 As we grow, more and more of our customers should expect us to be able to help them when they are making any key decision about their pricing strategy. That's where the minimum stays recommendation tool also came up. And that one is actually a little more complex. Minimum stays are not intuitively clear to an average host or even a property manager.
There are plenty of property managers who do 7-night stays all year long or 7-night stays during their peak season. And then they will do 3 or 4 nights in the off-season. Now, that's fair and good, and you might be getting fully booked, but maybe there is plenty of demand for shorter stays that you just don't get to see because your restrictions are too strict.
We tend to have that data to say:
"If 70% of the bookings in your location are less than 5 nights long, and if you have a 7-night stay all year round, then surely you might be getting booked, but you probably have to price really low to get those few bookings out there. Whereas if you lowered your minimum stay, maybe you could get a little more revenue out of your properties."
Except you don't get to see what kind of demand is out there in the market.
We first started by providing in our Market Dashboards that kind of data, i.e. what kind of length of stay requirements are common in your market. And as a lot of our very savvy customers were able to use that and say, "Okay, this is how I want to adjust my length of stays."
The next question that came up was:
"Hey, is that all there is to it? Can we actually come up with smart recommendations on what those settings should be and how they change with lead time to be able to maximize the revenue out of the property?"
It took our data science team eight months. We did a lot of background research work, figuring out what kind of algorithms to use. And then, earlier this year, we were able to roll out something that actually did that. And then our experiments are showing somewhere between 5 to 10% uplift compared to having your minimum stay to a flat value all year round.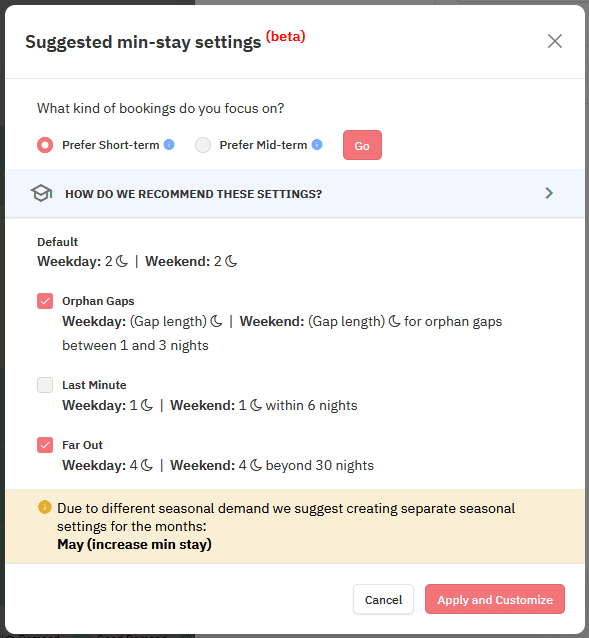 So those are the kind of things we want to go ahead and keep investing in. It's not like we think of something today, or our customer asks for something, we go flip the switch, and a month later, this thing is ready. We want to conduct a lot of these long-term projects, which might not come up with a solution right away. But, in a year or in a few months, we'll have something that takes one more burden off of our customers. That's essentially what we want to do on the product side, to say what are the decisions you are making where you don't have all the information, but if we can aid you in making that decision.
I really like these examples. You're respecting that people have to make their own decisions, but they may need more information. You give them tools and ways to get more advice, more suggestions and act on them.
Absolutely. What you mention is important. Even with Minimum Stays or Base Price, we come up with suggestions for you. We don't want to force them on you.
There are plenty of customers who have a requirement for whatever reason, from the owners, or their own operations, to say, "This is the minimum stay I want. I can't deviate from this. And then some customers can still look at our recommendations and say, "Okay. This is what PriceLabs recommends. Maybe I can go take it to the owner to say we have in low season a minimum stay of three nights instead of four nights because it will help me drive more revenue."
Anurag Verma, you're one of the co-founders of PriceLabs. If people want to hear more about the company, what's the best way to get started? 
You can always head over to PriceLabs.co if you want to learn that, there are plenty of resources on our website. If you are looking to find out and learn more about how dynamic pricing and revenue management work, we actually do daily training webinars for anybody who's looking to learn what PriceLabs does. You can always reach out to us on support at PriceLlabs.co. Our support team is fantastic. They will point you to the right resources.