A truw vacation rental industry insider, Simon Lehmann has made his bones in the industry over an impressive career that spans over 16 years. From having run one of the largest property management companies in the world, being on the board of Homeaway before its sale to Expedia, to becoming an angel investor himself he has truly done it all. Now, as CEO and Co-Founder of boutique consulting firm AJL Atelier Simon helps businesses navigate the short-term rental industry landscape. At AJL Atelier, Simon and his team help large private equity firms make investment decisions in the vacation rental industry, assist property managers trying to solve technology challenges or fundraising and provide financial advisory for mergers and acquisitions. We had a chat with Simon about the 2021 edition of the Vacation Rental World Summit and why it is essential for vacation rental enthusiasts to attend.
Interview: Simon Lehmann on what you can expect from VRWS 2021
AJL Atelier is a supporting partner of VRWS, supporting organizer Antonio Bortolotti in getting speakers and content, and acting as event ambassadors. Simon has long since been an attendee at VRWS and firmly believes that it is a great platform for vacation rental industry stakeholders that prioritize value over mega-events. He applauds the diversity of the event attendees, making VRWS a well-balanced industry space where tech, marketing, financial, data experts come together to not only answer questions by sharing their know-how but also ask questions of their own.
Another important reason for attending VRWS 21, Simon states, is the sense of community fostered at the event where attendees don't simply disappear after the conference, instead choosing to strengthen ties by socializing after.
An exclusive preview of a fireside chat between Simon Lehmann and AltoVita CEO Vivi Himmel
VRWS 21 will see the introduction of a brand new format: roundtables. This format promises to provide an opportunity to discuss big challenges in small circles. There are 4 total roundtables planned for the conference, at least one of which will focus on profitability, Simon explains, which is all the more crucial to discuss given recent industry events such as Vacasa's SPAC merger path to a $4.5bn valuation without having turned a profit.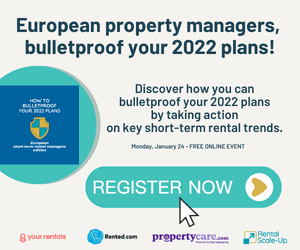 Attendees will also see tables turned on moderator, keynote speaker, and emcee Simon as he becomes the subject of an interview at a fireside chat with AltoVita CEO and Co-Founder Vivi Himmel. The direction of the chat will be largely steered by Vivi but you can expect that tackling profitability and what it means in terms of data and financials will definitely be dissected, along with the vacation rental industry's challenge to prove quality and standards.