We've already covered how vacation rental managers can leverage A.I .text-generators for travel and tourism. As the weeks go by, the impact of ChatGPT in the zeitgeist grows. It offers incredible, quick solutions to the everyday challenges they face when running a vacation rental business.
With ChatGPT, we'll see here how vacation rental managers and Airbnb hosts can:
simplify and automate replies to bookings inquiries,
enhance listings descriptions with inspirational copy extracted from real customer reviews,
create ideas to pitch as guest blog posts to promote your vacation rental company,
ask for reviews for your Google business page,
create content that is interesting to readers and good for SEO when it comes to guest marketing,
and create copy that attracts more homeowners or targets owners looking to switch from a competitor.
In this article, we'll be sharing actual ChatGTP prompts you can use straight away. We will also include examples of the kind of content generated using the prompt. So if you're looking for an actionable way to improve how you run your vacation rental business – Rental Scale-Up has you covered.
Reply to a booking inquiry (asking about something your property does not offer)
Writing content with ChatGPT is like having a conversation. Ask it something, look at the result, and give feedback or provide more directions to refine the answer. For example, after getting the first answer, you can add additional information to help build on the initial response. This allows you to create content that is tailored to your specific needs.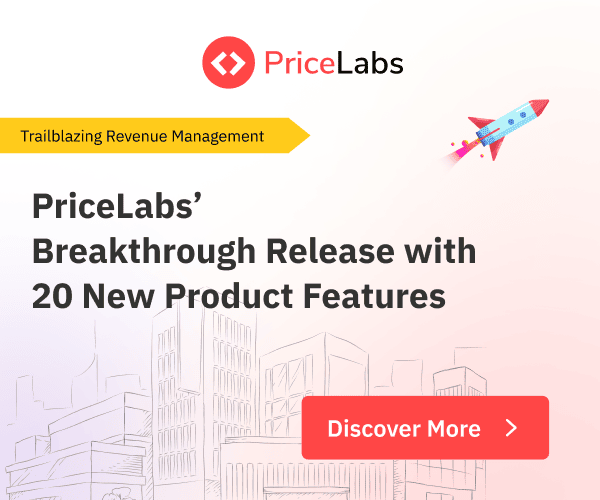 ChatGPT prompt #1:
I am an Airbnb host. My listing clearly states that it is not dog-friendly. Yet, someone just sent me a booking inquiry mentioning they would bring their dog. How to say no very politely but firmly?
ChatGPT output (screenshot)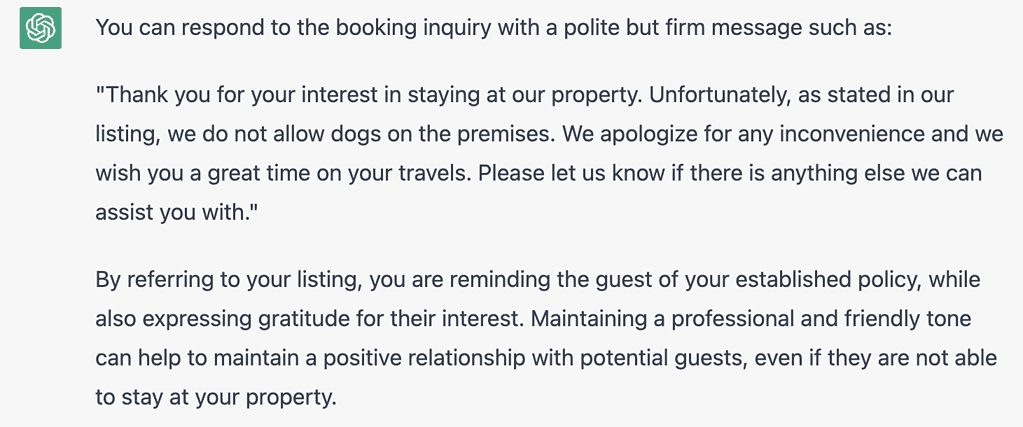 ChatGPT prompt #2:
Yet, the guest says that it is a therapy dog and that I would discriminate against them. What can I say?
ChatGPT output (screenshot)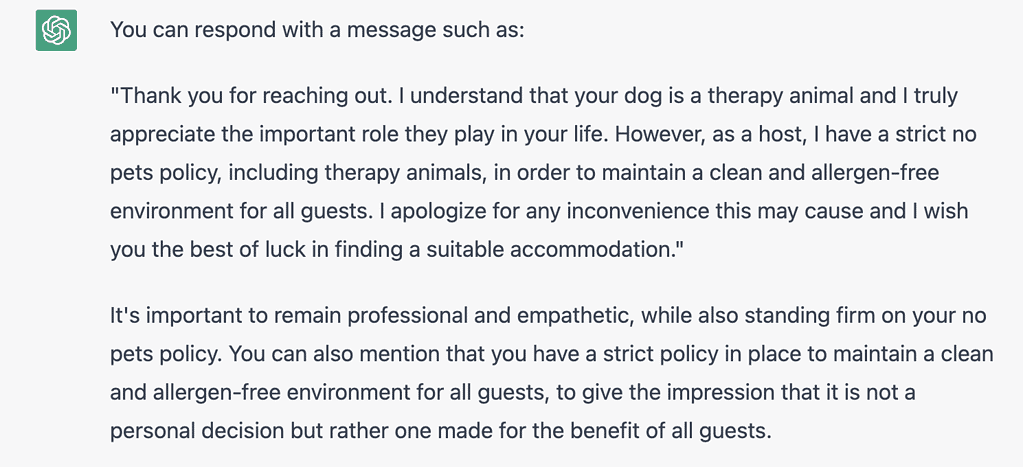 Enhance listings descriptions by letting ChatGPT rephrase them in a more inspirational tone and with context extracted from real customer reviews.
We want to create a listing description that will emotionally connect with travelers. To do this, we provide ChatGPT with our current description and 3 actual guest reviews. We want it to combine both and convey the guests' sentiments and highlight the best points. While it may appear like we are feeding ChatGPT with a lot of information, we are not expecting it to generate random text.
ChatGPT prompt
We want to write an attractive listing description for our cabin in Gatlinburg. It should sound very attractive to families. To do that, we'll give you our draft description. Then, we will give you reviews from past guests so that you can lift from these reviews relevant keywords, quotes, or sentiments to enrich the description. Do not make up facts.
1/ Draft Description:
"RECENTLY COMPLETED MODERN CONSTRUCTION w/ Rustic Undertones – Welcome to Red Fox Den, a newly constructed modern styled cabin located in the Cobbly Nob Community. Located only 13 miles from downtown Gatlinburg, the community offers a perfect balance of convenience and privacy. Our cabin features a main level king suite, and 2 queen suites on the lower level, all with private bathrooms.
Convenient flat, paved parking. Amazing views"
2/Review #1: The house is breathtaking and the view !!! 😍 Oh my goodness!!! I could just stare at that view forever. I also felt like I was at a 5 star resort with the towels arranged so pretty and the tiny soaps and shampoo. It was very hard leaving this beautiful and peaceful place. Stephen & Allison were amazing hosts, they take pride in this home with such amazing attention to detail and care down to the beautiful Christmas tree and Christmas decorations which matched the house perfectly. Will definitely stay here again on our next trip to Gatlinburg.
3/Review #2: This was the third time we have stayed in a cabin in this area and this house has been our favorite BY FAR. The house is immaculate, modern, but still welcoming and comfortable. All the textiles and accessories around the home made this feel like a high end hotel stay: UGG bedding, fancy Keurig coffee machine, faux fireplace in the main room. The space itself was spotless, obviously serviced by professionals that didn't miss a thing. We LOVED the christmas decorations too! Views were to die for every morning and it was an easy drive to nearby shopping, food, and hikes. We would absolutely stay here again!
4/ Review #3:
WOWZA!!
If this place is available- BOOK IT NOW.Allison & Stephen were fabulous hosts! So responsive. They made check in an absolute breeze. Check out even easier!This place is everything it says… AND MORE! THE VIEWS ARE SPECTACULAR. You will see critters… we were visited by bears, and more. Nothing scary- just living on the mountain! The drive up is not for the faint of heart- yet totally worth it! The sky & mountains were an ever changing masterpiece.
You are less than 30 minutes from downtown Gatlinburg and Pigeon Forge. We loved going to the arts & craft loop, shopping and hiking in the park. Great location for us because we don't like being in the tourist zone of motels & such.
Red Fox Den has a well appointed kitchen with great appliances & utensils. We didn't want for anything. The entire place was spotless. The hot tub worked well – and it is private. All the tech – Wi-Fi, TVs, gaming system worked. It was quiet and serene- even when neighbors were home. We felt very safe & secure.
The whole area is fantastic. I have pretty high expectations and Allison & Stephen hit the mark! This is a great place. Hope to return… if you don't book it first!
ChatGPT output (screenshot)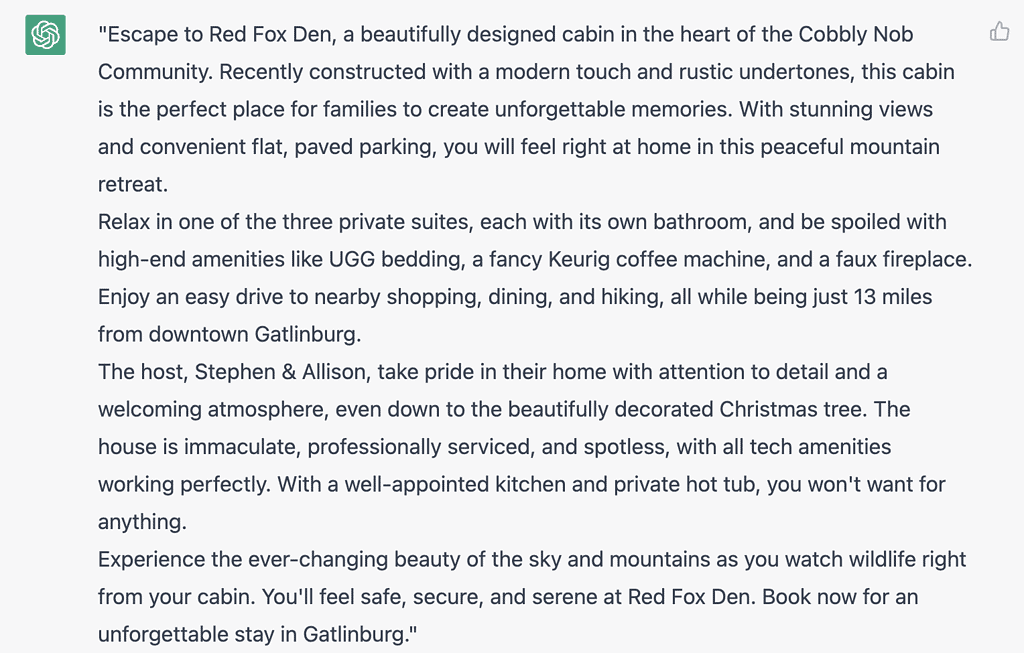 Marketing outreach (e.g. Create ideas to pitch as guest blog posts to promote your vacation rental company)
ChatGPT prompt:
Give me Guest Post suggestions pitching the merits of vacation rentals for a blog about family travel.
ChatGPT output (screenshot)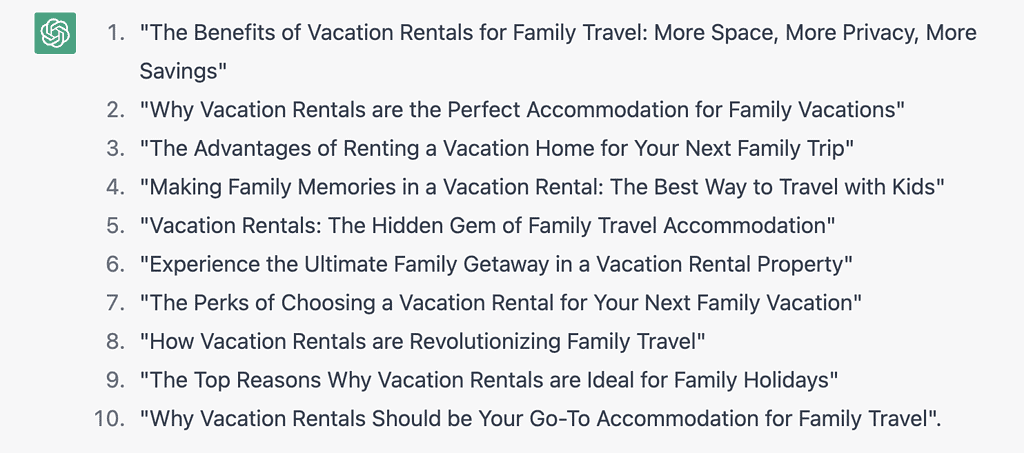 Ask for a review for your Google business page
ChatGPT prompt:
Create the subject line and copy for an email that we want to send to guests. We want to ask them to leave a review on the Google Business Page of our property management company for the vacation rental where they stayed. Be grateful. Explain step by step how to leave a review on Google for our company. Also, leave room for them to send us private feedback if something can be improved by replying directly to this message.
ChatGPT output (screenshot)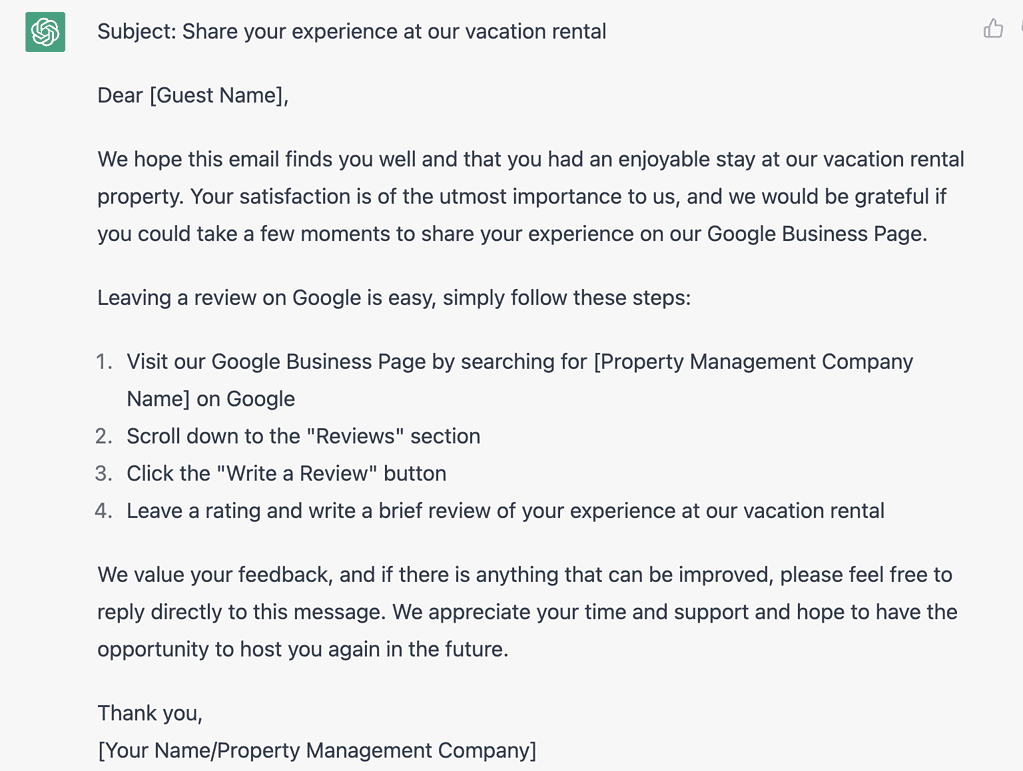 Add best practices to your employee manual (e.g. How to reply to bad reviews professionally)
As property managers, we produce a lot of content each year, such as sales materials and employee manuals. ChatPGT can help streamline this process and make it easier to create tailored content quickly.
ChatGPT prompt:
Write an employee manual for the employees of my vacation rental company about how to handle bad guest reviews-[Hook (up front, grab the reader's attention): As a dedicated and guest-focused employee at a vacation rental company, is there a worse feeling in the world?] -[Golden thread (Sprinkle ideas through content to hold readers' attention): Feels like the end of the company reputation, feels unfair, feels like nothing can be done, yet there are clear actions to take]
ChatGPT output (screenshot)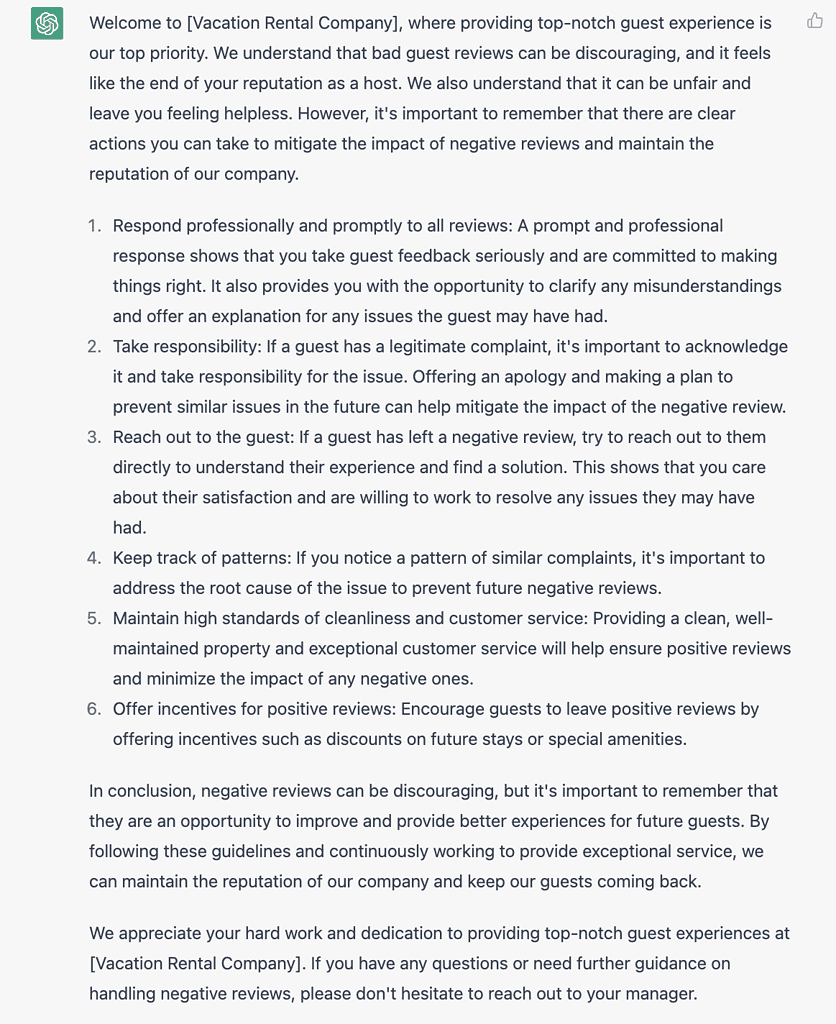 Guest marketing: Create content that is interesting to readers and good for SEO
We'll go from generating content ideas, with ideas generated in an easy-to-read table, to deep-diving on one topic.
ChatGPT prompt:
"I run a vacation rental management company in Gatlinburg, Tennessee. What are some topics for my destination blog about Gatlinburg I should be tackling with my content. Give me the results as a table. Each topic a number between 1 and 100 to indicate the topic popularity."
ChatGPT output (screenshot)
ChatGPT prompt:
"take the topic "Outdoor Activities (hiking, scenic drives, etc.)" and brainstorm a list of articles based on popular search terms and long tail variations that are likely to be easy to rank on Google. Present the results in a table with proposed article title, another for target keyword and a 3rd for popularity level of the keyword between 1 and 100″
ChatGPT output (screenshot)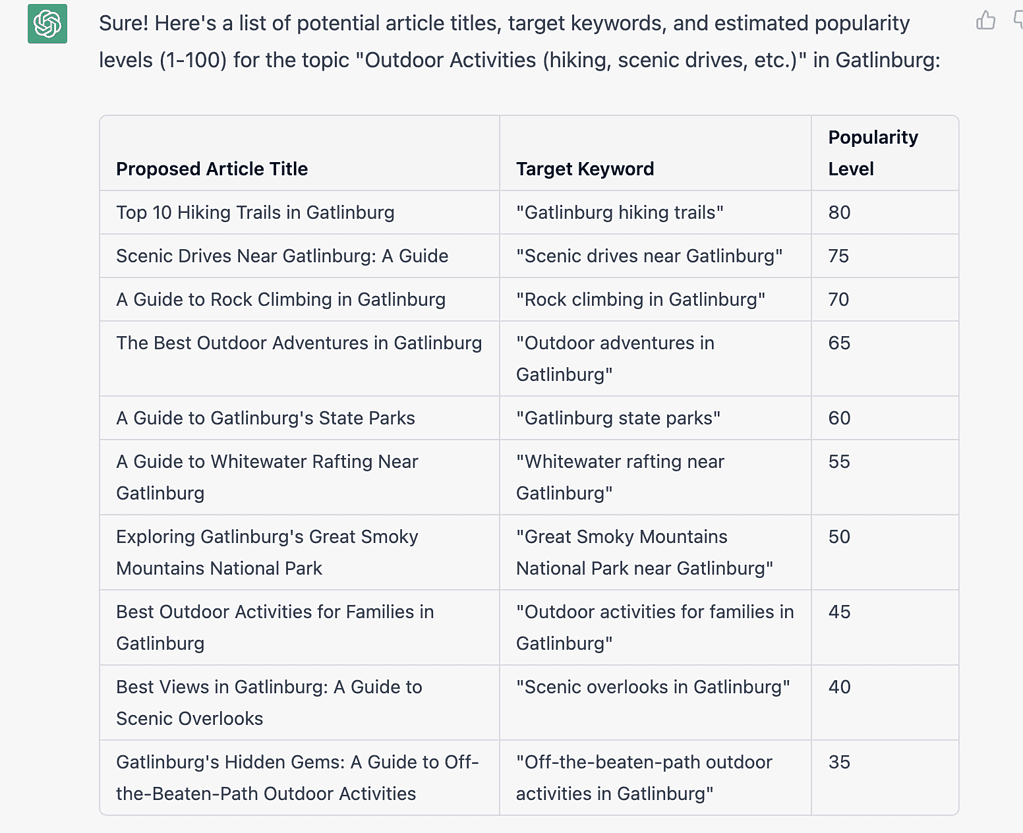 ChatGPT prompt:
Give me an outline for a blog post about Scenic Drives Near Gatlinburg: A Guide.
ChatGPT output (screenshot)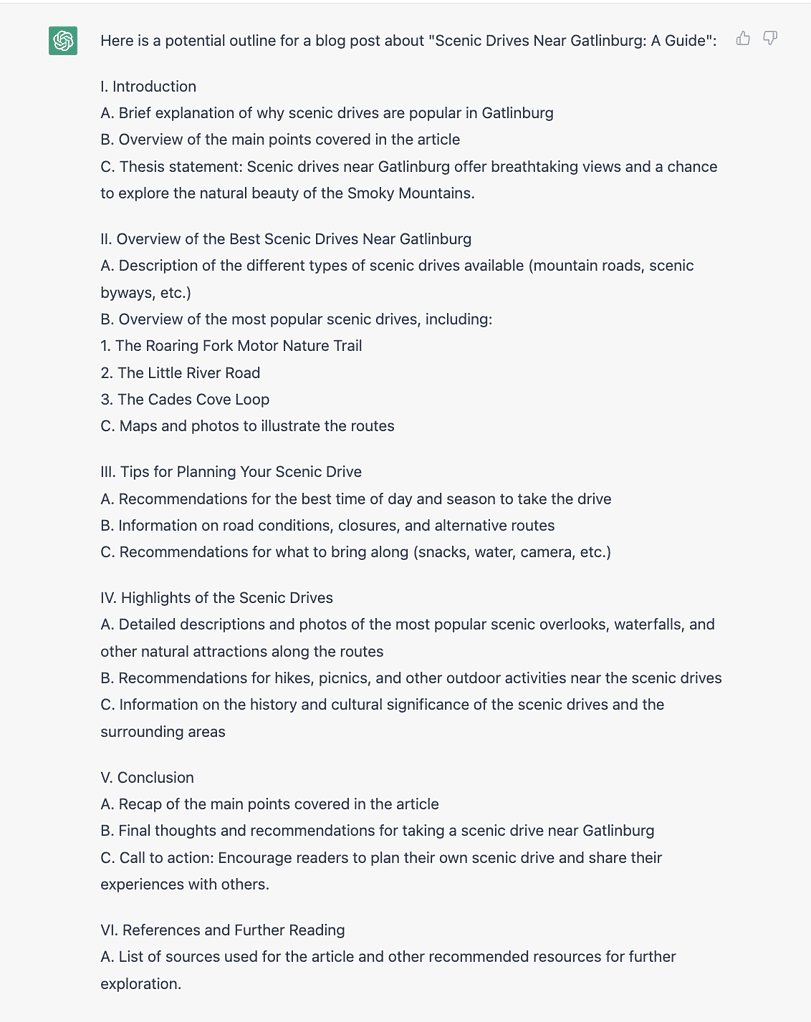 Homeowner marketing: Create copy to attract more homeowners
Let's create an engaging dialogue with ChatGTP by asking it to generate frequent questions about a topic. We can then combine this with facts and formatting to produce relevant web page copy.
Get ChatGPT to list the most frequently asked from new owners
ChatGPT prompt:
We are a vacation rental management company located in Gatlinburg, Tennessee. We want to convince more homeowners to work with us. What are the most frequent questions that someone with a new property and looking for their first vacation rental manager would have?
ChatGPT output (screenshot)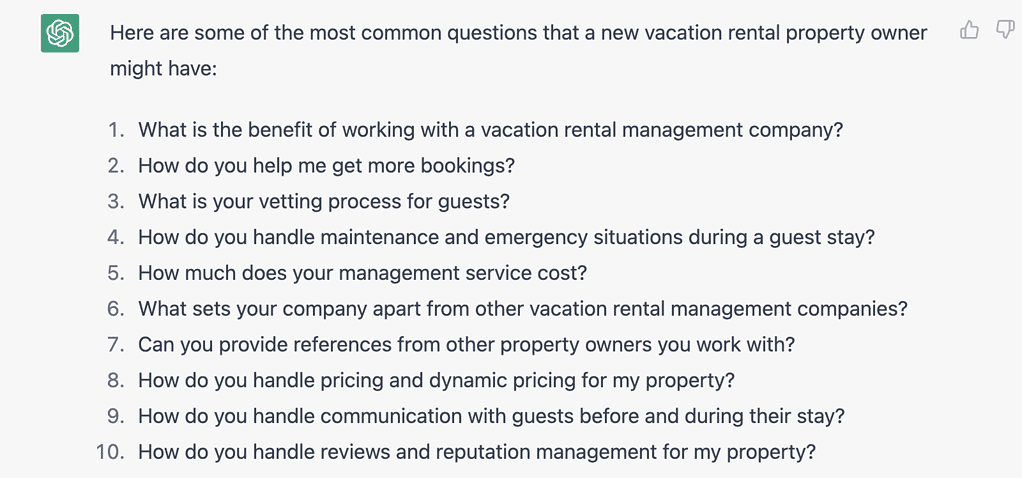 Now, add actual formats and text formatting to generate a Homeowner Acquisition Page for your website. For instance, to structure the page, we want ChatGTP to use headings (H1 and H2). We also want to ChatGTP to drop the facts about our company all through the text so that they flow naturally. To do that, we give instructions in brackets.
ChatGPT prompt:
With these questions in mind, create a text for a landing page targeting new vacation rental owners. Use H1 and H2 to structure the text. -[Golden thread (Sprinkle these facts about our company through content to create trust in readers' eyes): Our company has been around since 1997, we are part of the VRMA ie the biggest national vacation rental managers association in the US, the average review score for a new listing we manage is 4.9 out of 5.0 on Airbnb, we have a dedicated process to get bookings fast for new properties, we vet guests to the extreme]
ChatGPT output (screenshot)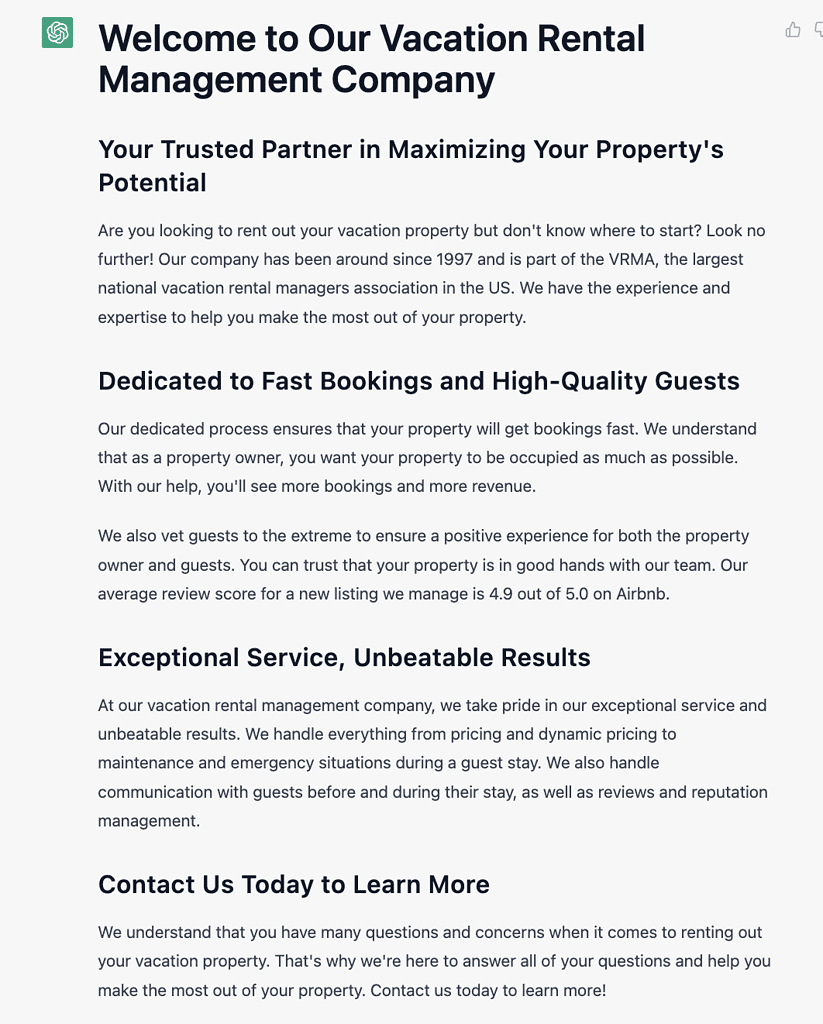 Homeowner marketing: Create copy targeting owners looking to switch from a competitor to you
ChatGPT prompt:
What are the risks for a vacation rental owner to switch from one property management company to another?
ChatGPT output (screenshot)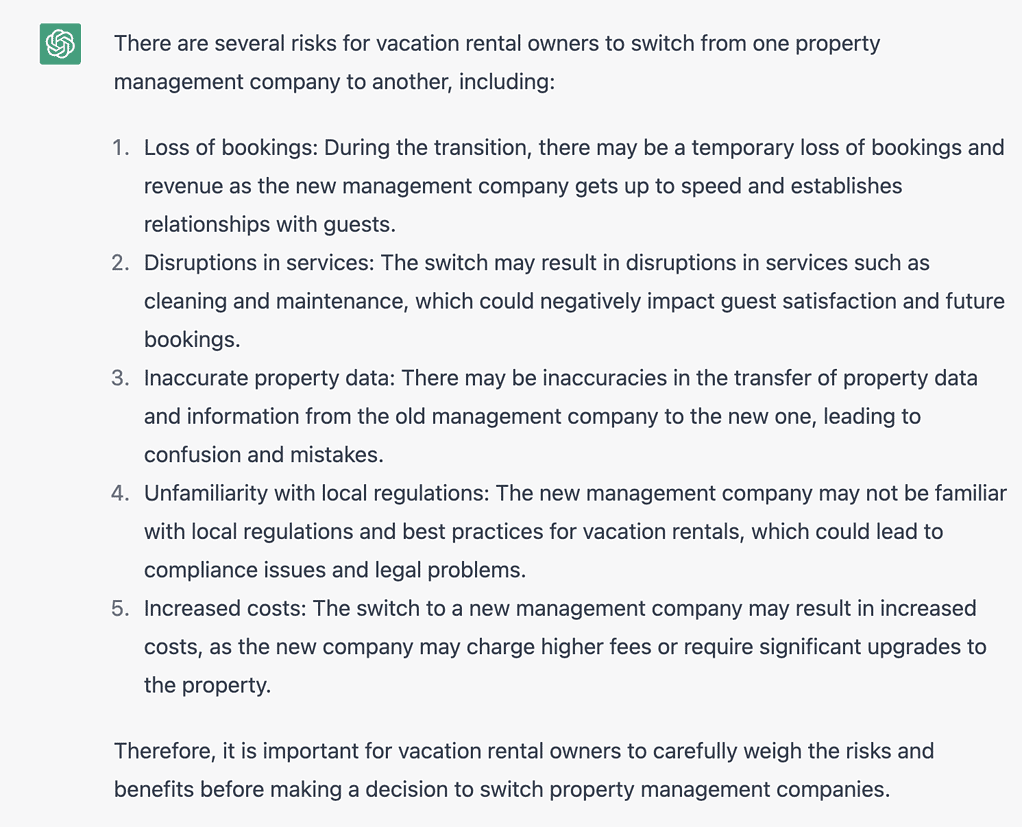 ChatGPT prompt:
Deep dive on WhatNow write the copy for a landing page where we want to convey that our "Peace-of-Mind Transition Package" answers each and every of these risks. is the cost of switching?
ChatGPT output (screenshot)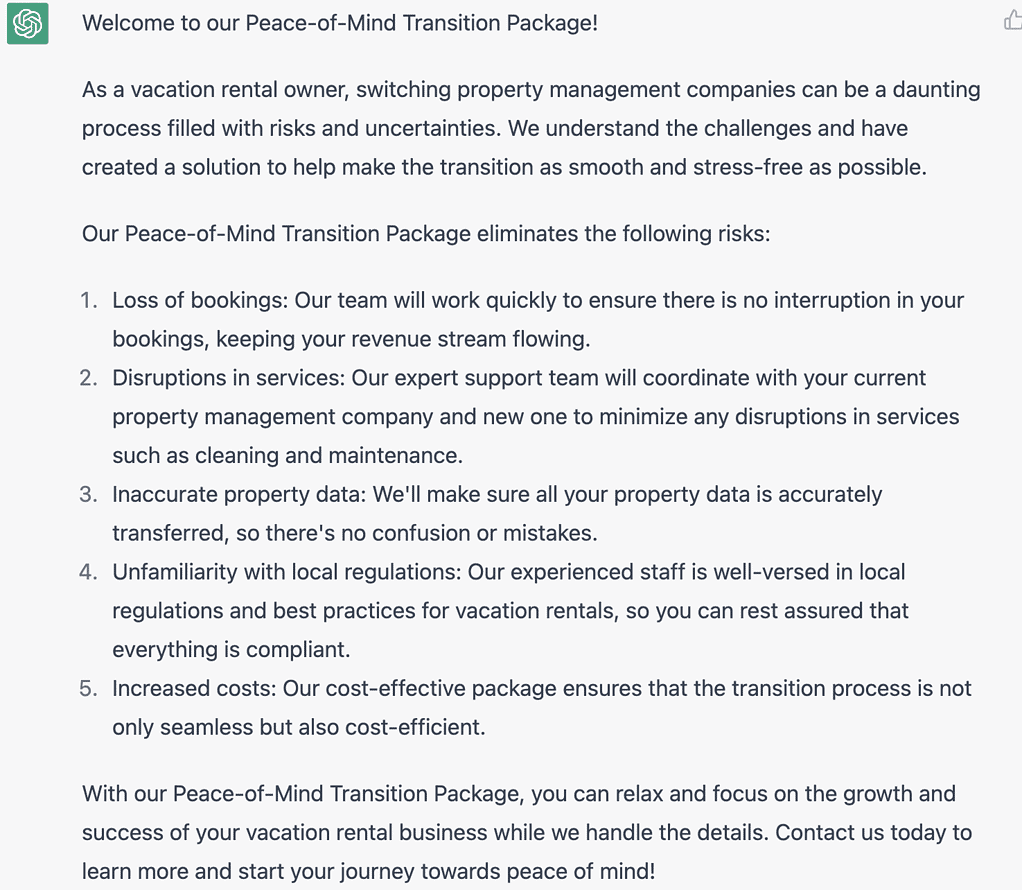 Conclusion
With ChatGPT, vacation rental managers and Airbnb hosts can easily work smarter and faster when running their businesses. The prompt generator allows users to generate content quickly, accurately, and with minimal effort. Customers will be pleased with the level of personal attention their inquiries receive, which is great for building relationships and encouraging referrals. With ChatGTP you have the tools to deliver amazing customer service, boost your SEO, and build a successful business. Why wait? Try it today!