How can artificial intelligence help vacation rental managers and Airbnb hosts save time and achieve better results? On Rental Scale-Up, we've already shown you how an easy-to-use A.I.-powered online tool such as Jasper.ai could help you craft polite and detailed responses to Airbnb guest reviews in 3 seconds and quickly generate attractive descriptions for your listing.
On the darker side, we've also shown you how A.I. could generate realistic-looking images of non-existing vacation rental homes that scammers can post on booking sites. We also conduct this test using Jasper. Note that if you use our affiliate link here, you get a free credit of 10,000 words to try out Jasper for yourself.
Since this weekend, the geeky side of the travel tech industry has been buzzing with the capabilities of a new service called ChatGPT. Think of it as an A.I. made for dialogues with which you can converse. A sort of chatbot that is not limited to existing answers but can generate new text and images based on a vast trove of data. We'll see how this tool, based on a technology called generative A.I., can help vacation rental managers
Respond to Airbnb guest reviews in 3 seconds (with Jasper)
Imagine for a moment that you are the host of the Spice Bus on Airbnb and have received a so-so review. Let's see how Jasper lets you generate a response in seconds. Notice how it pulls details from the guest review to be relevant. See also how the tone is adapted to the circumstances.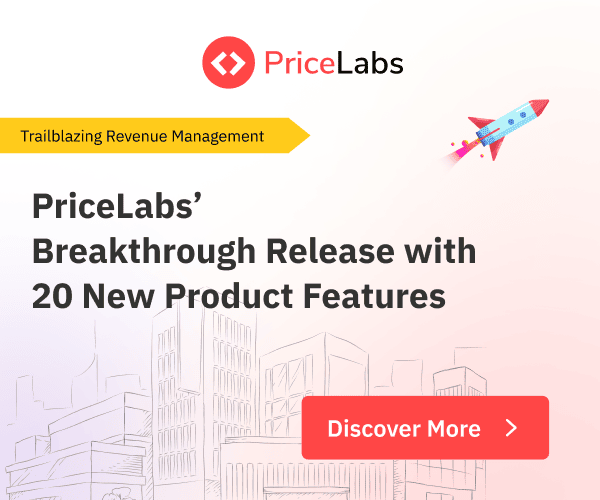 Screenshot: The Spice Bus listing on Airbnb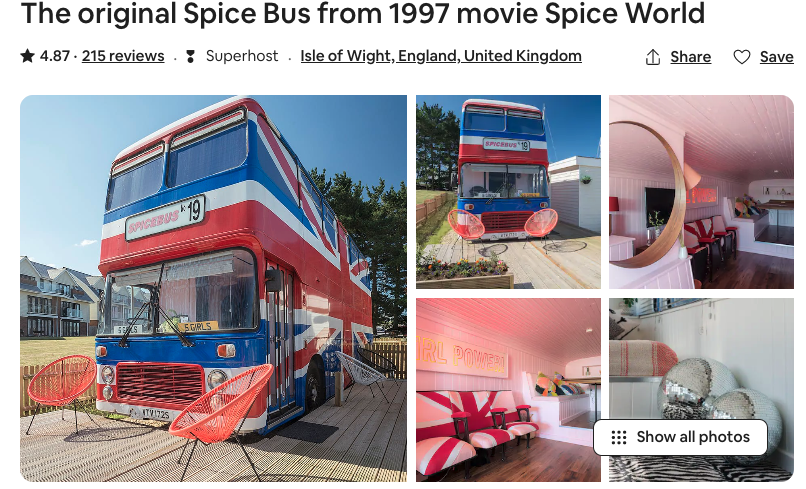 Screenshot: A real guest review for the Spice Bus (with some issues that need to be addressed in a response)

Screenshot: The Review Responder AI text generator on Jasper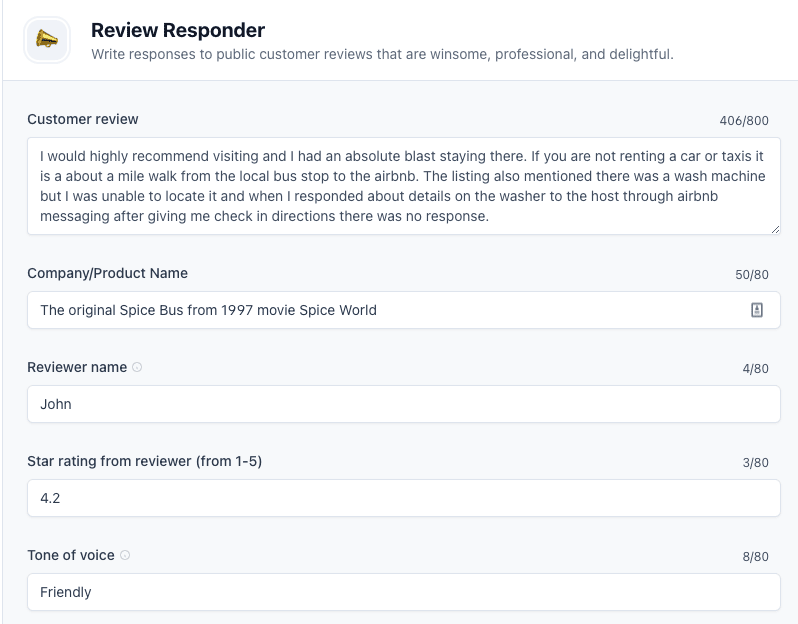 Response to Airbnb guest review created by the AI text generator:
Thank you for choosing to stay in our Spice Bus, John! We're so glad you enjoyed your time and found the interior to be true to the 90s. Being fans of the movie ourselves, we love that people can experience a bit of the magic themselves. 🙂
We're sorry to hear that you had some trouble with cobwebs and milk expiration during your stay, and we'll make sure those things are addressed. Our team is always happy to help guests with their needs, so please don't hesitate to reach out next time.
Thanks again for choosing us and we hope you'll come back soon!
Generate attractive listing descriptions from a few words (with Jasper)
Jasper also has an AI text generator for listings. It is made for real-estate, but its works OK for travel and tourism listings as well.

Our input:
location: Chamonix. vacation rental. 5 beds. 3 baths.  traditional chalet in the Alps, views on Mont Blanc. ski piste right at foot of chalet. Fireplace.
Jasper's output:
WELCOME TO OUR LUXURIOUS CHALET IN THE FRENCH ALPS
Nestled in the heart of the majestic French Alps and overlooking Mont Blanc, our traditional ski chalet is the perfect place to relax and escape the hustle and bustle of everyday life. Whether you're looking for a winter wonderland getaway or a summer mountain retreat, our Chamonix vacation rental has everything you need and more. With five bedrooms, three bathrooms, a cozy fireplace, and ski piste right at the foot of the chalet, our home is perfect for families or groups of friends. And don't forget to take advantage of our unbeatable location – right in the heart of Chamonix's charming village with shops, restaurants, and bars all within walking distance. So what are you waiting for? Book your stay today!
Get answers to your questions by conversing with a very smart chatbot (with ChatGPT)
Let's ask ChatGPT how it can help vacation rental managers save time, increase revenues, and make guests happier
Here are 3 successive questions we asked to ChatGPT in a conversation. We wanted to see what the tool had to say about how it can help vacation rental managers. Notice how the A.I. tool talks about terms that are immediately relevant to industry members, such as listings, guests, bookings, guest experience, repeat business, and messaging.
How can Generative AI help vacation rental management companies?
ChatGPT's answer: Generative AI can help vacation rental management companies in much the same way it can help Airbnb hosts.
For example, it can be used to generate high-quality photos of listings, which can help attract more guests and increase bookings.
It can also be used to generate personalized recommendations for guests based on their preferences and past bookings, which can improve the guest experience and lead to more repeat business.
Additionally, generative AI can be used to automate tasks such as messaging and scheduling, freeing up vacation rental management companies to focus on other aspects of their business.
How can vacation rental management companies use ChatGPT for their business needs?
ChatGPT's answer: Vacation rental management companies can use chatbots, which are AI-powered programs that use natural language processing to communicate with users in a conversational manner, to improve their business operations. For example, chatbots can be used to automate tasks such as answering frequently asked questions from guests, scheduling bookings, and managing reservations. This can free up time for vacation rental management companies to focus on other aspects of their business, such as marketing and customer service. Additionally, chatbots can provide personalized and efficient service to guests, improving the overall guest experience and increasing the likelihood of repeat business.
How ChatGPT can help vacation rental managers generate travel tips for their guests, either as a chatbot or through blog posts.
Here are other questions that we've asked ChatGPT. The tool is presented as a chatbot where you can ask questions. The A.I. can learn from your previous questions to refine its answers. In the future, you'll be able to deploy it as a chatbot on your own website. 
You can also use the same kind of tool to generate blog content. Let's imagine that I am a guest looking for tips about traveling to Paris.
What is the best place to stay at an airbnb in Paris?
It is difficult for me to say which is the best place to stay at an Airbnb in Paris, as the best choice will depend on an individual's personal preferences and budget.
However, some popular neighborhoods for Airbnb rentals in Paris include the Marais, Saint-Germain-des-Prés, and Montmartre. These neighborhoods offer a mix of historical landmarks, cultural attractions, and vibrant nightlife, and are well-connected by public transportation.
Additionally, many listings in these neighborhoods offer charming and unique accommodations, such as apartments in historic buildings or lofts in converted artist studios. It would be best to do some research and compare different listings in these neighborhoods to find the best fit for your specific needs and preferences.
What are the top 5 things to do in Paris?
Paris is a vibrant and culturally-rich city, with an abundance of things to see and do. Here are five top things to do in Paris:
Visit the Eiffel Tower: The Eiffel Tower is an iconic symbol of Paris, and a visit to the city is not complete without seeing it. Take the elevator to the top for panoramic views of the city, or enjoy a meal at one of the tower's restaurants.
Explore the Louvre Museum: The Louvre is the world's largest museum and is home to some of the most famous works of art in history, including the Mona Lisa. Spend a day wandering the museum's vast collections, which span thousands of years of art and history.
Visit Notre-Dame Cathedral: Notre-Dame is a historic Gothic cathedral located on the banks of the Seine. It is one of the most famous and well-loved landmarks in Paris, and is worth a visit for its architectural beauty and rich history.
Take a stroll down the Champs-Élysées: The Champs-Élysées is a famous boulevard in Paris, known for its luxury shops, high-end restaurants, and beautiful tree-lined promenades. Take a walk down the avenue and soak up the atmosphere of this elegant part of the city.
Visit the Basilique du Sacré-Cœur: The Basilique du Sacré-Cœur is a famous church located on the highest point in Paris. Climb to the top of the basilica's dome for panoramic views of the city, or simply admire the church's beautiful architectural details from the outside.
What are the tourist traps to avoid in Paris?
Paris is a popular destination for tourists and is known for its abundance of cultural attractions, restaurants, and shops. However, like any major city, it also has its share of tourist traps that visitors should be aware of. Some of the tourist traps to avoid in Paris include:
Overpriced souvenir shops: Many souvenir shops in Paris charge inflated prices for low-quality items. Avoid these shops and instead look for souvenirs at local markets or independent stores.
Overcrowded and overrated attractions: Some of the most popular attractions in Paris, such as the Eiffel Tower and the Louvre, can be overcrowded and overrated. Consider visiting these attractions at off-peak times or opting for less well-known but equally interesting attractions instead.
Scams and pickpockets: Paris is a relatively safe city, but it is still important to be aware of scams and pickpockets, especially in crowded areas. Be vigilant and avoid carrying large amounts of cash or valuables.
Poor-quality restaurants: While Paris is known for its culinary scene, there are also many restaurants that cater to tourists and offer poor-quality food at inflated prices. Do some research and read reviews before choosing a restaurant to avoid being disappointed.
Talking vacation rental industry best practices and strategy with ChatGPT
Obviously, we could resist asking the tool about its views on our industry:
How does Airbnb outcompete Vrbo?
Airbnb and Vrbo are both popular vacation rental platforms, and they compete with each other for market share. There are a number of ways in which Airbnb outcompetes Vrbo.
For example, Airbnb has a larger and more diverse selection of listings, which makes it easier for guests to find the perfect place to stay.
Additionally, Airbnb has a more user-friendly and intuitive platform, which makes it easier for guests to search for and book rentals.
Furthermore, Airbnb has a more established brand and a larger user base, which makes it more appealing to both guests and hosts. All of these factors contribute to Airbnb's ability to outcompete Vrbo and other vacation rental platforms.
How to acquire more vacation rental homes for my vacation rental management company?
Here are some tips for acquiring more vacation rental homes for your vacation rental management company:
Reach out to property owners in your area and offer your services. This can include managing their property, handling bookings, and providing cleaning and maintenance services.
Network with real estate agents and property managers in your area, as they may know of owners who are looking for vacation rental management services.
Use online marketing and advertising to reach potential property owners, such as through social media, Google AdWords, and targeted advertising on vacation rental websites.
Consider offering property owners a commission or other incentive for referring other owners to your company. This can help you acquire more properties quickly and easily.
Attend local events and trade shows related to vacation rentals, as this can help you meet potential property owners and showcase your services.
Build a strong reputation for your company by providing excellent service to your existing property owners, as this can help attract new clients.
Overall, the key to acquiring more vacation rental homes for your management company is to actively seek out new properties and showcase the value of your services to potential property owners. By doing this, you can grow your business and increase your revenue.
How to find which new vacation rental market to enter as a vacation rental management company?
If you are a vacation rental management company looking to enter a new market, there are several factors to consider when choosing the right market for your business. Here are some steps you can follow to find the best new market for your vacation rental management company:
Research potential markets: Start by researching potential markets to identify those that have a high demand for vacation rentals and a growing tourism industry. Look for markets with a diverse range of attractions, such as beautiful beaches, national parks, or cultural centers, as these will likely attract a wide variety of guests.
Analyze the competition: Once you have identified potential markets, analyze the competition to see how many other vacation rental management companies are operating in the area, and what types of services they offer. This will give you an idea of the level of competition in the market and whether there is a need for your services.
Consider local regulations: Before entering a new market, it is important to research and understand local regulations related to vacation rentals. Some markets have strict regulations governing the operation of vacation rentals, and it is important to ensure that your business is in compliance with these regulations.
Identify potential partners: Once you have determined that a market is a good fit for your business, start identifying potential partners in the area, such as property owners, local businesses, and tourism organizations. These partners can help you gain a foothold in the market and provide valuable insights and support.
Test the market: Before committing to a new market, it is a good idea to test the market by offering a small number of rentals and collecting feedback from guests. This will give you a sense of how your business is received in the market and whether there is potential for growth.
How to optimize your rates on Airbnb to maximize revenues?
Here are some tips for optimizing your rates on Airbnb to maximize revenues:
Research the prices of comparable listings in your area to ensure that your rates are competitive.
Consider offering seasonal or event-based discounts to attract more guests during slower periods.
Use Airbnb's dynamic pricing tool, which automatically adjusts your rates based on demand and other factors, to help maximize your revenues.
Consider offering longer-term discounts for guests who book stays of one week or more.
Monitor your booking and occupancy rates, and adjust your prices accordingly to maximize revenues and fill any gaps in your calendar.
Offer additional services or amenities that guests are willing to pay for, such as early check-in or late check-out, and incorporate these into your pricing.
Overall, the key to optimizing your rates on Airbnb is to research the market and adjust your prices accordingly to ensure that you are offering a competitive and attractive rate for your guests. By doing this, you can maximize your revenues and attract more bookings on Airbnb.
How to get great reviews on Airbnb?
Make sure your listing is accurate and detailed, so guests know what to expect when they arrive.
Communicate with your guests before, during, and after their stay to ensure they have a smooth and enjoyable experience.
Keep your space clean and well-maintained, so guests feel comfortable and welcome.
Provide amenities and conveniences that will make your guests' stay more enjoyable, such as fresh linens and towels, toiletries, and kitchen essentials.
Be flexible with check-in and check-out times, and try to accommodate any special requests or needs your guests may have.
Promptly respond to any questions or concerns your guests may have, and try to resolve any issues that arise during their stay.
After your guests leave, follow up with them to make sure they had a good experience and to thank them for staying with you.
Overall, the key to getting great reviews on Airbnb is to provide a high-quality, comfortable, and enjoyable experience for your guests. By doing this, you'll increase the likelihood of getting positive feedback and help attract more guests in the future.
How to respond to a negative review on Airbnb as a host?
If you receive a negative review on Airbnb as a host, it is important to respond in a professional and courteous manner. Here are some tips for responding to a negative review on Airbnb:
Thank the guest for their feedback: Even if the review is negative, it is important to thank the guest for taking the time to provide their feedback. This shows that you value their opinion and are willing to listen to their concerns.
Apologize for any issues or problems: If the guest experienced any issues or problems during their stay, be sure to apologize and take responsibility for those issues. This will show the guest that you are sincere and willing to make things right.
Offer to make things right: If the guest had a negative experience, offer to make things right. This could mean providing a partial or full refund, offering a discount on a future stay, or providing compensation for any damages or inconvenience.
Use the opportunity to improve: Use the feedback from the negative review to identify areas where you can improve as a host. For example, if the guest complained about a lack of cleanliness, consider implementing new cleaning procedures or hiring a professional cleaning service.
Respond promptly and publicly: Be sure to respond to the negative review promptly, within 24-48 hours if possible. Also, respond publicly, so that other guests can see that you are taking the review seriously and working to address any issues.
Conclusion
Vacation rental management companies can leverage A.I. tools to respond to reviews, create attractive listings, brainstorm around content ideas, offer a love chatbot that can give trip recommendations to users, etc. For the moment, users still need to check the outputs for factual errors but progress is very impressive.