Short term rental owners often think they are locked in to the online travel agencies (OTAs) like Airbnb for all their bookings. They feel trapped, exploited and powerless. Is that you?
What owners should realise that it is quite possible to get 50% or more bookings from your own direct booking sources. This can save you around 15% in commission charges on those direct bookings. More importantly it gives you extra bookings and it also gives you control. Today's article is a good case study from an owner who took direct bookings from 10% to 65%, and how she did it.
CASE STUDY
A few years ago, Pattianne from Mollymook in NSW Australia had a beautiful beachfront property with a somewhat forgettable name "140 Mitchell Mollymook". It is a high end property averaging $900 per night, a lot more in the peak season. She had a beautiful website and most bookings were through the Stayz OTA. She rarely sent news to past guests. Increasing competition was slowing bookings.
We had a talk back then about the importance of a memorable name to get direct bookings from past guests and OTA searchers. She became an avid reader of my blog. She also took action.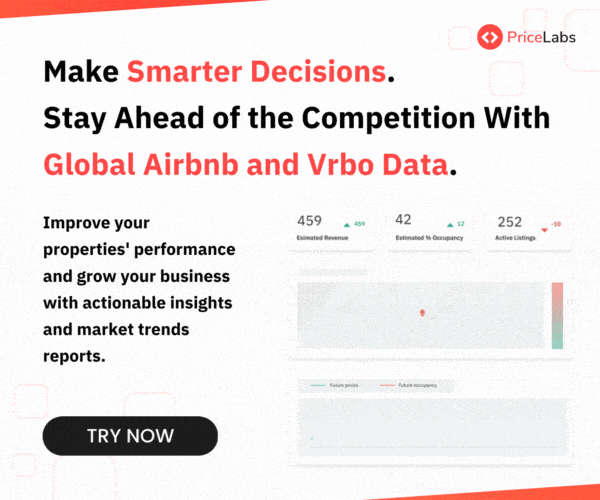 Pattianne changed her property's name to "Gaze Mollymook". It is easily remembered, particularly for past guests who spent many hours gazing at the gorgeous sea view.
She also renamed the website to gazemollymook.com, added a booking engine and sent out some newsletters. She kept up on the customer service. Guests gushed about the experience.
We were chatting about booking engines a few days ago, and she mentioned that she does quite well for direct bookings. How well?
RESULTS
Several years ago, before the change, her direct bookings ran at about 10% of all bookings.
Over the past year, Pattianne's repeat bookings and referrals were 34%, and bookings through the website or booking engine were 33%, a total of 67% direct bookings. The rest were from OTAs. There are exceptional results.
When she asks those booking through the website how they found her, many say they found her on Stayz or another OTA and contacted her direct. That is, good leakage from the OTAs because her simple name made it easy for them to find her website.
GROWTH POTENTIAL
The good news is there is also a lot of growth potential for Gaze.
We discussed Pattianne's OTA listings and agreed there is a lot of potential for growth, maybe $100k per year. She can optimise her Airbnb listing and she can also start listing on booking.com. She is also experimenting with Instagram and has a family member expert at optimising pay per click, and can experiment there with paid ads too.
She can also increase her newsletter frequency. I've found that past guests tolerate monthly newsletters, provided they feel entertained and informed.
She is also working on improving the website, with a video welcome and adding attention to the photos.
————–
SUMMARIZING – THE 4 STEPS TO EXTRA DIRECT BOOKINGS
In several previous articles I've explained how to get more direct bookings:
Own website
An easily remembered property name
Own online booking engine
Newsletter to previous guests
1 Your own website – so people can find you, be wowed by your images, and contact you direct or book online.
2 An easily remembered unique property name – guests may have stayed with you before and want to book again. Alternatively they may find you on an OTA and want to book direct to save on the service fee. In both cases, if they know the name, they can find your website in a few seconds on Google. This is not trivial and will give you dozens of direct bookings each year.
3 Your own online booking engine – many guests prefer to book securely online at all hours of the day, and a link to your booking engine from your website gives them that option.
4 Newsletter – you remind past guests about your rental so you are top of mind. Just keep it interesting rather than salesy.
—————
The case study shows that you can get a lot of direct bookings if you do the right things: website, name, engine, newsletter. Are you doing the right things?