Looking for ways to increase your occupancy and make your listing stand out in the Airbnb search results? Offering special promotions is a great way to draw attention to your property and attract guests in a competitive marketplace. Airbnb has several discounting options available to hosts, so you can choose the one(s) that align best with your overall strategy. In this article, we'll review the different types of promotions and show you how to set them up.

Airbnb offers five types of promotions:
Custom Promotion
New Hosting Promotion
Last Minute Discount
Early Bird Discount
Length of Stay Discount
Let's look at each one in detail and discuss when and why you would use them.
Custom Promotion
The custom promotion is Airbnb's new promotional feature. This tool, which you can find on your individual listing's calendar, lets you build a promotion with your preferred discount and travel dates to fit your goals and market conditions.

Depending on the discount you offer, your listing will also benefit from several merchandising features in the Airbnb search results, such as strike-through pricing and "new lower price" tagging. The merchandising "perks" increase with a higher discount – a 25% discount will get your listing exposure in Airbnb's email campaigns, while a 10% discount only gives you strike-through pricing in the search results.
Who should use this promotion? Any hosts looking for a boost in occupancy over targeted dates.
New Hosting Promotion
If you manage a brand new listing, you can take advantage of Airbnb's "new hosting promotion," which is a 20% discount for only the first three guests who book your place in the next 30 days. You can opt in to this promotion in the onboarding process or via the calendar after you've set your listing live. Vrbo offers a similar "new hosting promotion" too, so you can maximize your visibility on more than one channel.
Why does Airbnb offer this special promotion to new hosts? Guests are often hesitant to book listings with no guest reviews, and when your listing is new, there are no reviews. Offering a discount gives guests more confidence when booking a new listing and will help you, the host, get your first few reviews. Once you've earned three guest reviews, your listing will display its guest review score in the search results. Airbnb's own statistics show that hosts who apply the 20% new hosting promotion see a 30% decrease in time to get their first booking.
Who should use this promotion? New hosts.
Last Minute Discount
In addition to the custom promotion, Airbnb offers a few options for discounts that come with certain criteria, including the last minute discount. This option is found on the "Pricing" tab in the host dashboard. The last minute discount allows you to automatically adjust your price – by a percentage or a fixed amount – for reservations within a certain time period before arrival. The last minute discount can be set for any arrival window between zero and 29 days before arrival.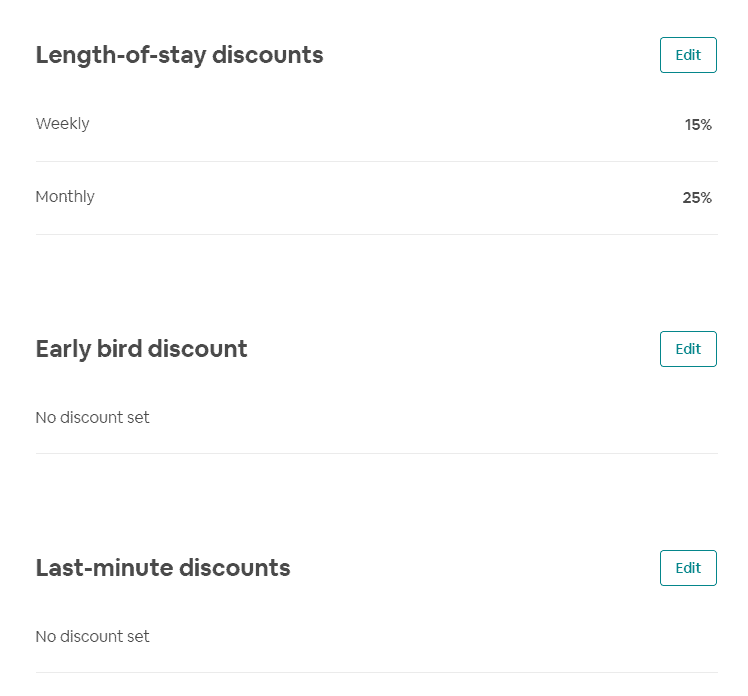 For example, if you want guests to receive a 10% discount if they book within two weeks of arrival, then you can set your 10% discount to be valid within 14 days before arrival. You could also set additional tiers of last minute discounts, like a 15% discount within 7 days before arrival and a 20% discount within 3 days before arrival.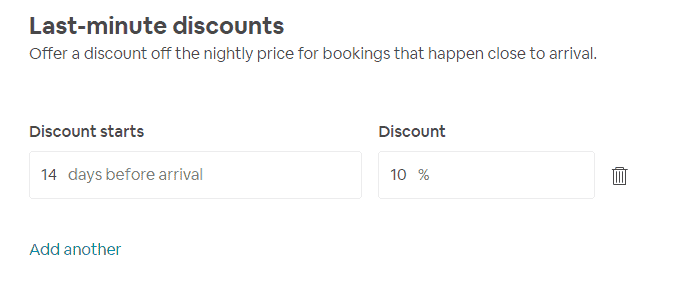 Who should use this promotion? Property managers who want to fill inventory on short notice.
Early Bird Discount
The opposite of a last minute discount is an early bird discount, which gives guests an incentive to book further in advance. The early bird discount is also available in the "Pricing" tab. This discount works the same way as the last minute discount, but instead of offering a discount within a certain period close to the arrival date, the early bird discount is only available to guests who book before a certain window. You can choose either a percentage or a fixed amount for your discount, and you can specify a window of time from one to 36 months before arrival. You can also add multiple discount tiers for different time frames.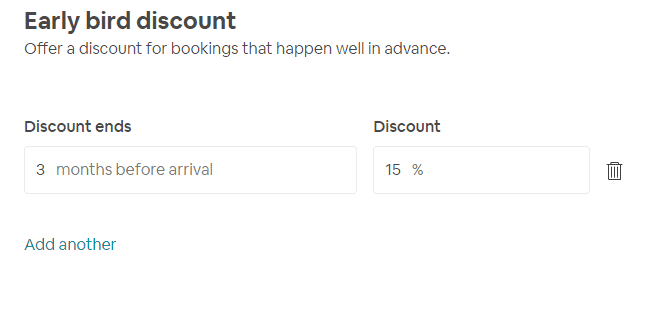 Who should use this promotion? Property managers who want to encourage booking in advance.
Length of Stay Discount
The third discount available on the "Pricing" tab is the length of stay discount. The most popular length of stay discounts are weekly and monthly discounts, although you can specify your own custom length of stay too. Guests receive these discounts only if they book a reservation for your specified amount of nights or longer. You can set multiple length of stay tiers with different discounts for different types of stays. For example, you might want to set a weekly discount, a bi-weekly discount, a monthly discount, and a 3-month discount.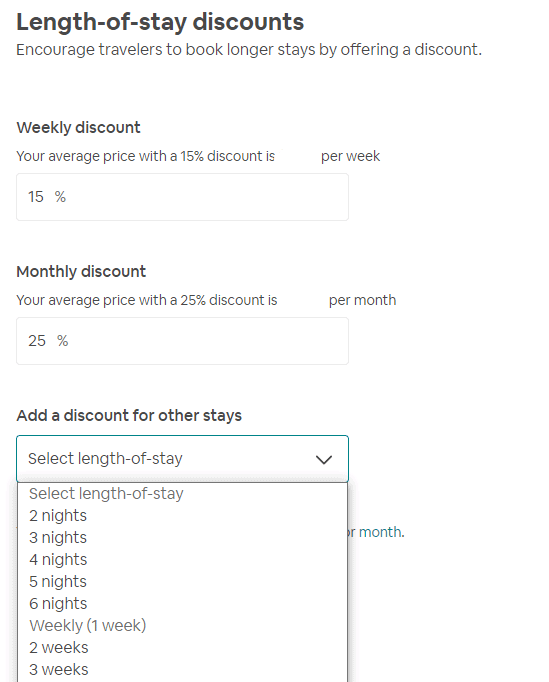 Since the start of the coronavirus pandemic, Airbnb has seen a significant increase in longer stays on its platform. Offering a length of stay discount is a great way to stay competitive and target guests who will stay for up to several months, especially when "80% of hosts now accept longer term stays and around half of [Airbnb's] active listings are giving guests a discount on stays of one month or more."
Who should use this promotion? Property managers who want longer stays.
Now we've reviewed all five types of promotions and discounts available on Airbnb: the custom promotion, new host promotion, last minute discount, early bird discount, and length of stay discount. When applied strategically, you can use these tools to work toward your property goals, whether you want to grow your length of stay, get more reservations in advance, or increase occupancy overall. Which discount will you try first?