As reported in our analysis of the reservation data pulled by Transparent, the UK saw a surge in bookings starting February 22, when British Prime Minister Boris Johnson announced that holiday rentals could start taking booing on April 12, 2021. How did this surge register in the data of two industry stalwarts, Sykes Holiday Cottages, the UK's leading and fastest-growing independent holiday cottage rental agency, and HomeToGo, the world's largest search engine for holiday rentals?
Searches for summer cottages exploded on Sykes' website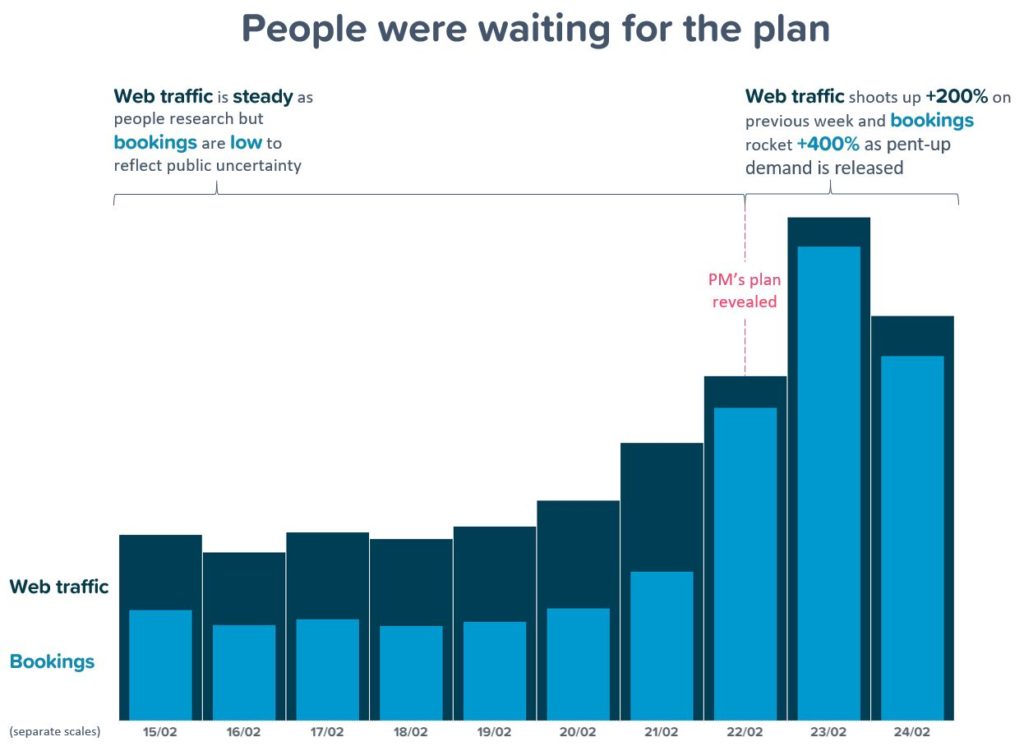 Graham Donoghue, Sykes' CEO, shared the graph above, clearly showing a before and after effect:
Before the reveal of thePrime Minister's plan: Web traffic is steady as people research but bookings are low to reflect public uncertainty
After the reveal: Web traffic shoots up to +200% on previous week and bookings rocket +400% as pent-up demand is released.
Sykes went even further to help fellow industry members access data about this rebound: Bob Pearman, Head of Data and Analytics at Sykes Holiday Cottages, has put together a public Tableau dashboard. You can look at current trends and variance vs 2020 and 2019 data to see how customer demand is changing for different segments of the market.
For instance, our Rental Scale-Up team used this data dashboard to look at the differences between 2019 data (pre-pandemic) and 2021.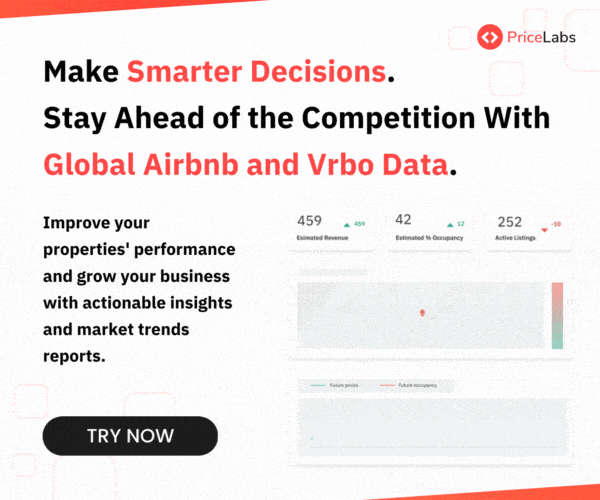 Searches on the website reach a peak on the data after the Prime Minister's speech
Note that, as Britons learnt that Boris Johnson would be speaking on Monday, February 22, the number os searches started raising again the weekend before.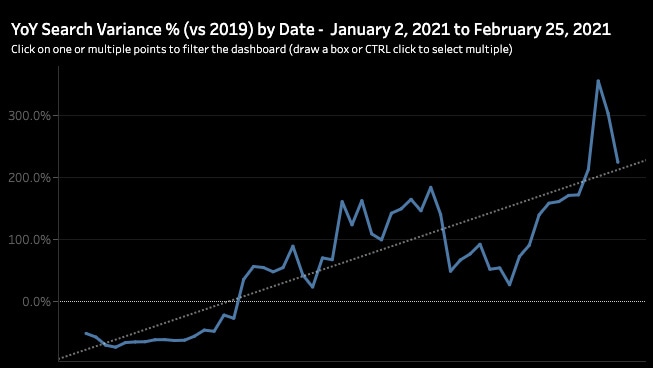 List of most searched areas show that the announcement was about England and Cornwall
Searches for Northern Ireland, Scottish Highlands and Lowlands remained lower than in 2019: The Prime Minister's plan was for England and Cornwall. It was up to the local auhtorities of Scotland, Wales, and Nothern Ireland to announce whether self-catered homes would also be reopening in April.
The top 3 regions to see the biggest surge in searches on the Sykes website were:
Rutland – It is is home to the UK's largest man-made lake, Rutland Water. This is a popular area for bird-watchers, boaters, walkers and cyclists.
Newquay – Newquay is situated on the beautiful north coast of Cornwall It is home to some of the best beaches in the UK.
South West England – The region has the longest coastline of all the English regions, with the beaches of Cornwall, Dorset and Devon.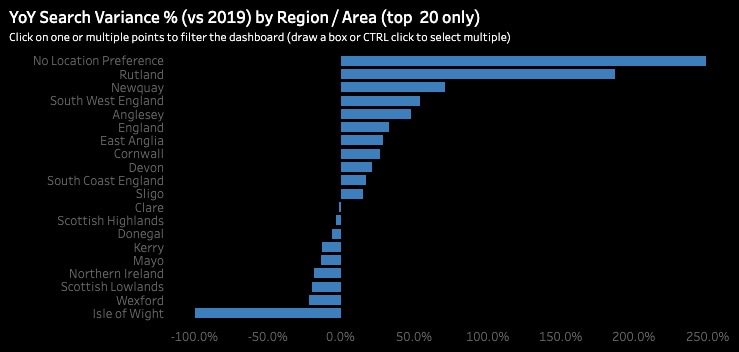 Searches for large group accommodations on the rise
Searches for summer 2021 for large groups (7 people and more) grow by 10è% compared with 2019. Pent-up demand may explain the rise, but it is proportionally much more than searches for places catering to couples, for instance.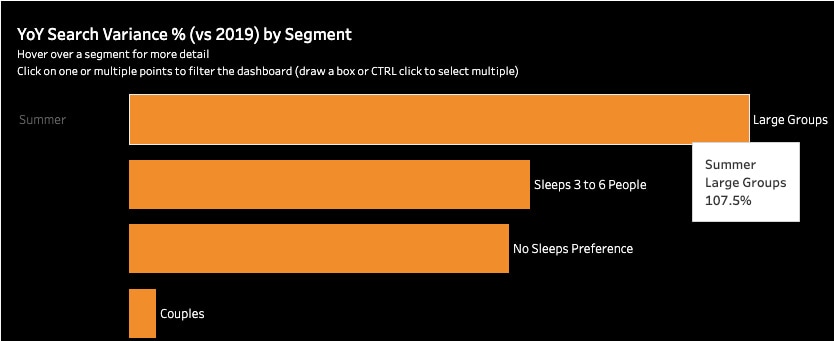 HomeToGo data show that UK searches confirm interest in seaside destinations, cottages. The need for flexibility remains a key factor.
Impact of Boris Johnson's timeline on HomeToGo's UK data
Following the February 22 announcement about UK's expected timeline for easing travel restrictions, HomeToGo saw an instant 83% increase in searches week-over-week for trips starting as early as May 2021.
Summer 2021 self-catered property booking trends in the UK

Overall, searches for stays in the UK this summer are up by 188% compared to last year, with searches for stays in Cornwall seeing the biggest lift (+301% YoY)
Rural and seaside cottages are going well, again/ Only 8% of searches are for urban destinations (-62% YoY). Cottages and detached holiday homes are the most popular option, accounting for 78% of accommodation bookings on HomeToGo (up +58% YoY)
Longer stays: The share of +14 day bookings in the UK are up by +56%, nearly one-third of bookings are for trips 14 days or longer (31.3%)
HomeToGo users adopt tools that help them decide WHEN to travel (flexible dates) or WHERE they can go stay within a certain distance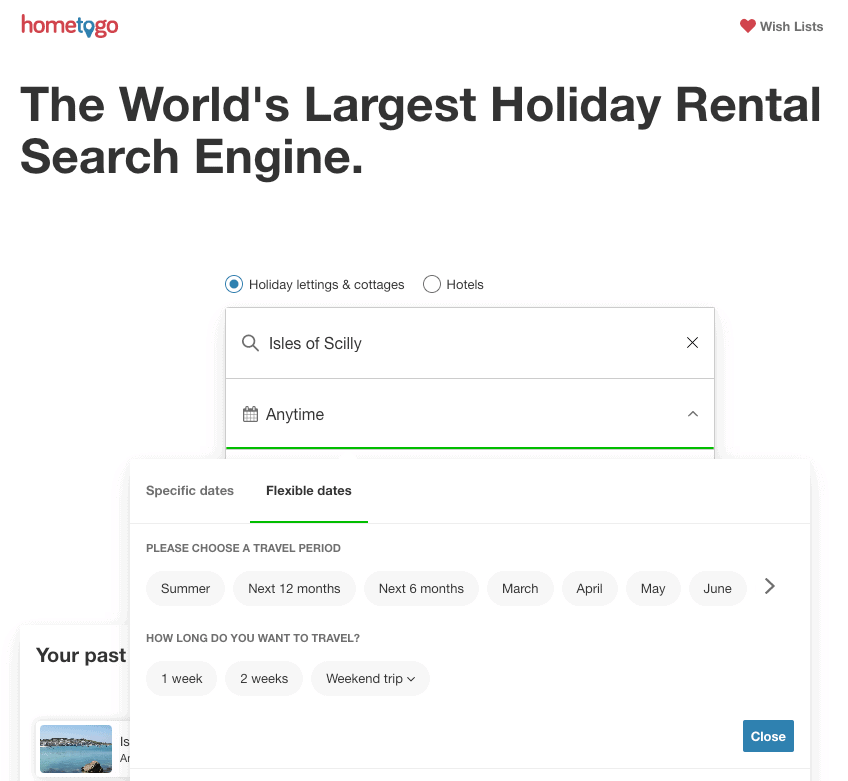 Airbnb recently launched its Flexible Dates search tool. While this is a big step forward, this is not an industry first, as HomeToGo has been providing a similar tool since 2018.
Beyond the UK, the usage of tools that help travelers from all over the world decide WHEN and WHERE to go is rising.
The pandemic has drastically changed how people plan trips, and HomeToGo's Flexible Date feature helps find the best price and rental across 2,000+ partners all in one place for any proposed length or time of travel.
HomeToGo's 600%+ YoY increase in usage of its Flexible Date feature is aligned with the company's 2021 Trend Report that dives into how spontaneous, last-minute trips are on the rise (The average days to check-in is 50 days, a drop of -37.5% compared to the average lead time before the pandemic).
For an added convenience, HomeToGo also offers "Distance To" filters (e.g., to Water, Ski Resort, City Center). This is helpful for guests looking to ensure a rental will give them enough social distancing space away from populated hot spots.