Airbnb's Flexible Dates new search feature enables guests to focus on WHERE they want to go instead of WHEN they want to go there. If you are flexible with your dates, it is a great way to save time and discover more listings and more deals. As a host, this a new way to get views for your listing, if offer weekend, weekly, and monthly stays on Airbnb. In term of technology, this is a pretty neat feature as it forces to retrieve and calculate more data. Only Google Flights' Explore seems to offer something as elegant.
Airbnb Flexible Dates: More choice for travelers who care more about where than about when
Imagine you want to go to Gatlinburg, Tennesse for a weekend in either May or June. You have not set dates. You just know that you want to go there and to book on Airbnb. Normally, you would have to run several searches, one for each weekend in May and June, to see which Airbnb listings are available.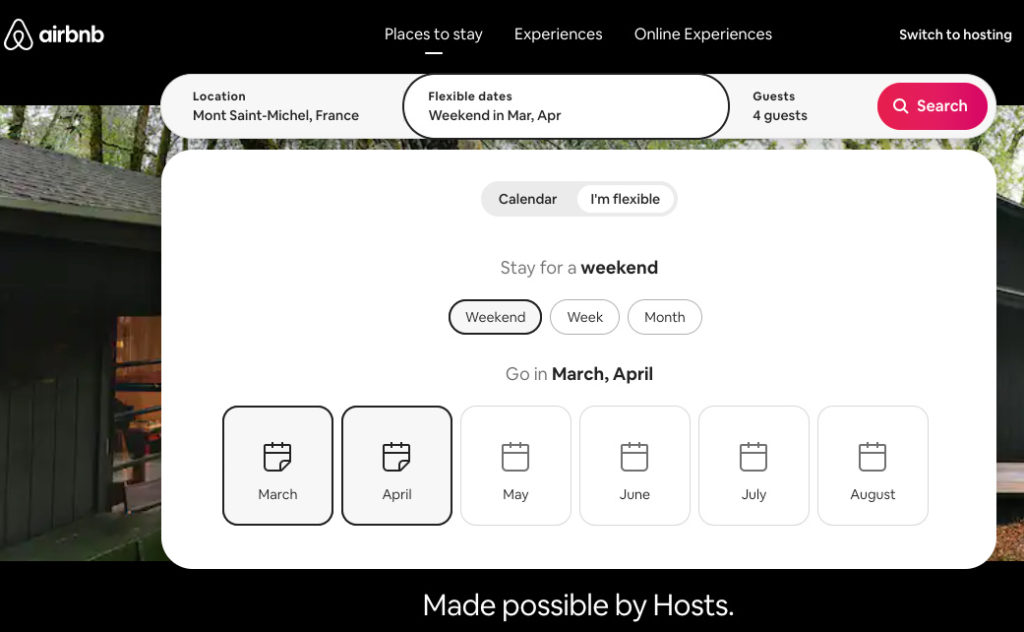 With Airbnb's Flexible Dates search feature, you get way more options in one search. You can choose to get results for all weekends in May or June, by using the "I'm flexible" tab instead of entering specific calendar dates.
Airbnb will display a list of results, showing, for each listing available, specific weekend dates and a price (i.e., May 3-4, $168). The flexible date searches work for weekends, weeks, and months. So, if you are a digital nomad looking for a monthly stay in Carthagena, Columbia in the next 6 months, you get more choices.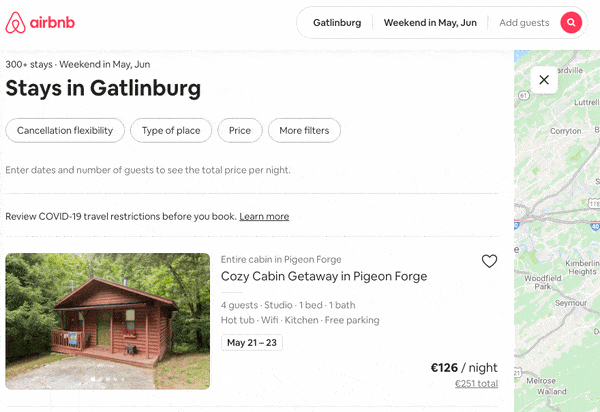 The Airbnb Flexible Dates feature helps answer travel questions such as:
How do I search for a flexible date on Airbnb?
How to change the Airbnb search range of dates?
What are a few cool Airbnb search hacks?
Flexible Dates search feature: More visibility for hosts who welcome longer stays
For hosts who offer weekend stays (2 nights), weekly stays (7 nights), or monthly stays (28 nights), this new search feature gives more visibility to your properties.
To show up in these results, your property need to be available for these dates. If you want to show up in result for weekly and monthly stays, you should also check that your maximum length of stay settings go beyond 7 (a week) or 28 nights) a month.
If you offer laptop-friendly airbnbs for remote workers, then this added visibility is good news for you. Our 2021 Airbnb trends article makes it clear that longer stays are in demand.
A search hack reminiscent of Google Flights Explore
In terms of technology, this flexible date search means that Airbnb is able to retrieve all the available listings over a longer period and to calculate prices on the fly. It probably requires a different way to calculate availability and pricing couples, as running searches can be expensive, as they require more processing power and servers.
Neither Vrbo nor Booking.com offers this search feature. The closest example that jumps to mind is the Explore tab in Google Flights. Similarly, instead of entering specific dates, users can opt for a "flexible dates" option. Then, they pick a month for their search (e.g. May) and then a trip duration (weekend, 1 week, or 2 weeks). Just as on Airbnb, the search results are displayed both as a list and in a map.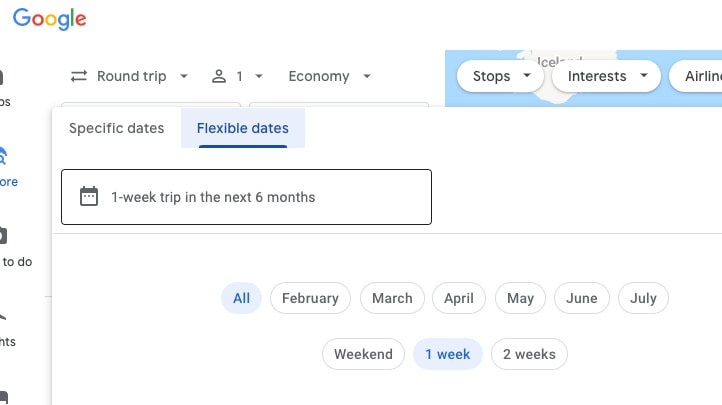 Conclusion: More choice and more visibility thanks to Airbnb's "I'm flexible" option
By default, most people search with set dates in mind. Yet, there is a strong use case for people looking to stay at a specific place but with with more flexibility in their dates: remote workers who are looking a nice week-long stay in June, digital nomad who want a monthly stay, and couples who are looking for a romantic weekend in a certain location.
This is also another for Airbnb to drive the average length of stay on its website, by enabling Airbnb guests to more easily discover hosts who cater to weekend, weekly, and monthly stays.