Up until mid-February, the situation between the US and European holiday market could not be more contrasted: in the US, January 2021 had seen a surge in bookings even higher than that recorded in June 2020 when travel restrictions first eased up. Meanwhile, bookings remained depressed in Europe. 
Thanks to data pulled by Transparent, a company that provides data insights to maximise property manager revenue, we'll look at how things changed when English travelers got a clear date on which holiday rentals would be reopening in their countries. Other countries experiencing strict lockdowns and bans on holiday rentals may go through such a boom in the coming weeks.
UK reservation numbers boom after Prime Minister announcement
Under very strict lockdown rules, holiday homes in the UK have been closed. Yet, on February 22, the British Prime Minister announced that holiday homes located in England would be welcoming guests back again from April 12 (but only for one household). Meanwhile, hotels would not be reopening before May 17.
If you look at this map of Great Britain, you can clearly see a boom in reservations made on the week following this announcement, compared with the week before. You can also see that the boom was confined to England and Cornwall, as the blue regions delineate the borders with Wales and Scotland.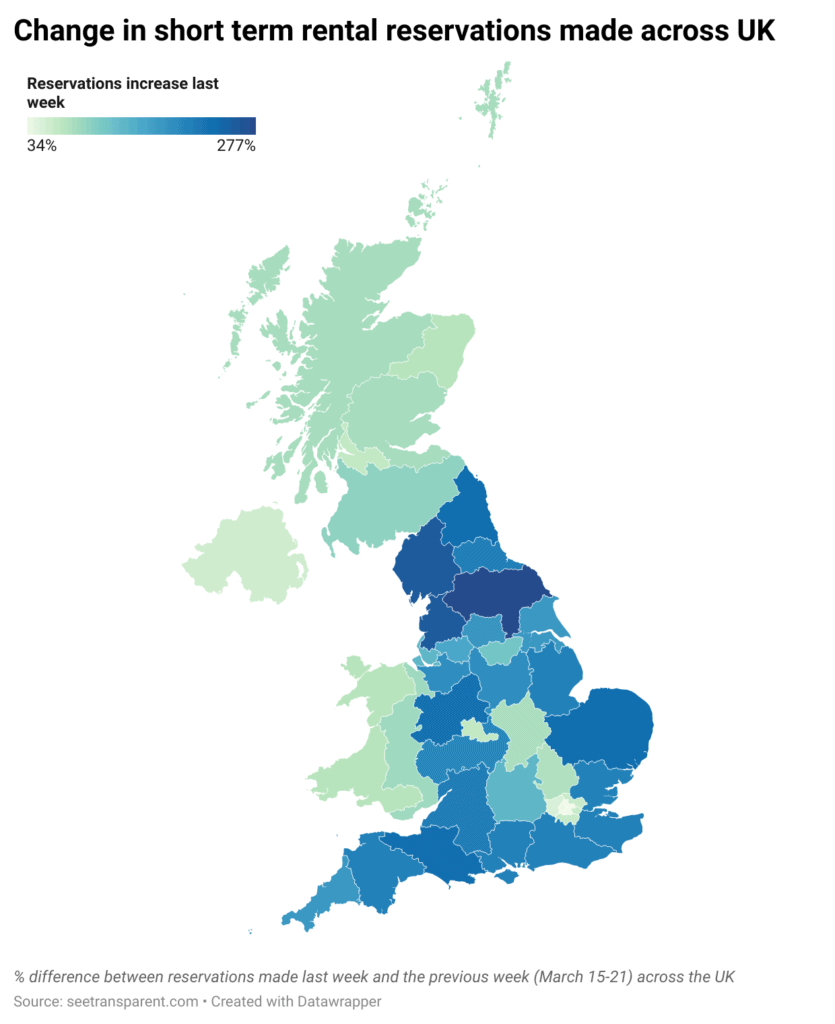 If you zoom into England, you can also that the boom was stronger in sea and rural destinations than in and around London. Just as in summer 2020, areas that offer self-catered cottages in the country and flats by the seaside have captured the preference of travelers. In the north of England, the Yorkshire Dales, Peak District, and Lake District recorded a 200+% jump in week-over-week reservations.
European map:
Compared with the same week last year, the number of reservations rose all over Great Britain. But not only there: Looking at the patterns, we can see that countries where holiday rentals are open and where there is a domestic demand strong enough were turning green too.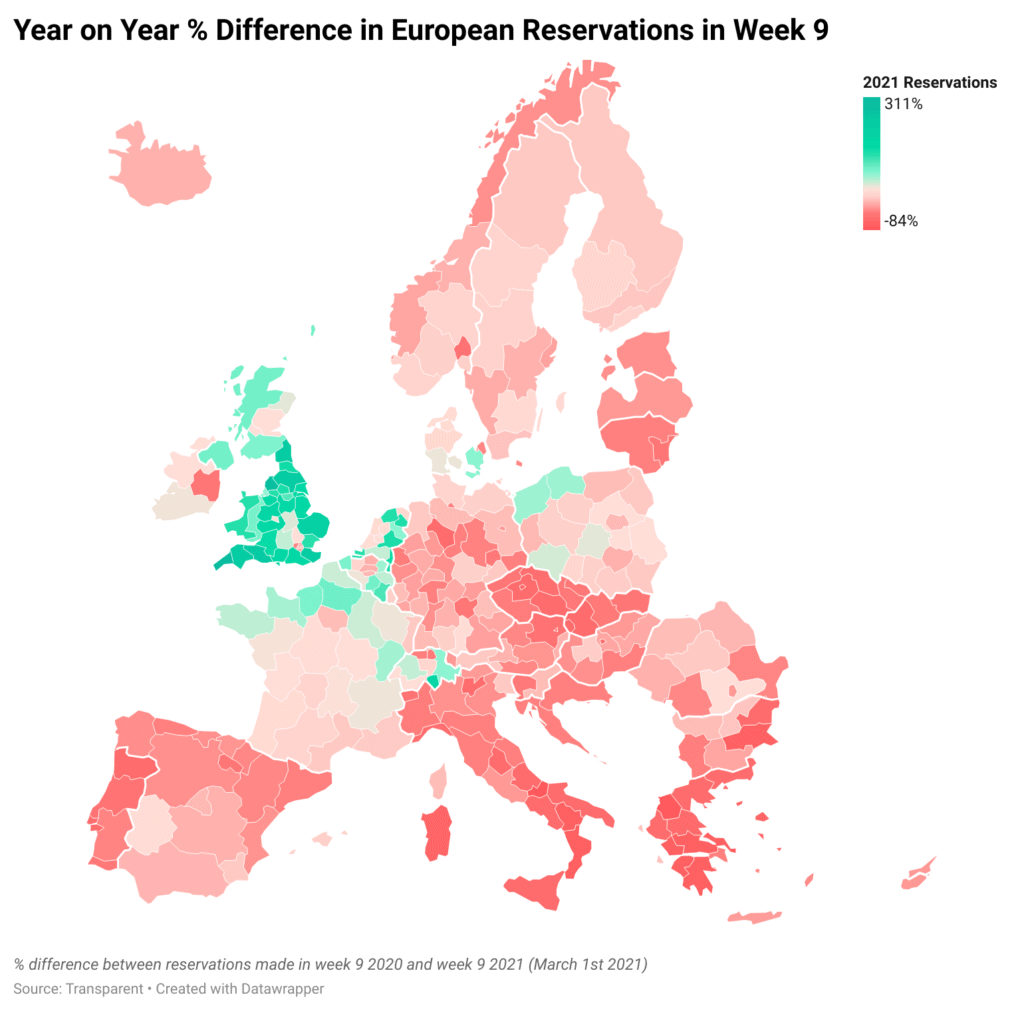 For instance, the Netherlands, Belgium, and Northern France turned positive. The surge in reservations was for more rural areas (e.g. Drenthe in the east of the Netherlands, the Ardennes in Belgium) and the seaside areas of Brittany and Normandy in France. School holidays in some of these countries may also have generated a slew of new last-minute bookings that drove reservations up.
Countries where lockdowns and border controls intensified, e.g. around the Czech Republic, stayed in the rd.
Uncertain Spring, but better may ahead, for the UK and for Europe
With travel restrictions in place across Europe, booking a trip abroad looks a bit uncertain, especially for early Spring 2021. English travelers will not be able to leave their country before May 17 anyway.
In 2020, occupancy in Spain and Italy suffered more than in France. For the moment, the pattern seems to be the same. France's occupancy starts as the highest of all in this graph, due to school holidays. Yet, it is clearly surpassed by the UK. Hopefully, as soon as timetables about the end of travel restrictions are shared by national governments in France, Spain, and Italy, we'll also see a surge in expected occupancy.
The data below compares 2021 numbers with those from 2019, pre-pandemic. In the books, the occupancy for the UK is the highest of the lot, compared with Italy, France, and the UK. It looks to even be higher than in 2019.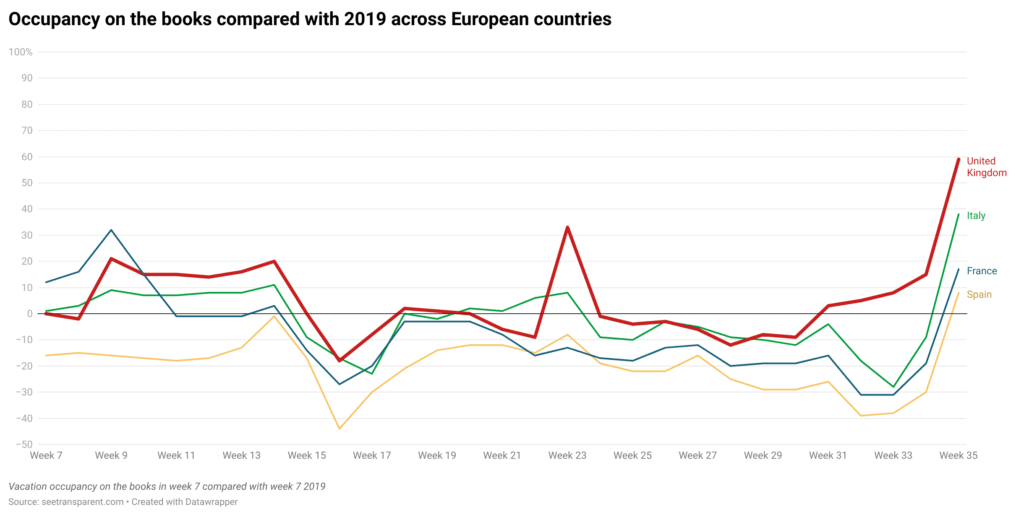 What are the takeaways for European holiday rental managers?
Clear official calendar dates for easing lockdowns create immediate surges in bookings. Have your rates, new supply, and customer service teams ready, in case your government is scheduling a press conference to share some good news.
Prepare your emailing campaign in advance for the day of the announcement, so that all you have to do is hit the send button. You do not want to have to create a campaign feverishly at 11pm that night, when your competitors will already have sent our their own campaigns. Same thing for re-targeting ads: Make sure that your marketing team can fire them up as soon as your government has spoken.
What are you doing right now so that your past guests think of your brand first once they hear about the good news? Have you reached out to them so that they create a list of properties where they might go?
Is your main feeder market located in a different country? For instance, do you depend on German travelers? Thenn make sure to follow German news as well.