The key to a thriving short-term rental business lies in exceptional guest reviews. Imagine having a clear roadmap to achieve better and more reviews – OVO Network Director and President Louis Andrews' presentation at Scale Rentals Barcelona 2023 earlier in May provided just that. In his rousing presentation, Louis shared the story of how OVO Network became the second highest-rated European property management company on Airbnb.
In this article, we share valuable insights and actionable tips from his presentation for short-term rental managers who are eager to learn from OVO Network's experience and apply these proven strategies to their own businesses. 
OVO Network: The second highest-rated European midsize vacation rental management company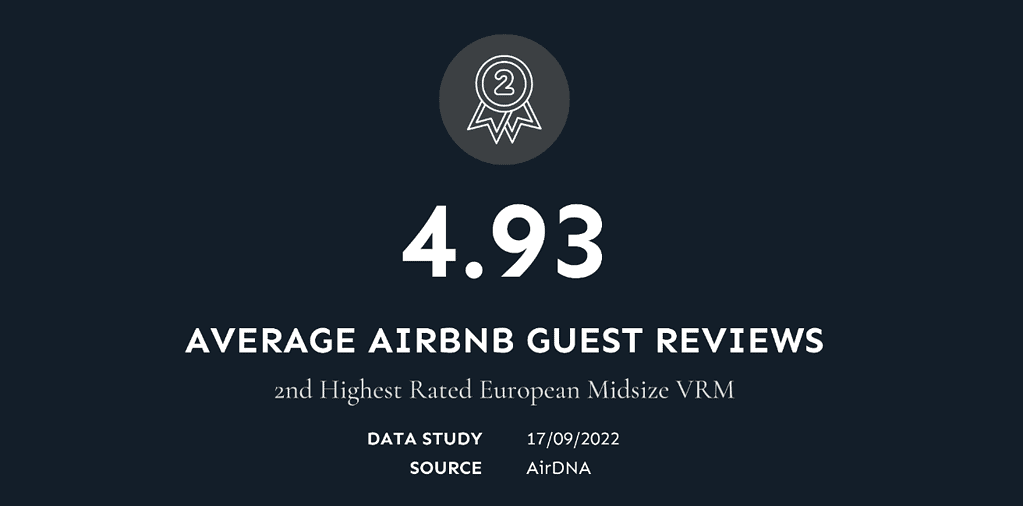 OVO Network is a leading European property management company that partners with over 150 exclusive properties. With an average weekly price of €3,700 in 2022 for its properties, the company has attracted more than 160,000 guests (all-time) who have trusted them for their vacation rental needs.
In 2022, OVO Network properties enjoyed a 65% average occupancy rate, demonstrating the company's ability to attract and retain customers. A noteworthy 75% of bookings were made directly through ovonetwork.com, further highlighting the strength of their brand and customer loyalty.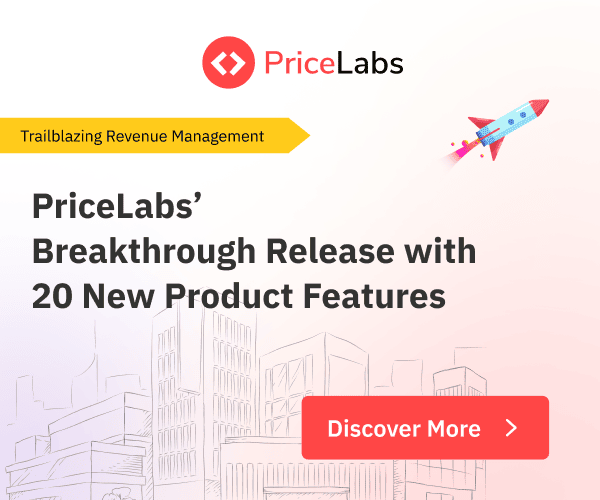 Their dedication to providing exceptional guest experiences is evident from their remarkable 4.93 average Airbnb guest reviews, which makes them the second highest-rated European midsize vacation rental management company as of September 17, 2022, according to AirDNA.
How to Get Good Reviews: The Basics
Transparent Property Listings: Building Trust from the Start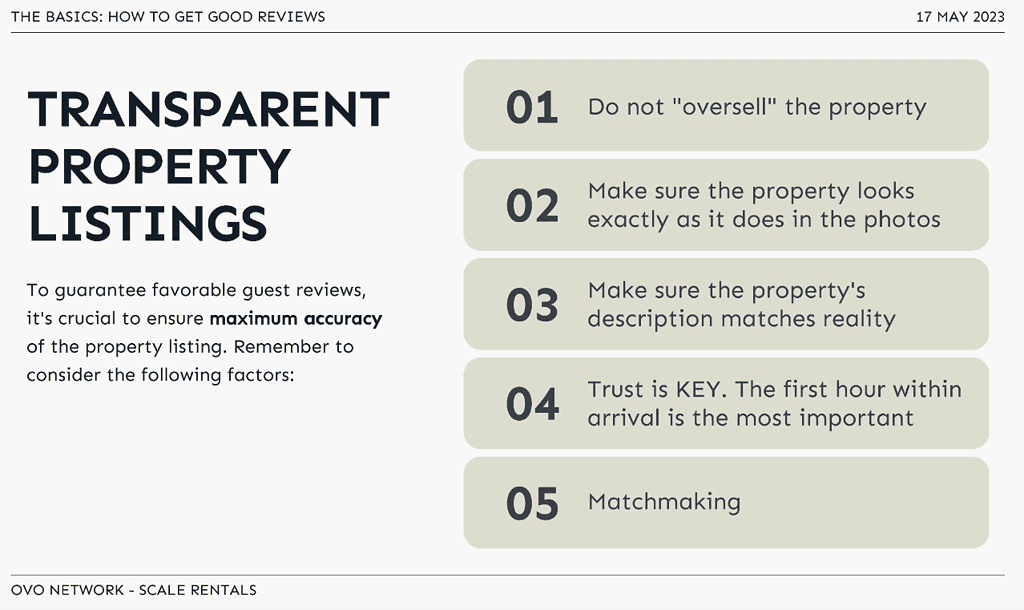 To guarantee favorable guest reviews, it's crucial to ensure maximum accuracy of the property listing. Remember to consider the following factors:
Do not "oversell" the property: Be honest about the features and amenities of the property to avoid disappointment or negative reviews from guests who feel misled.

Make sure the property looks exactly as it does in the photos: Use high-quality, accurate images that truly represent the property in its current condition. This will help guests feel confident in their choice and satisfied with their experience upon arrival.

Ensure the property's description matches reality: Be thorough and precise in your property descriptions, highlighting both the strengths and any potential limitations. This helps guests make informed decisions and prevents misunderstandings that could lead to negative reviews.

Trust is KEY: The first hour within arrival is the most important for setting the right expectations and establishing a strong foundation of trust between you and your guests.

Matchmaking: Carefully assess the needs and preferences of your guests and match them with the most suitable property in your portfolio. This ensures a positive experience for both parties and increases the likelihood of receiving good reviews.
Clarity & Easy Access to Information: Streamlining the Guest Experience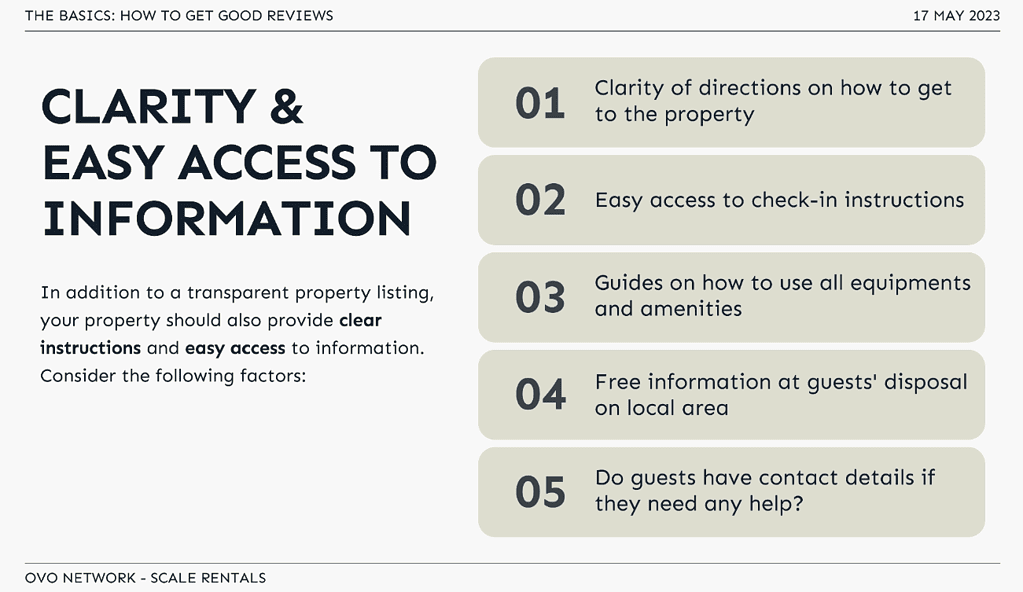 In addition to a transparent property listing, your property should also provide clear instructions and easy access to information for a seamless guest experience:
Clarity of directions on how to get to the property: Provide detailed and accurate directions to your property, including public transportation options, driving instructions, and any specific landmarks that can help guests find their way with ease.

Easy access to check-in instructions: Make sure guests have clear and concise check-in instructions well before their arrival. Consider sending them via email or providing them within the property listing to ensure a smooth check-in process.

Guides on how to use all equipment and amenities: Offer user-friendly guides or manuals for all appliances, electronics, and amenities in your property. This will help guests feel comfortable using everything the property has to offer and minimize potential issues.

Free information at guests' disposal on the local area: Supply guests with helpful resources about the local area, such as maps, restaurant recommendations, popular attractions, and any relevant events happening during their stay. This adds value to their experience and encourages positive reviews.

Do guests have contact details if they need any help?: Ensure guests have access to your contact information or that of a designated point person who can provide assistance when needed. This fosters trust and demonstrates your commitment to their overall satisfaction.
Cleanliness & Maintenance: Creating an Impeccable Environment for Guests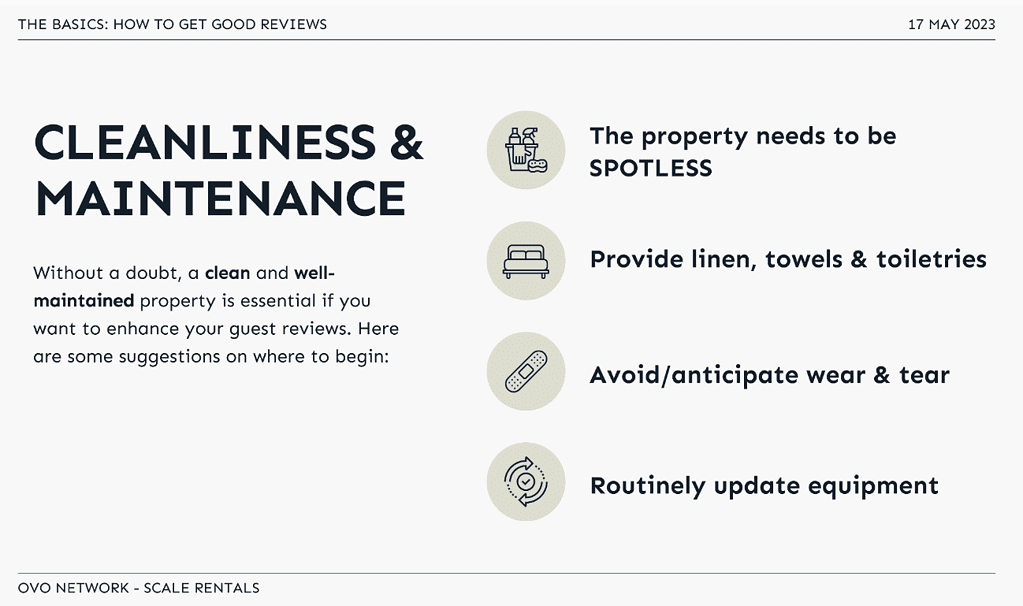 Without a doubt, a clean and well-maintained property is essential if you want to enhance your guest reviews. Here are some suggestions on where to begin:
The property needs to be SPOTLESS: Ensure that your property is thoroughly cleaned before guests arrive, paying close attention to all areas, including the kitchen, bathrooms, bedrooms, and common spaces. A spotless environment sets the stage for a comfortable and enjoyable stay.

Provide linen, towels & toiletries: Supply fresh, high-quality linens, towels, and toiletries for your guests. This not only enhances their comfort but also demonstrates your attention to detail and commitment to providing a top-notch experience.

Avoid/anticipate wear & tear: Regularly inspect your property for any signs of wear and tear, and address them promptly. This could include repainting walls, fixing loose fixtures, or replacing broken items. By maintaining a well-kept property, you'll leave a positive impression on your guests.

Routinely update equipment: Keep your property's appliances and electronics up-to-date and in good working order. Routinely check and replace items as needed to ensure optimal functionality and convenience for your guests.
The Personal Touch: Making Your Property Memorable and Welcoming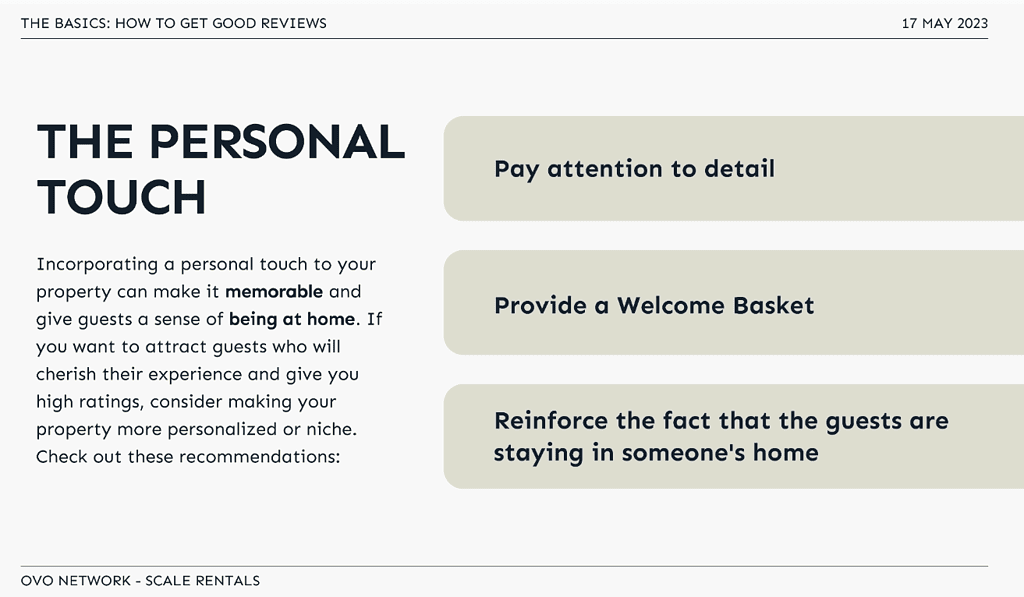 Incorporating a personal touch into your property can make it memorable and give guests a sense of being at home. If you want to attract guests who will cherish their experience and give you high ratings, consider making your property more personalized or niche. Check out these recommendations:
Pay attention to detail: Thoughtful touches such as well-placed artwork, cozy blankets, or a selection of books and games can make a significant difference in the guest experience. By considering the small details, you demonstrate your commitment to creating a warm and welcoming environment.

Provide a Welcome Basket: Greet your guests with a welcome basket filled with local treats, snacks, or even a bottle of wine. This gesture shows your appreciation for their stay and helps them feel instantly at home.

Reinforce the fact that the guests are staying in someone's home: Remind guests that they are staying in a real home, not just a sterile rental property. Share a bit of the home's history or include personal touches such as family photos or local artwork. This creates an authentic connection between the guests and the space, leading to a more memorable experience and positive reviews.
Flexibility & Reactivity: Enhancing Guest Satisfaction through Attentive Service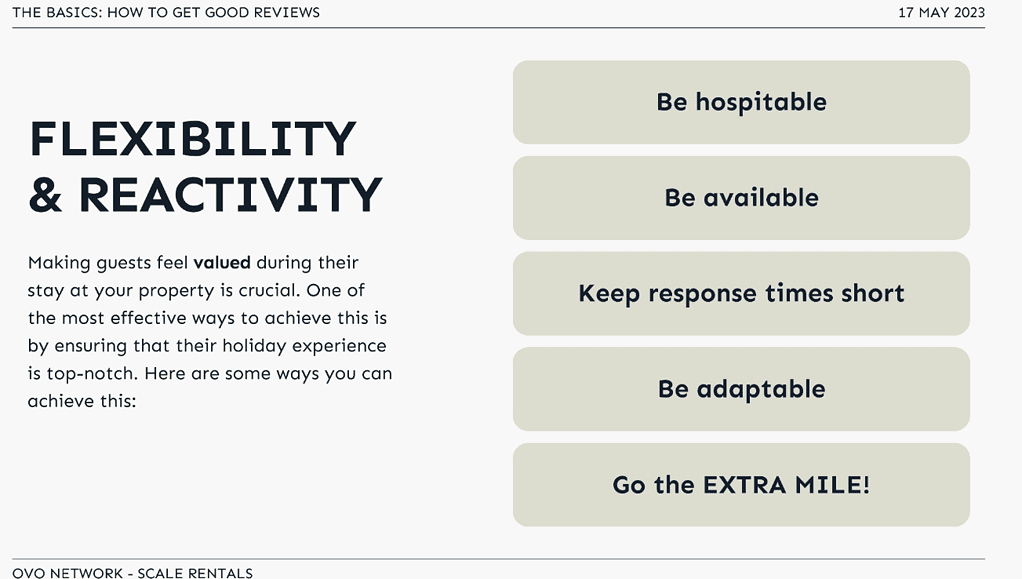 Making guests feel valued during their stay at your property is crucial. One of the most effective ways to achieve this is by ensuring that their holiday experience is top-notch. Here are some ways you can achieve this:
Be hospitable: Warmly welcome your guests upon arrival and make them feel appreciated throughout their stay. A friendly demeanor and genuine interest in their well-being can go a long way in enhancing their overall experience.

Be available: Ensure that you or a designated contact person is accessible for any questions or concerns your guests may have. Providing reliable support can make guests feel more comfortable and secure during their stay.

Keep response times short: Respond to guest inquiries and concerns promptly, ideally within a few hours. Timely communication demonstrates your commitment to providing exceptional service and addressing their needs.

Be adaptable: Be flexible and accommodating when it comes to guest requests or last-minute changes. This might include adjusting check-in or check-out times, providing additional amenities, or offering alternative solutions to unforeseen issues.

Go the EXTRA MILE!: Look for opportunities to exceed guest expectations by offering personalized recommendations, surprise upgrades, or special touches that make their stay truly memorable. Going above and beyond can lead to glowing reviews and repeat bookings.
Problem Resolution: Turning Challenges into Opportunities for Exceptional Service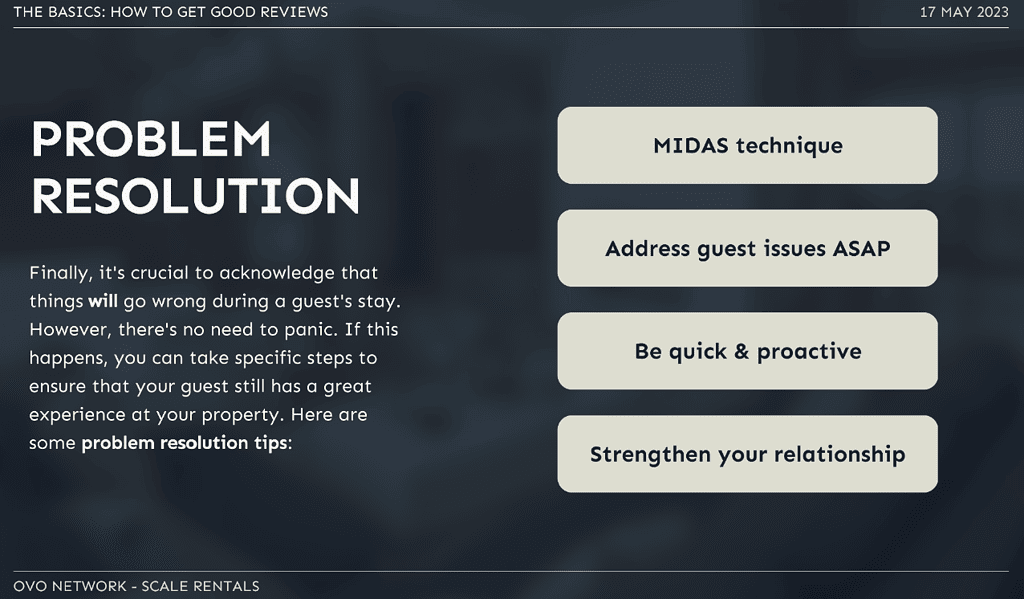 Finally, it's crucial to acknowledge that things will go wrong during a guest's stay. However, there's no need to panic. If this happens, you can take specific steps to ensure that your guest still has a great experience at your property:
MIDAS technique: The MIDAS technique stands for Maintain composure, Identify the issue, Discuss possible solutions, Act on the chosen solution, and Summarize the resolution. By following this structured approach, you can calmly and effectively address any problems that may arise during a guest's stay.

Address guest issues ASAP: When a guest brings an issue to your attention, act quickly to resolve it. Prompt action demonstrates your commitment to their satisfaction and can often prevent a minor issue from escalating into a major complaint.

Be quick & proactive: Anticipate potential problems before they occur and have contingency plans in place to address them. This proactive approach can help minimize disruptions and maintain a positive guest experience.

Strengthen your relationship: Use problem resolution as an opportunity to strengthen your relationship with your guests. Apologize for any inconvenience caused, thank them for bringing the issue to your attention, and assure them that you're committed to making their stay enjoyable. By handling challenges with grace and professionalism, you can turn a negative situation into a positive one and potentially earn glowing reviews.
Asking for Reviews: Keys to Obtaining More Guest Reviews
When to Ask Guests to Submit a Review: Timing is Everything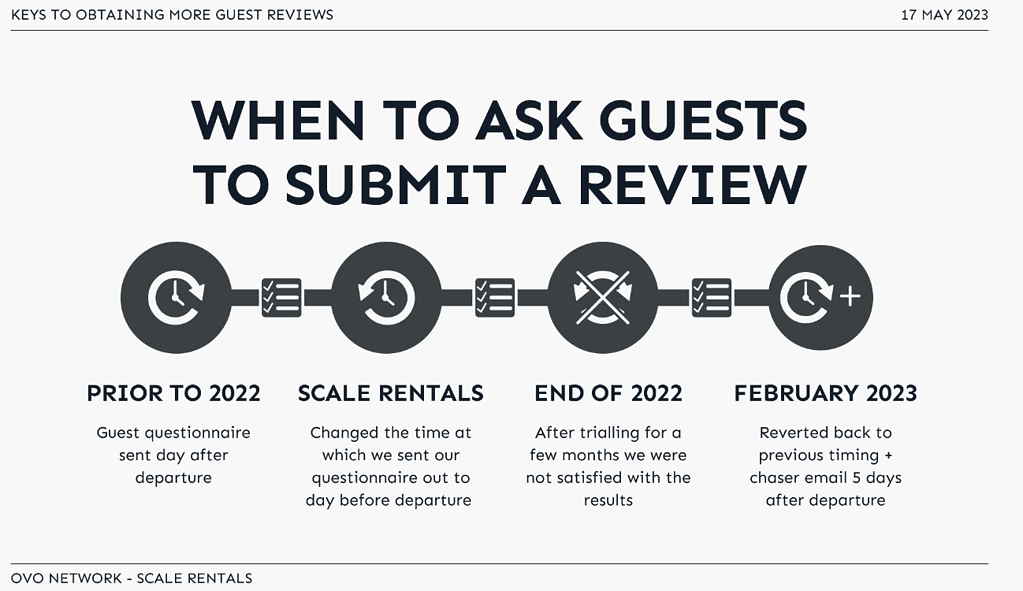 Choosing the right time to ask guests for reviews can significantly impact the number of responses you receive. Here's a brief timeline of how OVO Network experimented with different timings and ultimately found the most effective approach:
Prior to 2022
Guests received a questionnaire on the day after their departure, which allowed them to reflect on their stay and provide feedback.
SCALE RENTALS Changes
After attending the 2022 edition of the Scale Rentals conference, the company decided to change the timing and send the questionnaire on the day before guests' departure. The goal was to capture feedback while the experience was still fresh in guests' minds.
End of 2022
After trialing this new approach for a few months, they were not satisfied with the results. The response rate did not improve as expected, and it was determined that the change in timing was not effective.
February 2023
OVO Network reverted to the previous timing, sending the questionnaire on the day after departure. Additionally, they decided to implement a chaser email sent five days after departure as a follow-up to encourage guests who had not yet provided feedback to do so.
Finding the optimal time to request guest reviews may require some experimentation. Ultimately, it's essential to strike a balance between giving guests enough time to reflect on their stay and capturing their feedback while the experience is still fresh in their minds.
What Questions to Ask: Crafting an Effective Guest Questionnaire
Changing the timing of when you send out your guest questionnaire is just one aspect of improving the feedback process. It's also essential to consider the structure and content of the questionnaire itself. Here are some key elements to include in a successful guest feedback survey:
A. Email Contact
Specify the time commitment: Include an estimate of how long it will take for guests to fill out the questionnaire (e.g., "3 minutes"). This helps set expectations and encourages participation.
Interactive rating section: Use a 5-star rating system with descriptive labels (Terrible, Bad, Okay, Good, Great) to quickly capture guests' overall impressions of their stay.
B. Quick Response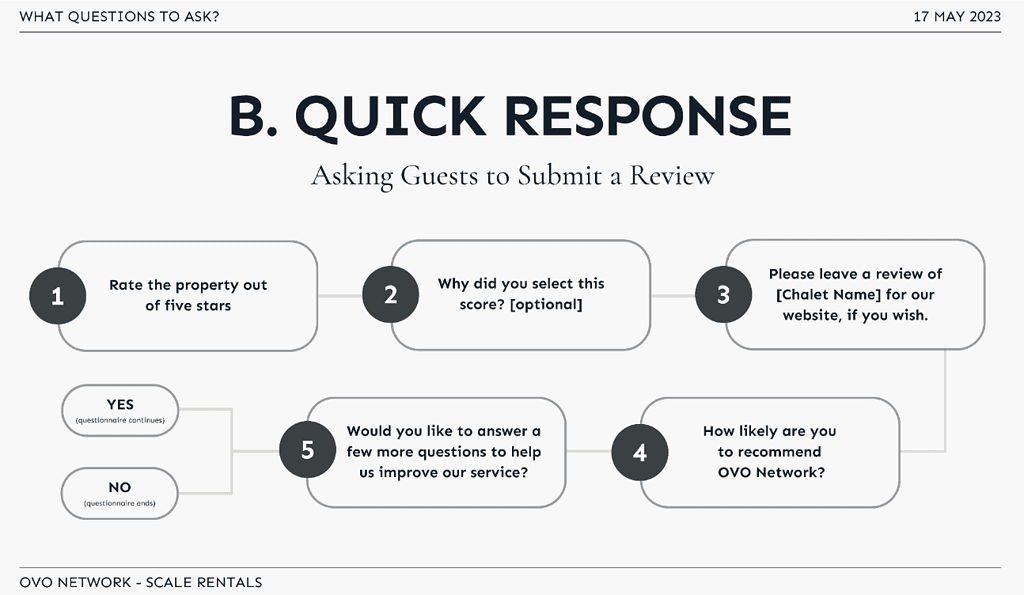 Flow of questions: Design your questionnaire with a logical flow, as shown in the accompanying image. This helps maintain engagement and ensures that guests can easily understand and answer the questions.
C. Longer Response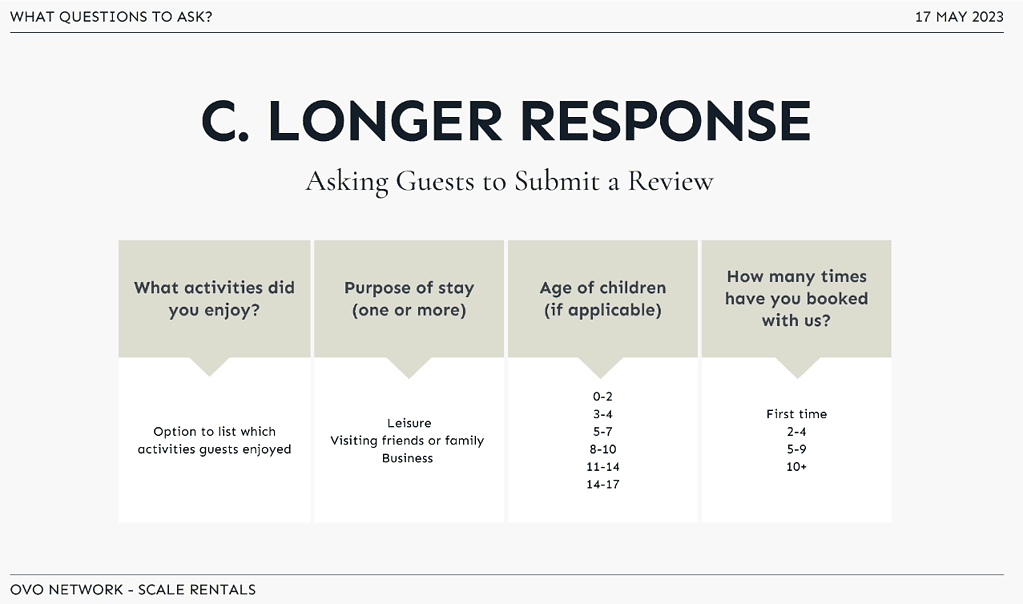 Additional questions: For guests who are willing to provide more detailed feedback, include an extra set of questions, as provided in the accompanying images. This allows you to gather more in-depth insights without overwhelming guests who prefer a shorter survey.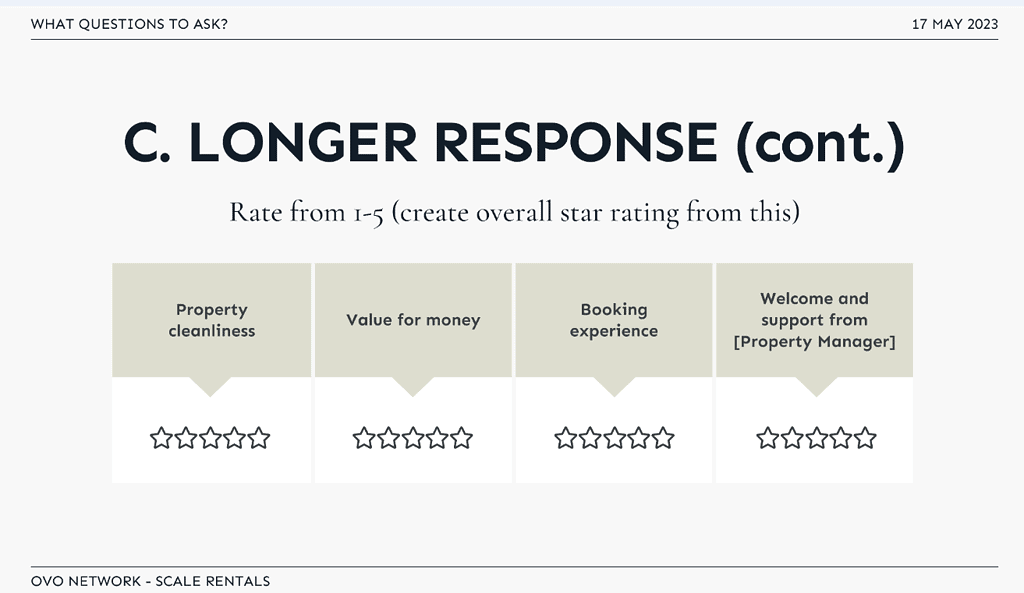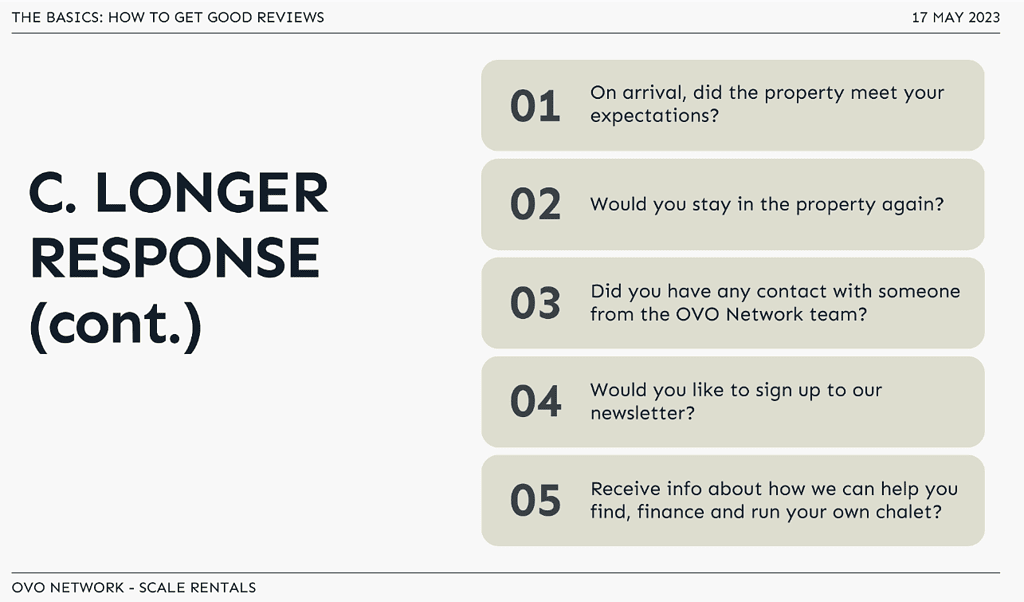 D. Extra Thoughts
Respond to bad reviews: Make sure to address any negative feedback promptly and professionally. This demonstrates your commitment to improving the guest experience and can help mitigate potential damage to your reputation.
Display all reviews: Showcasing all reviews on your website increases trust and transparency, allowing potential guests to make informed decisions about booking your property.
The Importance of Your Offering
Understanding the significance of your property offering is crucial to attract guests and ensure high guest satisfaction. This section will cover two sub-sections: Property Standing Tiers and How to Get Great Reviews.
Property Standing Tiers: Different Types of Properties on The Vacation Rental Market
There are various types of properties available in the vacation rental market, each catering to a different segment of travelers. Here's a breakdown of four common property tiers:
Basic: These properties offer affordable accommodations with basic amenities and often lack extra features. They cater to budget-conscious travelers who prioritize affordability over luxury.
Mid-Range: Mid-range properties provide higher-level amenities, modern furnishings, and upgraded features but typically lack luxury touches. These rentals appeal to guests seeking a comfortable stay without breaking the bank.
High-End: High-end properties feature upscale furnishings and amenities, higher-quality materials and finishes, and additional features such as hot tubs, fireplaces, and more. These properties cater to guests who desire a more luxurious experience than mid-range offerings.
Luxury: Luxury properties boast extravagant features and amenities, high-quality linens, designer furnishings, top-of-the-line appliances, and added services. These rentals target guests seeking a truly exceptional and indulgent vacation experience.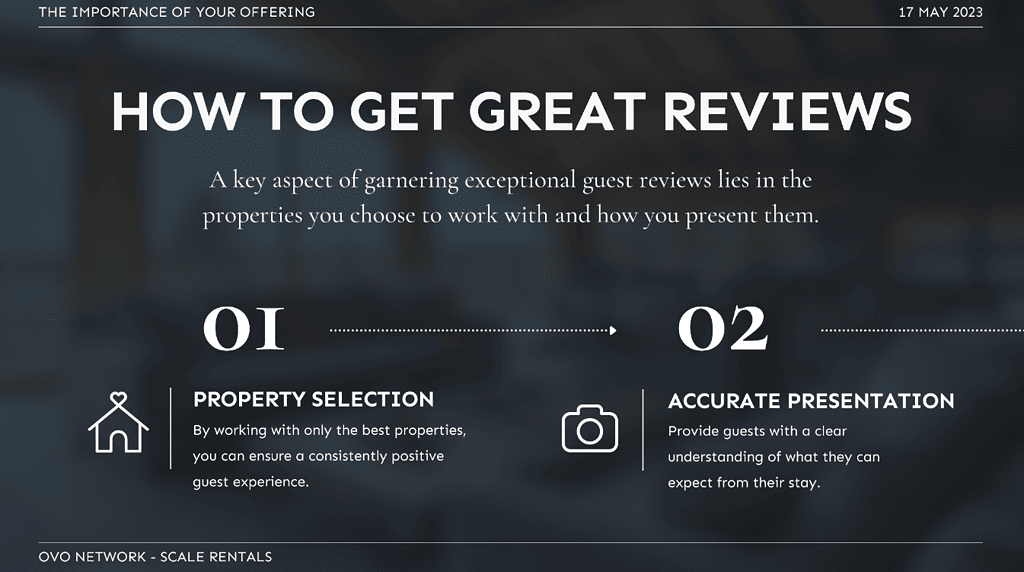 Property Selection: Ensuring a Consistently Positive Guest Experience
Choosing the right properties to include in your vacation rental portfolio is crucial for maintaining a consistently positive guest experience. By working with only the best properties, you can:
Meet or exceed guest expectations: High-quality properties that meet your standards will help ensure that guests have a comfortable and enjoyable stay, making it more likely they'll leave positive reviews.
Attract your target market: Carefully selecting properties that cater to the preferences and needs of your target audience can help you build a loyal customer base and increase repeat bookings.
Maintain a strong reputation: Working with top-notch properties will contribute to your business's overall reputation, making it easier to attract new guests and grow your vacation rental operation.
Accurate Presentation: Setting Clear Expectations for Your Guests
Providing guests with an accurate representation of your vacation rental properties is essential for managing expectations and ensuring overall satisfaction. Here are some tips for presenting your properties accurately:
High-quality photos: Use professional, well-lit photos that showcase your property's best features and provide a realistic view of the space. This helps guests visualize their stay and reduces the likelihood of disappointment upon arrival.
Detailed descriptions: Write comprehensive and honest descriptions of your property, highlighting its unique features, amenities, and any potential drawbacks or limitations. This helps guests make informed decisions and sets realistic expectations.
Transparent policies: Clearly outline your property's rules, cancellation policies, and any additional fees or charges. This helps prevent misunderstandings and ensures guests know what to expect throughout the booking process and during their stay.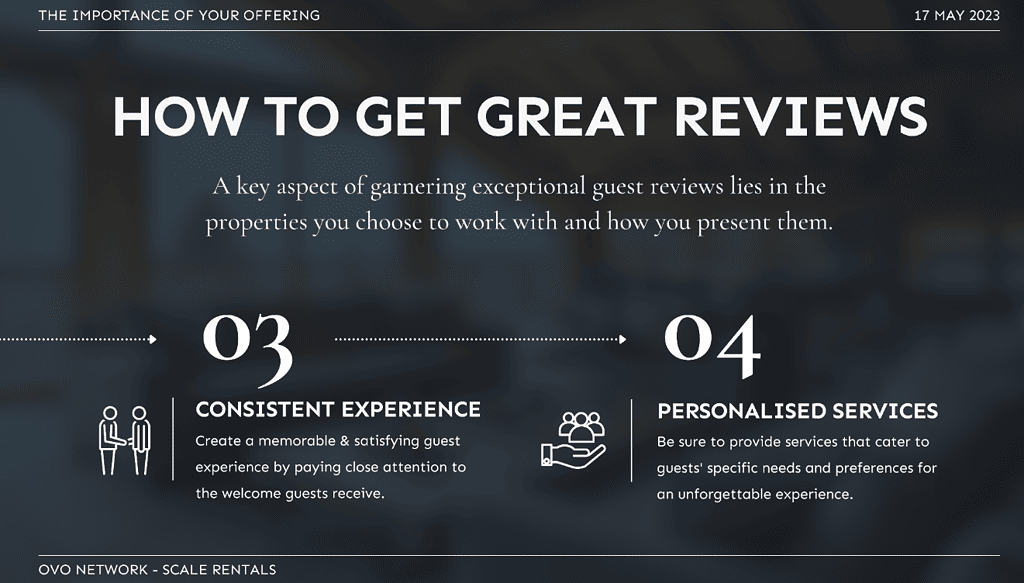 Consistent Experience: Crafting a Memorable and Satisfying Stay for Your Guests
Creating a memorable and satisfying guest experience is vital for the success of your vacation rental business. One way to achieve this is by paying close attention to the welcome guests receive when they arrive at your property. Here are some tips to ensure a consistent and delightful experience for your guests:
Clear communication: Prior to arrival, provide guests with all the necessary information regarding check-in procedures, directions to the property, and any additional details that will help them feel prepared for their stay.
Warm welcome: Greet your guests with a warm and friendly demeanor upon arrival, or if that's not possible, leave a personalized note or message to make them feel at home.
Welcome package: Consider offering a welcome package that includes basic necessities such as toiletries, snacks, or refreshments. This thoughtful touch can make a lasting impression on your guests.
Personalized Services: Catering to Guests' Specific Needs and Preferences
Providing personalized services tailored to your guests' needs and preferences can elevate their experience and set your vacation rental apart from the competition. Here are some ideas for delivering unforgettable bespoke services:
Inquire about preferences: Before your guests arrive, ask about any specific requirements or preferences they may have, such as dietary restrictions, preferred bedding arrangements, or special requests for their stay.
Offer local recommendations: Provide guests with insider tips on the best local attractions, restaurants, and activities based on their interests or preferences.
Additional services: Consider offering extra services such as grocery shopping, private chef experiences, or transportation arrangements to cater to guests' unique needs and enhance their stay.
Conclusion:
Optimizing the guest experience in the vacation rental market requires a multifaceted approach that includes effective communication, flexibility, problem resolution, soliciting valuable feedback, and providing exceptional property offerings. By implementing these strategies, you can ensure your guests have memorable stays and leave glowing reviews, ultimately bolstering your business's reputation and success.
As you reflect on your own approach to guest satisfaction, consider the following questions: Are you effectively communicating with your guests throughout their stay? How can you improve your problem resolution process? Are there any adjustments needed in your property selection or presentation methods? By addressing these questions, you can continue to refine and enhance your vacation rental business, creating unforgettable experiences for your guests.