The demand for workers in the vacation rental industry has skyrocketed, thanks to its immense growth in the past years. However, the supply of workers has not kept pace, resulting in a severe shortage of labor. While property management businesses are struggling to find workers to clean, manage, and market their properties, vacation rental tech providers are no better off. Labor shortages, rising costs, talent war, outsourcing, and business uncertainty have all made it harder across to board to find and retain workers.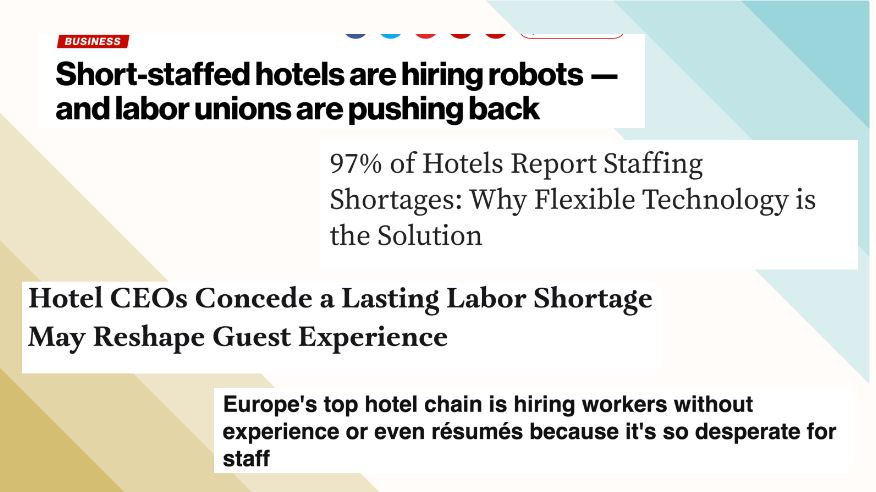 Each month Rental Scale-Up organises a free online conference that addresses a different aspect of the business of vacation rentals, and in July it was staffing.
During this conference titled Solutions for The Top 5 Staffing Challenges Facing Short-Term Rental Businesses Today, our expert panel of speakers provided some background for why staffing is a persisting problem in vacation rentals while proposing both short and long-term solutions to overcome said problems. You can watch a recording of the full session below, or keep reading for key takeaways from the conference.
Meet our panel of experts
Kelly Odor, Marketing Director, Bookster PMS

Provides and shares technology to cover tasks that have little resources or take too many resources.
20 years of Marketing expertise in external and internal communications to enable how to work with the team that you have more efficiently.
6 years as a director of tech companies, going through the recruitment process for the companies, and seeing how the recruitment opportunities have changed in the tech industry.

Luke Bujarski, Co-Founder, Extenteam

Co-founded a vacation rental staffing company after 10+ years experience in the industry.
Worked in outsourcing for 5+ years with nearshore operators in Latin America.
Work with new and existing vacation rental operators optimizing outsourcing/offshoring strategies.

Steve Trover, CEO, Better Talent

Been hiring employees for 32 years.
Founder and CEO of a talent acquisition and optimization firm.
Certified in Talent Optimization.
What causes labor shortages in the vacation rental industry, from cleaners to tech developers? Is it temporary (e.g., COVID-19 related) or structural (e.g., demographic changes)?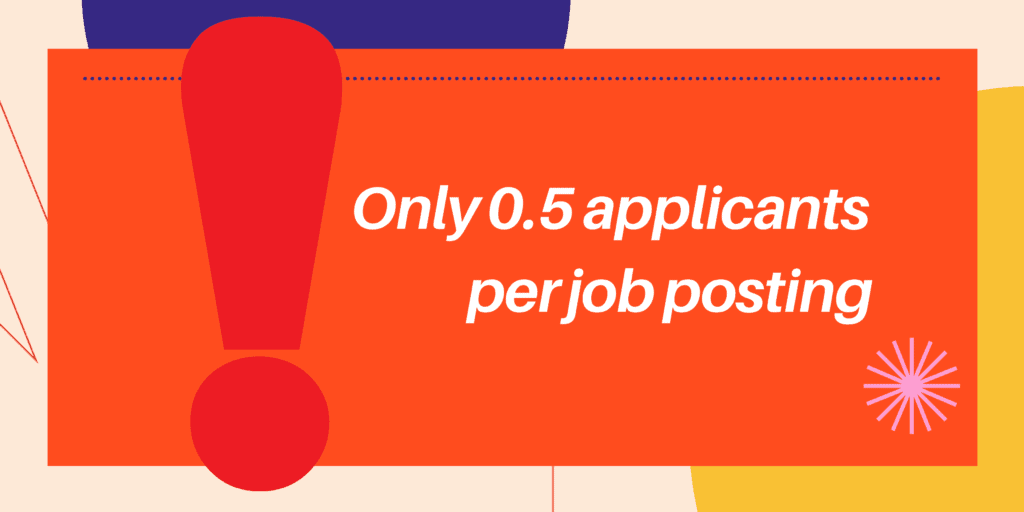 The common belief is that the ongoing staffing crunch is COVID-related, but it is more likely demography-related. The growth in the working population is presently outpaced by the demand. Staff shortages are growing in many industries, not just the hospitality space.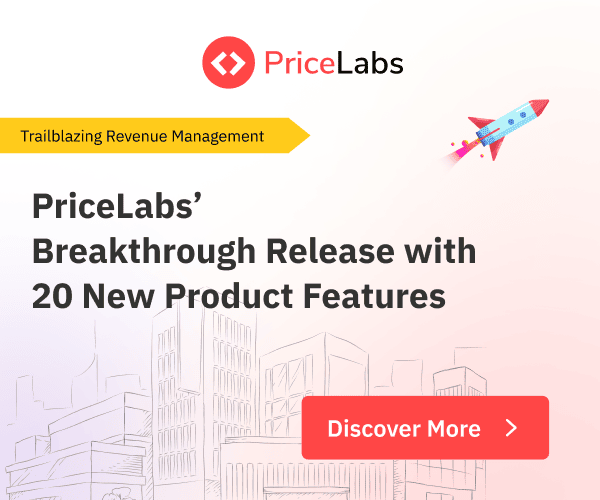 However, the Great Resignation at the onset of the pandemic has only exacerbated the issue, and in that way, COVID may not be the cause but has stepped up the intensity and visibility of the problem. 
That said, given the short-term rental industry's historic staffing patterns, this issue is likely to persist and isn't temporary.
Not enough applicants: As Steve points out, these days there are about 0.5 applicants per job posting. 
When it comes to staff shortages in some hot vacation rental markets, our industry is causing its own problem as well. As the vacation rental market grows, housing becomes more expensive for locals, creating acute housing shortages for staff. Some examples of popular vacation rental hub markets with shrinking housing options for staff are Big Sky, Montana, the Florida Keys, and Ski destinations.
It is most definitely not a new problem either; there was a shortage of talents even before the pandemic. The hospitality industry, by nature, is not stable – in most locations, there are peaks and troughs in demand. There will be a group of people who have changed their roles to find positions that are more stable, outside of the hospitality industry.
Remote work does provide opportunities that didn't exist before, shrinking the talent pool for vacation rentals, especially for onsite jobs.
The rising cost of living is impacting even worse people who hold positions in the lowest salary echelons, such as housekeeping and maintenance roles. So, it does help make these positions more attractive.
The good news is that where there are shortages in labour, technology can step in. One example of this, across a multitude of industries we've seen an increase in the use of chatbots on websites, a growth in automated messaging and automated processes that can reduce the resource burden on guest and customer-facing employees. 
Remote vs. Local: Does remote work make it easier or harder to find local talents?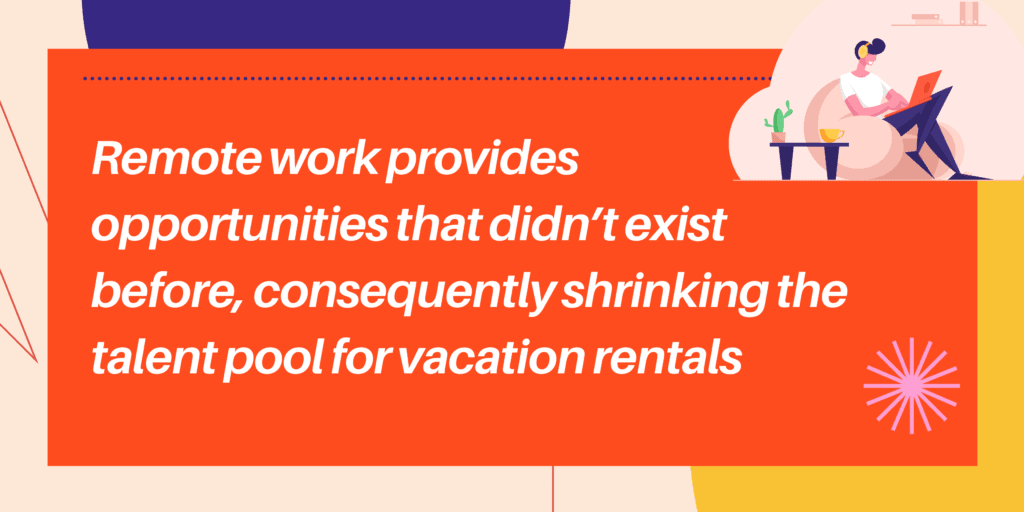 More roles than ever have now become remote, and its immense popularity has transitioned it firmly from a trend to a valid staffing approach. For instance, no one thought before the pandemic that housekeeping management could be done remotely. How has it changed the state of staffing for vacation rentals?
In some local markets, people can now find a remote position instead of turning to the hospitality industry for a job, and often make more money than in hospitality. It means that finding local staff has become more competitive in local markets.
Some vacation rental operators have operations that are even more remote than those of hotels. Some small towns that are hot tourist destinations do not even have a hotel. Those places struggle to find any talent, from the low and the high ends of the echelon. 
The situation is different for vacation rental tech companies, as remote working opens opportunities for recruitment as tech companies embrace these opportunities globally. Tech exists to facilitate remote working (Zoom, Slack), and therefore many roles in tech can be completed remotely.
Company culture is changing to accommodate remote working, incorporating online training, huddles. But a new set of hurdles have also emerged, mostly in trust, responsibility, and communication.
Remote working can offer opportunities for non-tech vacation rental business expansion into new areas as well and create opportunities to manage the shortage of staff locally. It's particularly important to have the right technology stack that enables your team to work remotely whilst building your business. 
Why vacation rental managers and vacation rental tech companies cannot require a deep experience with specific software, PMS, or channel manager anymore.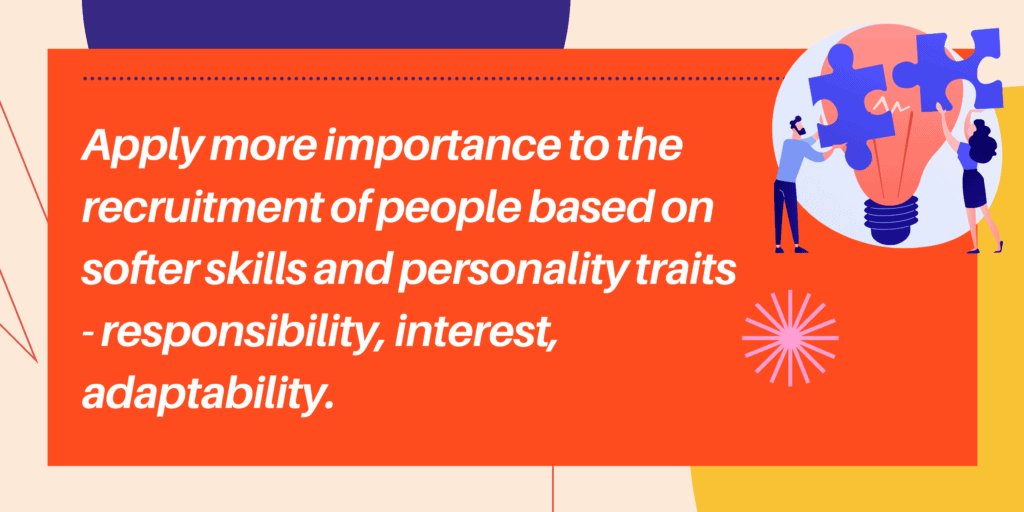 In vacation rental tech , there has been a seismic shift downwards in the volumes and quality of local candidates for tech roles with the experience of specific systems needed. This means they have to reconsider what specific skill set they look for, and this applies across all sectors. 
The industry is very fragmented in terms of solutions (there are dozens of PMSs around), making it unrealistic to demand experience with specific tools.
Employers need to shift expectations in the recruitment process. It's important to apply more importance to the recruitment of people based on softer skills and personality traits – responsibility, interest, adaptability. 
Knowledge and specific tech systems can be taught, but professional traits will impact the degree of success of your company.
It is more important to look for people who are trainable rather than experts at using Streamline, for instance.
How to identify and hire the right people? How to get them to execute?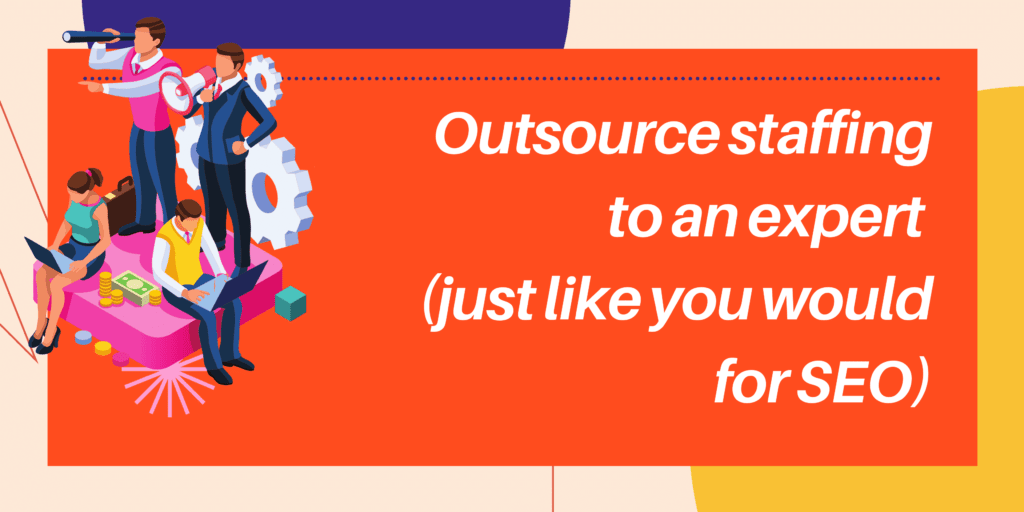 A vacation rental manager has to be good at so many different things, therefore adding the burden of efficient recruitment and training could inevitably make things worse. You can handle hiring and training internally, but under these circumstances even finding virtual assistants is hard. Here are some options to consider:
Your time is short as a business owner or operator. You need to focus on the strategic assets of the business. Outsource staffing to an expert (just like you would for SEO).
Delegate to companies and experts who do it on a daily basis. Lean on the companies that are good at the recruitment side. 
Companies with staffing expertise take people through behavioral and then cognitive testing. This enables them to know who should be in a position where they can evolve or people who want to stay in the same position.
If the cognitive testing result is high: They can onboard faster, but they will need to learn new things to remain committed.
If you make the decision to recruit yourself, immerse your company in a network of expertise that you can use to access skills and resources for your business. For example. as Bookster is a tech company, they moved to a tech hub building, and joined TravelTech for Scotland which is a tech cluster providing a network of tech providers across Scotland and globally. These provide resources, recruitment opportunities, and skills for Bookster to grow.
Identify resources of people who can be trained by your company, for example, College or University fairs for post-educational roles.
Consider how your company communicates throughout the whole process and state expectations clearly. Be clear on your company culture.
Communicate properly what the role and the company are. People do not like scope creep. It is key to set expectations about the primary task vs. secondary tasks.
Have a training plan in place and work with your team to measure and improve satisfaction.
Focus on making the job attractive consistently to reduce turnover. Just like with guests, it is cheaper to foster loyalty among existing employees than to find and train a new employee in the long run.
The first 30 days are crucial for productivity and relationship.
For remote jobs, it boils down to operations: Document and systemize your processes. Allocate time in terms of documents, as if the person doing the job were about to leave.
How to optimize your largest expense: your people (staff is the biggest expense in the P&L. People do not optimize it)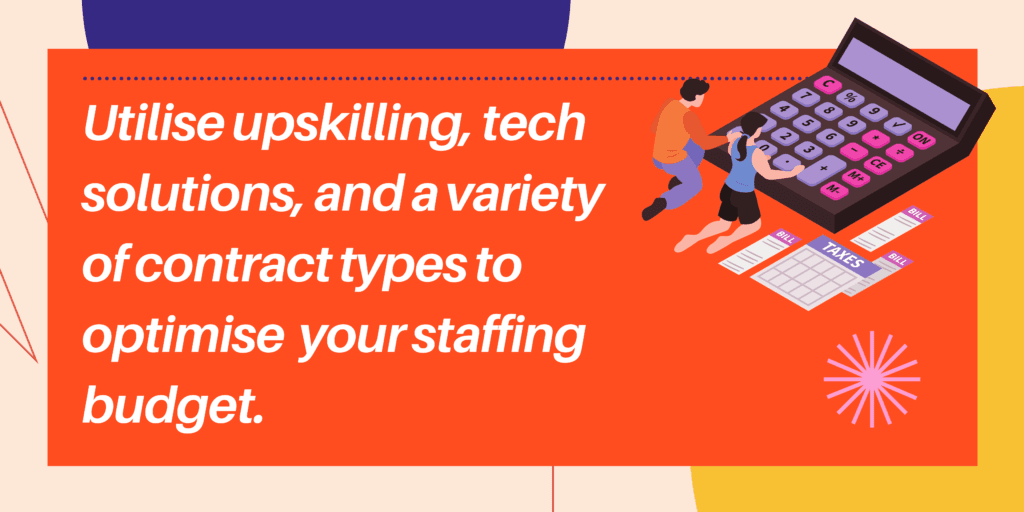 50% of a P&L is staff and people expenses yet this budget is never optimized, while vacation rental managers will devote a lot of time to optimizing their website (which is important but not compared with staff and people costs).
Approaching staffing holistically is key to keeping it smooth-sailing and cost-effective. Is there a way you could rearrange how you manage your staff that allows you to keep costs low but your output high? The place to start is with clear communication and collaboration with your team to understand what you have, what you need to provide, and what will help you bridge that gap.
Use your existing resources to do what you need by upskilling and using tech. Upskilling or cross-skilling your team means clear communication with your team to identify those in your team who are interested in taking on new responsibilities or changing responsibilities. Not everyone will be interested, and that's fine, but it's also something to consider for future recruitment. 
New Tech solutions are entering the space to provide support for the resource gap. Looking at tech will enable you to do more with what you have. How can they leverage technology to increase the productivity of their existing staff? 
Work with your team to identify tasks and activities that are most resource-intensive and look for a tech solution or change the process that fits your brand needs but reduces resource output that can be placed elsewhere.  For example, there are great solutions already in the market for automating the booking process, the check-in process, automatically communicating with guests, and automatically collecting payments.
Make sure you have an organizational chart. People think of themselves as a small business, yet usually, one employee is wearing several hats, and this is not noted anywhere.
Everybody knows what a TechStack is, but you must also consider your PeopleStack. Companies need a variety of people with a variety of contract types: Full-time, seasonal, consultants, etc. An organizational chart can help you see more clearly how to optimise your PeopleStack.
Most companies are not concerned about their employer brand. Optimize your brand presence and ensure your "About us" page is designed from the perspective of a future employee.
If a recession comes, will companies suddenly go from understaffed to overstaffed?
The Great Recession was in 2008, yet vacation rental management revenues peaked in 2010. Additionally, there is no talk of cutting staff in the vacation rental tech. Some tech companies and vacation rental managers have recently laid off people, but they find new jobs immediately.
It is true that there is the notion of "overhiring". Companies do not want to be slapped with that label. Flexibility and optimization of staff will remain to prepare for any recession or change in the markets. The offshoring model can be applied even to smaller companies these days. Costs are going up all over the world, but US-based workers will continue to command a premium.
We're seeing layoffs in tech companies (Netflix, Microsoft, Paypal) outside the vacation rental industry citing the recession as the reason, and that's creating a wave of nervousness, but we don't see this applying within our industry.
A good number of Tech companies and vacation rental agencies are currently understaffed and that won't change before the recession comes. 
The positive note is that during COVID, people traveled domestically and vacation rentals were seen as a great solution for small getaways. This will continue through a recession, as guests demand an escape of some sort, providing growth opportunities for the vacation rental industry.