The upcoming holiday season is shaping up to be one of the most expensive yet for North American and European guests this year, according to a report by vacation rental management software company Hostaway. The report indicates that the spike in demand has given way to consistently rising average daily rates (ADRs) across both continents, and as guests contend for the best properties in ever-larger groups, booking lead times are growing, too.
On the other hand, even though most football fans were choosing to commute to Qatar for the FIFA World Cup 2022 due to the many restrictions in the country, demand seems to have finally picked up in the country enough to catch up with the global increase in ADRs.
Let's take a closer look at this data provided by Hostaway and check in with them to dig deeper and find out if these trends will continue in the same direction.
Rental Scale-Up: Can you tell us a bit more about where this data comes from?
This data is taken from properties worldwide using Hostaway's PMS & Channel Manager solution. We know this is a small proportion of the data you will have available as part of PriceLabs, so it might make an interesting comparison here! Just as an indication, this data will be more representative of professional property managers rather than individual Airbnb hosts because of the makeup of those who use Hostaway.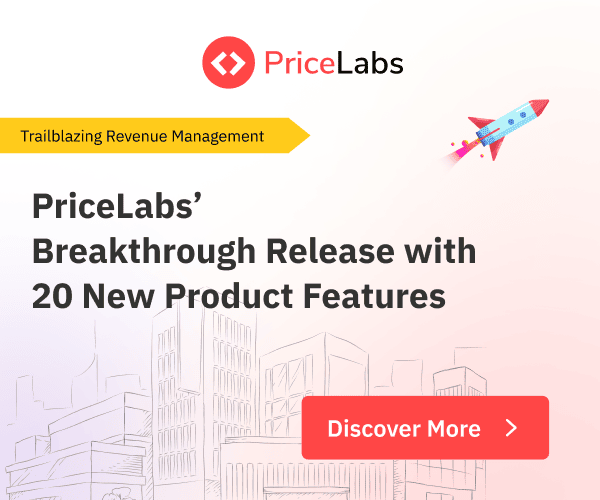 Rental Scale-Up: Which factors do you think have contributed to the increase in lead times across the board?
Confidence in travel is probably the most important factor here and a desire to book the best properties in the top locations ahead of time where there is limited supply.
Rental Scale-Up: How sustainable do you think this surge in ADRs (average daily rates) will be, considering chatter around #AirbnBust and forecasts that traveller spending power will decrease in the coming months?
ADRs will probably still stay high for a few reasons. Even if demand drops, property managers and hosts will need to claw back revenue for their business, so will still keep the rates high anyway. Those that can still afford to travel will pay the extra cost. And if regulations or other factors (like the hurricane in Florida, which are pushing travelers to other destinations like Mexico and Texas) diminish supply, this will also keep rates up because the demand surges.
Rental Scale-Up: Do you have any details on which platforms/channels are leading the charge or showing the most growth in this context?
This is hard to answer – it really depends on when you look at the data, as certain times of year will look very different on different platforms.
Hostaway releases a preview of the upcoming holiday season and World Cup for the vacation rental industry
Occupancy rates remain similar to last year, but average daily rates have skyrocketed alongside lead time and group size
Hostaway, the leading all-in-one vacation rental management platform, has released a preview of the upcoming holiday season – Thanksgiving, Christmas & New Year in North America and Europe – in addition to insights on booking trends for the World Cup in Qatar.
"This time last year, property managers celebrated a return to 'normal' with record-setting rates and bookings," says Marcus Räder, CEO & Co-Founder of Hostaway. "We saw average holiday season rates increase by 23% between 2020 and 2021. Today, the complex and unpredictable economic landscape is impacting prices, but the continuing desire to travel is also keeping these high. This consumer demand is shown in the big jumps in lead time and group size for upcoming trips over the next couple of months."
Thanksgiving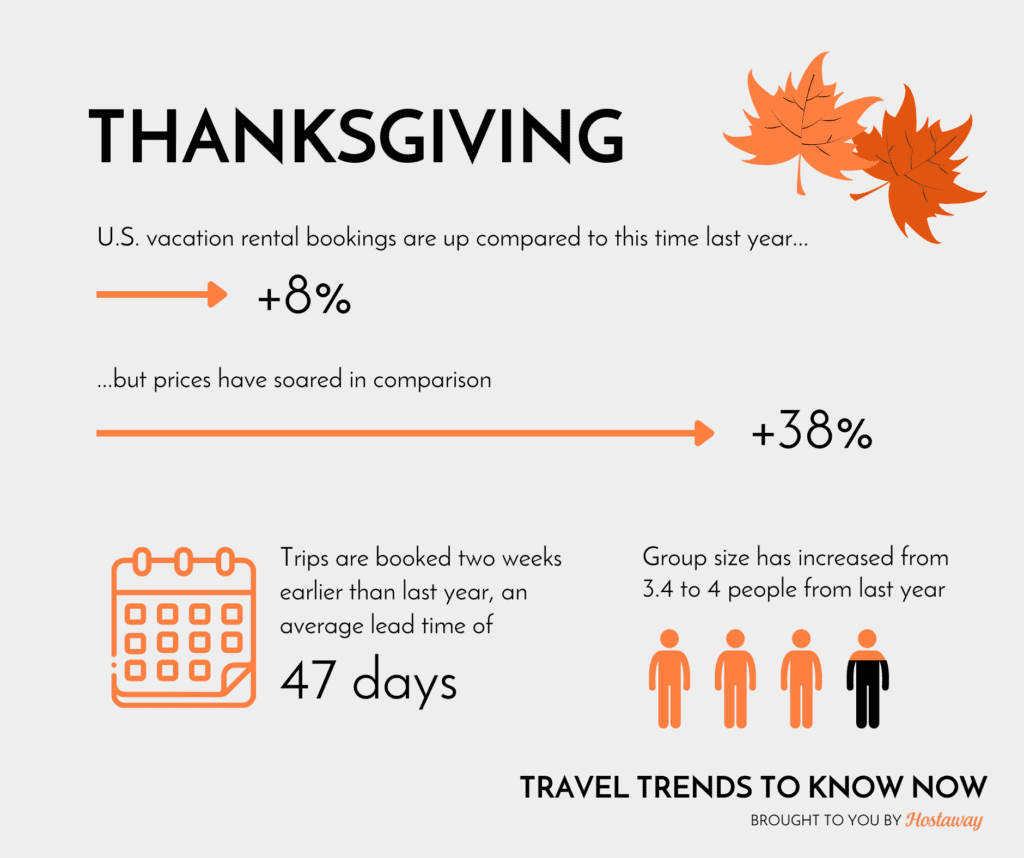 Occupancy rates for professionally-managed vacation rentals for the upcoming Thanksgiving weekend in the U.S. have increased by 8% since 2021, currently sitting at 63% on average. Despite this moderate increase, the daily prices of vacation rentals have soared much higher, up 38% to an average of USD $385.
Guests have been booking, on average, 47 days in advance for their Thanksgiving trips. This is an extra two weeks of lead time compared to last year, an increase of 42%. This consumer confidence is mirrored in the expansion of group size this year, which has increased by 18% from 3.2 to 4 people on average. However, the average length of stay has stayed around the same, from 3.7 to 4 nights per booking on average.
Christmas & New Year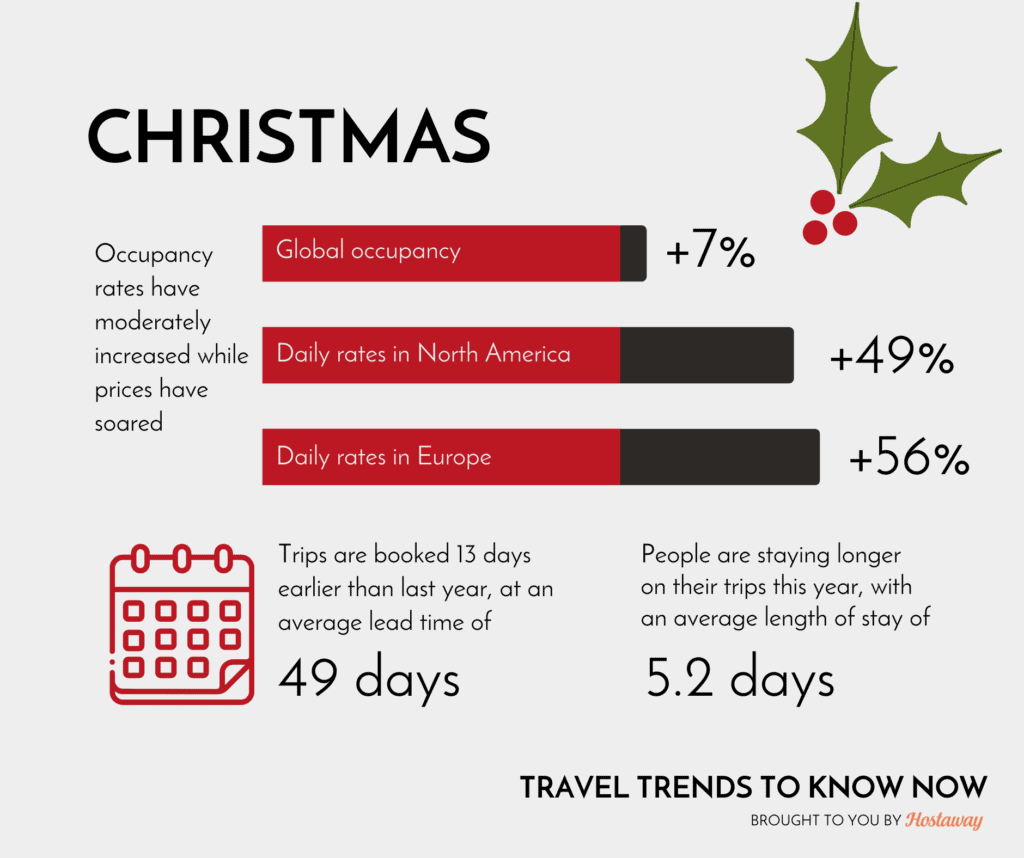 Occupancy rates across the US, Canada & Europe for Christmas have increased by 7% and for New Year by 6% compared to last year. However, there has been a huge increase in the average daily rate on both continents, particularly for Christmas. In North America, the rate has gone up by 48.6% (to USD $532), and in Europe, by 55.9% (to EUR €488). Rates for the New Year have increased by 38% and 43%, respectively.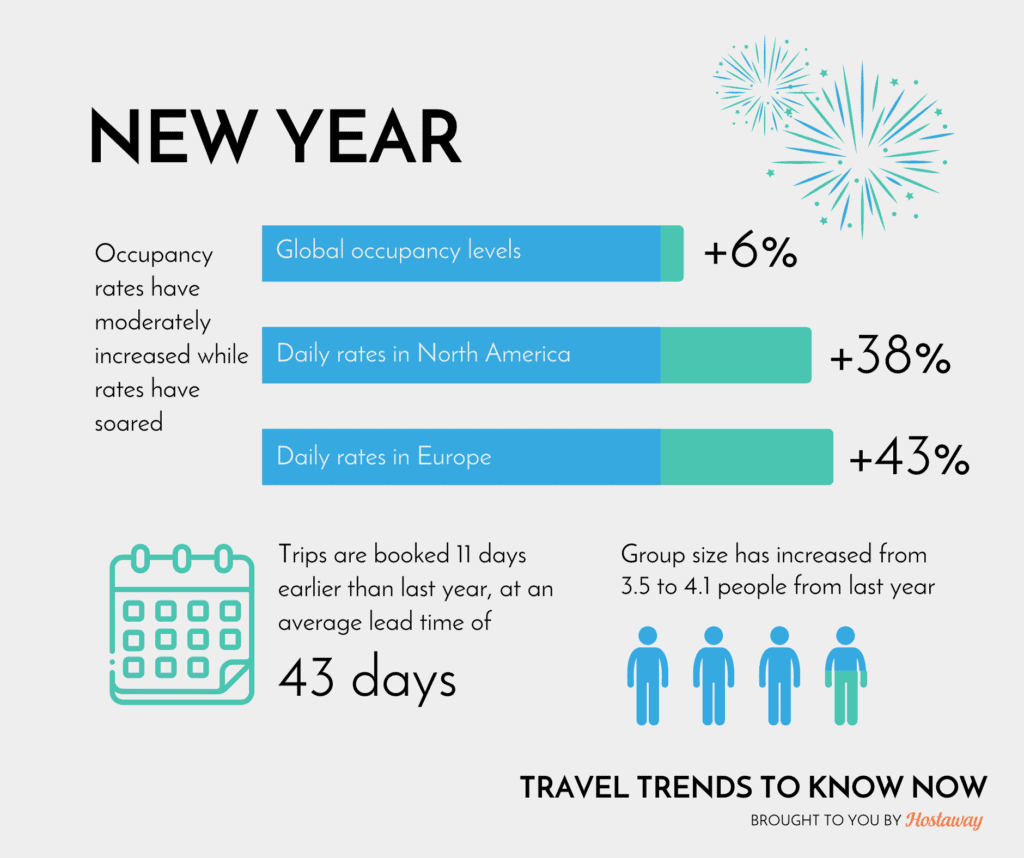 Globally, the booking lead time has increased by almost two weeks to an average of 49 days, meaning that consumers will want to be snapping up available stays for Christmas now. There is still time to secure a great New Year's break as the lead time for this period is currently at 43 days, up by 34% from 2021.
People are much more confident traveling in larger groups this year, with the group size increasing by around 25% for Christmas & New Year (from 3.3 to 4.2 people per booking). Unlike Thanksgiving, the length of stay has also increased to an average of 5.2 days for Christmas and 4.4 days for New Year (up 33% and 26% from 2021).
World Cup
Earlier in 2022, Hostaway revealed that the Middle East is the fastest-growing market for vacation rentals worldwide. This growth has been boosted by the upcoming FIFA World Cup in Qatar, which kicks off on November 20.
Eager fans securing their accommodation for the tournament in advance has caused an expected but dramatic increase in the booking lead time in Qatar (up from 12 to 78 days, a 550% increase) and occupancy rate (up from 34% to 62%). Average daily rates have also skyrocketed by 48%, which is in line with the global increase in rates during this period.
Marcus Räder added: "We're excited to see the knock-on effect of the World Cup in Qatar on the entire Middle Eastern market, which remains one to watch in the vacation rental industry for its growth potential."