The COVID-19 pandemic triggered a vacation rental boom in the US, with markets in coastal and mountain destinations recording record revenues in summer 2020, 2021, and 2022. Meanwhile, the story in urban markets has been quite different. According to AirDNA, In 2020, demand dropped dramatically, around -50% compared with 2019, in large cities such as New York, Los Angeles, and Chicago. In 2021, it recovered to -29% of 2019. Yet, as of Q2 2022, demand in urban markets was still at -22% compared with 2019. We'll see in the article below that some urban markets are actually doing pretty well, with demand above 2019 levels ( e.g. Miami, New Orleans, and Orlando), while Boston, Los Angeles, and New York are still under pre-pandemic levels. For the latter cities, demand from international travelers is crucial. Much depends on Canadian and European travelers, but the strong dollar, airport chaos in major European and US hubs, as well as lasting fears around COVID are limiting the numbers of inbound travelers.
Urban short-term rental demand still not at pre-pandemic levels
AirDNA notes that demand in urban markets dropped dramatically in Q2 2020 when the COVID-19 pandemic started. It stays at -50% compared with 2019 until the beginning of 2021. From there, it started to recover gradually and finished the year at -28.6% compared with 2019. Yet, as of Q2 2022, it was still at -21.6% compared with 2019.
AirDNA shows that demand around big cities, in suburban markets, bounced back faster and higher. As of Q2 2022, it was already above 2019 levels, at +10.8%.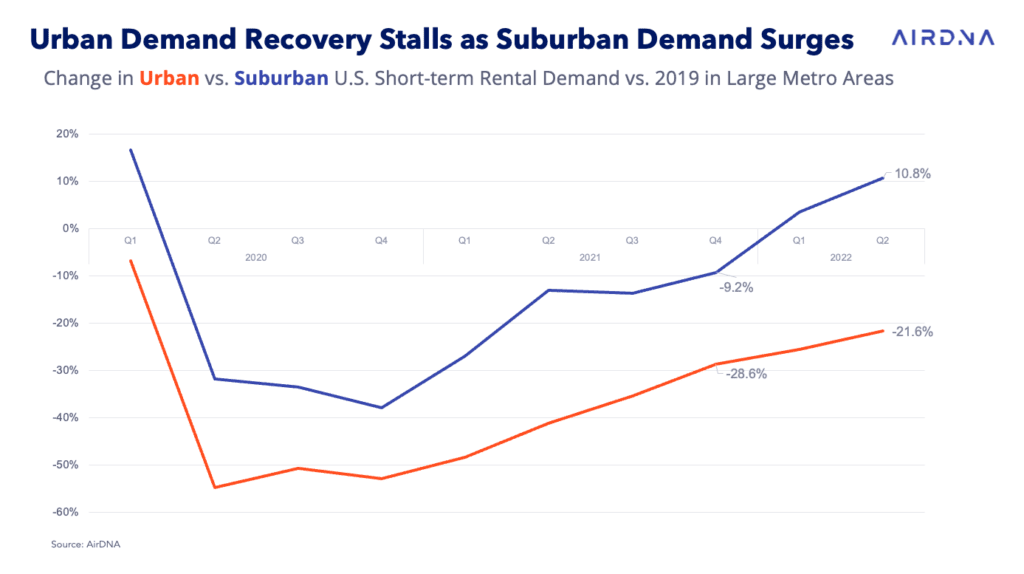 The disparity in urban markets recovery: Some markets are actually above 2019 levels
If we stayed at a national level, we would not be giving a fair assessment of what it is happening in the US. Indeed, some markets are even more depressed than the average data shows, while others are riding way above pre-pandemic levels.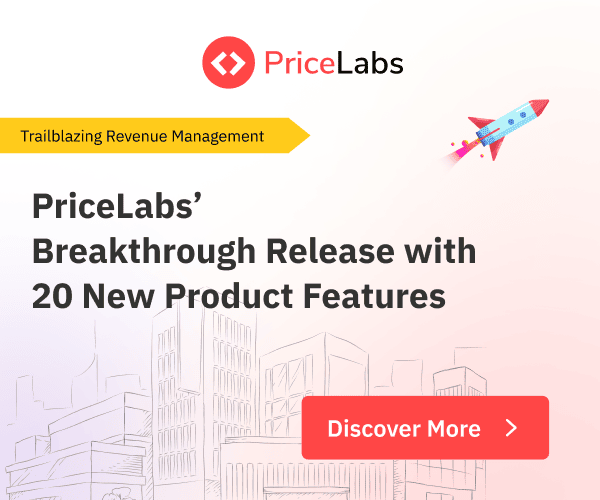 In the chart below, AirDNA is comparing the first half of 2022 (H1 2022) with the first half of 2019 (H1 2019). We'll only focus here on urban markets. Here are a few winners:
Tampa: +72.9% in H1 2022 vs H1 2019
Houston: +53.5%
San Antonio: +42.9%
Orlando: +27.2%
Miami: +24.8%
However, large cities outside of the South-East are not faring as well compared with 2019:
Los Angeles: -60.6%
Boston: -59.4%
New York: -42.6%
Chicago: -32.9%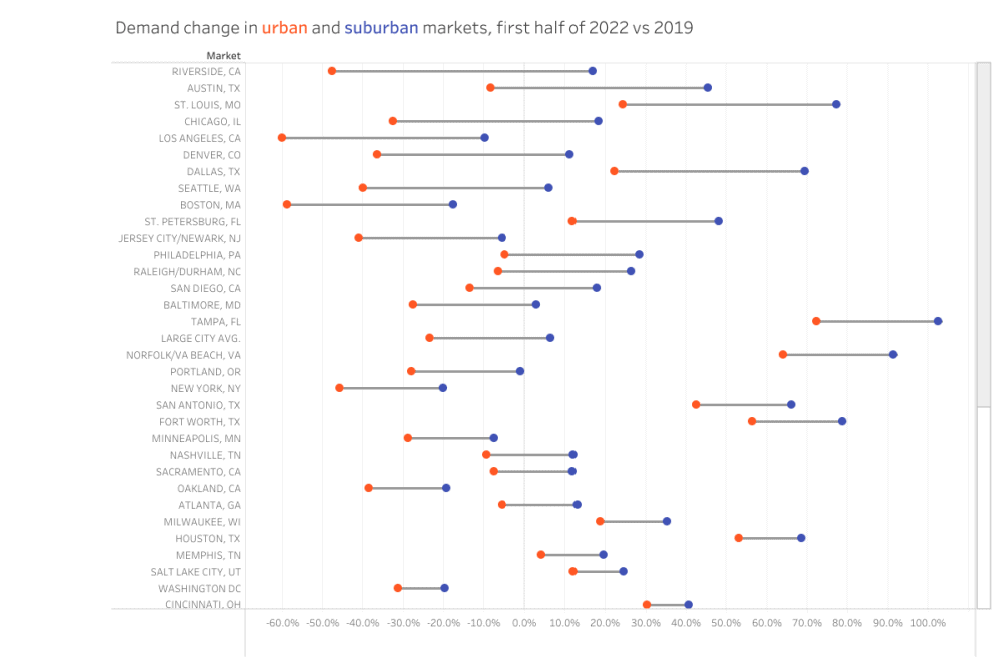 Summer 2022 short-term rental market trends (US): Urban markets still at -28.3% compared with 2019
Urban markets in large cities are recovering. For instance, for summer 2022, demand is pacing at +24.9% compared with summer 2021. Yet, this is still pacing at -28.3% compared with 2019. It shows that 2020 and 2021 were bad and that 2022 is notably better. Yet, demand is still only three-quarters of what it was in summer 2019, pre-pandemic.
Of all US market types, urban markets are the only ones where demand is still trailing compared with 2019. Even suburban markets around big cities are pacing at +7.1% compared with 2019. Meanwhile, small city and rural markets are pacing at +71.2% compared with 2019!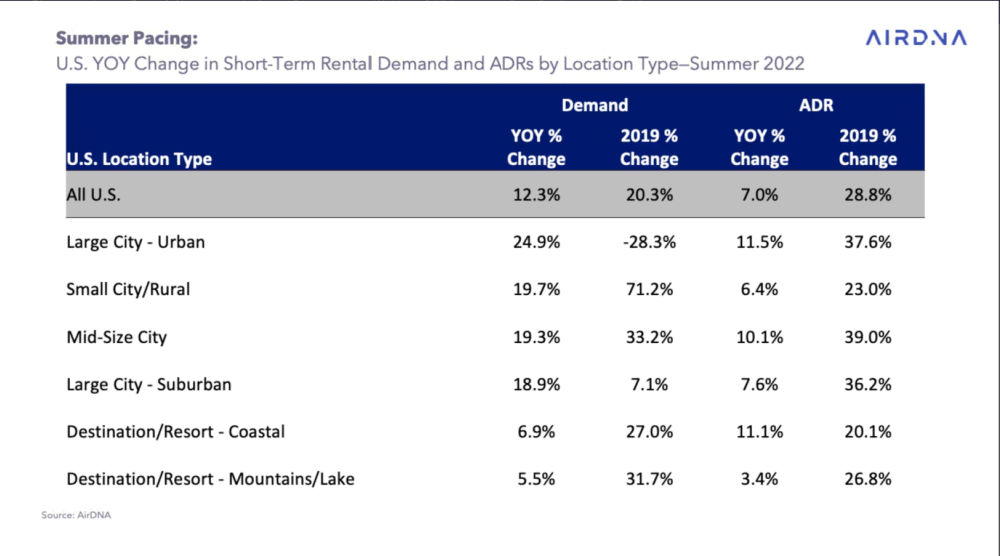 International travelers are returning, but not in numbers large enough to propel urban markets such as New York and Los Angeles above 2019 levels
The key explanation for some urban markets faring better than others is the lack of international travelers. The large cities doing well, such as Tampa and Houston, have been able to attract domestic travelers.
However, markets such as New York City and Los Angeles depend much more on international travelers. Pre-pandemic, a quarter of reservations made in urban markets was from international travelers. As of Q2 2022, only 11.6% of these reservations had been made by international travelers.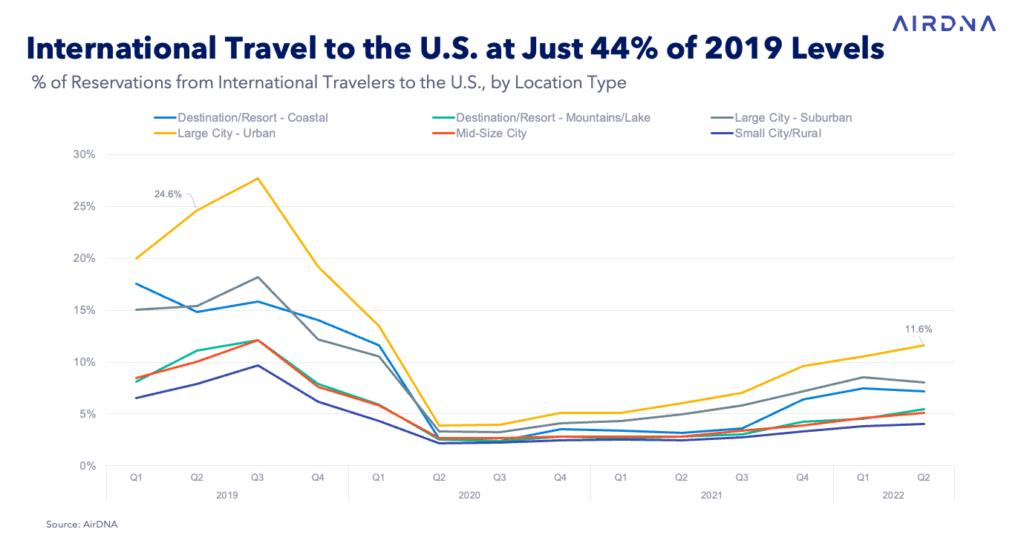 The strong dollar, lingering travel restrictions and testing requirements, and airport chaos will be keeping some Canadian and European travelers away from the US in 2022. Asian travelers are even slower to return, with outbound demand from China and Japan still at dramatically low levels.