(Updated on December 12, 2021) Vrbo's mission is to help its guests find the best family vacation rentals. Vrbo commercials clearly show the company's target: families with several adults and kids, often multi-generational families who want to book an entire home to create lifelong memories. In these Covid-19 times, what can you learn from Vrbo's new commercials?
Imagine footage of exhausted work-at-home parents with three primary school kids. Both parents are juggling kids' schoolwork and their own work commitments while being overwhelmed with following the pandemic's latest developments. It's a coronavirus nightmare. They are trying not to freak out while under the same roof of an apartment without a garden. What could they be daydreaming about?
As early as May 2020, Vrbo started releasing advertisements that visualize what could be on the top of the minds of these parents. A scenery not far from home that could turn the Coronavirus nightmare into a much nicer reality. This article analyzes how Vrbo's ads fit into the platforms' brand image and slogan and the stories they convey.
New Vrbo commercial 2020 – 2021: Your Together Awaits
According to AdWeek and Media Radar, Vrbo has outspent Airbnb by 10 times, in U.S. advertising. Kantar put Vrbo's spend for 2020 through September at more than $51.7 million, down 19% compared to the same period in 2019.
Vrbo's new campaign is called "Your Together Awaits". Now that HomeAway has completely been rebranded into Vrbo, at least in the US, and that short-term rentals have proven to be a source of revenues for Expedia in 2020, the company is doubling-down on raising its profile.
During 2020, the slogan is Vrbo's TV and Youtube commercials was "Travel better together". As 2020 is coming to an end and as travelers are dreaming about their next trip, the slogan has aptly become: "Your Together Awaits".
As Vrbo is about family vacation rentals, special moments to live as a group of close friends and family, the keyword TOGETHER is still here. Many people want to travel and trips to start again in 2021, they are indeed waiting to be reunited.
The keywords for Verbo vacation rentals commercials are family, couple, parents, multi-generational family. The voice-over mention that outdoorsy vacation rentals beat streaming and smartphones when it comes to reuniting people.
Note that, at a time when a lot of people say that they've booked an airbnb, Vrbo wants people to stay "in a Vrbo". Will a "verbo" become a thing?
Let's have a closer look at Vrbo's new set of commercials:
Your Together Awaits. Find it with Vrbo.
This is the canoe that a young couple will get gloriously lost in together.
This is the checkers game where grandson and granddad will bound.
These are the woods where a daughter will tell her mother she's nervous about starting a new school.
This is the pool where cannonball records will be broken,
This is where new parents will remember life before becoming new parents.
And this is the kitchen where the new boyfriend will unofficially become family.
These are the Vrbo vacation homes waiting for you to fill with your family.
Your together awaits. Find it with Vrbo.
That Look Only Happens In A Vrbo
This ad shows close friends at a mountain getaway, enjoy a log fire while the kids are sound asleep.
That Face Only Happens In A Vrbo
This time, a father and a daughter manager to bond while staying at a private lakefront cabin.
Those Moments Only Happen In A Vrbo
A group of girl friends are reuniting at a beachfront getaway with pool, which looks like a dreamy post COVID-19 scene.
A family-friendly message driven by the reality of the pandemic: Travel better together
"With life stuck at home, find a home (that is not home)", "Make the new normal feel more like the old normal", "Want to get away from it all? Find a whole vacation home for your whole family" are some of the slogans in Vrbo's advertisements, often displayed in the caption of their YouTube videos.
The message that vacation doesn't always mean going away, but spending time with the people who matter the most, is conveyed through the family's narrative on a private lake getaway and memorable moments of dad fishing with his daughter.
Both the words and imagery used in the ads play into the reality of social distancing, a phenomenon we all know too well by now, as a worldwide practice adopted to help us stay away from others as much as possible to prevent the spread of COVID-19. The "Corona social bubble," most often created with family members, means that a family unit can safely relax at a family vacation rental, which is "more private" and where there is a "whole vacation home for the whole family."
As another example, one of Vrbo's ads focuses on a working mom who decides to work remotely and "take the work on the road." The ad slogan is "When work can happen everywhere, why not take it somewhere where it works for everyone", which is visualized as a break from work on the computer in a vacation rental that you can take with your family at the beach. Overall, the ads show that Vrbo has been fast to adapt its message to the pandemic reality.
Family vacation rentals for a mix of work and play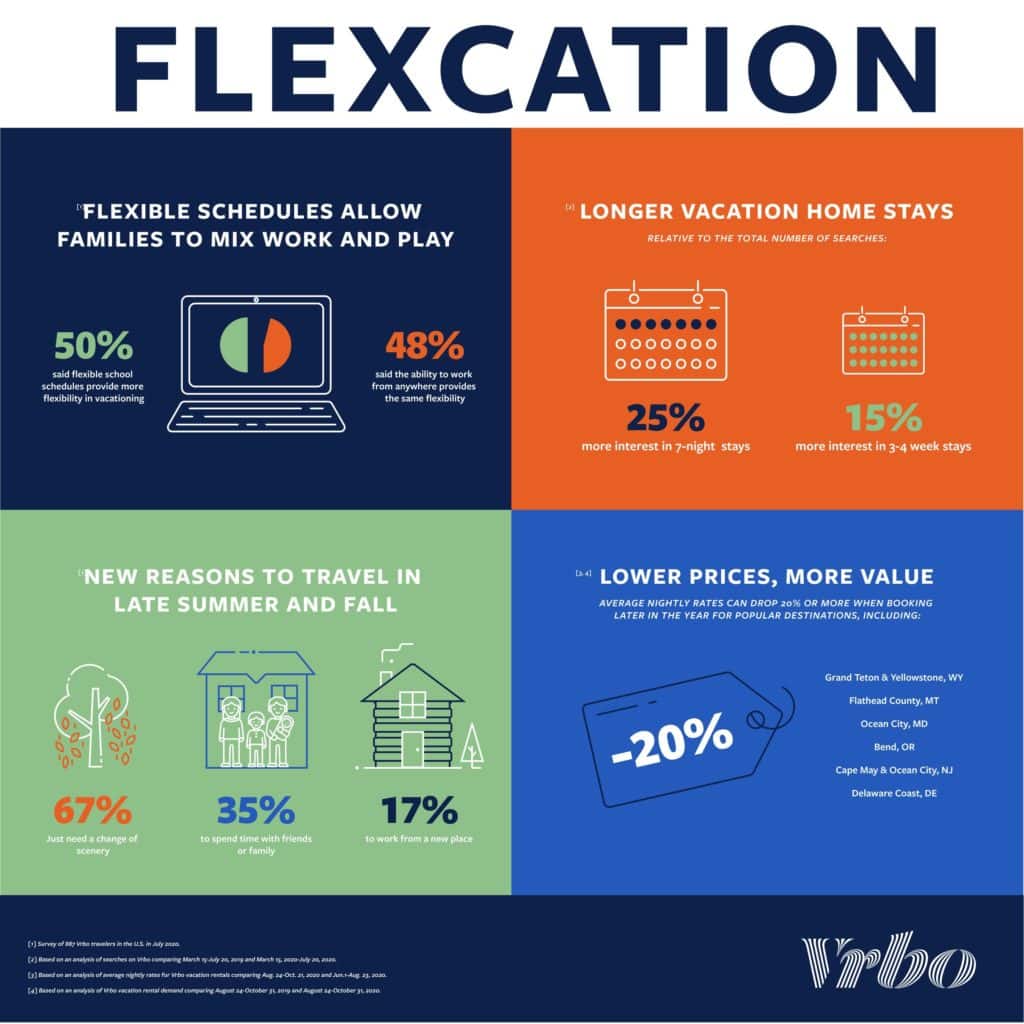 Vrbo's ads mirror the fact that the company realized that Flexcations, the emerging travel trend of families booking vacation rental trips later in August, September, and October, entails longer stays that mix work and play, and often get better value in high-demand locales.
"Families can use this flexibility as an opportunity to travel outside of peak seasons and try new experiences, like seeing the mountain leaves change, catching the first snow of the season, or visiting the beach when it isn't as hot," pointed out Vrbo president Jeff Hurst. Vrbo's survey showed that vacation rentals ranked first among the types of vacations respondents say they want to take now through December, specifically to "spend time with family and friends (they) haven't seen".
In fact, Vrbo has built its advertising strategy in accordance with their survey results, which mainly show that the main motivation for taking a family holiday apart from traditional seasonal trips is that travelers just need a "change of scenery" and that flexible school schedules provide more flexibility in vacation patterns.
Attention to vacation rental safety, stories told by travelers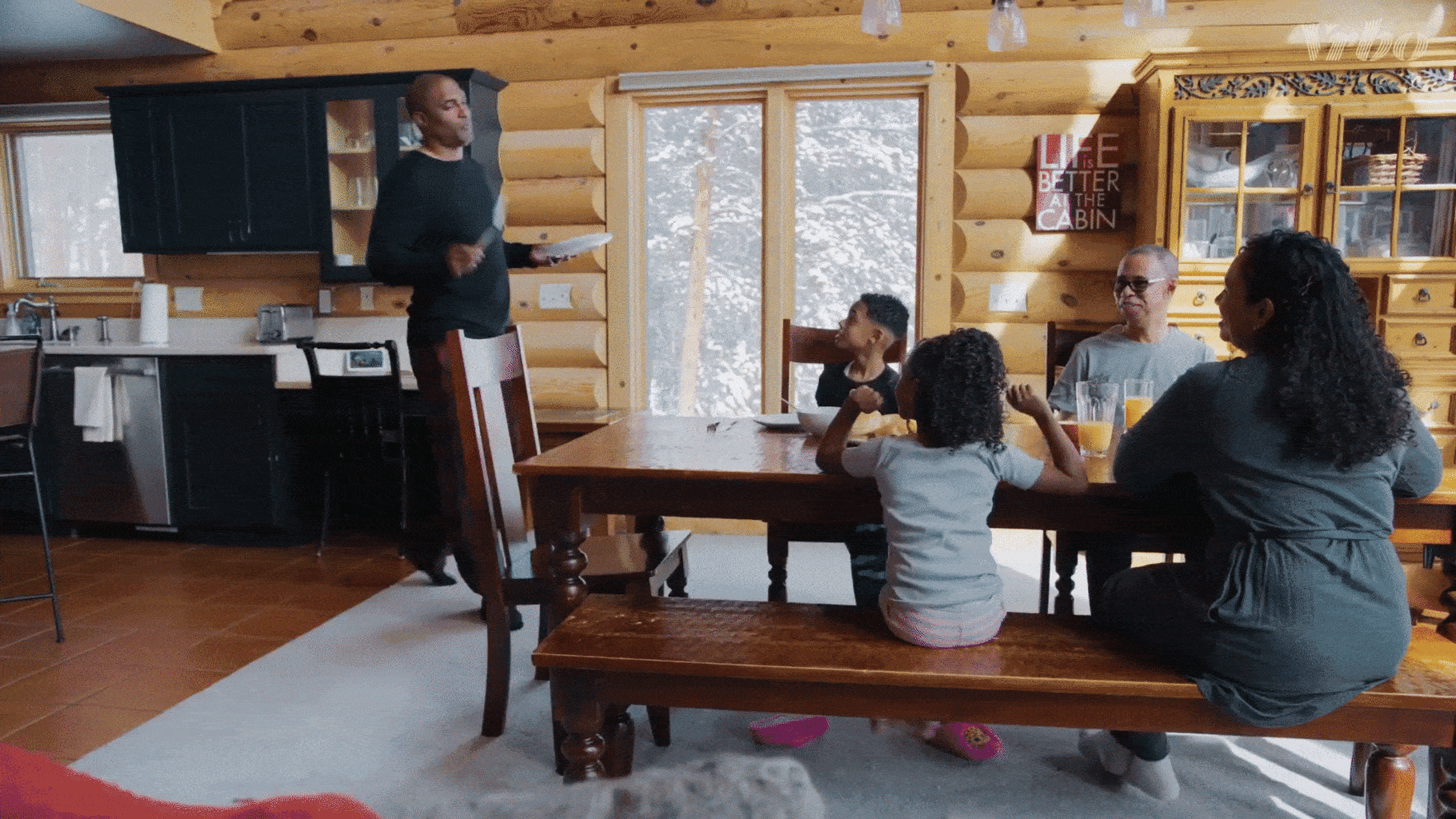 The mood of the ads is joyful and lively, featuring people in seductive family vacation rentals in different landscapes. It appeals to travelers who want to escape from the Corona mess. Vrbo is also drawing attention to safety, by pointing out that "staying in a vacation rental is the perfect way to get everyone out of the house and travel safely as a family".
The adverts grab attention with a message that confirms Vrbo's mission, to find every family the space they need to relax, reconnect, and enjoy precious time away together. Vrbo's video advertising strategy is to raise awareness about the brand and bring it in front of more people, but at the same time, Vrbo's ads serve to show how they differentiate from competitors. Unlike Airbnb, Vrbo is more about non-urban areas and about renting whole vacation properties, which, as a strategy, definitely holds an advantage in these times of pandemic.
Trying to follow the most popular video ad length of 30 seconds, the advertising content that is used is aimed to be minimally disruptive and to tell a story, often seen and presented through Vrbo's travelers.
Such a story is told by "the Tic Tac Toy family" that vacationed in a private Vrbo right on the water in Gulf Shores – just a short drive from their home. They share top tips for making the most of every family vacation moment. So some of Vrbo's advertisements try to be appealing by leveraging user-generated content in a way, which can be attractive because it comes off as authentic to potential travelers.
The storytellers in Vrbo's ads are both parents and children. The viewers of their ads are expected to tune in the perfect holiday scenario which includes a relaxing atmosphere, different generations, pets. Everything that is opposite to the ever-changing reality of the ongoing pandemic.
Who is the target audience of Vrbo's ads? What type of family-friendly vacation rentals are we shown?
If the target audience of romantic films are teenage girls who fantasize about "the dream man", the target audience of Vrbo's video ads are travelers that have a fantasy about "the dream family vacation". The ads show that Vrbo wants to target families with kids that need 2+ bedrooms and who value staying together. They show family moments, memories captured through photos, families with kids that could enjoy privacy at amazing vacation properties.
Through its video advertising, Vrbo capitalizes on different elements to hook potential travelers in times of Corona, such as the opening line of one of the ads: "When school isn't a place where you have to be, why not go to school where remote learning can be as remote as you want".
The stories in Vrbo's ads are an effective means for conveying relatable emotions; the message they send is that vacations are where someone learns to swim and kids learn to share, where there's no such thing as bedtime and where everyone creates memories.
Even the identity of their YouTube channel reflects these messages. On its channel banner, Expedia Group's Vrbo uploaded an advertisement which sends the message that with the home-schooling caused by the Coronavirus, homework can be taken on the road. A mom or dad trying to do their own job while helping their children because Coronavirus restrictions have kept classrooms closed can easily imagine themselves in an idyllic mountain house, surrounded by nature. In these perfect settings, kids can make herbariums from hiking wildflowers.
How Vrbo reinforced its family travel website brand image
"Your next family vacation is a lot closer than you think. Find something more private with Vrbo" and "Find a whole vacation home for your whole family" are some of the catchphrases in Vrbo's ads. These taglines support both Vrbo's slogan – "where families travel better together" and their positioning to serve as a brand that's top of mind for families and groups of friends searching for the perfect place to stay on their next vacation.
Through some of the ads, Vrbo invites potential travelers to "book the home that makes the vacation" and to "find something more private with Vrbo". A constant reminder of the brand are also the visuals that show that travelers can enjoy privacy – private houses on the beach, private pools steps from the beach, private lake getaways.
What has changed compared to the advertisements from 2019?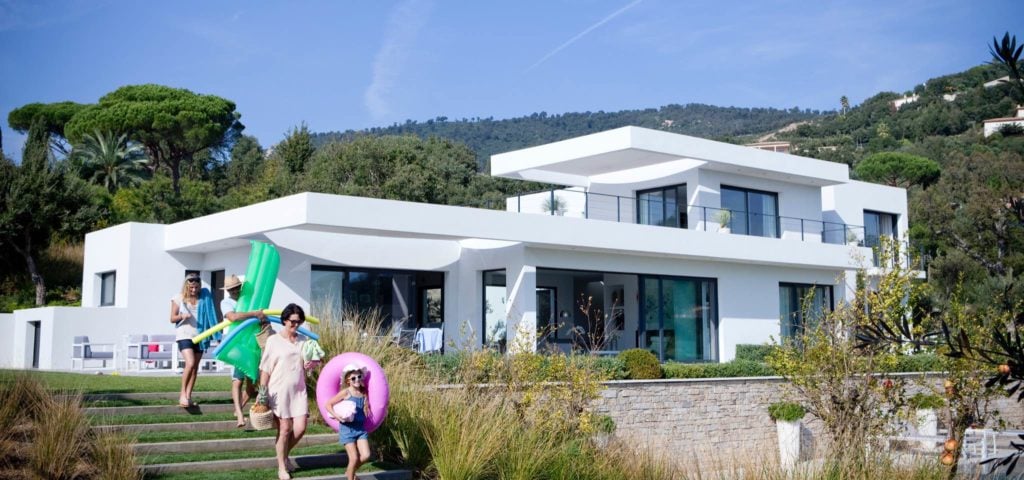 The simple answer to the question of what is different between "now" and "then" is obvious.
At that time, Vrbo was advertising specific getaways, such as Arizona, and not trying to pinpoint the key message that "the next family vacation is closer than you think" motivated by the Coronavirus disruptions. Vrbo's key message before was "Don't travel boring". The American vacation rental platform was trying to convince people to find unusual places for an unforgettable stay, such as whimsical rentals deep in the forest of Austin or rustic red sands ranch in Mason, Texas.
Vrbo's positioning around family-friendly entire homes, in traditional vacation rental markets, makes sense given the company's history. It is also an incredible fit with what's on travelers' minds, in these social-distancing times. While other family-friendly vacation rental sites such as Clanventure have folded, Vrbo has room to thrive by appealing to family and groups who want to travel better together.