Vrbo has not sat idle when the COVID-19 crisis hit the vacation rental industry. For instance, it tried to balance the needs of its guests and those of its partners on its marketplace by making easier for guest to ask for refunds, while partner cancellation policies were enforced. It also has published its own cleaning guidelines, in partnership with respected 3rd-parties.
Vrbo has published in its Discovery Hub a handy infographic summing up all these efforts. We break it down here for you:
We've entered a new, post-COVID era of travel, which means that travelers have different expectations and property managers have different responsibilities than they did in the past. In order to build trust and offer relevant features for travelers and property managers alike, Vrbo has announced several changes to its site. Vrbo gathered information from over 900 travelers and partners in April 2020 which helped to shape their decisions.
As a property manager, you may be wondering: How will these changes affect my business? And how can I maximize my listings? We'll review Vrbo's new features and explain everything you need to know about them.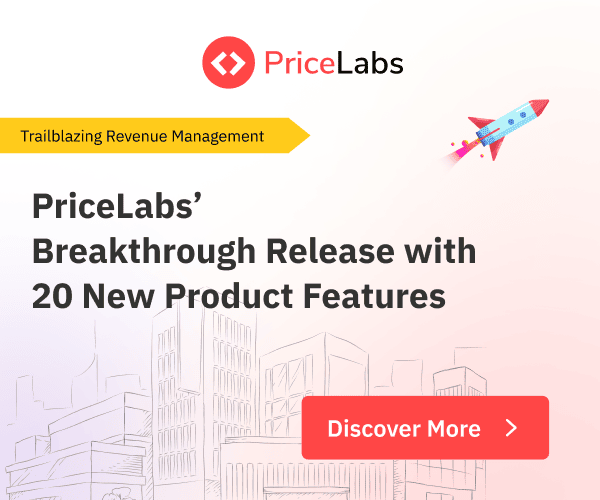 New Cancellation Functionality

With so many trips disrupted by the pandemic, travelers want more transparency and better site functionality to handle cancellations. Vrbo has implemented three new features related to cancellation policies:
A "free cancellation" filter in the search results
Email notifications (for travelers) about cancellation windows of upcoming reservations
New functionality for traveler-initiated cancellations
As a property manager, the best way to take advantage of these new features is to offer a free cancellation policy. In doing so, your properties will receive better visibility in the search results if travelers use the "free cancellation" filter. They will also not be tempted to cancel when receiving email alerts about upcoming cancellation window cut-off dates.
Cleanliness & Sanitization

One of the biggest hurdles for the travel industry to overcome is the issue of cleanliness. Travelers want to be 100% sure that they will stay in a property that is professionally cleaned and sanitized. Like its competitors Booking.com and Airbnb have done, Vrbo has provided online cleaning resources for property owners and managers, and listings now have a special section to highlight cleaning processes. In the search results, travelers will soon be able to filter to show properties with high cleanliness ratings based on guest review scores.
Property managers should ensure that their cleaning policies and procedures are clearly outlined on their listings. And for bonus points, encourage your guests to leave rave reviews that specifically mention your property's cleanliness.
Support for Travelers & Owners

In our recent survey, many property managers thought Vrbo handled the coronavirus situation the best out of its competitors. But that doesn't mean Vrbo is proceeding like nothing happened. In an effort to elevate morale and spread positivity about the future of travel, Vrbo is highlighting property owners and managers who offered accommodation for emergency and essential workers. Vrbo's governmental affairs team also supported the CARES act, which provided relief for many of its partners.
Staycations

One trend that we're seeing in post-COVID travel is that travelers are staying close to home – whether by driving to a nearby destination or even booking a vacation rental in their own city. To make these "staycations" more visible to people searching on Vrbo, there is now a dedicated staycation landing page designed to highlight available listings in travelers' local markets.
To make your listings most attractive to staycation guests, consider adding amenities that make staying home fun, such as board games, toys, streaming services like Netflix or Hulu, and fitness equipment like yoga mats or weights. Make sure to update your listing content to reflect these new additions!
Featured Amenities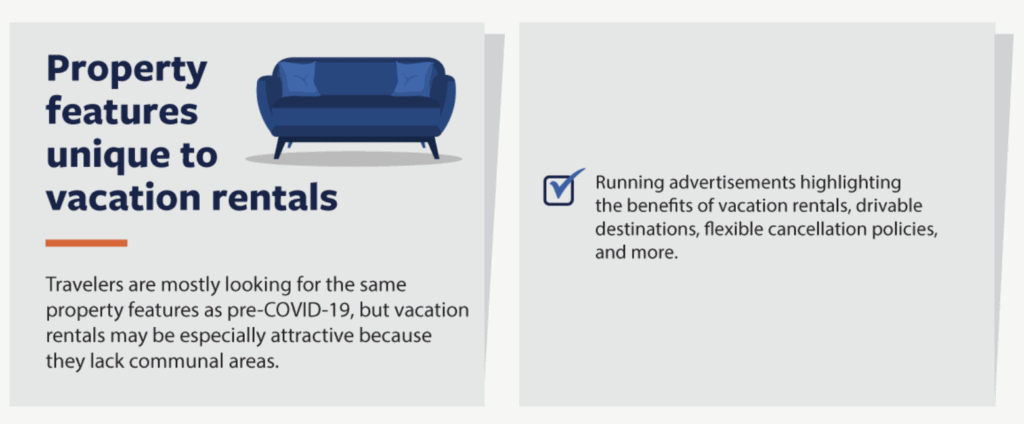 Another post-COVID that we've noticed is that many travelers prefer to stay in short-term rentals over hotel rooms due to their size, layout, and amenities. Travelers can stay more socially distant and enjoy more personal space in a home or apartment than in a typical hotel room – which is perfect for post-pandemic travel needs. Vrbo has adapted their marketing strategies to highlight these advantages and drive travelers toward booking short-term rentals. Good news for property managers – you don't need to take any action to benefit from Vrbo's marketing campaigns.
Trust & Transparency

Travel companies need to earn back travelers' trust – and not only when it comes to cleaning policies, but also for issuing refunds. Vrbo is now giving listings a boost in the search results if they provide full refunds or credits for guests who cancelled due to COVID-related circumstances. This boost is equal to that of a five-star guest review, and it applies to any reservations cancelled before June 30, 2020. To take advantage of this policy, property managers can waive cancellation fees for any reservations that fit the criteria.
Digital Inspiration

Above all, Vrbo wants to ensure people travel again. New content on Vrbo's site includes craft and board game ideas and Zoom backgrounds with travel themes. While property managers will benefit from any additional traffic coming to Vrbo, you can also use Vrbo's content strategy as an example for your own website or social media pages. Take this time to share photos, post advice about travel restrictions (or lack thereof) to your market, or nurture relationships with prior guests.
How do you feel about Vrbo's new features? Is there anything else you'd like to see sites like Vrbo and Airbnb do to adapt to the post-COVID world? Stay tuned to Rental Scale-Up for the latest updates and best practices for your short-term rental business.