Airbnb, Booking, Expedia, and Tripadvisor have teamed up with the European Union to provide exclusive monthly statistics on short-term accommodation bookings across Europe. Thanks to this agreement, you can get an inside look into the short-term rental market in Europe – giving you access to unprecedented data analysis of the performance of these platforms as a group. Let's see how European countries and regions performed during and after the COVID pandemic thanks to Eurostat.
Despite the United Kingdom being a major player in the short-term rental market, it is not included in the data due to its no longer being part of the European Union and thus not included in the data sharing agreement with the four online booking platforms.
Unlocking Access to Data on the Difficult-to-Apprehend Short-Term Rental Market
The European Commission and Airbnb, Booking.com, Expedia Group, and Tripadvisor recently signed a landmark agreement in March 2020, which granted Eurostat access to data from these platforms regarding short-term rentals concluded through them.
This marks the first time people have had access to reliable data about holiday and other short-stay accommodations offered through these booking platforms – a market sector previously not recorded as it fell outside existing tourism registers.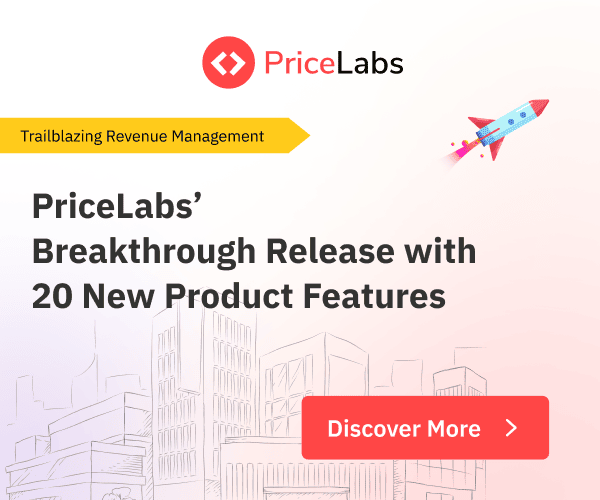 Under this agreement, guests' and hosts' privacy is protected under EU legislation while allowing key statistics such as nights booked and number of guests to be accessed. This accomplishment provides an invaluable resource for the analysis of trends within the market that was previously unavailable.
In 2022, European Short-Term Rental Markets Surpass Pre-Pandemic Levels
During the first nine months of 2022, there was a significant recovery in the number of nights booked via Airbnb, Booking, Tripadvisor, and Expedia compared to 2020 and 2021. In total, 450 million nights were booked through one of these four online travel platforms between January and September 2022 — representing a 57.4% increase compared to 2021. This growth was still 6.3% even when matched up against the same time period in 2019, before the pandemic.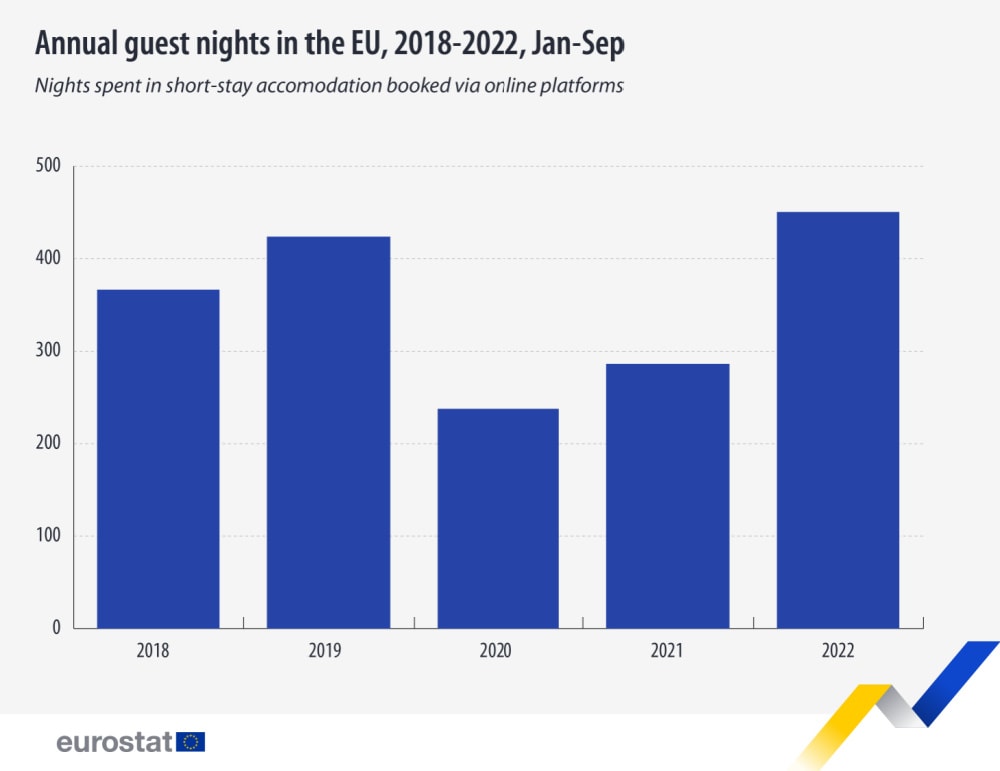 In 2021, bookings on Airbnb, Booking, Expedia, and Tripadvisor saw a gradual increase in the year's second half, with nights spent coming close to levels seen in 2019. This trend continued into 2022, where guest nights stayed above 2019 levels for each month from February and experienced significant growth by summertime.
Europe's top 5 short-term rental markets (Spring 2022)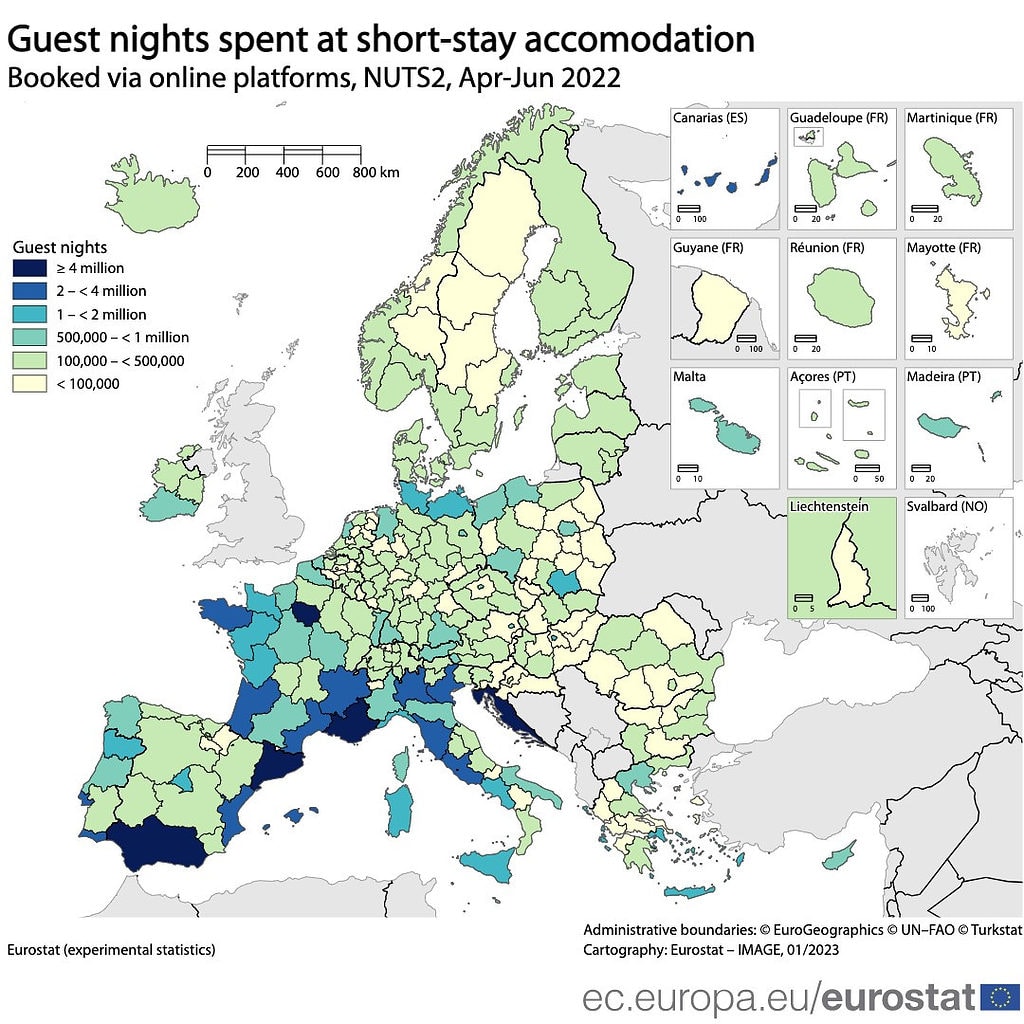 Here are the E.U. regions recording the biggest numbers of nights spent at a short-term rental and booked at any of the four online travel platforms:
Andalucia in Spain (6.5 million nights spent by guests in Q2 2022)
Jadranska Hrvatska in Croatia (5.5 million)
Provence-Alpes-Côte d'Azur in France (5.2 million)
Cataluña in Spain (4.6 million)
Île-de-France in France (4.1 million)
France and Spain Lead the Way in Capturing Popular Short-Term Rental Markets
Six regions from France and Spain each were among the 20 most visited destinations during the second quarter of 2022. Italy followed with five, Portugal had two and Croatia one.
France: 6 of the top 20 regions for short-term rentals
Spain: 6
Italy: 5
Portugal: 2
Croatia: 1
French Short-Term Rental Market is 30% Bigger Than in 2019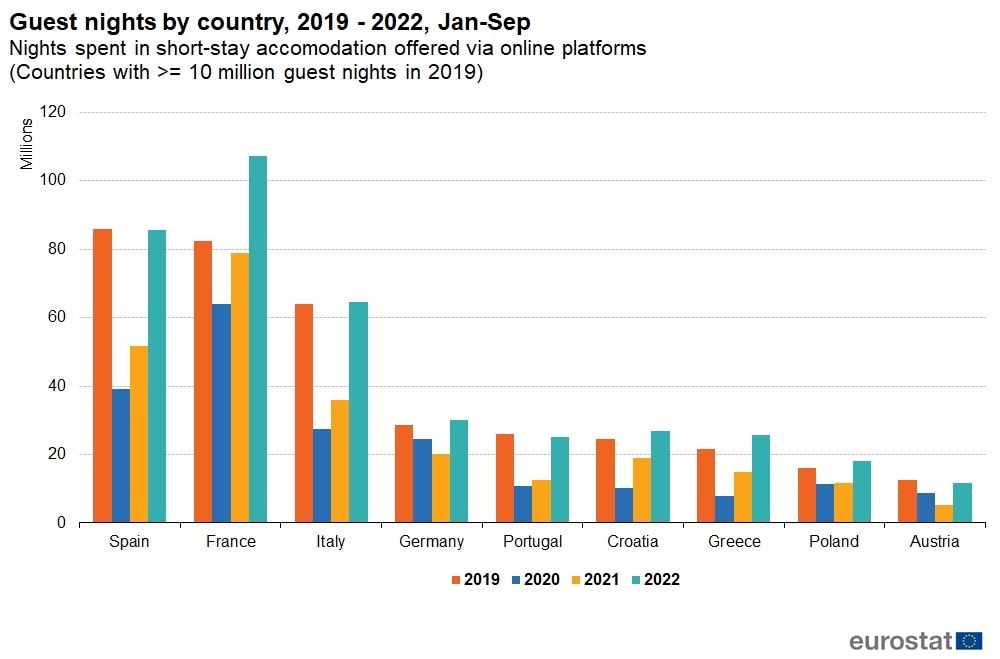 The data above from the nine EU states with more than 10 million guest nights in 2019 shows that short-term rental bookings on Airbnb, Booking, Expedia, and TripAdvisor have recovered almost completely from the pandemic. While Portugal and Austria are still to reach their pre-pandemic levels, they are not far off.
The standout achievement has come from France; its figures on guest nights are now an impressive 30% higher than those recorded in 2019. France is also home to six of the biggest short-term rental markets in Europe, further demonstrating both its popularity amongst visitors and the remarkable growth it has experienced.
Making the Most of Short-Term Rental Opportunities in Europe
After the COVID pandemic, short-term rental bookings on Airbnb, Booking, Expedia, and Tripadvisor have seen impressive growth in 2021 and 2022 compared to 2019. France exhibited the greatest increase of 30% compared to its pre-pandemic levels, with six target regions having been featured in the top 20 most visited destinations during the second quarter of 2022.
Andalucia in Spain led with 6.5 million nights spent by guests in this period, followed closely by Jadranska Hrvatska in Croatia and Provence-Alpes-Côte d'Azur in France. These results show that tourism is not only recovering but also thriving under current circumstances; a testament to the hard work and dedication of those who have worked tirelessly to ensure travelers have continued access to safe and enjoyable experiences.