Short-term rental booking platforms are shifting their focus from being a last-minute booking resource to a source of travel inspiration. By addressing "inspirational" search intent, companies can attract potential customers who are in the early stages of the travel planning process and help them to discover new destinations or experiences that they may not have considered before, increasing brand awareness and customer loyalty. Accommodation search engine Cozycozy has joined the foray with the launch of its Explore feature to reach new travelers with curated travel inspiration.
By providing inspiration and ideas for potential customers, companies can increase the chances of converting those customers into bookings, attracting a wider range of customers and increasing their revenue. Cozycozy joins companies such as Airbnb and HomeToGo that have begun to transform from booking engines to sources of travel inspiration with Airbnb Categories and HomeToGo's Flexible Search options. The latter is set to further the cause with their upcoming HomeToGo Modes feature offering multiple layers of curation.
Cozycozy Helps Travelers Find the Perfect Vacation with Its "Explore" Feature

Cozycozy has just launched a new service called "Explore" that makes it easy for travelers to find the perfect vacation destination. With this feature, travelers can browse destinations based on various themes, such as the best beaches in Florida, the cheapest ski resorts in the USA, or the popular West Coast city trips, making it easy for them to find a destination that fits their needs. The feature is simple to use, and travelers can also see all available accommodation options in the area. With a wide range of lodgings sourced from more than 100 websites, travelers can easily find the ideal place to stay with one single search.
Cozycozy positions itself as a one-stop shop for travelers looking for the best accommodation at the best price. With over 20 million listings ranging from luxury villas to beachfront apartments, cabins with hot tubs and pet-friendly options, Cozycozy is an accommodation search engine that aspires to offer an impartial and transparent view of all available options.
HomeToGo and Airbnb Vie to Inspire Travelers with Customized Browsing Experiences
In 2022, Airbnb took its approach to travel planning one step further by introducing Airbnb Categories, providing travelers with the opportunity to tailor their trips according to their interests, and allowing them to explore more possibilities when considering where to go next.
HomeToGo beat Airbnb to the punch by piloting its own Flexible Search options in 2015. As we reported recently, the company is set to launch HomeToGo Modes, which we foresee as a further step up in the company's efforts to provide a highly customized browsing experience to inspire travelers.
Centering the Traveler Without Being Encumbered by Inventory Restrictions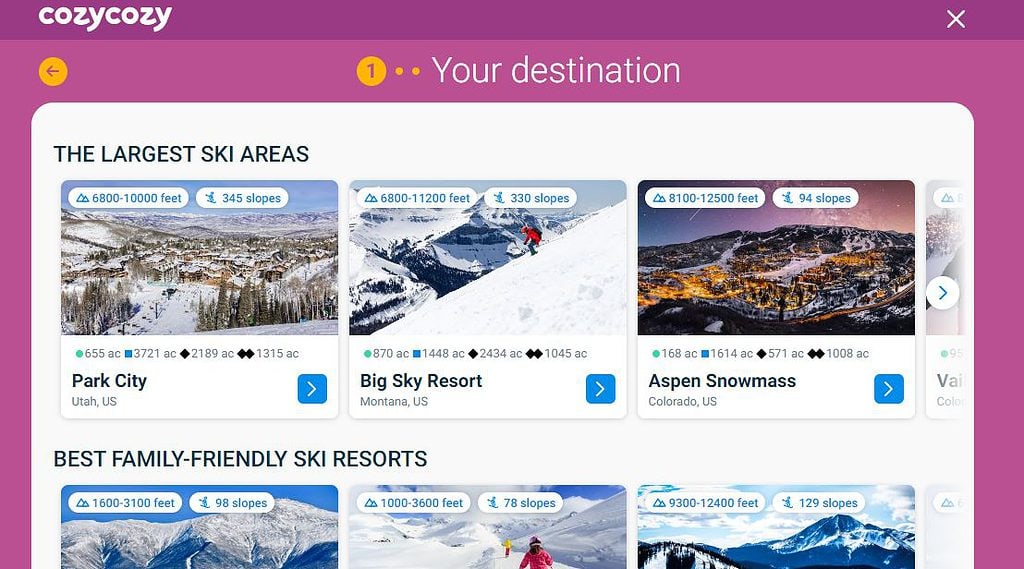 Romain Claudel, Co-Founder & Head of Marketing at Cozycozy, stated that they wanted to create a simple way of connecting with users who were still in the "inspiration" phase of their trip, and thus added an editorial aspect to their accommodation search. They noted that this was a market trend, but stressed that their move came to be for different reasons – while Airbnb has inventory issues on certain destinations and utilizes Flexible Search to circumvent that, Cozycozy simply wanted to provide some assistance in helping users choose their destination. This kind of help is akin to what one would typically find in a blog post.
Seting Itself Apart From HomeToGo With Unbiased Search and Impartiality
Cozycozy, clarifies Romain, with its focus on impartiality and transparency, without playing favorites to large booking platforms. It also stands as the unique provider of Airbnb's offers, and not attempting to position itself as a direct competitor – something Romain posits HomeToGo has done by following in the booking giants' footsteps. The company strives to provide a single search option for all available vacation accommodations with its promise to remain unbiased.
Setting a Promising Course for the Future of Travel and Short-Term Rentals
Cozycozy is providing a promising way for travelers to find the best options for their unique needs with its personalised recommendations. With this launch, short-term rental operators now also have another exciting opportunity to reach new customers and provide them with an unforgettable experience.