In the article, we show you how to list your place on Airbnb.org to welcome Ukrainian refugees. The military and humanitarian crisis in Ukraine has led Airbnb.com and Airbnb.org to start working on an initiative, called Help Ukraine, to provide short-term and long-term housing for up to 100,000 refugees. The success of such an initiative depends not only on Airbnb hosts and other volunteers opening their homes to Ukrainian refugees. It also depends on local governments and officials associations accepting to include Airbnb in their emergency housing plan. This is why Airbnb has started sending letters to the leaders of Poland, Germany, Hungary, and Romania, offering support in welcoming refugees within their borders.
The second step is where you, as a current Airbnb host or someone with a place to share, can help. The non-profits on the ground cannot yet book places for refugees, but you can already indicate that you have a house, an apartment, or even just a bedroom. You can already list your place on Airbnb.org to welcome displaced families or single people. We show you how to list, we explain how much control you're keeping on your property (e.g. this is not instant book, you get to review and accept requests), what you need to provide as a host (e.g. basic necessities as a welcome package). You also choose to make a donation, instead of hosting yourself.
If you want to host a refugee, you can get ready by reading this article where we explain the differences between Airbnb.com (the company) and Airbnb.org (the non-profit), how they work with on-the-ground associations to help with booking places, how you can prepare to list your place on Airbnb.org (if you already have a listing on Airbnb in the region, it will be fast), and what Airbnb itself is doing, financially, for instance, to support generous Airbnb hosts and Ukrainian refugees.
Video: How to list your place on Airbnb Help Ukraine
Are we endorsing Airbnb here and giving them a free pass? No. But people want to help and Airbnb is empowering them.
When we reported on the creation of Airbnb.org, we did mention how good this was for Airbnb's image. Of course, it is. We also shared some criticism we heard, such as: "Why isn't Airbnb paying for this? Why are hosts carrying the financial burden for that"?
At Rental Scale-Up, we think that these are valid questions. Yet, we'd like to counterbalance them with the following:
Hotel companies, who own hotels, can offer a few bedrooms for free. For a platform that does not own the short-term rental offered, it is mor compliacated.
We should not neglect the fact that Airbnb is also helping hosts feel like they can be useful and have a role. Would hosts actually want to be paid by Airbnb? Maybe. Would hosts feel like they are part of something bigger. Maybe not. If you've been like us wondering how to help and welcome refugees, you can appreciate the value of Airbnb taking the time and money to talk to governments, NGOs, and hosts. Even if you find it fluffy, they are empowering hosts to be helpful.
Yes, Airbnb is PR savvy. Yet, they've had results and welcomed thousands displaced people in the past.
Airbnb is also donating funds to support the initiatives.
Why focus first on hosts in Poland, Germany, Hungary, and Romania?
It makes sense that Airbnb should focus on Poland, Germany, Hungary, and Romania, as this is where Ukrainian refugees are arriving. There are also good reasons to think that Ukrainians would want to stay in these countries until they can return home:
Some countris have cultural and linguistic links with people from Ukraine (e.g. quite a few Ukranian speak Polish and there is also an ethnic Hungarian minority in the country)
Ukranian men aged 18 to 60 are at the moment forbidden from leaving the country. So, a lot of families may choose to stay in neighboring countries, if they can.
How the Airbnb "Help Ukraine" 2022 intiative works
The program is only getting started at the time of wriThere is already a landing for Airbnb.org's "Help Ukraine" program here: airbnb.org/help-ukraine.
Airbnb and Airbnb.org will share additional details on how Hosts and the broader community can support this initiative, including offering free or discounted stays.
How is Airbnb.org working with non-profits on the borders of Ukraine?
Airbnb.org will work directly through nonprofits on the ground, responsible for booking and coordinating stays for refugee guests, regardless of nationality, race, ethnicity, or how they identify. As Airbnb.org works to establish partners in each country,
How do I list my place on Airbnb.org to welcome refugees from Ukraine?
For the moment, the program
We had previously explained how hosts can list their place on Airbnb.org in detail and how this differs from Open Homes, another corporate citizen from Airbnb.
Help Ukraine's mission: House 100,000 refugees
What hosts (current and new ones) can do:
Offer stays for free or at a discount through Airbnb.org,
or donate to help our funding stretch further.
Your support makes a difference
Airbnb.org is funding short-term housing for up to 100,000 people fleeing Ukraine. We support our refugee guests regardless of nationality, race, ethnicity, or how they identify.
You can help by offering temporary stays for free or at a discount through Airbnb.org, or donating to fund stays.
How do I offer housing to Ukrainian refugees?
You can host refugees for free or at a discount.
How hosting works
You'll provide a comfortable bed and basic amenities for anywhere from a few days to a few weeks.
Airbnb.org partners with nonprofits that check refugee guests for eligibility and assist them before, during, and after their stays.
Airbnb provides Hosts with AirCover, which includes $1 million in liability insurance, $1 million in damage protection, and more.
How do I Iist my place to welcome Ukrainian refugees?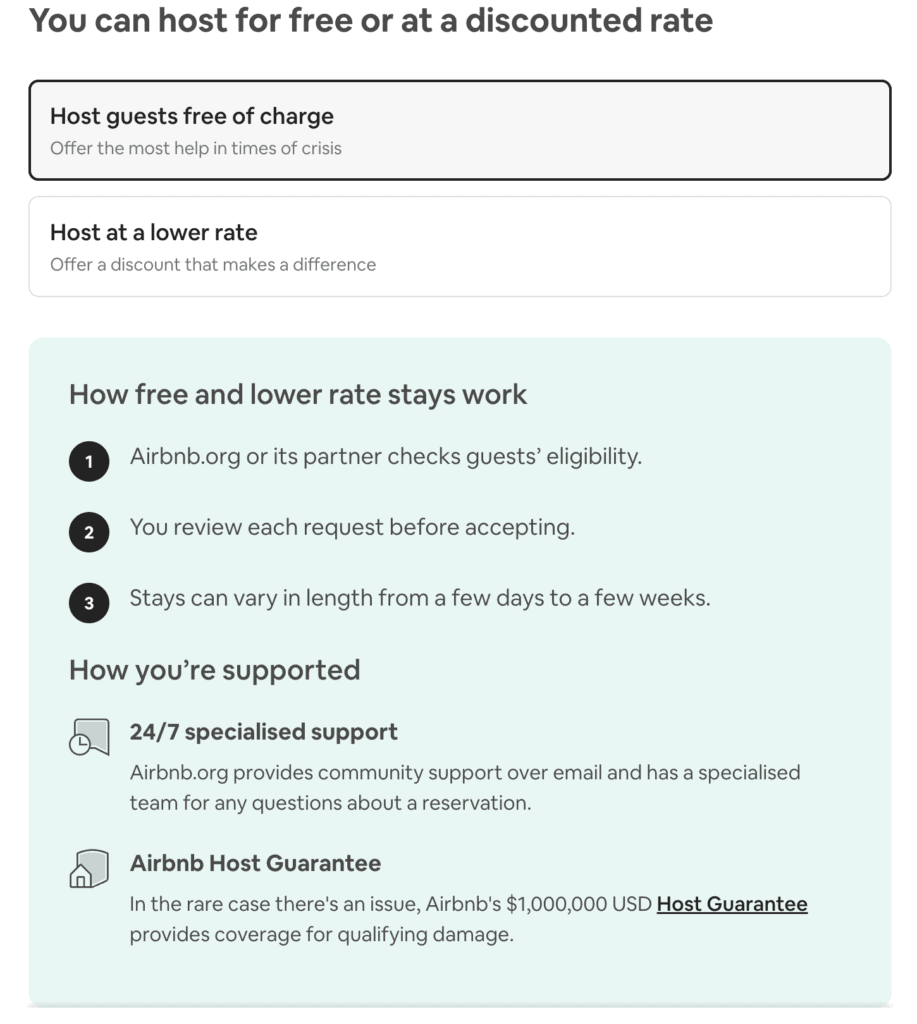 You can host for free or at a discounted rate
Hosts can pick between two options:
Host guests free of charge. Offer the most help in times of crisis.
Host at a lower rate. Offer a discount that makes a difference.
How free and lower rate stays work on Airbnb.org
Airbnb.org or its partner checks guests' eligibility. (This is why working with on-the-ground associations is so important)
You review each request before accepting.
Stays can vary in length from a few days to a few weeks.
You can also make a donation
Every donation helps fill a critical need for emergency stays.
How donating works
100% of your donation will go toward connecting people with short term housing.
Stays are completely free for guests of our program.
Donations are tax deductible to the extent allowed under your local tax laws.
As a host, what do I need to provide to refugees?
You can create a new listing that is exclusively available to provide free stays to Airbnb.org guests. Existing Airbnb Hosts can offer their current listings at a discount or for free. You can help guests feel at home by providing these basic amenities:
Toilet paper
Soap
Linen / sheets
At least 1 towel per booked guest
At least 1 pillow per booked guest
Who can send requests?
Once you receive a request, you decide if you want to approve it. Guests can reach out directly to ask to book your space, or nonprofit partners can contact you to book temporary housing for their clients. Here are the guests you might host:
Refugees and asylum seekers (here, Ukrainians)
People impacted by disasters
You can ask questions and chat with the guest or non-profit staff member before you decide if you want to approve their request.
How does a guest / refugee qualify for an Airbnb.org stay?
The guest, or nonprofit staff member booking on the guest's behalf, must have an Airbnb account before a stay is booked. To create an account, they'll share this information with Airbnb:
Full name
Date of birth
Photo
Phone number
Email address
Payment information
For some stays, Airbnb.org partners with vetted nonprofit organizations. Representatives of these organizations identify guests in need and facilitate their bookings. Airbnb also runs guests against regulatory, terrorist, and sanctions watchlists.
What support will I have as a Host?
Community support: Airbnb.org provides dedicated community support and have a specialised team for any questions about a reservation.
Nonprofit resources: Guests may have support from a nonprofit caseworker or staff member, who can assist them before and during their stay.
Reimbursements for property damage: Airbnb.org willl make sure your space is protected. Damage is rare, but we take it seriously. Airbnb provides every Host with up to $1,000,000 USD in property damage protection. Airbnb also provides free Host Protection Insurance that covers liability for personal injury or property damage claims up to $1,000,000 USD. Certain limitations will apply for certain types of stays.
How Airbnb contributes to Help Ukraine
Supporting Hosts
Airbnb provides Hosts with AirCover, which includes $1 million in liability insurance, $1 million in damage protection, and more.
Funding stays
Airbnb and donors are contributing funds for temporary stays for up to 100,000 refugees fleeing Ukraine.
Waiving fees
Airbnb is waiving Host and guest fees on all Airbnb.org stays for refugees.
What is Airbnb.org?
Airbnb.org is a nonprofit organization dedicated to facilitating temporary stays for people in times of crisis worldwide. Airbnb.org operates independently and leverages Airbnb, Inc.'s technology, services, and other resources at no charge to carry out Airbnb.org's charitable purposes.