On April 9, Airbnb's homepage changed and revealed 2 new product categories: Next to the usual "Places To Stay" and "Experiences", appeared "Monthly Stays" and "Online Experiences". Which of these two new features do you think is the most compelling to the core of Airbnb hosts? Monthly stays, clearly, as some hosts are switching to 30-day+ stays to make ends meet, some local authorities are outright banning short-term rentals, and demand for travel is very low.
Yet, on the same day, Airbnb's CEO, Brian Chesky, decided to only talk about Online Experiences during his new live stream. If you took part in the live watching party within our private Facebook group (replay available), you noticed how surprised people were that Monthly Stays did not get mention. It's been a tough week at Airbnb, with the Wall Street Journal painting a story of difficult financial prospects, between high operating and marketing costs, angry hosts, low demand, and expensive new debt.
So, we'll be focusing here on Monthly Stays, as there are interesting things for Rental Scale-Up readers to know about them.
Airbnb hosts and guests had already been doing monthly stays for years
It's been possible to book for more than a month on Airbnb (and Vrbo/HomeAway) for years already. On September 1, 2011, Airbnb had launched a feature called Airbnb Sublets. Despite its name, this was not about subletting your rental to somebody else. This was to let users find a place to stay between 28 days and 6 months.
The landing page for Airbnb Sublets has not been updated for years and still looks like this: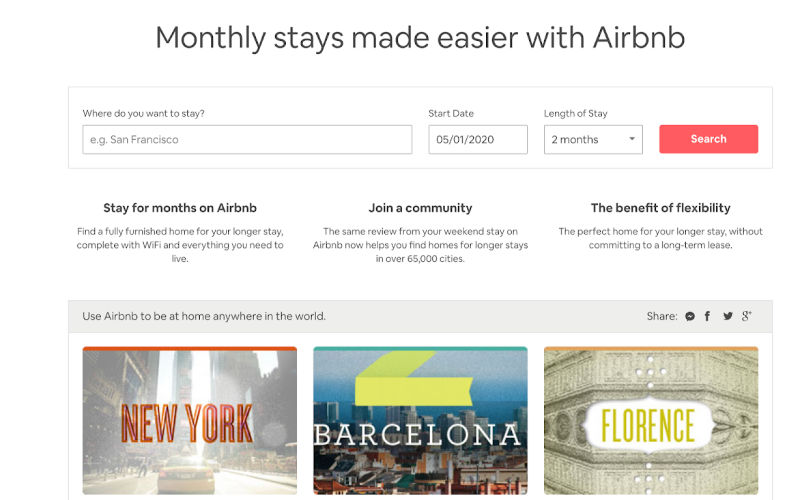 But Airbnb did not really a separate page to get its hosts and guests to do monthly stays: Even within the classic Airbnb search pages, it was easy to find long-term stays. Also, Airbnb had created a long-term cancellation policy for stays of 28 nights or more than hosts could use.
Also, it has always been possible to set up weekly and monthly discounts on Airbnb, just like on Vrbo/HomeAway. In the world of vacation rentals and short-term rentals, stays stretching over a whole Summer had not been unheard of, especially for wealthy guests.
Some data seem to show that, even before the coronavirus COVID-19 crisis started, Airbnb had a consequent supply of hosts offering monthly stays. As for the demand, it is not as clear, even if we could below an indication that self-quarantine, work from home and other trends may have created more demand. Here's the data cited by Techcrunch.
In late March, Airbnb saw the number of guests booking longer-term stays within their same cities nearly double,
80% of Airbnb hosts accept longer-term stays,
About 50% of the company's active listings provide discounts for stays of one month or longer,
1 million listings offer monthly stays.
Note that the expression "longer-term stays" here may not equate the words "monthly stays", which could explain some discrepancies in the data.
Why would Airbnb push for Monthly stays right now
You could think about several reasons here:
Supply-side

Keep on the Airbnb platform hosts who have decided to leave temporarily or definitively short-term rentals to focus on longer stays. If better days come back, Airbnb will not have to spend money to re-acquire them.
Keep open listings where short-term rentals have been (temporarily) banned. In several areas, Airbnb had to stop getting bookings for vacation rentals. For instance, this happened for the duration of at least a week in the whole of the UK.

Demand-side

Respond to the needs of stranded travelers, medical staff and other people who need a place for more than a month right now
Cater to the needs of business travelers, e.g. consultants who may be the first to venture out when stay-at-home orders have been lifted. Note that Airbnb had already acquired UrbanDoor and Zeus Living, two companies offering fully-furnished homes for business travelers staying one month or longer.
Be more visible to digital nomads and other people working-from-home or from anywhere in the world
Guest Side: Airbnb Monthly Stays into the limelight
To help you understand how to list your place as an Airbnb monthly rental, we first take you to the guest side. See what your potential guests will see, so that you can then better understand how to use the monthly discount tool, when you will be paid, and how Airbnb's long-term cancellation policy works.
Monthly stays on the Airbnb homepage

On April 9, Airbnb's homepage got a revamp, with 4 new tabs:
Places to stay
Monthly stays
Experiences
Online Experiences
Interestingly, only the Online Experiences tab gets a NEW label. As we had just noted, neither offering not booking a monthly stay on Airbnb is new, but this is a bit odd.
Searching for Airbnb Monthly Rentals in the new interface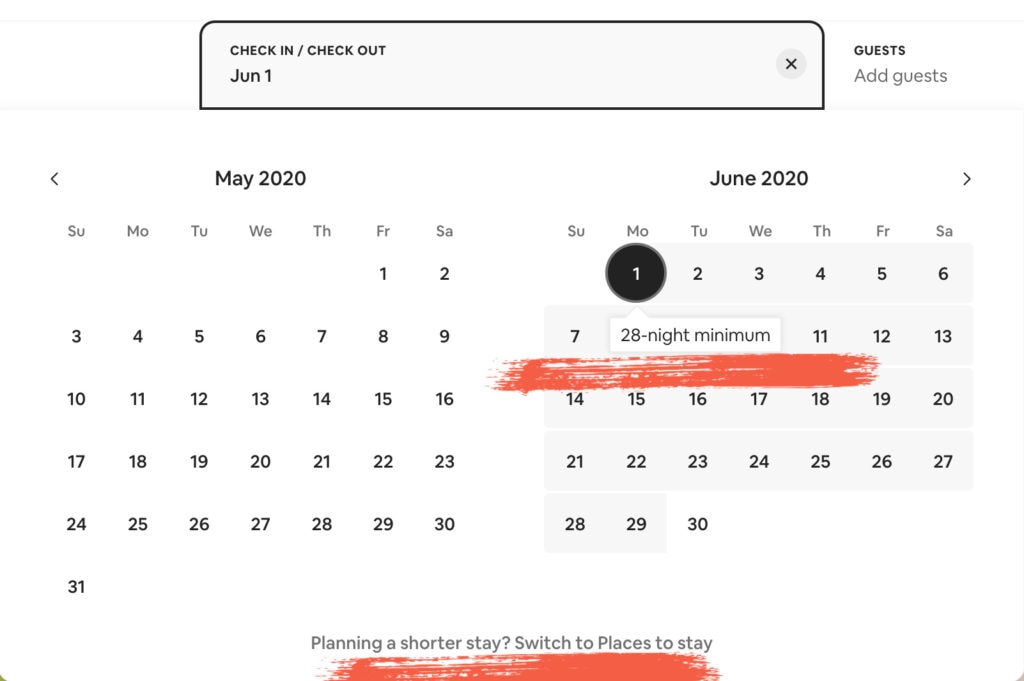 When you click on Airbnb's "Monthly Stays" tab, nothing much looks to happen. Yet, when you start entering the dates for your stay, you can notice 2 hints that it is not your usual short-term rental search calendar. Look at the screenshot above:
Once you have picked your check-in date, a tooltip message says "28-night minimum"
At the bottom of the search form, another message says "Planning a shorter stay? Switch to Places To Stay".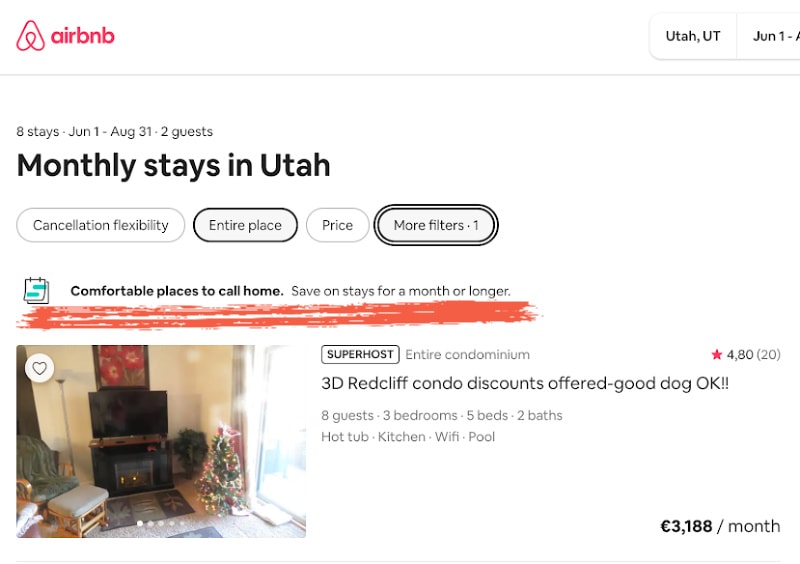 On the search result page, you can see another message reminding of the benefits of Airbnb monthly rentals: "Comfortable places to call home. Save on stays for a month or longer".
Booking page: Monthly discount, Payment schedule, Grace Period, and Cancellation policy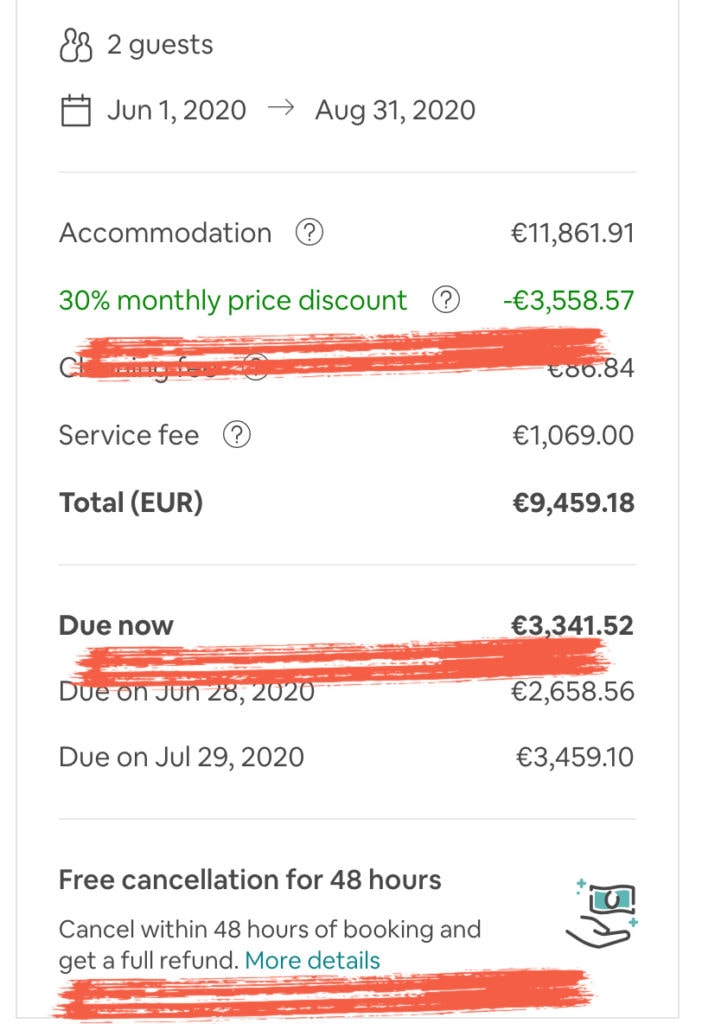 Finally, on the booking price recap widget, you can see:
The monthly discount, if any (here: 30%)
The payment schedule (3 installments for this 3-month stay)
The cancellation policy (48 hours grace period – after that, first 30 days refunded to host and service refunded to Airbnb)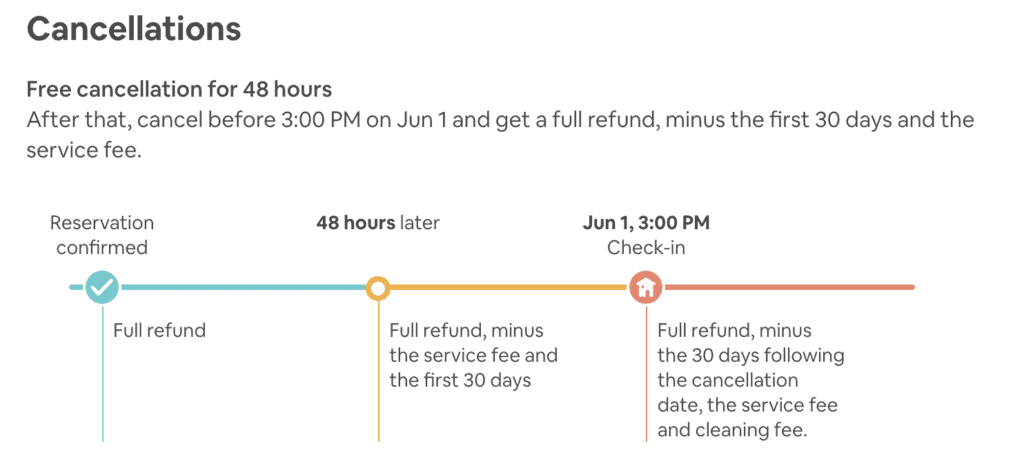 Host side: How to list an Airbnb monthly rental
Before Airbnb official highlighted Monthly Stays on the guest-facing side of this website, it had started asking hosts to "start hosting longer stays at their listing" for about 2 weeks. The image above if the pop-up message that hosts had been getting when going to their Hosting dashboard.
Listing your place as an Airbnb monthly stay is just the same as for a short-term rental. The 2 main things to pay attention to are your rates (monthly discount) and your protection (long-term cancellation policy).
how to set up monthly Pricing on Your Airbnb listings
Hosts have been able to set up weekly and monthly discounts almost since Airbnb launched. Until recently, they had to do it listing by listing. Last week, Airbnb introduced a new feature for property managers: It gave them the ability to add such length-of-stay discounts to multiple listings at once.
This was a telltale sign that Airbnb would be promoting longer stays to its travelers soon.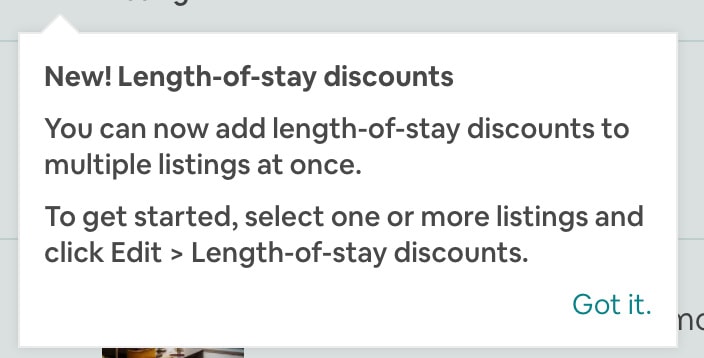 Airbnb long-term cancellation policy for monthly stays
The other main thing to have in mind here is Airbnb's long-term cancellation policy is automatically assigned to stays over 28 nights. No choice. Here's what it looks like:
Reservations are fully refundable for 48 hours after the booking is confirmed, as long as the cancellation occurs at least 28 days before check-in (3:00 PM in the destination's local time if not specified)
More than 48 hours after booking, guests can cancel before check-in and get a full refund, minus the first 30 days and the service fee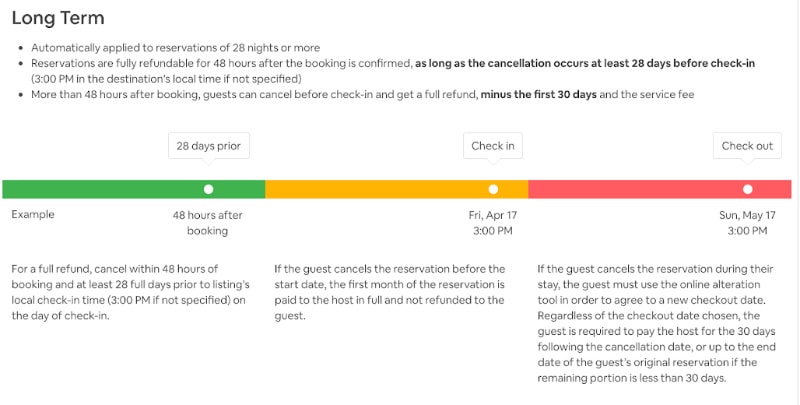 Airbnb's extenuating circumstances policy may apply if the guest needs to cancel because of an emergency.
Conclusion
Airbnb says that it already has a lot of listings offering monthly discounts. It had also acquired UrbanDoor and Zeus Living, so it is not completely new to the market of longer stays.
Will the demand be there? Airbnb will need to buy traffic to attract this target. Of course, it can rely on its huge database of travelers as well. Plenty of competitors already exist, such as Furnished Finder for nurses or Magic Stay for European corporate travelers.
A big question is around Airbnb hosts: If they have exposed to massive cancellations and refunds as short-term rental operators, then they may have a harder time trusting Airbnb with their revenues from longer stays.