How can help you feel a bit more in control when it comes to understanding the current demand and forecasting recovery? What signs and metrics should you be looking at? How to price your rentals, when Airbnb's Smart Pricing, Vrbo's MarketMaker and dynamics pricing tools are giving unreliable information?
We give here an overview of why some tools can not be used at the moment, why some tried and used metrics like booking pace, lead time, and length-of-stay matter more than ever, and how data providers like Airdna and PriceLabs have stepped in to help you conduct the right analysis.
Tools that usually give price recommendations (e.g. Airbnb's Smart Pricing, BeyondPricing) have become less reliable
To make it simple, the usual demand and pricing patterns have been ruined by the coronavirus COID-19 crisis. Predictive and dynamic pricing tools rely, in part, on historical data to build their predictions. For instance, if prices spiked around Easter last year, there is a big chance that, in normal times, they would spike as well for Easter next year. Similarly, if prices went up for the days of an annual trade fair, there would probably go up for the dates of the same business event in the following year.
Yet, these are not normal times. The demand and pricing patters around Easter 2020 are certainly not the ones that you have seen for Easter 2018 and 2019. So, these tools have a hard time giving price recommendations, as in "$155 is a good price for May 27".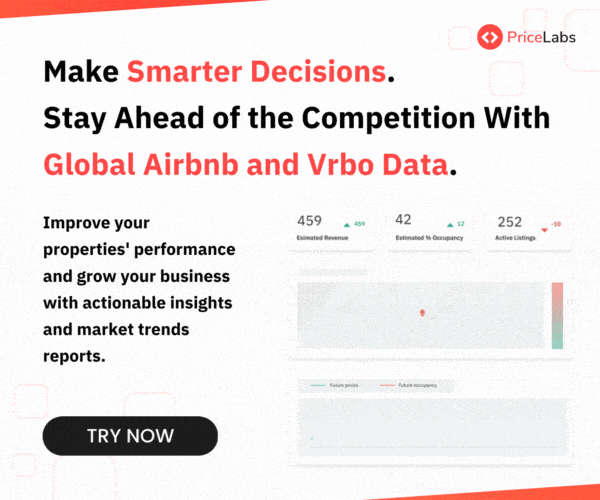 Airbnb: Smart Pricing and Pricing Tips lacking enough reliable data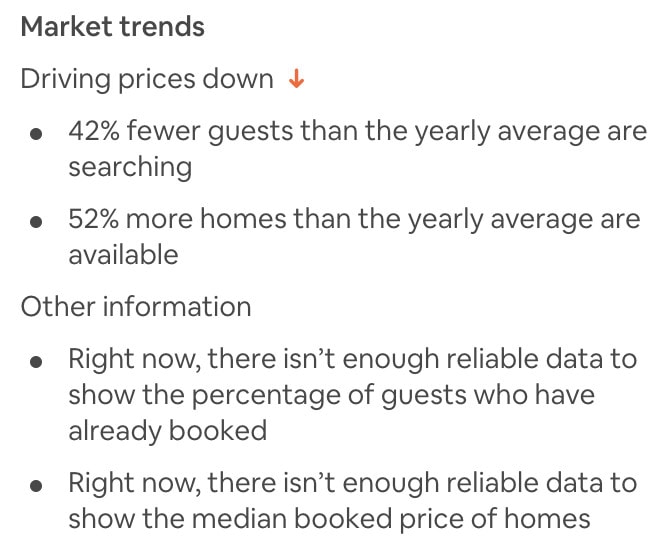 Airbnb has not outright stopped giving price recommendations. Yet, both its Smart Pricing (= automatic pricing tools that a lot of non-professionals hosts use) and its Pricing Tips (= the pricing suggestions you get when you have turned Smart Pricing) are showing incomplete data.
Vrbo: No more price suggestions in MarketMaker. What to think of the number of searches and at forecasted Occupancy?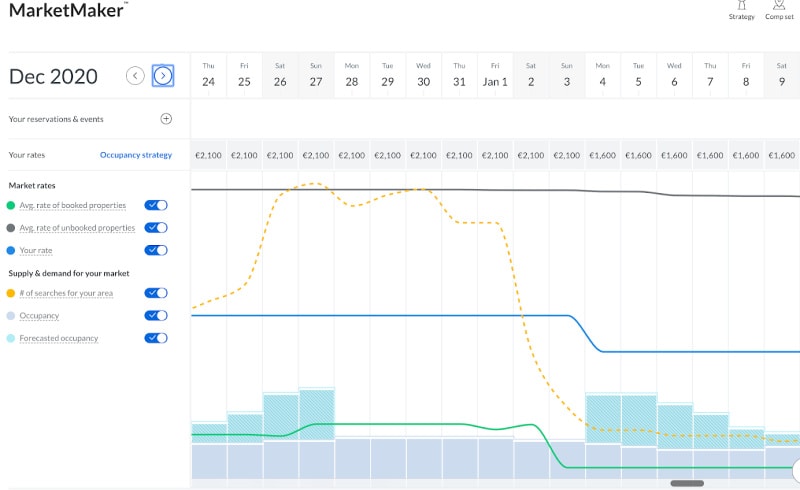 Vrbo gives price suggestions within its MarketMaker tools. Usually, you would at the top of MarketMaker an "opportunity" message giving you pricing recommendations for a small date range. As these prices are, in part, based on historical data and on the dates of future (and now often canceled) events, Vrbo had to temporality discontinue this tool on April 6. Here's the message from Vrbo's official partner page:
Due to COVID-19, we have disabled pricing opportunities within MarketMaker while we gather data to provide you with actionable insights during this unprecedented time. Stay tuned for more updates as we work to make pricing opportunities available to you again.
This is an example of one of our properties in St Barths, where demand and prices for Christmas and New Year's Eve have historically been the highest point of the season. As you can, Vrbo is still giving some data around the number of searches in the area and about the forecasted occupancy. Yet, the tool does not share when this data was established: Are these searches since January 2020 for these dates? Are these fresh searches? Same for the forecasted occupancy: Is it based on the most recent patterns, e.g. on March / April data? As you can see, this is a nice tool, but we need more details in how bookings are being made right now: For when, for how long, for instance.
One of the solutions is to look forward: What do new bookings look like?
If we cannot rely on historical data at the moment, the good news is that the hospitality industry has other well-used metrics that you can turn to:
Booking pace: The rate at which reservations are made for a particular date. It can, for example, show you whether people are booking at all. If so, for which dates. And at a what speed compared with the past?
Booking length of stay: When looking at new bookings, can you see a preference in longer-term stays?
Booking lead time: How far in advance are people booking? Do you see patterns of last-minute bookings?
AirDna and PriceLabs, two vacation rental and short-term rental market data providers have just created new graphs that help you look at these metrics. Let's have a quick look at them:
AirDna: New Forward-Looking Features to Track Short-Term Rental Recovery
Within its MarkerMinder tool, Airnda has introduced a new tab called Pacing. In the accommodations industry, pacing is an invaluable metric used to gauge how bookings and future demand are stacking up to last year's trends.
To have access to your own market report, you have to go here and to sign up for Airdna's MarketMinder product. Then, you need to subscribe to your own local market report (e.g. New York City, Bali, Rio de Janeiro). The Pacing tab is a free addition to the usual MarketMinder report. You will find it on the left-hand side menu.
1. Booking Trends: Find out (in real-time) if bookings are being made — and for when​
Find out how many bookings are currently being made and for which dates in the future.
See those little blips on the chart below? That means people are still booking travel (even despite current conditions).
Displayed is the number of bookings made in the last 7 days for any date in the next 6 months. Using the Booking Trends tool is the most surefire way to spot your market's turnaround and plan accordingly.

2. Rates Analysis: Spot the difference between available and booked rates
A new chart showing the difference between advertised rates and booked rates for any date in the future.
Noticing that most hosts are pricing themselves out of the market for an upcoming holiday weekend? Or are hosts actually selling themselves short?
Here's how to strike the balance to get booked at the most optimal rate. Plus, there's also a toggle to show last year's rates, which provides even more context to the current situation.

PriceLabs: Great Covid-19 Resources, with Free tools and free educative webinars
PriceLabs has just put together a hub: https://hello.pricelabs.co/coronavirus/ . There you can find global and local market reports, as well as links to numerous webinars.
Overall, these are the trends seen by PriceLabs:
New bookings are down by 80%
Average length of stay is up 2X (yet not in Europe)
Booking lead time is down by 50% (most demand for stays within the next 7 days)




PriceLabs has done a great job with its webinar. You may want to listen to this one presenting how you can use the graphs above for your own market. It's from April 10 and called "Booking trend and tips for using PriceLabs during COVID-19".
Conclusion: Do not look back, look at right now and look forward
Historical data may be of great use at the moment. Yet, you should be looking at the patterns of the bookings that you are getting right now: Are these last-minute bookings? For longer stays? Are you still getting bookings for the summer? Are you using length-of-stay discounts?
With this information in hand, you can feel more in control: At least, you know what is happening. You can also make decisions such as listing your place for monthly rentals only. Then, you may want to read our article about Airbnb's new Monthly Stays product features.