Between fluctuating trends and burgeoning markets, vacation rental hosts have begun to recognise the value of making business decisions informed by data. The right tool can make all the difference when it comes to the overall profitability of a vacation rental business, whether we are discussing pricing, guest experience, or listing distribution.
Beyond, known previously as BeyondPricing, aims to support hosts and property managers in making said decisions by covering every aspect of revenue management. We interviewed Beyond's GM of EMEA Jesse Lott to gain better context for this recent rebranding, and how it aligns with the way Beyond's offerings have evolved.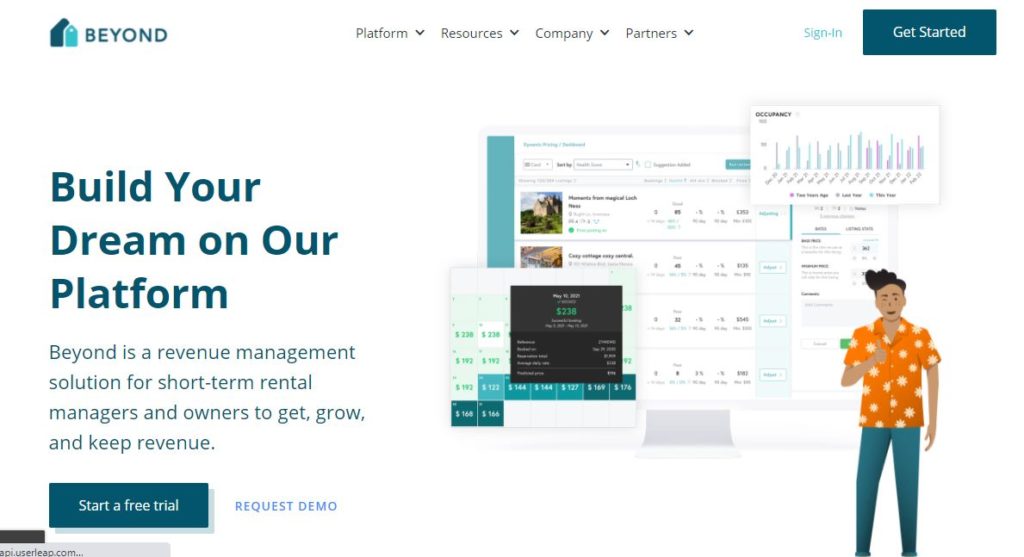 BeyondPricing is now called Beyond. However, it is more than just rebranding, as your company seems to have added new solutions and services, from a booking engine to an OTA calendar synchronization tool, as well as market data reports and revenue management services. Could you tell us more about your new mission?
We founded Beyond in 2013 because the static pricing model for the short-term rental industry was outdated. There was no data-driven approach or tool on the market specifically designed for short-term rentals. And while we're proud of the way dynamic pricing is helping the industry evolve into a more data-driven model, we understand there's more to be done.
Our vision is to help short-term rental managers and owners succeed, and pricing is just one component of that. There is so much more missing in the short-term rental management ecosystem. That's why we've spent the last couple of years building a robust revenue management platform with our customers that includes:
Dynamic Pricing – automatically adjusts your prices to optimise revenue and occupancy
Relay – syncs your listings across different online travel agencies
Signal – a direct booking website that delivers the exposure and guest experience your listings deserve
Insights – accurate, real-time data on your portfolio's performance
Guidance – Deep-dive with our team of experts for one-on-one listing reviews and hands-on pricing optimisation
Projections – Revenue forecasting so you can plan smarter for the future
The new brand and name demonstrates to our customers and the market that we're committed to helping the industry succeed in all aspects of revenue management. These tools are the foundation on which vacation rental agencies and owners can build their dream in the new era of short-term rentals.
What challenges are unique to short-term rentals and justify creating tools that are specific to them? To play devil's advocate: Why can't property managers use software that hotels use?
Unlike hotel rooms, every short-term rental property is unique. Since all the hotel rooms in a market offer similar amenities and experiences, hotel revenue managers can easily benchmark their room inventory against the rest of the market. Revenue managers operating short-term rentals have to be careful when comparing their listings to others in their markets. Unique amenities, online reviews, and property renovations all have an impact on booking pace and pricing, but they may be hard to measure quantitatively. Our dynamic pricing tools empower management agencies with market data and insights to supplement their local knowledge. Property managers know their market and listings the best, and we think they deserve technology solutions that prioritize that.
In terms of expansion, we've also noted that Beyond had beefed up its presence in Europe. Could you tell us more about your European ambitions?
Europe is home to some of the most unique and beautiful travel destinations in the world. We've been supporting select European markets since 2015, but as we've deepened our partnerships with the industry in the UK, Spain, France, and other EU countries, we realized they are experiencing some of the same challenges the US market faced. The old way of pricing wasn't agile enough to keep up with rapidly fluctuating demand – especially with COVID. Experienced management agencies see an opportunity to optimise their portfolio's revenue potential and are eager to evolve into a more data-driven model – but there has been a lack of technology solutions built specifically for their needs. We're proud to continue the expansion of our European offices and support our European partners where they are.
With more data and more tools, Beyond keeps its finger on the pulse of the market. So what key trends do we see in North American and Europe for late summer and fall 2021?
If there's one thing that's certain about today's market, it's the uncertainty. That's why we analyzed over 340,000 listings and talked to over 890 short-term rental managers and owners to understand what we can expect to see this summer and fall. They told us:
Different variations of COVID are cause for concern, but overall the industry is optimistic for a healthy bounce back pending the lift of travel regulations
Pent-up travel demand, combined with a rise in vaccinations, has the potential to unleash a red-hot market
The upcoming travel spree is driven by a few different reasons. 26% of folks are prioritizing rest and relaxation,while 23% plan to reconnect with family and friends likely unseen over the last year due to COVID-19
European booking pace remains lower than North American, but is slowly growing and outperforming the same time in 2020
Beyond has already been a sponsor of VRWS. What keeps you coming back?
VRWS is one of the premier events in Europe for the short-term rental industry. Any opportunity we have to meet and exchange ideas with thought leaders in the space is one we definitely don't want to miss. The past 18 months have had a lot of highs and lows, and we're excited to get together again with the community.
Meet the Beyond team at the 2021 iteration of the Vacation Rental World Summit in Annecy, France on September 16-17, 2021. If you haven't already secured your tickets, you can buy them at 50% off here. See you there!