Since the onset of the pandemic, Airbnb had claimed that people were not just traveling, but also living and working at airbnbs. The company has been recording a higher share of longer stays (i.e. at least 7 nights). Stays of 28+ nights made up 24% of nights booked on Airbnb in Q1 2021, but note that the share dropped to 19% in Q2 2021.
New corporate partnerships, such as the launch of multifamily home-sharing solution Migo in partnership with real-estate software company RealPage, illustrate Airbnb's persistent appetite to capture a slice of the housing market. After all, in its IPO documents, the company said it could "address 10% of the global real estate rental market, or $162 billion, with long-term stays on (their) platform."
Other data point out to businesses booking places for their employees on Airbnb again, not just for business travel but also as temporary get-together accommodations for teams. According to a study by Kruze consulting, Airbnb-related expenses have shot up at startups, since 2020. A sizeable number of startups have ditched their office lease, moved to remote working, and rent a large apartment on Airbnb to host in-person week-long meetings, such as design sprints and company get-togethers.
It is not the first time Airbnb has tried to go after the housing and real market. As documented in our article about the company's 2021 foray into the multi-family housing market, Airbnb had launched programs with Niido and Pillow that did not end so well, created an "Airbnb-friendly buildings" program which was put on the back burner in March 2020 when the company's refocused on its core missions, and even counts Samara. (More on Airbnb's foray into the real estate market in our Airbnb Multi-Family Home Sharing Redux article).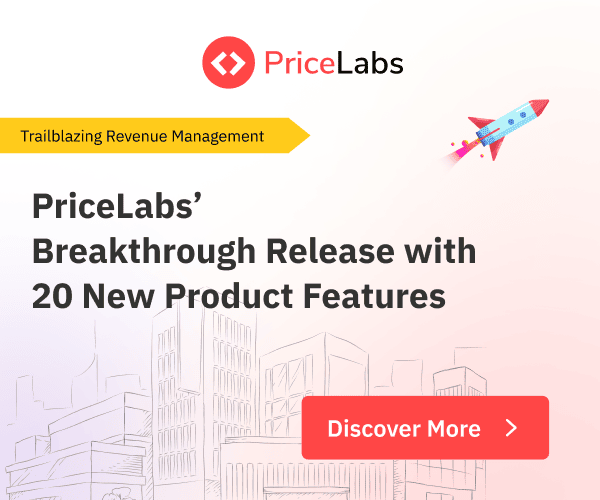 Why are long stays and real estate rentals important for Airbnb? One reason is Total Addressable Market (TAM), a key valuation metric
In 2014, when Airbnb introduced its new tagline, "Belong anywhere", the company said it wanted to be a lifestyle brand, not a travel company. Quite a few people found the ambition presumptuous. Yet, there is some consistency in Airbnb's discourse about going beyond the travel market.
If Airbnb can show that it can get a slice of the housing and real estate markets, that it will increase the valuation of the company (and boost the market share).
This is in line with what the TAM estimates that Airbnb presented in its IPO documents. Total addressable market (TAM) refers to the entire revenue opportunity in a specific market. In other words, TAM is an estimate of the number of sales that one firm would have if it had 100 percent market share.
Here's Airbnb's TAM from its IPO documents: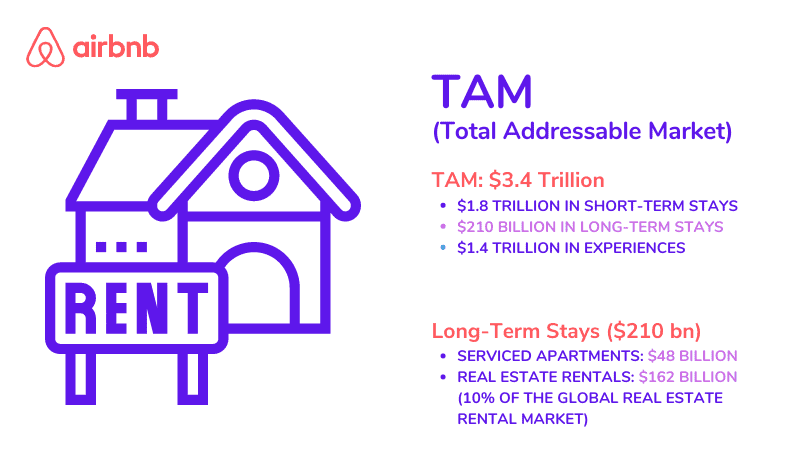 $3.4 Trillion Total Addressable Market (TAM)
By categories:
$1.8 trillion in short term stays
$210 billion in long term stays
$1.4 trillion in experiences
When it comes to long-term stays, Airbnb sees two main markets that it wants to tap into:
Serviced apartments: "We believe we can address the global serviced apartments market through our platform, which we value at $48 billion"
Real estate rentals: we can address 10% of the global real estate rental market, or $162 billion, with long-term stays on our platform.
Airbnb has been talking consistently about how it is "not just a travel company", with an addressable market linked to accommodations people picked to live and work for a few weeks to a few months.
"Travel is no longer just tourism. It's about remote work. Remote schooling longer stays with family and friends, travel, living, learning, and working are all blurring. This could create opportunities for many of you, and we want to help you best position yourselves for it.
Live Anywhere – Taking Life on the Road
In 2021, work from home could become work from any home as remote working continues to be a reality for many people. In the survey commissioned by Airbnb:
83 percent of respondents are in favor of relocating as part of remote working.
A quarter believe they will be able to 'live where they want to and work remotely'.
One in five of those surveyed have relocated their living situation during the pandemic either temporarily or permanently.
60 percent of parents are very or somewhat likely to consider working remotely and traveling with their children if schools continue to be disrupted.
Unsurprisingly, Gen Z'ers and young millennials are most likely to believe they can move to a new location to work or study remotely.
We noted that, in Q1 2021, 24% of the nights sold were for stays of 28 days or more. As Brian Chesky alluded to during the earnings call: This is not temporarily staying at an Airbnb, but rather living there."
Are long-term stay room nights actually increasing at Airbnb?
During the pandemic, the share of long stays within Airbnb's room night count from its 2019 14% average. Yet, while short-term rental booked have short in Q2 2021, our research shows that Airbnb's long-stay room nights have remained quite stable.
Are long-term stays acting as a business stabilizer, that is a bit more shockproof than short-term stays? Do the numbers move up and down at a slower pace than the rest of the Airbnb business?
The Rental Scale-Up team used Airbnb's publicly released data to estimate the changes in the company's long-term room night numbers. Note that we are missing the number for Q4 2020.
Share of long stays is higher than 14% average recorded in 2019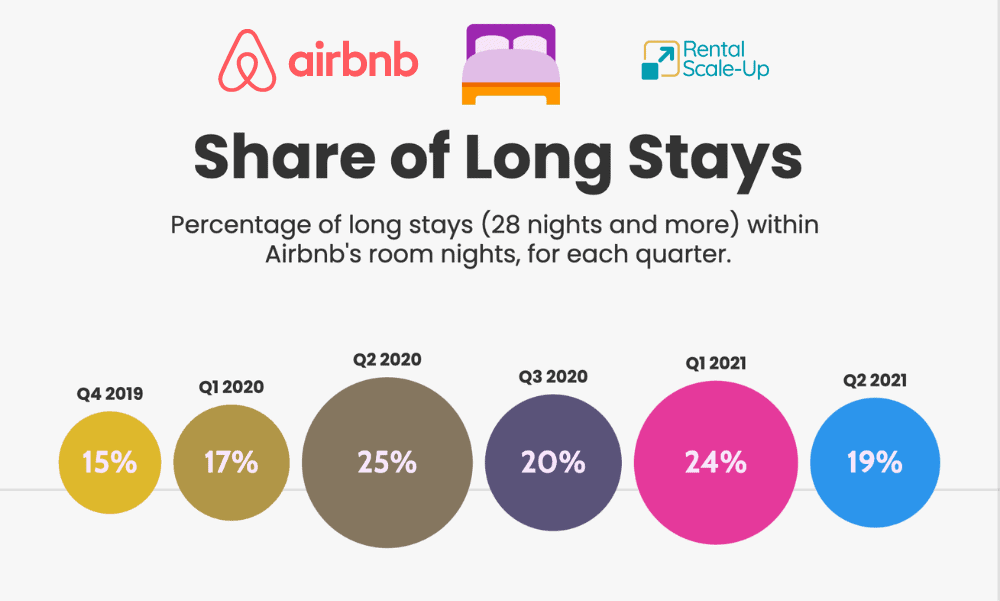 Absolute number of long-stay room nights remains stabile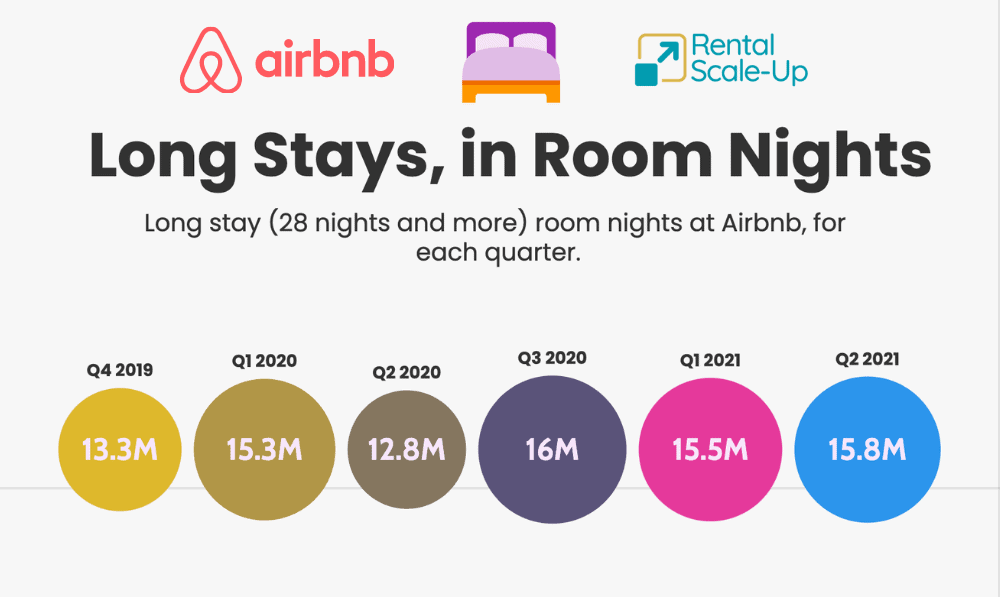 Why do long stays bring more stability to Airbnb, especially in markets with a high level of anti-STR regulations?
Across the world, a lot of cities are hostile to Airbnb-style short-term rentals, from Amsterdam to Barcelona. New York City and Airbnb crossed horns for a very long time until they found an agreement in 2020. More regulations seem to be popping up across many towns, regions, and states. way to have a presence in markets or buildings where short-term rentals are banned. In our Airbnb SWOT analysis, we noted that one of the threats to the company was regulations and restrictions from municipalities and condo boards. Airbnb wants to be more than a one-trick pony and be able to show that it can generate a decent number of stays with a length of stay beyond 7 and even 28 days.
Yet, rolling out a monthly-stay offer can be hard:
Long stays allow for avoid short-term rental regulations. Yet, long-stay regulations and laws may make things compliacet too. As Booking.com's slow efforts show, some markets like Dubai are flexible enough to enable an OTA to launch long stays, but others open cans of legal worms (e.g. tenant rights kinking in after 30 nights at an accommodation, in some markets)
Another issue is off-the-platform deals: Why would pay owners want to keep paying host fees beyond the first rental month? How can Airbnb prevent host and guest from finding on offplatform aggrement?
These new initiatives offer a tantalizing prospect: Airbnb could be a marketplace where people (owners and renters) can rent out their homes and where they can find another place where to stay and work for a couple of months. This is what the RealPage Migo team is saying: 
"Migo predicts that the sweet spot for users will be between 24- to 35-years-old, have most likely already used Airbnb, and are young professionals without family. These renters can home share while they are traveling for work, or working remotely, to monetize the time when the space isn't being used, and then use that income to offset rent or other housing expenses"
This type of agreement means that off-platform deals between an apartments owner / renter and a guest are strictly prohibited. Furthermore, it is the building management's interest to enforce that payments are made throught Airbnb during the whole stay, beyond the initial month.