When it comes to listing a vacation rental property on an online platform, one of the biggest blockers for hosts is the fear of damage and any risk created by welcoming strangers into their property. To address these fears, Booking.com has discreetly launched two initiatives: A free liability insurance for its partners for up to €1,000,000, available globally, and a procedure called "damage deposits by Booking.com." We'll see why Booking.com is launching them, how similar they are with parts of Airbnb's Aircover and Vrbo's $1M Liability Insurance, and how they work (Hint: Just as Airbnb, Booking.com does not actually handle the damage deposit. It just allows hosts to mention an amount in their listing and encourages hosts and guests to communicate to solve damage-related issues). 
Protection is a core host need and Booking.com has known it for years
Insurance, guarantees, and fintech products are hot again in the vacation rental industry: Airbnb is supposed to be launching a guest travel insurance soon, Hopper wants to bring more flexibility through new guarantee categories for guests and hosts, and Airbnb completely resigned its Host Guarantee and Liability Insurance offers by launching Aircover. Damage deposits are also a host topic, with Airbnb updating its terms and conditions this month to make it clear to guests that they can be charged for damages after a host claim is made through the Resolution Center.
So, 10 years after Airbnb launched its $1,000,000 Host Guarantee, Booking.com is launching its €1,000,000 liability insurance program. It is also close to releasing the final version of its "Damage Deposits by Booking.com" pilot, whose modus operandi is close to Airbnb's: No actual handling of the damage but rather a facilitated damage claim process à la Resolution Center.
This is actually not the first time that Booking.com has been dabbling in protection programs for its partners:
The company mentioned the launch of its liability insurance program at the 2019 VRMA conference. It seems that the COVID-19 pandemic delayed the plans by two years.
In 2016 and 2017, Booking.com trialed and then stopped in 10 European countries free damage protection for hosts to see whether it could record an uptick in the number of hosts joining.
Why online platforms want to offer some form of protection to hosts while discouraging them from actually collecting a damage deposit
How would you solve the following issues, if you are an online listing website such as Airbnb, Vrbo, or Booking.com:
Offer some protection to attract more hosts
Fear is the biggest reason for individual hosts not to list their property. It is fear of damages inflicted by guests upon the property and its contents.
Owners also may fear being sued should the guests slip by the swimming pool and break their arm, for instance.
How do you reduce this perceived risk which is one of the biggest blockers to your supply growth?
Let's add that a number of vacation rental managers and Airbnb management services rely on the protection offered by the platforms to market their services to owners. So, to be marketed by vacation rental managers to their owners, online platforms may also want to be able to offer some form of protection.
Prevent the use of damage deposits to increase online conversion rates
Security deposits are a time-honored way for owners to protect themselves and hold guests accountable for damages.
Yet, handling damage deposits has always been a bit messy. For instance, in a big vacation rental market like France, owners still routinely ask for a €300 cheque from their guests at the start of their stay. Most non-French people do not have cheques in 2022. A lot of vacation rental guests have stories of having to drive to several ATMs in Croatia to find the necessary cash to pay for the damage deposit.
Online platforms could handle and process damage deposit payments but they would be creating friction and lowering conversion rates: the guests would have to pay more money upfront and the platform would be entangled in discussions over how much the hosts are entitled in case of damage.
So, what should online platforms do with damage deposits? Ignore them as they lower conversion rates and are messy? Handle them 100% to please hosts?
Booking.com's Partner Liability Insurance (€1,000,000, through Zurich Insurance, almost global)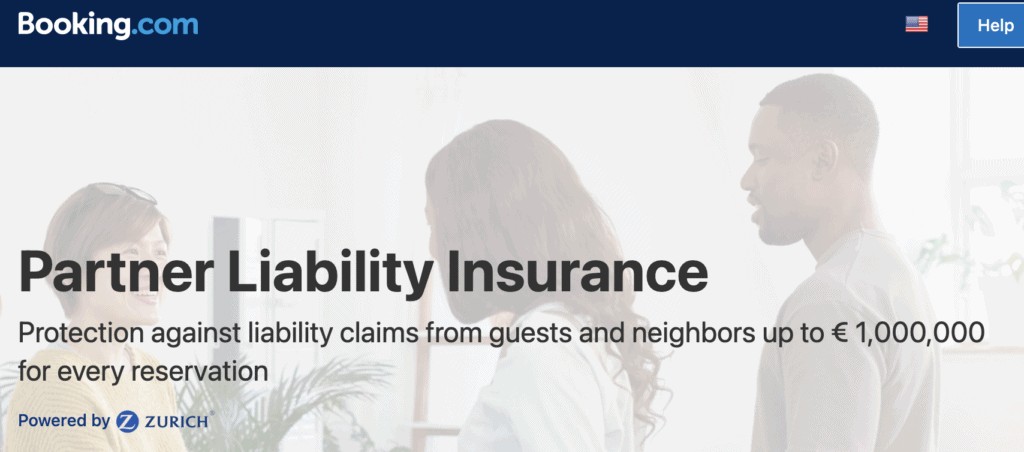 Booking.com's Partner Liability Insurance provides insurance underwritten by Zurich Insurance and its global partners (e.g. Steadfast Insurance Company in the US). The coverage is up to €1,000,000 for European countries, £1,000,000 for the United Kingdom, and US$1,000,000 for the US and all other countries. Note that, if more than 20 guests are involved in an incident, the coverage is capped at €20,000,000.
The policy applies to almost all countries in the world, except places such as Cuba, Russia, and North Korea (i.e. where Booking Holdings does not operate at the moment).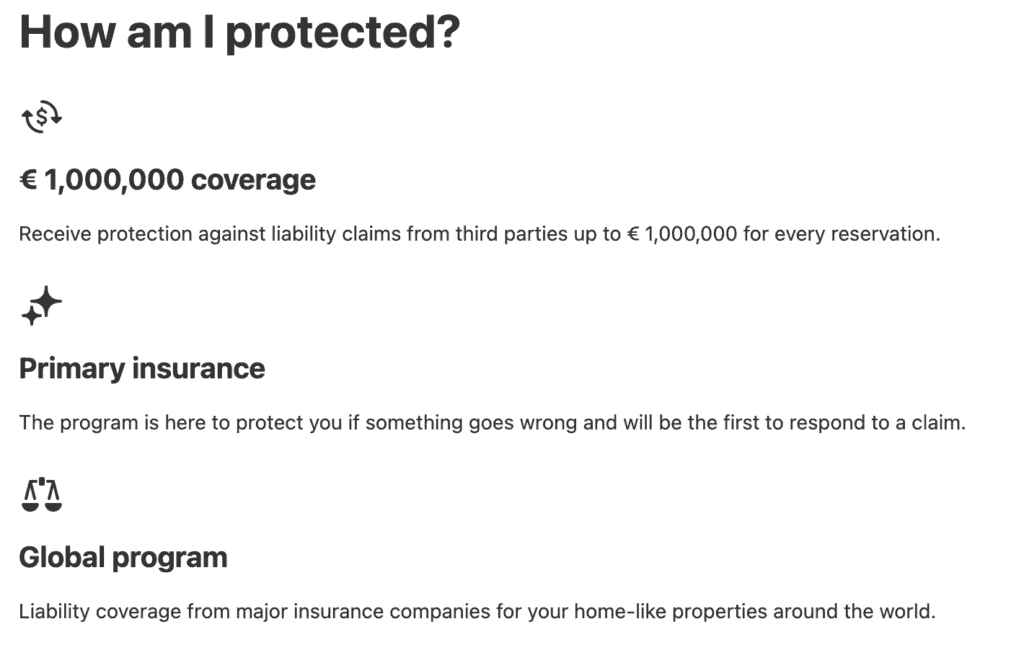 What does Booking.com's Partner Liability Insurance cover?
Booking.com's Partner Liability Insurance program protects its partners against third-party lawsuits or liability claims for bodily injury or property damage.
For instance:
Bodily injury (e.g., if your guest breaks their arm slipping in the shower and holds you responsible.)
Third-party property damage (e.g., if your guest accidentally leaves a tap running and causes water damage to your neighbor's apartment below)
Now, here are examples of what is not covered:
Damage and/or harm caused by pets (e.g., your guest's dog injures a neighbor)
Your own personal injury (e.g., you break your arm tripping over a step at the property)
Damage or injury from something done intentionally (not an accident)
Your own personal property (e.g. a guest breaks your TV or table)
To be clear, this is not a protection against the main host fear, i.e. property damage. But Booking.com does address another class of risks that owners and vacation rental managers have in mind.
Booking's liability insurance does not extend to hotels. It covers stays at the following property types:
Aparthotel,
Apartment,
Bed and Breakfast,
Camping,
Country House,
Chalet /Cabin,
Condo,
Cottage,
Farm Stay,
Gite,
Guest House,
Vacation Home,
Vacation Park,
Homestay,
Riad,
Ryokan,
Stationary Houseboat,
Tented Camp,
Villa.

Liability insurance: Airbnb, Booking.com, and Vrbo offer similar-looking protections
After several years of work, Booking.com has finally launched a free €1,000,000 liability insurance for its partners. The offer is clearly positioned to compete with parts of Airbnb's AirCover and Vrbo's Liability Insurance:
Note the usage of the $1,000,000 figure by all three companies to create a strong impression
This offer is at no cost to the host / partner for all three companies
No opt-in is required, enrollment is automatic for all three companies
This is a real insurance contract for all three companies (unlike Airbnb's Host Guarantee, now called Host Damage Protection, on the damage side, which is no insurance)
All are primary liability insurance (Booking's Partner Liability Insurance, Airbnb's Host Liability Insurance Program, and Vrbo's Liability Insurance )
How does it compare with Airbnb's AirCover?
AirCover relies on an older and more complete suite of protections. For instance, Aircover offers:
$1M liability insurance
$1M damage protection
Pet damage protection
Deep cleaning protection
Income loss protection
Here's a chart published by Airbnb when it launched AirCover a few months ago. Booking.com's new Liability Insurance does not change much to this table, as the company is only playing catch-up with Airbnb and Vrbo in this regard.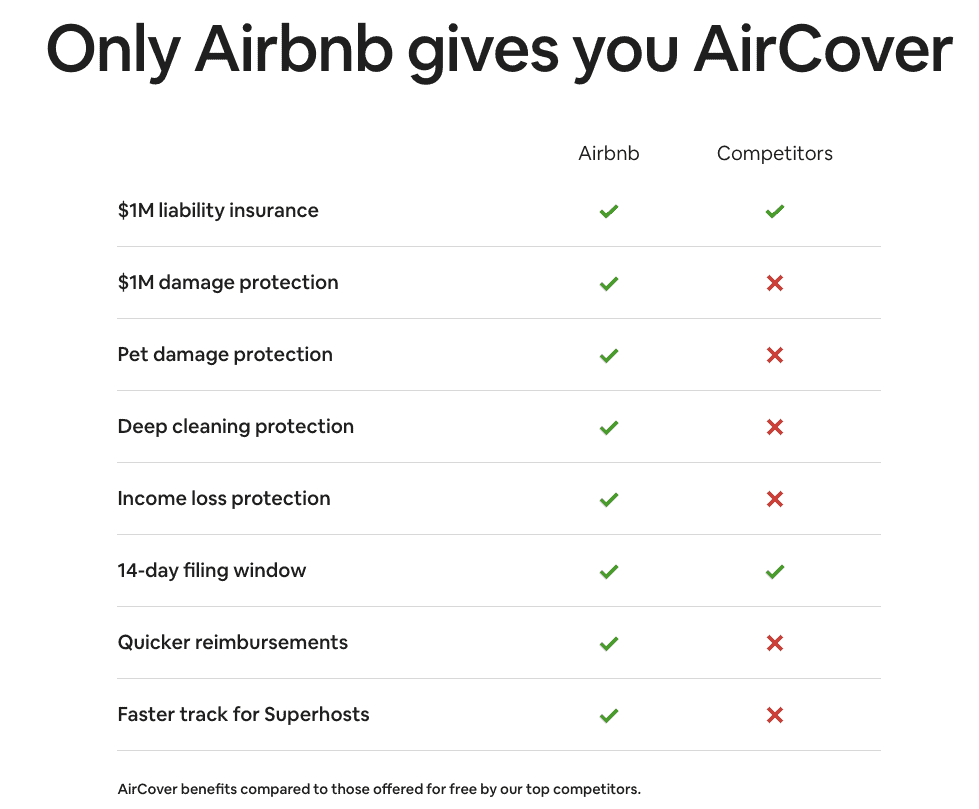 Why is Booking.com not offering free damage protection? There could be a few reasons here, such as:
For Booking, the cost per stay of damage protection insurance charged by the insurance companies could be higher than that of the liability insurance
If the goal is to claim a "$1,000,000" protection of some sort, then Booking may have chosen the cheapest option.
Hosts may not spend enough time on the website before listing their place to understand the actual differences between $1,000,000 damage protection and $1,000,000 liability insurance.
Rolling out a global program covering partners across the world may be easier for liability insurance than for damage protections where laws may vary too much country by country.
Damage Deposits by Booking.com: A way to get partners NOT to collect damage deposits to solve messy guest experiences
During its 2022 annual Click conference, Booking.com announced the launch of its solutions to handle damage deposits. A pilot, called "Damage Deposits by Booking.com" has actually been live for months. Let's be clear: Booking is not taking and processing damage deposits from guests.
This is rather a way for Booking to get hosts not to collect damage deposits (either online or offline) and opt instead for a program where they can make a damage claim to be paid by the guests.
So, like Airbnb, Booking.com is allowing its partners to indicate and display in their listings a damage deposit amount. Just as on Airbnb, the damage deposit is not collected before or during the stay. Just as on Airbnb, hosts have to fill in a form to make a claim and convince their guests to pay for the damage. Yet, if there is no agreement between host and guest, Airbnb will step in and make a decision, while Booking.com is staying away from the whole process.
Why not take the money?
Damage deposits are a messy thing. They can be collected online and offline, in cash or by cheque, long before the stay or on check-in day, etc. Guests are never too sure about how things work and when they will be given their money back. Finally, some owners may waive damage deposits for guests like they like (e.g. two old ladies) or enforce it only with some guests of certain nationalities. Not a pretty sight.
This results in a messy guest experience, all the more as hosts sometimes fail to indicate it in their listings or guests do not see it in the fine prints.
Airbnb and Booking.com do not collect damage deposits. Yet, they allow hosts to mention a damage deposit amount in their listing. Why? The real benefit of the damage deposit in a listing is to act as a deterrent: Some hosts hope that suspicious guests will not pick their place if they see the words "damage deposit" or "security deposit".
Note that a lot of Airbnb hosts actually believe that Airbnb is collecting the damage deposit amount that they indicate in their listing. 
For online platforms, collecting damage deposition creates additional friction that may lower conversion rates: Guests may not be happy to pay for it at all and they may not be willing to pay a $300 security deposit for a $200 two-night stay. The platform has to create rules around when the money is restituted to the guests, how claims are made, and how to partially restitute a damage deposit amount to the guest and remit the rest to the host if need be.
For platforms, the best thing would be to get hosts not to mention any damage deposits. In a way, this is what Airbnb tries to achieve with its $1,000,000 damage protection: The company says that hosts are protected anyway.
How Damage Deposits by Booking.com work
You will find below details on how the program works. Basically:
A host opts into the damage deposit program and indicated a damage deposit amount
On the listing page, the traveler can see this message: "Damage policy – If you cause damage to the property during your stay, you could be asked to pay up to EUR XYZ after check-out, according to this property's Damage Policy."
Should the guest break something, the partner has up to 14 days after check-out to make a claim by filling in a form in the extranet.
Just as in Airbnb's Resolution Center, the claim goes to the guest, who can review it and agree / disagree to pay.
If the guest agrees to pay for the damage, then Booking.com collects the money and sends it to partners.
The damage amount collected is limited to €300.
If the guest does not agree to pay, then Booking.com steps in and tried to intermediate. 
If Booking agrees with the guest, then the claim is voided and the partner gets nothing.
If Booking thinks that the partner is right but the guest refuses to pay, it is not clear whether Booking.com can force the guest to pay. Damage payment looks to be on a volunteer basis
Here are some of the fine prints from the program:
Booking.com's Damage Deposits by Booking.com" (or "Damage Claim Handling Process" or DCHP) pilot was launched in several countries across Europe, Asia and Oceania.
Here, the platform acts as an intermediary for the handling of potential damage fees due to damages caused to a property by a guest.
Booking.com does not require the upfront collection of the damage deposit mentioned in the listing. Instead, should something happen, a claim process will be initiated instead, which might result in the guest being held liable for the damage caused, and be required to pay damage fees.
Eligible Booking.com partners can opt into the program. On the property page, the guest will see this Damage Policy within the Hous Rules section:
If you cause damage to the property during your stay, you could be asked to pay up to EUR XYZ after check-out, according to this property's Damage Policy.
Through this damage policy, Booking.com informs the guests that:
They must keep the property and its content(s), including all furniture, electronic equipments, fixtures, fittings and effects, in, on or at the Property in the same state of repair as at the start of the stay, and shall leave the Property in the same state of cleanliness and general order in which it was found when they arrived.
Guests are responsible for the safekeeping of the rental property and its contents, therefore they must remember, among others, to lock all doors and windows, and ensure that the Property is safe upon their departure.
Guests are responsible to reimburse Booking.com/the Partner for the damage(s), breakages or loss(es) caused to the Property and its contents by the Guest(s), according to the DCHP, limited to the amount the partner agreed when signing up to the DCHP, and in any case to a maximum limit of 300 Euros or the equivalent in local currency.
To initiate a claim,
Booking.com partners need to connect to the reservation page on the extranet, and initiate a claim via the right side menu "make a damage deposit claim" button.
They must indicate some information (such as which item has been damaged, what is the exact damage, what was the initial cost of the item that has been damaged, etc.)
They will also be required to provide evidence(s) of the damage/loss, as required on the extranet platform.
In the situation where the Guest does not agree with and/or reject the claim initiated, and/or does not confirm the damage(s) done to the Property and/or its content(s):
Booking.com will review all communications between the partner and the allegedly responsible guest via the Booking.com Platform.
In this situation, Booking.com might hold the right to not charge the Guest. Booking.com' decision is final and not subject to appeal.
Booking.com will only intervene if no agreement is reached between the partner and the guest.
The partner will be able to initiate a claim and request Damage Fee(s) from Guest(s) for the damages caused to the Property and/or its contents (as defined above), from the check-out date and up to 14 days after the end of the stay.
Booking.com is the only party to be allowed to charge the Guest
What happens if a guest does not agree to pay for the damages? Well, this is not clear.
If a guest agrees with the damage claim, then Booking.com will charge the guest the agreed amount, following the provision of your payment details and upon your consent.
The Property will not, in any case, be allowed to charge the guest directly of the Damage Fee agreed between the guest and the Property, and only Booking.com (on behalf of the Property), and upon your consent, will be able to charge you for the agreed Damage Fee(s).
If the guest rejects a claim and Booking.com deems their rejection valid, then Booking will close the claim and no Damage Fee will be charged.
Booking.com is taking a proactive approach to addressing host fears and it has discreetly launched two initiatives: A free liability insurance for its partners for up to €1,000,000, available globally, and a procedure called "damage deposits by Booking.com." We encourage you to read our other industry news articles about Booking.com so that you can stay up-to-date with what the Amsterdam-based travel giant is up to.