Summer 2020 is not going to be great for many vacation rental managers and owners. Several Airbnb property management companies, especially in urban markets, have already folded or switched to monthly stays.
Yet, demand is picking up, in European countries and in US states where lockdown measures have been lifted or had been on the mild side. The need to advertise your vacation rental property to domestic travelers is clear. Let's look at data signals from AllTheRooms, Transparent, and BeyondPricing, as well as the content from recent webinars by Guesty and Rentals United to see what is happening and how you can get more of these domestic bookings.
Europe: Domestic demand is on the rise
First, let's look at what Airbnb's CEO, Brian Chesky, recently shared with the Financial Times:
By the end of April, bookings by Danish users planning domestic stays were at around 90% of April 2019 levels
In the Netherlands, domestic bookings were approaching 80% of last year
Norway, Sweden, Switzerland, and Austria also saw some improvement in the number of domestic bookings
Second, let's look at this map of Europe from the Transparent's coronavirus data center. This map compares the year-on-year change in bookings from April 19th to May 2nd, 2020, compared with the same period in 2019. In almost all areas, the number of bookings is still smaller than last year. Yet, it is not 0 anymore, except in areas like the UK, where vacation rentals booking have been banned all over the county (this is why you see -90% in the UK compared with 2019). In Southern Italy, the Nordics, and Eastern and Central Europe, some areas are now "only" 40% behind 2019 numbers.
The main caveat for Europe is the opening of borders, especially Schengen borders. In the US, drive-to destinations (2 to 3 hours from big cities) will lure in domestic travelers. In Europe, drive-to destinations are not just domestic: They can also mean traveling to neighboring countries (think Denmark for Germany, Belgium for The Netherlands, Italy for France, Austria fo Croatia). Yet, will borders open up in time for Summer 2020?
As you can below in this graph from Transparent, some countries like Croatia have a very large supply of vacation rentals, but 93% of the demand is from people living abroad. Italy and Spain are also quite exposed on that measure.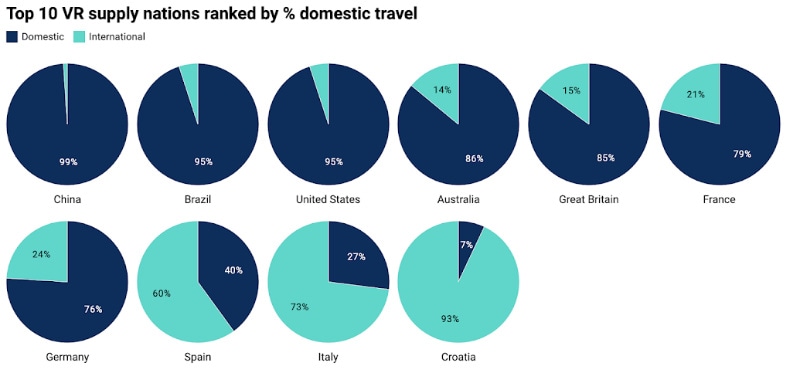 In the US: Some states are leading the recovery
In the US, some states are showing some colors. Most of them offer non-urban vacation rentals.
First, AllTheRooms Analytics has shared the following data from Airbnb, based on a 30-day booking pace (i.e. the 30-day occupancy rate, which measures the percentage of properties listed on Airbnb that are booked over the next 30 days):
Texas: Airbnb 30-day occupancy rates reached 18.9% as of April 30th, an 18.6% increase from the 15.9% low on March 22nd. However, this still represents a 33.8% drop year-on-year.
Colorado: Airbnb 30-day occupancy rates hit 25.7% on April 30th, a 22.8% increase from the March 16th low of 21.0%, and a 5.0% increase year-on-year.
Tennessee: Airbnb 30-day occupancy rates climbed to 20.3% on April 30th, a 38.1% increase from the low, which was 14.7% on March 23nd, but still a 44.5% decline year-on-year.
Alabama: Airbnb 30-day occupancy rates reached 27.0% on April 30th, a 41.4% increase from the March 23rd low of 19.1%, but nevertheless a 26.9% drop year-on-year.
Second, Transparent's data confirm these trends:
Third, BeyonPricing's thought-provoking Pandemic Pulse data center shows that US interior vacation areas and East Cost vacation markets are the ones picking up first.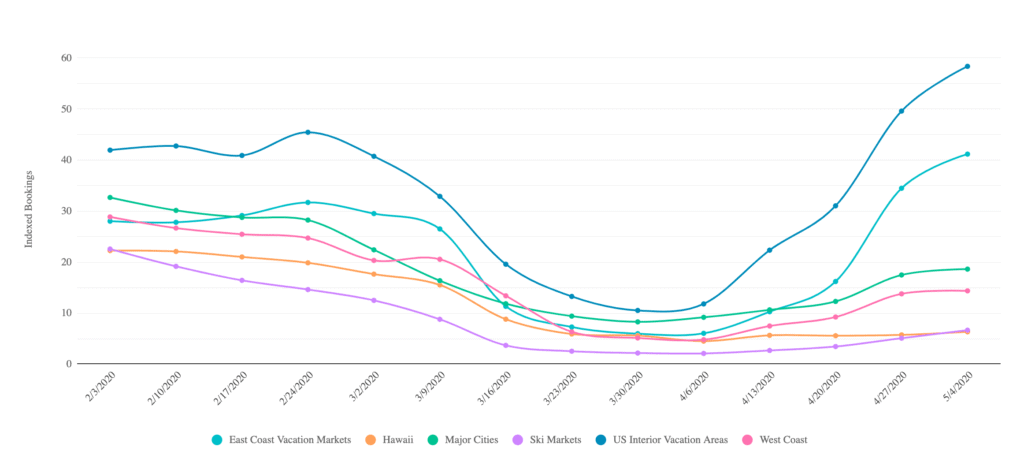 Rentals United and Guesty webinars also point out to domestic travelers and drive-to destinations
Rentals United held a very insightful webinar, called Embracing Domestic Tourism. You can still retrieve the video, the presentation as a PDF, and a list of websites where, country by country, you can advertise your vacation rental property. Here a few insights from this webinar:
More domestic travel, urban short-term rentals turning to mid-term stays
Difference between length-of-stay (LOS) pricing and length-of-stay discounts
Booking window doubled up
Luxury property manager Plum Guide saw its LOS go from 8 to 30 days in April
Safety = cleaning + self check-in
Flexible cancellation policies are a must-have
Should you lower your prices to attract domestic guests? Yes and no: Pent-up demand for travel exists, less supply may be competing with you, but cash-strapped travelers may not have much money to spend.
In its webinar about the impact of COVID-19 on the short-term rental ecosystem, Guesty noted the following trends:
Travelers Are Booking Longer Stays Worldwide (avrg. stay goes from 4.5 to 9 days)
Early Signs of Recovery in Time for the Holidays (Fall is 75% and Winter 85% of last year)
Domestic Travel to Bounce Back First (esp. Secluded destinations)
Property Management Companies Are Pivoting Quickly (long-term, automation
Conclusion: Drive-to destinations are the new black